Fatigue manifests as lingering tiredness, exhaustion, weariness, lethargy, and listlessness, which renders you incapacitated to function at your optimum best. Everyone is bound to suffer from dissipated levels of energy from time to time, but constantly feeling fatigued for no apparent cause is a whole new level of debilitating.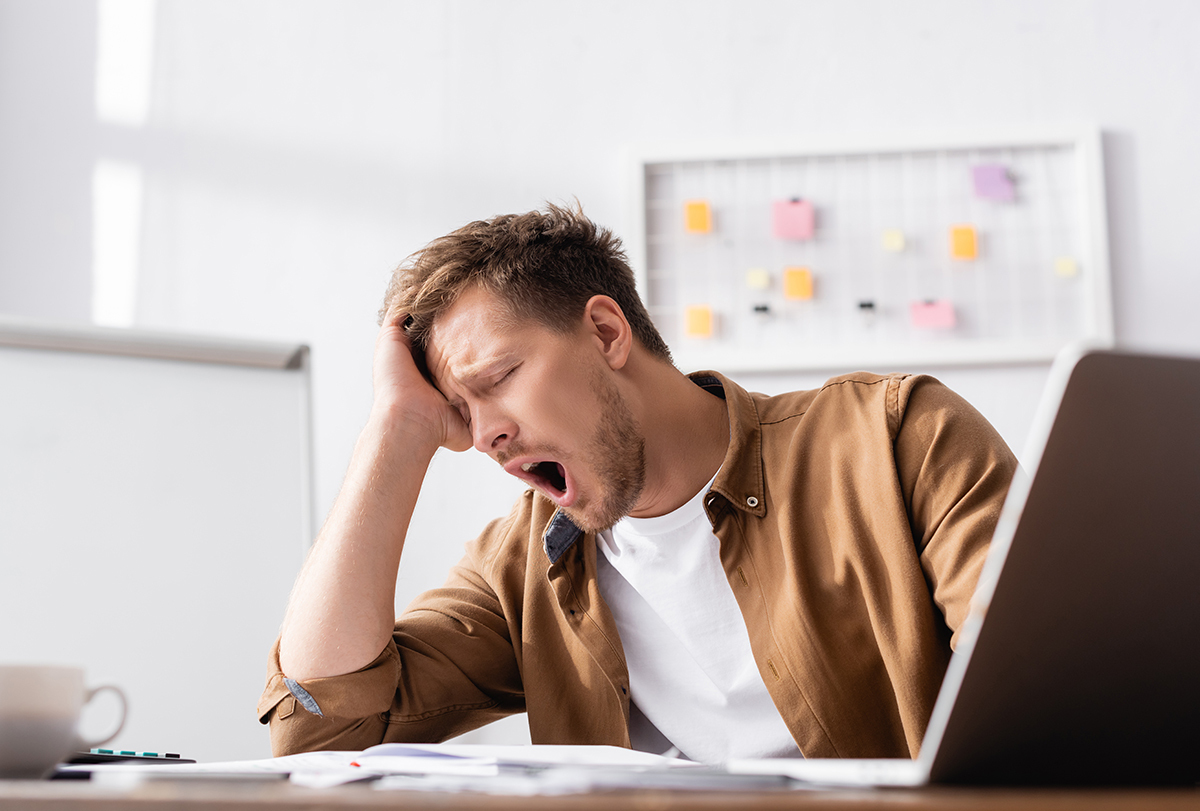 Many people blur the lines between the two and equate their sporadic bouts of exhaustion and drowsiness stemming from a long day at work or a sleepless night as generalized fatigue. While feeling tired and sleepy is symptomatic of fatigue, this problem has other far-reaching social, physical, and psychological consequences.
Fatigue usually entails a prolonged feeling of apathy and demotivation along with the typical markers of physical, mental, and emotional exhaustion. This state is not categorized as a health condition unto itself, but as the symptom of some underlying issue.
It can set in as a response to intensive physical exertion or it can be psychosomatic in nature. But most cases of physical and mental fatigue occur in tandem. While physical fatigue is associated with unusually low levels of stamina and muscle weakness, mental fatigue makes it impossible to concentrate on the simplest of tasks and leaves you utterly indifferent and languished.
Most cases tend to resolve within a few hours or a day after giving your mind and body a much-needed break. To that end, you may reduce the intensity of your activity or catch up on some sleep.
However, if your level of exhaustion is unrelenting despite adequate sleep, stress management, proper nutrition, and physical activity, you may be suffering from chronic fatigue, which can hamper your ability to manage daily affairs to a significant degree.
Foods That Help Fight Fatigue
Here are 13 foods to re-energize yourself and fight fatigue.
1. Eat bananas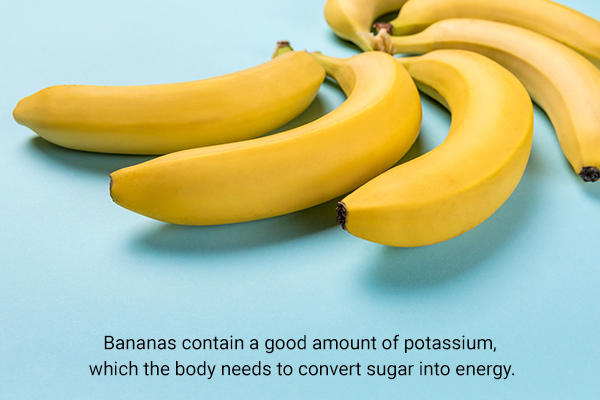 Bananas contain a good amount of potassium, which the body needs to convert sugar into energy.
Also, bananas are rich in many important nutrients, such as B vitamins, vitamin C, omega-3 fatty acids, omega-6 fatty acids, fiber, and carbohydrates, that help beat tiredness, dehydration, and other fatigue symptoms. (1)
Plus, the natural sugars, namely, sucrose, fructose, and glucose, in bananas are essential for quick energy boosts.
How to consume:
Eat 1 to 2 bananas daily.
You can also enjoy a banana in a shake or smoothie to keep your body hydrated and full of energy.
2. A cup of green tea can help
Sipping on a cup of refreshing green tea may also fight fatigue, especially exercise-related fatigue.
A 2018 study found that green tea extract improved fatigue associated with muscle damage and oxidative stress in athletes. (2)
A 2017 study in mice found that a polyphenol in green tea, epigallocatechin-3-gallate (EGCG), was able to prolong swimming time in mice in comparison with the placebo group. This suggests green tea may have anti-fatigue properties. (3)
To make a cup of green tea:
Steep 1 teaspoon of green tea leaves in a cup of hot water for 5 minutes.
Strain and add honey.
Drink this tea two or three times daily.
Instead of green tea leaves, you can also use tea bags.
3. Chow down on pumpkin seeds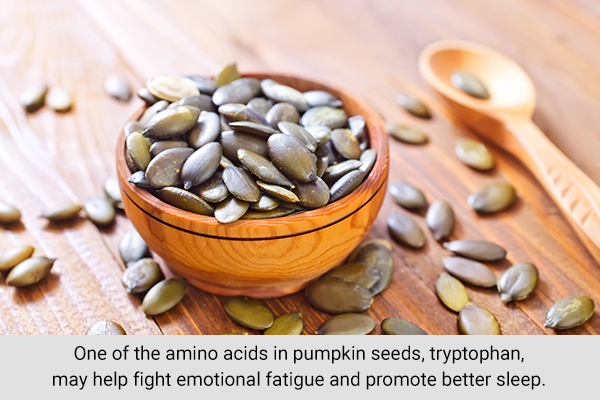 Pumpkin seeds make an ideal snack to fight fatigue.
They are loaded with high-quality protein, healthy omega-3 fatty acids, and vitamin B1, B2, B5, and B6, as well as minerals including manganese, magnesium, phosphorus, iron, and copper. (4) All these nutrients work together to boost your immune system, provide energy, and fight symptoms of fatigue.
One of the amino acids in pumpkin seeds, tryptophan, may help fight emotional fatigue and promote better sleep. (5)
How to consume:
You can snack on a small handful of pumpkin seeds throughout the day to provide your body the beneficial fatigue-fighting nutrients. You can even switch to pumpkin seed butter as another way to get more pumpkin seed nutrients in your diet.
4. Eat oatmeal for breakfast
A portion of perfect food for fighting fatigue is oatmeal. It contains quality carbohydrates that are stored in the body as glycogen and provide fuel for your brain and muscles throughout the day. The fiber in oats slows the release of energy into your bloodstream, preventing a spike and crash in blood sugar.
Plus, it has many important nutrients such as protein, magnesium, phosphorus, and vitamin B1 that help boost your energy levels. (6)
Oatmeal is also regarded as a superfood for digestive health due to its high fiber content. Oats also contain a compound, beta glucan, that has been shown to help lower the risk for certain cancers. (7)
How to consume:
A bowl of oatmeal makes a great breakfast.
You can top your oatmeal with fresh fruits and nuts for added health benefits.
5. Include the probiotic goodness of yogurt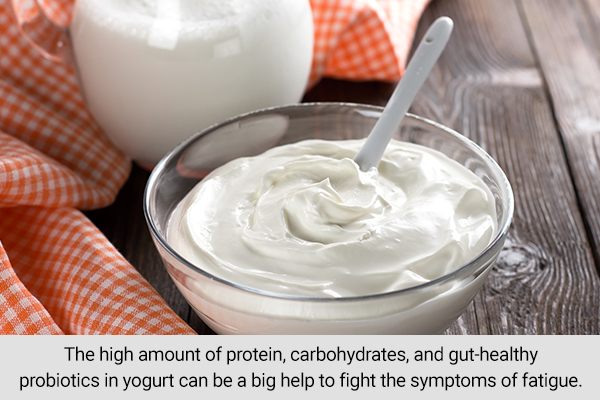 The high amount of protein, carbohydrates, and gut-healthy probiotics in yogurt can be a big help to fight the symptoms of fatigue.
A 2018 study published in Nutrients reported that yogurt ameliorated summer heat fatigue in otherwise healthy individuals. (8)
How to consume:
You can eat yogurt at any time of the day. It can be eaten with fruit for breakfast, as a snack, or as a replacement for sour cream at lunch or dinner.
If you do not like plain yogurt, add some frozen berries or other fruits and nuts, or simply make a smoothie.
Avoid choosing yogurts that are sweetened as these are very high in sugar. Instead, buy plain yogurt and add fruit, honey, or jam to sweeten it on your own.
6. Drink watermelon juice
If you're feeling fatigued on a hot day or after a workout due to dehydration, you can get your energy back with a slice of watermelon. Watermelon is rich in water and electrolytes that keep dehydration at bay and help keep you active and free from symptoms of fatigue.
In one study, watermelon juice enriched with L-citrulline diminished muscle soreness perception from 24 hours to 72 hours after a race and maintained lower concentrations of plasma lactate after an exhausting exercise. (9) L-citrulline is a naturally occurring nonessential amino acid in watermelon.
Watermelon is rich in fatigue-fighting nutrients including potassium, vitamin C, antioxidants lycopene and beta-carotene, and iron. The next time fatigue comes calling and you need an instant boost of energy, have a slice of watermelon.
You can also make a healthy drink by blending some watermelon, a little honey and lemon juice, and water. Drink the juice after a workout to prevent signs of fatigue.
7. Munch on walnuts
Another popular fatigue-busting food is walnuts. They are high in omega-3 fatty acids that can easily counteract fatigue symptoms. They can also help relieve symptoms of mild depression.
A study on mice published in Molecules highlighted the beneficial antifatigue effects of walnut oligopeptides. (10)
Walnuts also contain both protein and fiber, which help provide sustained energy. These nuts also have a decent amount of the minerals manganese, magnesium, phosphorus, iron, copper, and vitamins.
How to consume:
Aim to include ¼ cup of shelled walnuts in your daily diet.
You can eat roasted walnuts as a healthy mid-morning or mid-afternoon snack.
You can even add a crunchy bite to regular cereal, milkshakes, smoothies, soups, and salads with a generous sprinkling of walnuts on top.
8. Spill the beans in your meals
Beans are called miracle food for many good reasons. They have numerous health benefits and can help fight fatigue.
They are high in fiber and contain a good ratio of complex carbohydrates and protein and an array of minerals including potassium, magnesium, phosphorus, copper, and iron. This unique nutritional composition helps deliver long-lasting energy and prevents you from feeling fatigued. (11)
As most beans have a low glycemic index, you can eat them without worrying about sudden blood sugar spikes and subsequent dips in energy.
How to consume:
You can try different types of beans for different meals throughout the day. You can have boiled soybeans for breakfast and black bean salad or soup for lunch or dinner.
You can also try some one-pot meals with beans of your choice.
9. Incorporate red bell pepper in your diet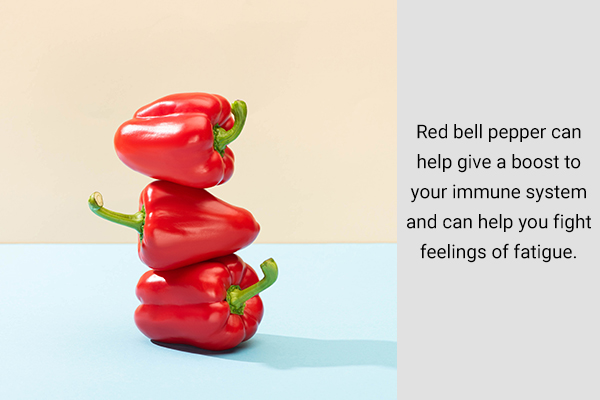 Red bell peppers are one of the best sources of vitamin C. This antioxidant can help give a boost to your immune system and can help you fight feelings of fatigue. (12)(13)
Red bell peppers are also rich in folic acid, fiber, and vitamin A, B6, and C.
How to consume:
Just 1 cup of red bell pepper daily is more than sufficient to keep your energy and metabolism high.
You can include red bell peppers in your diet in raw, baked, roasted, grilled, cooked, or stuffed form.
10. Trust the healing potential of spinach
Spinach is another great fatigue-fighting food that you can easily find in the grocery store or local market. Spinach is a good vegetarian source of iron, which is needed for blood cells to deliver oxygen to the body's cells. This, in turn, helps produce energy and combat tiredness and other fatigue symptoms.
Also, spinach is packed with magnesium, potassium, and vitamins C and B. These nutrients may all play a role in feeling fatigued if you are low in them. (14)
How to consume:
You can add some spinach leaves to sandwiches, soups, or other healthy snacks.
You can also add it to stews, casseroles, and smoothies without altering the flavor.
A glass of spinach juice is another easy option to fight fatigue.
Pairing spinach with vitamin C-rich foods, such as red peppers, can help the body absorb the iron from spinach.
11. Consume nutritionally dense kale
Kale is a favorite among health and fitness enthusiasts due to its nutritionally dense composition. Incorporating kale into your diet can also give you a heavy dose of iron, calcium, and vitamins K and C.
12. Munch on fibrous chia seeds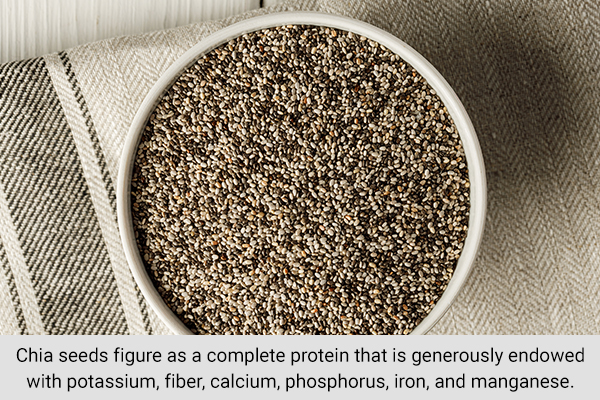 Chia seeds figure as a complete protein that is generously endowed with potassium, fiber, calcium, phosphorus, iron, and manganese. Given that a mere tablespoon of chia seeds contains 5 grams of fiber, munching on these power-packed seeds is a great way to up your daily fiber intake.
Chia seeds go well with a whole variety of dishes and can be a great value addition to your breakfast cereals, smoothies, juices, salads, etc.
13. Eat proteinaceous eggs
There is no end to the health benefits of eggs, which come packed with a rich supply of essential nutrients such as iron, zinc, and protein. Further enriched by a vital amino acid called leucine, eggs also help with muscle development and repair.
Another key component of this versatile wonder food is the high level of B vitamins that help with energy synthesis in the body. No wonder eggs have emerged as an undisputed breakfast favorite as a majority of people rely on them for an energetic start to their day.
Foods to Avoid
Avoid the following foods as they can deplete your energy levels.
1. Caffeinated drinks
The stimulating effect associated with caffeine is often short-lived and can even prove counterproductive in the long run. Despite the initial surge, your energy levels will eventually plummet lower than before.
If you can't do without your regular dose of caffeine, try to minimize the damage by opting for healthier alternatives such as Bambu tea or coffee. These don't contain the sugars and chemicals found in fizzy drinks and are a source of antioxidants.
2. Processed foods
Minimize your intake of processed foods as they contain high levels of sodium and saturated fat, both of which when taken in excess can cause negative health effects.
Sodium can have a dehydrating effect on the body, whereas an unhealthy amount of saturated and trans fats may make you feel sluggish. This category of food includes:
Ready-to-eat meals
Sugary breakfast cereals
Bacon
3. Simple carbohydrates
Simple carbohydrates in the form of sugar and starch tend to break down more readily than their complex counterparts. Moderate intake of such simple carbohydrates can supply you with instant energy but it will come crashing down.
An excessively high sugar diet can render your energy levels quite erratic and unstable. Thus, it is essential that you don't overdo their consumption but maintain a healthy balanced intake.
Common sugary foods to be kept in check include chocolates and sweets. Similarly, you might benefit from reducing your consumption of white flour, white bread, and many packaged snacks that are full of simple starches.
Causes of Fatigue
Several lifestyle factors, medical conditions, and psychological problems can cause fatigue. Some of the lifestyle factors that contribute to this problem include:
Excessive intake of caffeine
Excessive physical activity
Generalized inactivity, including lack of regular exercise
Poor sleep
Unhealthy eating habits
Being underweight or overweight
One can also feel fatigued due to mental health problems, such as:
Anxiety
Depression
Grief
Stress
Even certain medical conditions can make one fatigued, such as:
Liver failure
Chronic fatigue syndrome (CFS)
Anemia
Cancer
Kidney diseases
Heart diseases
Thyroid disorders
Obesity
Sleep apnea
Diabetes
Hormonal imbalances
Nutritional deficiencies
Chronic viral infections or other immune problems
Signs and Symptoms of Fatigue
Some symptoms of fatigue include:
Slow and delayed reflexes or reactions
Feeling lethargic at all times
Constantly feeling sleepy
Waking up tired and drowsy even after a night of sleep
Painful or weakened muscles
Headaches and lightheadedness
Feeling moody, irritable, and short tempered
Exhaustion, especially after a physical or mental activity
Lack of motivation and self-worth
Episodes of depression
Foggy or blurry vision
Difficulty concentrating
Loss of appetite
Inability to perform simple tasks that previously didn't feel so cumbersome
Managing Fatigue Through Medical Treatment
You cannot expect to comprehensively deal with the problem of fatigue without identifying the causative factors responsible for it in the first place. Such chronic episodes of fatigue may fail to subside despite your best efforts to maintain a healthy lifestyle and a wholesome diet.
People are often convinced that they are doing everything to keep their energy levels up but miss out on some specific determinants that only a professional can help them out with.
Given that fatigue can be rooted in a whole gamut of treatable medical ailments, be the by-product of various drugs, or be the result of inactivity, you must work closely with your healthcare provider to first reach a comprehensive diagnostic evaluation.
Subsequently, a customized treatment approach can be developed to address the underlying factors contributing to fatigue and manage the varying symptoms that come with it. The healthcare provider will enumerate and discuss the possible benefits and harms of each therapeutic technique and medication.
Therapy options for dealing with fatigue include:
Occupational therapy to help you simplify tasks at work and at home.
Physical therapy to establish a regular exercise routine and pick up on energy-saving techniques for performing daily tasks, with or without the use of assistive devices.
Sleep regulation, which entails the short-term use of sedatives and the redressal of other sleep-disruptive factors such as spasticity and urinary problems.
Psychological strategies, such as relaxation training, stress management, enlisting in a support group, or psychotherapy.
Other options include:
Iron supplements, especially for anemia-related fatigue
Vitamin supplements for other deficiencies
Medications and machines to assist with sleep apnea
Medications to regulate blood sugar levels
Antibiotics to treat infection
Medications to regulate thyroid function
Diagnosing Fatigue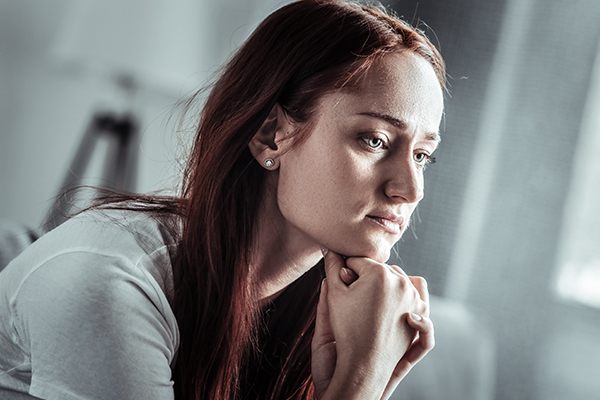 The origins of this generalized state of fatigue can be quite ambiguous, and the exact cause of the problem often remains undiagnosed.
However, your doctor might be able to reach a conclusive medical explanation by getting a better understanding of your condition. He/she is likely to ask your medical history in addition to the following questions in order to pin the culprit:
Was the onset of fatigue gradual or sudden?
Have you gone through any significant life changes recently?
Do you experience cyclical episodes of fatigue or has it become a constant state of being?
Do you encounter unusual levels of sleepiness or weakness?
Would you say that you have struck a balance between all the important aspects of your life: professional, relationships, physical, emotional, social, sense of worth, and recreation?
What can be the probable cause, according to you?
Have you been feeling down or depressed lately?
Final Word
Whether your fatigue is due to physical, mental, or emotional exertions, you may be able to fight it with some readily available foods.
Key foods will provide your body with all the essential nutrients, such as protein, fats, and complex carbohydrates, as well as vitamins and minerals, to function properly and fight symptoms of fatigue.
Was this article helpful?