Before modern food processing technology came into existence, humans hunted, gathered, and prepared all of their food.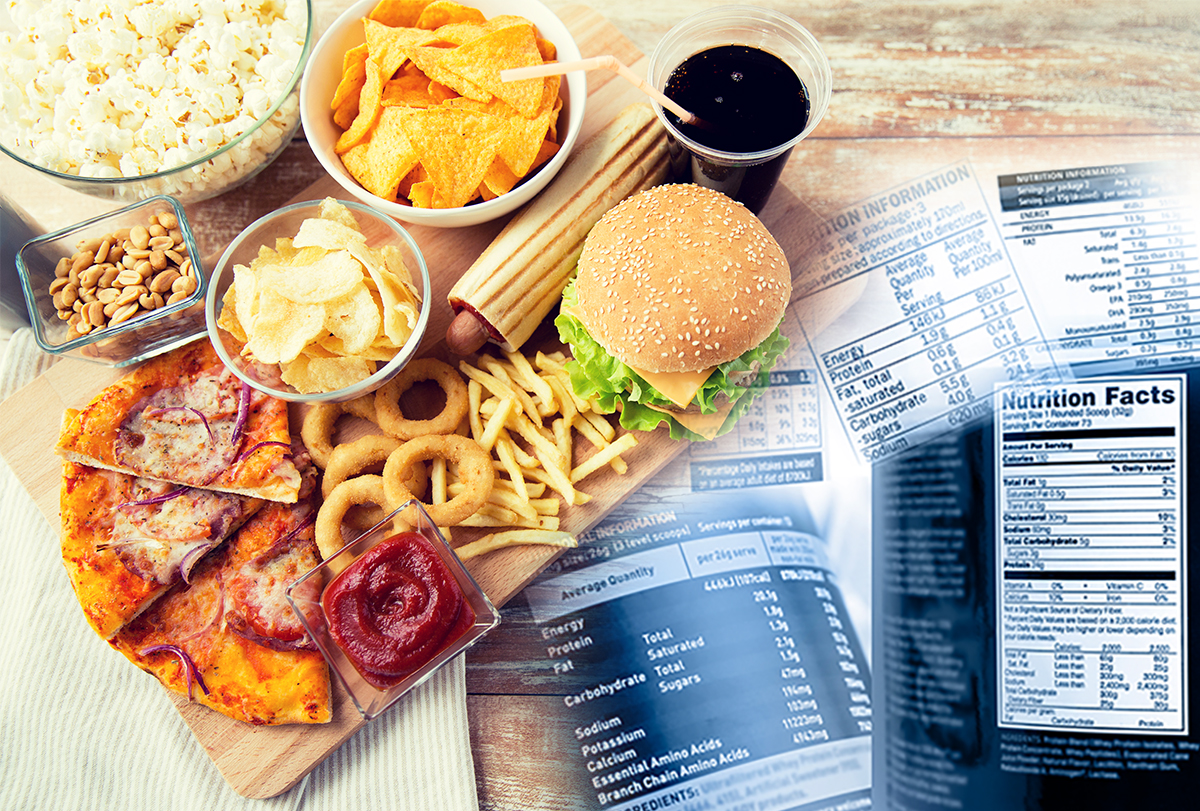 Today, you can easily walk into a grocery store and buy prepackaged processed items with ease. However, with the advancement in food technology, the types of life-threatening diseases humans currently face are no longer small infections or viruses only.
A multitude of clinical studies have found that heart disease, stroke, and cancer, the top causes of death, are related to the diet in many ways. (1)(2)
Moreover, the Centers for Disease Control and Prevention emphasize that maintaining a healthy weight and reducing tobacco use are top contributors to a healthy lifespan. (3)
What Are Processed Foods?
The majority of the food you eat today has been "processed." Generally speaking, "processed foods" refer to highly refined food items that have been greatly altered from their original state.
Processed foods include:
White rice
White bread
Pastries
Candy
Sweetened beverages
Deep-fried foods
Protein bars and shakes
Juice
Fruit snacks
Sausage
Bacon
Chips
What Is an Additive?
A food additive is any substance added to food that impacts the taste of food or is used during food processing with a specific purpose.
Food additives are commonly added to food to:
Increase shelf life
Enhance flavors
Reduce the cost of the food item
Stabilize a product during treatment
Change the food texture
Additives can also be added to foods in trace amounts indirectly from the packaging. In fact, the Food and Drug Administration (FDA) requires that food packaging manufacturers provide safety data before using their packaging material. (4)
Food additives can also be added to food items based on health goals. For example, many companies began to add artificial sweeteners to their products to reduce sugar intake.
However, the use of additives has raised concerns among health professionals and the general public. Studies now show that the use of food additives may not be as safe as once thought. (5)(6)
Food Additives You Should Avoid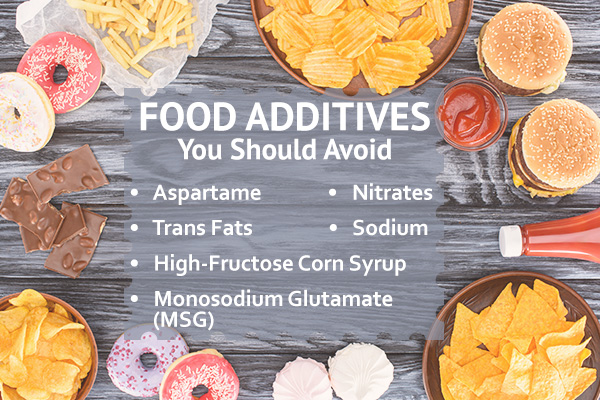 Here are food additives from which you should stay away.
1. Aspartame
Aspartame was filed to enter the sugar substitute market in 1973 but was not approved until years later in 1981. The safety of aspartame was approved mainly based on two animal studies, one with use in dogs and the other with use in rats. (7) Certainly, a lack of initial human evidence was unsettling.
Studies have linked aspartame consumption (and other artificial sweeteners) to brain tumors in rats, (8)(9) stroke and dementia in humans, and cellular changes in the brain.
While many scientists believe aspartame to still be safe, it might be best to skip over the sugar-free gum until more conclusive evidence has emerged.
2. Nitrates
Nitrates are naturally occurring substances often found in vegetables, especially celery. Nitrates are not inherently "bad," but studies have shown that excessive intake of nitrates can increase the risk of cancer. (10) Nitrates are commonly used in processed meats, including sausage, jerky, and bacon.
The World Health Organization released a surprising announcement last year classifying processed meats as group 1 carcinogens (cancer-causing agents). (11) Studies link excessive consumption of processed meat to increased risk of colorectal cancer. (12)(13)
You may be better off without processed meat. Choose fresh nitrate-free cuts instead.
3. High-fructose corn syrup
High-fructose corn syrup is a highly processed sweetener produced from corn. It is easily absorbed in the body, posing blood sugar complication risks for the consumer.
Consuming too much of this sweetener has been linked to insulin resistance, obesity, type 2 diabetes, and even high blood pressure. (14)
High-fructose corn syrup is cheap to produce, which is why it is commonly found in foods such as:
Ketchup
Yogurt
Salad dressings
Juice
Canned fruit
Bread
Cereal
Granola/snack bars
Ice cream
4. Trans fats
Trans fats have been directly linked to multiple diseases. They can raise your bad cholesterol (LDL) while lowering your good cholesterol (HDL).
Trans fats can also raise your risk of heart disease, stroke, and type 2 diabetes. Trans fats are often found in pastries, frostings, crackers, and microwave popcorn, and they comprise margarine entirely.
Thankfully, trans fats are being banned around the world. Seven countries in Europe have now banned trans fats, and the United States joined in 2015, requiring that food companies change their production to remove trans fats by 2021. (15)(16)
5. Sodium
Is sodium safe to eat? Of course! However, excess sodium quickly becomes a problem when added to foods.
The American Heart Association recommends that you limit your daily sodium intake to no more than 2,300 mg per day; however, an ideal limit is no more than 1,500 mg per day. (17)
Foods with excess sodium added can quickly race past the recommended sodium intake. Keep a close eye on the nutrition label of your favorite snacks and meals to reduce your sodium intake and support your heart health.
6. Monosodium glutamate (MSG)
Monosodium glutamate has been widely controversial for a long time. It is one of the most commonly used food additives because it adds a unique taste to foods.
Also known as the taste of "umami," MSG is also called "China salt." It gives food a taste that is difficult to describe in comparison to other foods.
However, this mystery spice has been linked to obesity, metabolic disorders, and neurotoxic effects. Animal studies have also found that MSG can affect reproductive organs. (18)(19)(20)
Dangerous Food Additives for Children
The American Academy of Pediatrics warns that food additives may be harmful to children, specifically due to their developing organs. Here are three food additives you should avoid exposing your children to.
1. Bisphenols (including BPA)
Bisphenols can mimic the hormone estrogen in the body. Because of this, it can affect a child's developmental process during puberty. However, there is no conclusive study on this matter. (21) This additive may also increase body fat and interfere with the nervous and immune systems. (22)
Avoid bisphenols by purchasing bisphenol-free cans, water bottles, and plastics that your food or drinks come in contact with.
2. Perfluoroalkyl chemicals (PFCs)
Perfluoroalkyl chemicals are found in some food packaging. They do not break down in the body and can accumulate over time.
These chemicals have been linked to low birth weights and immune, thyroid, and fertility complications. (23) Keep an eye out for food companies that use this chemical in cardboard.
3. Food coloring
Dr. Claire McCarthy, a Harvard faculty editor, states that food additives "have been found to increase symptoms in children who have attention deficit hyperactivity disorder (ADHD). (24) They are found in all sorts of food products, but especially those marketed for children."
While the conclusive evidence on food coloring is still up for debate, it is best not to expose your child to food coloring, especially while they are still developing.
Expert Answers (Q&A)
Answered by Olivia DiPio, LD (Registered Dietitian Nutritionist)
What foods should be avoided when trying to lose weight?
As a dietitian, I try not to use the word "avoid" as it seems extreme for food items. But I do think people should limit certain things, such as processed food.

A good rule to live by is, if you do not know what it is, then why would you eat it? I suggest eating whole foods and limiting processed foods such as cakes and cookies.

Some great questions to ask yourself are:

• "Do I know how this food was grown?"
• "Is this a whole food?"
• "How was this product made?"

Whole foods are the best tools to help you lose weight because they are low in calories and high in important nutrients that fuel a healthy lifestyle.
Should dairy products be avoided when trying to lose weight?
No, dairy products are helpful as they provide not only calcium but also protein, vitamin D, and potassium.
What food items are particularly harmful to elderly people in terms of overall health?
No food is "harmful" to elderly people. Regardless of your age, make sure that you are aware of any food and drug interactions with your prescribed medications.

Grapefruit should be avoided when taking Lipitor, which is a common medication. An individual who is prescribed warfarin, a common blood thinner, should be conscious of vitamin K intake.

Overall, make sure to review your medications list for any food interactions and avoid those food items.
How can one start incorporating healthy foods into the diet?
If someone is looking to change their lifestyle, then I think a great place to start is by trying to have two servings of fruits or vegetables at every meal.

Try to add things to your life instead of taking away because it creates a better mindset to stay on track.

Keeping track of calories is also important because it helps you count your calories and stay in a calorie deficit, which is the only way to lose weight.

The addition of 2 servings of fruits and vegetables will make you feel fuller longer and get you all the nutrients while having a lower caloric intake.
Final Word
Food additives are used since long for the preservation, packaging, or improving the taste, texture, and nutrient content of foods.
While more than 10,000 additives are FDA approved, many other food additives are found to be harmful to health. Therefore, until a food additive is determined to be safe, it is best to steer clear of them.
Was this article helpful?