Health and fitness enthusiasts the world over are united by their absolute love for chia seeds. It seems these minuscule power-boosters have emerged as the breakfast must-have of our time, but their consumption and acclaim are nothing recent.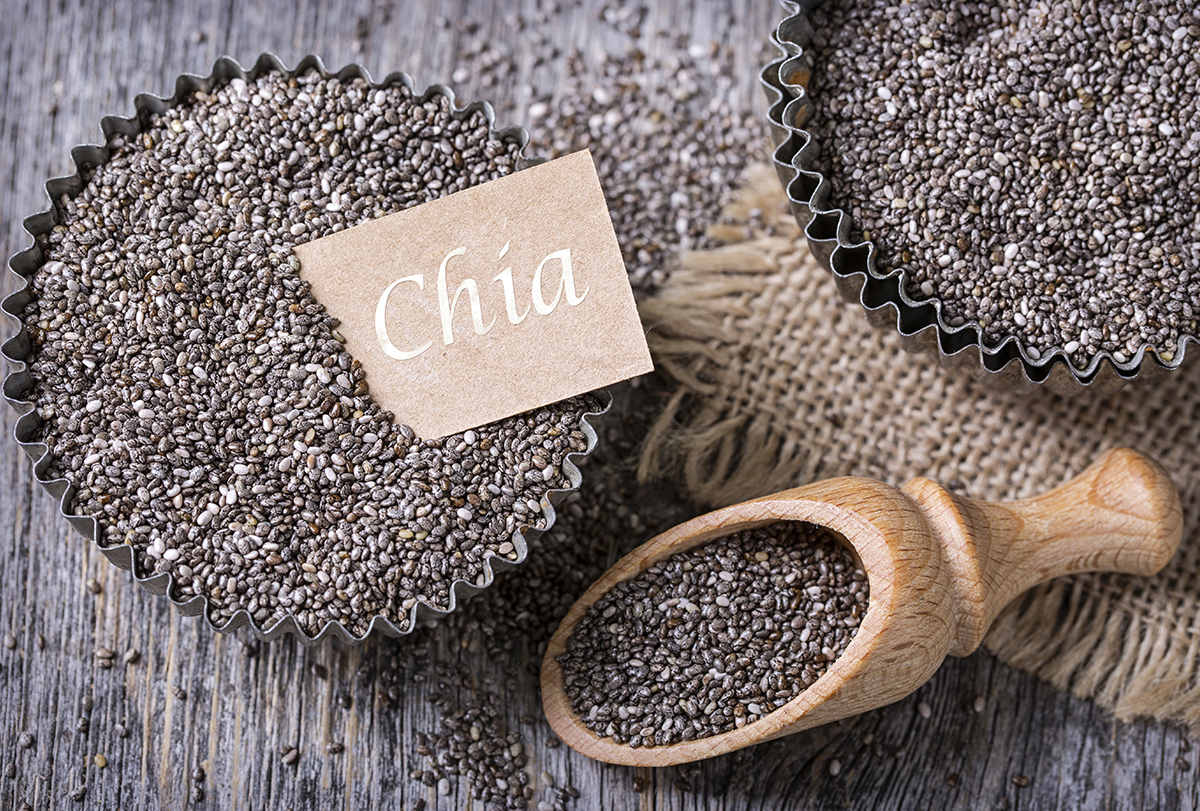 Originating from Mexico and Guatemala, chia is an edible seed derived from the desert plant Salvia hispanica, a member of the mint family. Even hundreds of years ago, when the Mayans and Aztecs walked the Earth, the health perks of these tiny but mighty seeds were not lost on them.
In fact, the very word chia is the ancient Mayan word for "strength." Even an ounce of chia seeds can provide you with a heavy bulk of nutrients minus the calorie scare. Plus, this organically produced wholegrain is naturally gluten-free.
Healthy Perks of Adding Chia Seeds to Your Diet
Here are 10 supercharged health benefits of eating chia seeds
1. Improves digestion
The good amount of fiber (both soluble and insoluble) in chia seeds helps facilitate regular bowel functions and thereby keeps the load off the digestive system. The insoluble fiber helps food move smoothly through the intestinal passageways and prevents constipation.
This daily excretion of toxins via the bile and stool is imperative for the preservation of the overall health of the body. The soluble fiber, on the other hand, keeps the colon hydrated and ensures easy digestion. (1)
In addition, these seeds also help prevent diverticulosis and diverticulitis by relieving the pressure on the colon. As it turns out, both these conditions have often been associated with a low-fiber diet. Fiber accounts for 40% of the weight of chia seeds, making them one of the most bounteous sources of dietary fiber.
Add 1 tablespoon of chia seeds to a glass of warm water and drink it 1 to 2 times daily to maintain a healthy digestive system.
2. Keeps you energized
Chia seeds are one of the best plant-based sources of complete protein. The strontium in these seeds helps assimilate protein and produce high energy. Moreover, the various vitamins and minerals work together to keep you energized throughout the day and increase your metabolism rate.
According to a 2011 study published in the Journal of Strength and Conditioning, intake of chia seeds works just as effectively as sugar-laden sports drink to enhance athletic stamina for endurance events that last more than 90 minutes.
The key takeaway from these findings is that chia seeds can be a more viable alternative to carbohydrate-rich energy drinks, as they provide athletes with the goodness of omega-3 fatty acids minus the side effects of sugar. (2)
3. Suppresses appetite
As chia seeds possess the ideal mix of a low-calorie count and a high fiber content, they can be a welcome addition to a weight loss diet.
Owing to their fibrous makeup, chia seeds can soak in about 1–12 times their weight in water and acquire a gel-like consistency, increasing in size and weight. When consumed in this gel form, chia seeds tend to be digested more slowly and thereby keep you satiated for longer. (3)
Moreover, the protein in chia seeds also helps reduce appetite and food intake. The feeling of fullness induced by the intake of chia seeds keeps you from bingeing during your next meal and keeps your mid-meal hunger pangs in check.
In addition, the protein and essential fatty acids in chia seeds help boost metabolism and promote lean muscle mass. Thus, it's safe to say that chia seeds have no dearth of weight-loss-conducive nutrients.
Sprinkle chia seeds on your salads, soups, yogurt, and smoothies or use it as a garnish for your vegetable dishes or mixed juice.
4. Stabilizes blood sugar
According to a 2009 study published in the British Journal of Nutrition, chia seeds can help normalize insulin resistance. (4)
The unique blend of both soluble and insoluble fibers along with its wholesome protein content enables chia seeds to decelerate the rate at which complex carbohydrates are digested. This holds special significance for people with type 2 diabetes as chia seeds can help them stabilize their blood glucose levels.
In addition, chia seeds can even help reduce fat and cholesterol in the blood, thus reducing the risk of cardiovascular problems.
To reduce insulin resistance and decrease sudden spikes of sugar in the blood, eat 1 to 2 tablespoons of chia seeds daily.
5. Slows the aging process
Chia seeds are also excellent antiaging food. They help maintain beautiful skin, hair, and nails. Being high in antioxidant properties, chia seeds help fight free radicals and consequently help prevent premature aging.
Moreover, the omega-3 fatty acids in chia seeds help treat a number of skin issues such as wrinkles and age spots, keep the skin moisturized, and promote wound healing. (5)
To maintain a youthful appearance as well as enhance your hair, skin, and nail health, have some chia seeds daily.
6. Cures mood disorders
According to research done in 2010 at the McGill University in Montreal, omega-3 fatty acids greatly help treat depression and other mood disorders.
Chia seeds are a wealthy source of omega-3 fatty acids, which merits their inclusion in the diet of those suffering from depression, bipolar disorder, ADHD, anxiety, stress, and other types of mood and behavioral disorders. (6)
Moreover, chia seeds support mental health by nourishing the brain and creating a sense of calm and focus. Also, the B vitamins in chia seeds help the nervous system work more efficiently.
7. Treats anemia
Anemia is a condition in which the body does not have enough healthy red blood cells to carry adequate oxygen to tissues, causing fatigue and many other health problems.
It can be caused by a variety of reasons, the most common being iron deficiency. You can treat anemia with chia seeds that are abundantly supplied with iron. (7)
In addition to providing essential nutrients, chia seeds help cleanse the body and increase the red blood cell count. Eating 2 tablespoons of chia seeds provides your body with 2.2 milligrams of iron, or 12% of the recommended daily allowance.
Another option is to make an anemia-fighting smoothie with 2 cups of spinach, 1 tablespoon of dandelion root powder, 2 beetroots, 1 banana, 1 tablespoon of chia seeds, and 1 avocado. Blend all the ingredients thoroughly and drink it 1 or 2 times daily.
8. Prevents osteoporosis
Chia seeds are one of the best non-dairy sources of calcium and are replete with several other bone-friendly nutrients, such as magnesium, protein, and phosphorus, which can prevent your bones from becoming fragile and even reduce the risk of osteoporosis.
Moreover, the omega-3 essential fatty acids in these seeds help increase bone mineral density. (8)
This leads to the conclusion that chia seeds can help treat joint aches, inflammation, arthritis, and other bone-related health problems. They can also keep your teeth strong and healthy.
Consume 1 tablespoon of chia seeds daily to maintain bone and oral health and to stave off the risk of osteoporosis.
9. Improves heart health
Chia seeds, when consumed as part of an overall cardioprotective diet and accompanied with other beneficial lifestyle changes, can prove good for your heart health. (9)
Being a concentrated source of omega-3 and omega-6 fatty acids, chia seeds can lower harmful low-density lipoprotein (LDL) cholesterol and triglycerides while increasing the "good" high-density lipoprotein (HDL) cholesterol.
On top of that, chia seeds contain no cholesterol. These seeds also help reduce atherosclerotic plaque buildup and lower high blood pressure. In addition, chia seeds have plenty of magnesium and potassium, which help keep your heart healthy and reduce the risk of heart disease and stroke.
Eat at least 1 tablespoon of chia seeds daily to improve your heart health.
10. Improves brain functioning
Chia seeds may be beneficial in helping your brain function properly and in improving your memory and concentration. Being high in omega-3 fatty acids, chia seeds help keep the arteries in the brain to be clear of plaque. This, in turn, improves the communication between brain cells.
In addition, these essential fatty acids help make the cell membranes in the brain more flexible and nerve transmission more efficient, thus contributing to enhanced cognitive functioning. (10)
Something as simple as sprinkling chia seeds on your yogurt, cereal, and salad can go a long way in achieving optimum brain health.
Nutritional Content of Chia Seeds
If we look past the fiber content that rarely transforms into usable calories for the body, an ounce of chia seeds contains a paltry 101 calories.
Boasting nutrient-dense composition, chia seeds are well endowed with healthy omega-3 fatty acids, carbohydrates, protein, fiber, antioxidants, and calcium. They also contain a good amount of zinc, vitamin B3 (niacin), potassium, vitamin B1 (thiamine), and vitamin B2. (11)
Nutritional value of chia seeds per 100 grams:
Water – 5.80 g
Energy – 486 kcal
Protein – 16.54 g
Total lipid – 30.74 g
Carbohydrate – 42.12 g
Fiber – 34.4 g
Calcium, Ca – 631 mg
Iron, Fe – 7.72 mg
Magnesium, Mg – 335 mg
Phosphorus, P – 860 mg
Potassium, K – 407 mg
Sodium, Na – 16 mg
Zinc, Zn – 4.58 mg
Vitamin C – 1.6 mg
Thiamin – 0.620 mg
Riboflavin – 0.170 mg
Niacin – 8.830 mg
Vitamin A – 54 IU
Vitamin E – 0.50 mg
Another feather in chia's cap is the generous concentration of polyphenolic antioxidants that surpasses even that of fresh blueberries. It is on account of these antioxidants that chia seeds can be stored for extended periods of time without going bad.
Risk Factors Involved With Chia Seeds
Health experts advise not to consume these seeds in dry, raw form. Before eating the seeds, mix them in enough liquid to allow them to expand beforehand. This is because chia seeds pose the risk of flaring up while being chewed and swallowed, thereby causing possible esophageal obstruction.
In addition, chia seeds may not be suitable for people who have problems in swallowing, asthma, food allergies (especially to sesame seeds or mustard seeds), seasonal allergies, or a constricted esophagus.
Do not consume chia seeds in excess as it may increase the risk of prostate cancer.
Consumption that exceeds the recommended daily dosage of 20 grams can lead to digestive distress as chia seeds take forever to break down and absorb in the system.
Chia seeds are not a recommended food choice for children.
Expert Answers (Q&A)
Answered by Ms. Jackie Newgent (RDN)
Do chia seeds help one lose weight?
If you're following an unhealthy, highly-caloric eating plan, adding chia seeds to it will not help you lose weight. However, including chia seeds in a healthful, calorie-friendly plan can potentially boost weight loss efforts – that's partly due to chia seeds' effect on satiety with their trio of fiber, protein, and good fats.

Research backs up the weight loss-promoting effect of chia seeds as part of an obesity-treatment plan. Of course, keep in mind, that no food item can single-handedly lead you to your weight loss goals.
Is it okay to consume chia seeds on an empty stomach?
If you have an 'empty' stomach, I typically advise eating any high-fiber food along with plenty of liquid. For instance, make sure chia seeds are gelled rather than eating them raw as is.
Is it safe to consume chia seeds without soaking them first?
If you don't have a digestive condition, swallowing problems, or esophageal strictures, eating small amounts of non-soaked chia seeds, such as 1 or 2 teaspoons at one sitting, should not lead to any significant digestive distress; however, it's still advisable to enjoy them along with a liquid or a high-water food, such as yogurt.
What is the best way to eat chia seeds?
You can enjoy chia seeds in smoothies, beverages, chia squeezes and more. At home, my favorite way to use chia seeds is in baking. I often mix together 1 tablespoon chia seeds with 3 tablespoons water to create a chia gel which can be used as an alternative to eggs in baking.
How long does it take for chia seeds to go bad?
Your best bet is to rely on the "use by" or "expiration" date given on the packaging of chia seeds for guidance on their shelf life. Refrigerating or freezing chia seeds is known to extend their shelf life.
Can chia seeds and flax seeds be eaten together?
Of course, seed combinations can be eaten together.
Do chia seeds help relieve constipation?
While regular consumption of chia seeds may play a role in managing constipation, other fiber-containing foods, such as prunes, may potentially be better at it.

Research suggests that regularly eating 4 or 5 California prunes per day can help you maintain good digestive health. Consider enjoying both prunes and chia seeds daily.
Final Word
Health experts recommend eating 20 grams or about 1½ tablespoons of chia seeds, twice a day to maximize its benefits. This shouldn't be hard as the mild nutty flavor of these seeds makes them an excellent additive to a variety of different preparations: sprinkled on smoothies, breakfast cereal, sauces, vegetables, rice dishes, or yogurt or mixed into drinks and baked goods.
Furthermore, because chia seeds are particularly adept at absorbing fat and water, they can be used as thickening agents in sauces and gravies as well as egg substitutes in recipes. You can, thus, greatly enhance the nourishment potential of an otherwise lackluster and bland dish by a small sprinkling of chia seeds.
If you're looking for some recipes using chia seeds, try vegan vanilla chia cupcakes, cauliflower "hash brown" patties, vegan dark chocolate-pumpkin bread, or vegan chocolate chip cookies – all of them contain chia seeds!
Was this article helpful?