Many people will recognize hibiscus as the flower that graces anything Hawaiian; after all, it is the state flower. Yet this tropical beauty is more than just a pretty image on a Hawaiian shirt.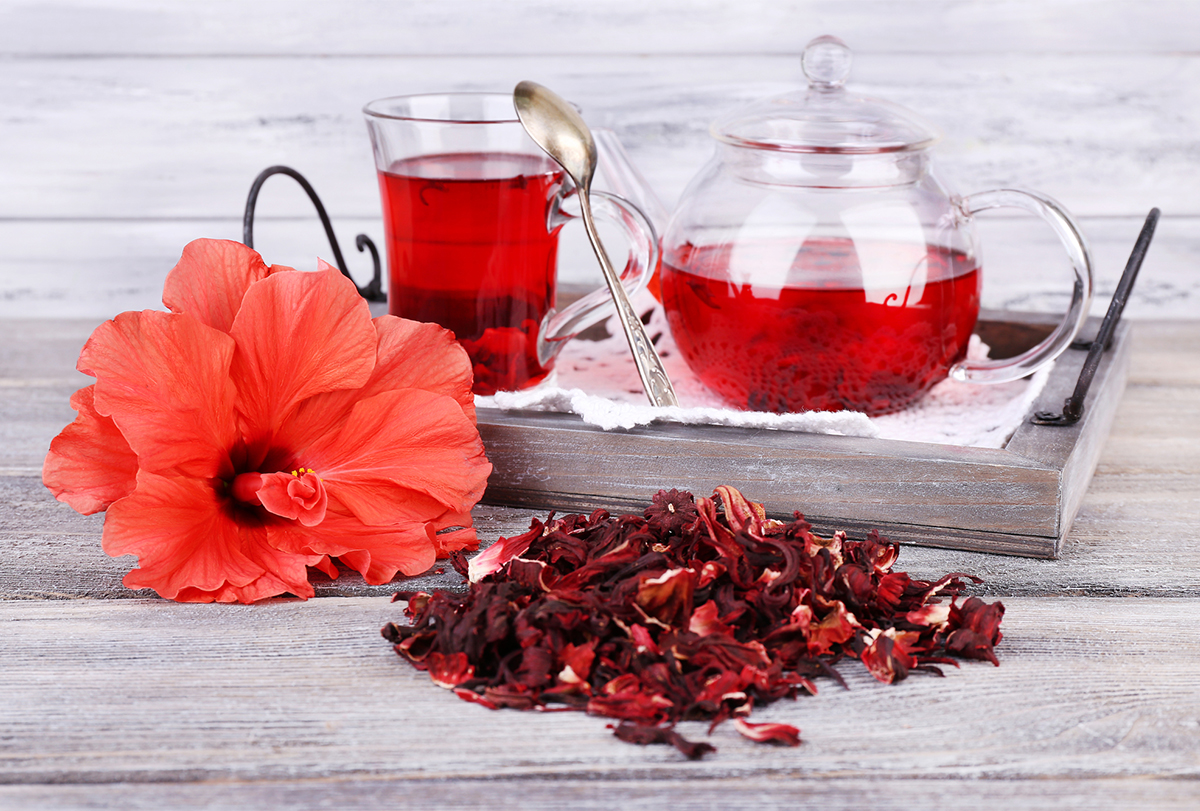 Certain hibiscus varieties, such as Hibiscus sabdariffa, are medicinal and have been used to treat diabetes, high blood pressure, and skin conditions, as well as prevent and fight off colds and flu.
Hibiscus tea was considered a forbidden drink for women in the Middle East because of its potential to enhance lust and sexual passion. Researchers now validate that it can, indeed, boost the libido! (1)
The beneficial elements present in the tangy, tart, and sour-tasting H. sabdariffa gives it its high rank as an essential natural remedy. Its medicinal properties may be useful for being a refrigerant, diuretic, astringent, and antioxidant. (2)
Caution: Avoid hibiscus if you are pregnant or nursing. Hibiscus is known as an emmenagogue. It may force menstruation or labor. Harm or toxicity may occur if taken in high doses and over a long period. Check for drug interactions before use.
Health Benefits of Hibiscus Tea
It is recommended to consume hibiscus tea for its following properties.
1. Antioxidant and anti-inflammatory
Chronic inflammation, often caused by a lack of nutrients and antioxidants, is at the root of many lifestyle diseases.
Hibiscus is naturally high in the phytonutrient anthocyanin, a family of bioactive pigments responsible for the red color of hibiscus and its potent antioxidant actions.
A recent review found that H. sabdariffa extracts wield potent beneficial reactions in the body. (3) The studies suggested that anthocyanins may be involved in the improvement of many different types of diseases.
It is encouraging to know that a simple plant could offer so many benefits. Drink up to 3 cups of tea a day for 6 weeks.
2. Prevents colds and flu
An essential nutrient needed for a well-functioning immune system is vitamin C, which hibiscus just so happens to be abundant in.
Natural and integrative health care practitioners would say it is prudent to drink hibiscus tea as a preventive measure during either the hot summer months or the colder seasons to bolster your immunity to colds and flu. 
One recent study showed promising results with hibiscuses' ability to kill the flu virus. (4)
Add extra immune-boosting properties to your tea with spices and herbs such as ginger, black pepper, rose hips, cayenne, cinnamon, cardamom, and fenugreek.
3. Lowers blood pressure
People who suffer from hypertension may find relief knowing that scientists are learning that drinking hibiscus tea or using an extract from the hibiscus flower may positively contribute to the reduction of high blood pressure.
A clinical trial found adults taking 240 ml hibiscus tea daily for 6 weeks had lowered blood pressure. (5) Along with daily relaxation and exercise, heating up a hot mug of hibiscus tea will reduce stress and will have a soothing impact on the whole body.
However, it is recommended to consult your doctor before trying this remedy, especially if you are on antihypertensive medications, as combining them with hibiscus tea can cause a severe drop in your blood pressure.
4. Boosts liver health
"Love your liver" is a saying many natural health practitioners use and for a good reason. The liver performs many amazing jobs, but one particularly stands out – the role of detoxification. Therefore, empower your body to gently detoxify every day, with common foods and drinks, such as hibiscus tea.
One study with rats showed that hibiscus anthocyanins (HAs) found in H. sabdariffa L. reduced oxidative liver damage. (6) The plants' naturally occurring pigments lowered the occurrence of liver lesions and necrosis in rats.
Caution: Avoid overuse of hibiscus tea as large doses can cause hepatotoxicity. (7)
5. Promotes healthy skin and hair
No matter your age, healthy skin and hair is often a sign of good health. Hibiscus has proven benefits for improving health on the inside, and it also is known for making you look good on the outside.
Consuming hibiscus tea regularly may be beneficial for calming sensitive skin, smoothing out wrinkles, and making your skin look toned, hydrated, and refreshed.
Moreover, hibiscus tea and extracts have also been used as a viable treatment for serious skin conditions such as melanoma, which is responsible for the death of 80% of skin cancer cases. (8)
The H. rosa-sinensis species also showed a capacity to kill methicillin-resistant Staphylococcus aureus (MRSA). (9)
ALSO READ: Foods for Healthy and Younger-Looking Skin
6. Supports heart health
Heart disease is the number one killer of Americans. Over 655,000 people die every year from heart disease-related issues, according to the Centers for Disease Control and Prevention. (10)
Dyslipidemia, diabetes, overweight, and obesity are all conditions that can lead to the onset of cardiovascular disease. High cholesterol, in particular, is a hot-button topic.
It has been found that there is a significant reduction in low-density lipoprotein cholesterol serum concentrations on consuming hibiscus tea. (11)
Whatever the reasons people suffer from this pernicious disease, be it poor diet, lack of exercise, too much alcohol, or smoking, there is significant clinical evidence showing that H. sabdariffa is a shining beacon of hope for reducing it.
ALSO READ: 13 Foods That Keep Your Heart Healthy
7. Quenches thirst
Known as a heat-clearing herb, hibiscus, and hibiscus-based beverages are refreshing to drink on a hot summer day.
According to Michael Tierra, acclaimed herbalist, in his classic Planetary Herbology, hibiscus is categorized as a refrigerant because of its cooling properties. (12)
In particular, hibiscus and plants similar in nature were used in tropical areas in parts of Asia to reduce the effect and presentation of damp heat. Keep the dried herb in stock to quickly call upon it when you need to cool down, hydrate, soothe dryness, and replenish your body's moisture levels.
8. Fights cancer
Plant-based food herbs such as beets, collards, sweet potatoes, and hibiscus are rich in color and phytonutrients.
These natural plant chemicals, like flavonoids, have antioxidant actions that studies show may prevent and reverse cancer. The abundance of red anthocyanins in hibiscus may be partially the reason it has great promise as a cancer treatment for leukemia and gastric cancer cells. (13)
The extract of H. sabdariffa may be able to reduce cancer by its apoptotic abilities, and it also exhibits possible protection against liver disease, atherosclerosis, and metabolic syndromes. (14)
9. Improves healthy blood sugar balance
In the United States currently, 1 in 3 adults is diagnosed with diabetes. An animal study demonstrated that H. sabdariffa polyphenolic extract (HPE) reduced hyperglycemia and hyperinsulinemia.
Additionally, the HPE proved its capacity to fight insulin resistance and decrease serum cholesterol, serum triacylglycerol, the ratio of low-density lipoprotein to high-density lipoprotein (LDL/HDL), and advanced glycated end products. (15)
The study concluded that extracts from H. sabdariffa have a promising role in diabetic therapy.
Caution: Since hibiscus tea can lower blood sugar levels, people with diabetes should constantly monitor their blood sugar.
10. Helps maintain and reduce weight
Scientists have learned that H. sabdariffa inhibits lipid accumulation, promotes a reduction in body weight, and increases metabolism, all traits that point to using hibiscus as a potential therapeutic agent to reverse obesity.
Researchers studied the impact of hibiscus in obese mice and found the extract thwarted significantly any weight gain. (16)
11. Possesses antibacterial properties
Hibiscus is a potent antibacterial agent. It has been studied for its potential activity against multidrug-resistant bacteria. Moreover, due to its availability, it can also be employed in the food industries. (17) However, more human-based trials are required to establish the antimicrobial effects of hibiscus. (18)
Recipes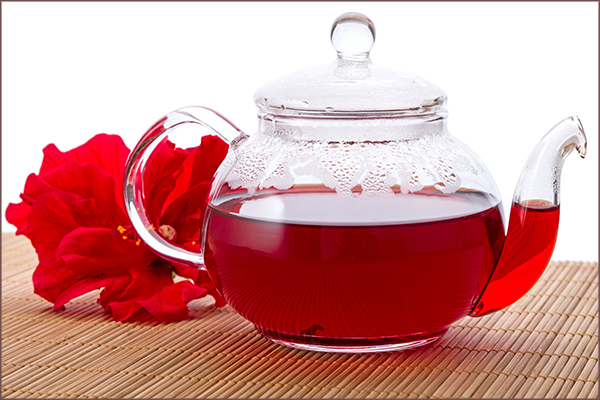 Enjoy the nutritional benefits of hibiscus tea and syrups in a few simple steps.
Recommended dosage: 3 cups a day
1. Hot hibiscus tea
Directions
Pour just-boiled water over a tea ball or tea strainer filled with dried hibiscus flower. Measurement is about 1–2 teaspoons of herb to 1½ cups of water.
Let the tea steep for 5 minutes.
Remove the herbs.
Add honey or sweetener, if desired.
2. Hibiscus sun tea
Directions
In a quart mason jar, add ¼ cup of dried hibiscus flower and cover with water.
Cover with a lid and place in the sun for a few hours until a deep vibrant red color appears.
Strain off the herbs and pour the tea in a fresh jar.
Add other herbs such as mint, ginger, or lemon balm to create your own elixir.
3. Hibiscus, rosehip, and honey syrup
Ingredients
½ cup dried hibiscus flower
2 cups of water
1/8 cup dried rosehips or ¼ cup fresh, chopped
½ cup of honey (more or less depending on your desires)
Directions
In a small saucepan, add the hibiscus, rosehips, and water.
Bring to a boil and then lower down to a simmer, and let it steep for about 5 minutes.
Pour the liquid through a strainer into a glass pint mason jar.
Add honey while the brew is still warm. Stir well to dissolve.
Put on a tight-fitting lid and store in the refrigerator for up to a week.
Final Word
Drinking hibiscus tea, taking it as an extract, or enjoying it as syrup are truly proficient at providing better health.
Hibiscus is not only a cost-effective and low-risk way to support your health, but the taste and different ways to enjoy hibiscus make drinking it feel like a special treat.
Was this article helpful?