Canned soft drinks and sodas have become among the most sold beverages in the United States. (1) Although most people are aware of the adverse health effects (2) associated with soda consumption, an increase in their consumption has been observed over the years.
Sodas contain many toxic ingredients that can interfere with your metabolism and have been linked to diabetes, heart issues, and dental issues. (3)(4)
Here are a few of the harmful ingredients present in soda:
Toxic Ingredients in Soda
Many canned soft drinks contain the following ingredients that are not good for the body.
1. Bisphenol A
Bisphenol A (BPA) can mess with the hormone system of your body. It is found in minor quantities in some popular soft drinks.
BPA can copy estrogen, preventing natural estrogen from completing its cycle, thus disrupting menstrual cycles in women, decreasing sperm count in men, causing early puberty in young girls, and also increasing the risk of certain cancers. (5)(6)
BPA is also associated with an increased risk of obesity in children. (7)(8)
2. Artificial color
Most soft drinks have a deep caramel color, which is attained by adding an artificial colorant that contains 4-methylimidazole (4-MEI), a compound that may have carcinogenic properties. (9)
Some research studies suggest that the use of caramel colors that contain 4-MEI may lead to pancreatic cancer, diabetes, and other health issues. (10) However, these reports are yet to be confirmed as there have been different results found in multiple studies. (11)(12)
3. Phosphoric acid and caffeine
Phosphoric acid found in sodas has been linked to a host of health problems, including decreased bone density, tissue damage, and increased risk of cardiac issues. (13)
Excessive consumption of caffeine can also cause an elevated heart rate, heart diseases, and hypertension. (14) It also increases the risk of osteoporosis, especially in older women. (15)(16)
4. Brominated vegetable oil
Brominated vegetable oil (BVO) contains bromine, which is a toxic chemical that can lead to loss of muscle coordination when consumed in large amounts. (17) Some studies have also linked the consumption of bromine to memory loss and thyroid issues. (18)
5. Sodium benzoate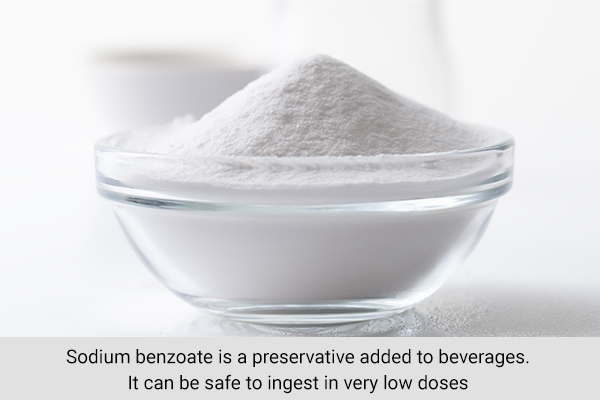 Sodium benzoate is a preservative added to beverages. It can be safe to ingest in very low doses (0–5 mg/kg of body weight).
However, in excessive doses, it may cause kidney damage, liver diseases, and decreased sperm count. It has also been known to affect your mental health and causes mood swings or depressive episodes. (19)
6. High-fructose corn syrup
High-fructose corn syrup (HFCS) is a form of sugar that has more side effects than regular sugar. (20) It is linked with diabetes, heart diseases, kidney diseases, gout, etc. (21)(22)
Most soft drinks nowadays contain high-fructose corn syrup as it is a cheaper and longer-lasting alternative to sugar. (23)(24)
7. Aspartame
Aspartame is an artificial sweetener mainly found in diet sodas. (2) It has been linked with the development of heart diseases and hormone imbalances.
Aspartame is broken down into aspartic acid, phenylalanine, and methanol in the body. Some studies have reported that high amounts of methanol in pregnant women can be a risk factor for the fetus. It has been linked to the development of autism. (25)(26)
8. Acesulfame potassium
Acesulfame potassium is another artificial sweetener used in sodas. (27) It is almost 200 times sweeter than sucrose. (28)
Multiple studies suggest that the consumption of acesulfame potassium may affect gut health and disturb its natural microbiome. It has also been known to cause certain cancers in the urinary system. (29)(30)
9. Saccharin
Saccharin is also an artificial sweetener used in place of sucrose. It may lead to health disorders such as bladder cancers, diabetes, and liver disease. (31)
Expert Recommendation
Instead of reaching for ready-to-drink sodas, consume fresh lemonade or fruit juice. Add a single vitamin C tablet to get that effervescent effect and bubbly mouth feel of soda.
Final Word
While it may be well known that soda is bad for health, knowing exactly why and how it is harmful may help more people quit their soda addiction. If you get soda cravings, opt for healthier alternatives such as fresh juices, lemonade, or coffee.
Was this article helpful?