The symptoms of hand arthritis can be managed or treated with self-care measures and some home remedies. For this, it is essential to be aware of its symptoms, such as swelling, pain, stiffness, and difficulty in movement.
Home Treatment for Hand Arthritis
The following treatment methods and home remedies can help manage arthritis:
1. Capsaicin cream
Low-concentration over-the-counter capsaicin creams can benefit musculoskeletal disorders such as rheumatoid arthritis and osteoarthritis. (1)
Note: Capsaicin creams are made from chili pepper extracts, which act as counterirritants to pain. However, they may cause a stinging or burning sensation on application.
2. Supplements
Omega-3 fatty acid and glucosamine supplements can aid in the recovery of damaged cartilage. However, evidence to back this claim is lacking. One study found that the benefit of using chondroitin and glucosamine was clinically insignificant. (2)
3. Oil massage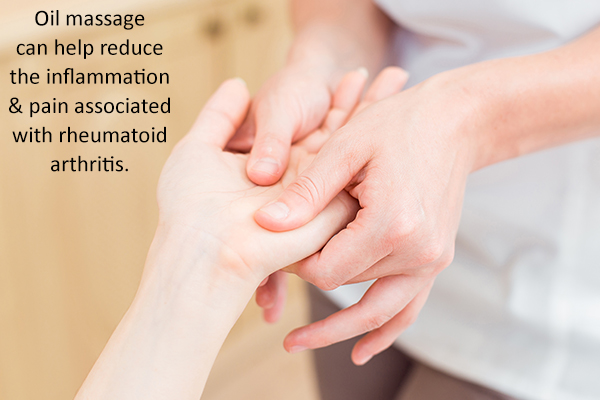 The topical application of extra virgin olive oil can help reduce the inflammation and pain associated with rheumatoid arthritis. (3) The oil is suggested to contain compounds that inhibit the production of inflammatory substances in the body.
One study found that the AromaTouch Hand Technique, which uses essential oils for a moderate-pressure massage, was effective in treating hand arthritis. (4)
4. Hot or cold therapy
A heat pack or warm water can help relieve stiffness and pain, whereas an ice or cold pack reduces swelling.
5. Splinting
This provides rest and releases stress from the joints. A review study found that the use of therapy gloves alleviated the symptoms of hand rheumatoid arthritis, such as stiffness, pain, and inflammation. (5)
Alternative Therapies for Hand Arthritis
The following alternative therapies may help alleviate arthritis in the hands:
1. Physical therapy
Physical therapy exercises help restore flexibility, build strength, and increase endurance.
A study found that hand physiotherapy, when correctly adjusted and performed, contributed to pain relief, improved grip, and increased manipulative ability in women with rheumatoid arthritis. (6)
It is important to consult a physical therapist for the appropriate exercises required to manage your condition.
2. Occupational therapy
A combination of occupational and physical therapy is effective in reducing pain in people with trapeziometacarpal osteoarthritis. (7) An occupational therapist can provide suggestions and alternatives to help you carry out your daily activities with ease.
Self-Care for Hand Arthritis
These self-care measures are beneficial in the management of hand arthritis:
1. Hand exercises
Movement of the hands, fingers, and wrists helps manage inflammation and pain while improving strength, function, and range of movement. It also helps increase pinch and grip strength in the short term. (8)
Hand exercises are considered to be the most cost-effective alternative hand arthritis management strategy. (9) You may consult your general practitioner or physical therapist for these exercises, especially if you have carpal tunnel syndrome.
2. Assistive devices
There are various arthritis-friendly gardening, grooming, and kitchen tools that are easier to grip and use. These are found to be effective as an alternate nonpharmacological treatment for hand osteoarthritis. (10)
3. Healthy diet
Include anti-inflammatory foods in your diet. You may follow the Mediterranean diet, which is rich in omega-3 fatty acids, oleic acid, phytochemicals, and unrefined carbohydrates. (11)
It includes foods such as cereals, vegetables, fruits, olive oil, legumes, and fish, along with moderate consumption of red wine and avoidance of red meat. (11) Following a healthy diet also helps lose excess weight, thus lowering the pressure and wear and tear on the joints.
4. Pacing
Avoid long periods of high activity. Getting enough rest or pacing yourself helps avoid joint stress and fatigue.
5. Joint protection
Practice joint positions that minimize stress. For example, use your palms or forearms to carry grocery bags instead of putting pressure on your fingers' smaller joints.
Most-Asked Questions About Hand Arthritis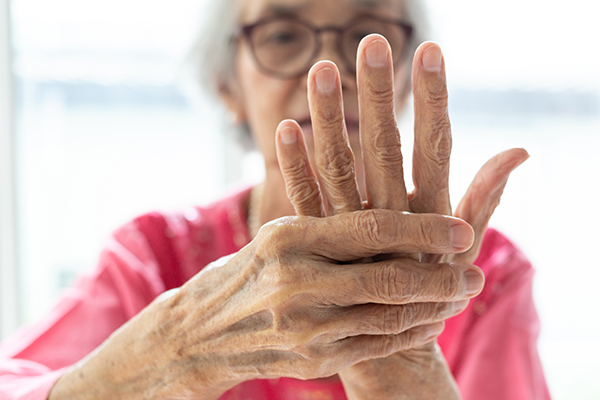 Are people with arthritis more likely to develop flu-related complications?
Patients with inflammatory arthritis, such as lupus or rheumatoid arthritis, are more prone to developing complications from flu than others. (12)
Are hormones involved in arthritis development?
The estrogen hormone plays a role as an anti-inflammatory substance. Therefore, at younger ages, women are less likely to develop arthritis than men. However, post-menopause women develop arthritis more due to a fall in estrogen levels. (13)
Does arthritis get worse with time?
The development of arthritis may depend on how you manage and treat the condition from its earlier stages. The pain associated with arthritis may improve or worsen over time, thus requiring suitable treatment depending on the cause.
How is tendonitis different from arthritis?
Tendonitis refers to the inflammation or irritation in the tendon, a thick cord that attaches the muscles to bones. It is commonly seen at the thumb base and heel.
On the other hand, arthritis affects the cartilage in between and soft tissue structures around two bones. Arthritis can cause tendonitis, but you cannot develop arthritis from tendonitis.
Final Word
It is highly suggested to attend a self-management workshop to learn skills, techniques, and exercises that are useful in daily life for the management of arthritis.
Educating yourself about the problem also helps you make better decisions. Visit your doctor for regular checkups, and follow the suggested treatment plan to avoid complications.

Continue ReadingArthritis in Hands: Causes, Symptoms, and Diagnosis
Was this article helpful?