Arthritis refers to the inflammation of the joints and occurs due to a variety of reasons. The condition can prevent the joints from functioning properly and is often associated with pain.
Osteoarthritis in the hands commonly occurs at the base of the thumb, middle joint of a finger, or the joint close to the fingertip. However, other joints of the hand and wrist can be affected based on prior medical history and/or trauma.
How Common Is It?
Symptoms of arthritis that can be diagnosed using medical imaging are present in 81% of the elderly population. (1) Rheumatoid arthritis is found to affect 1.16% of women and 0.44% of men. Its prevalence increases with age, with around 5% of people above 55 being affected. (2)
Symptomatic hand osteoarthritis affects 13%–26% of the population and is more prevalent among women. (3)
Types of Hand Arthritis
Different types of arthritis may develop in the hands, including:
Osteoarthritis: This is caused by wear and tear of the cartilage on the joints and is degenerative in nature.
Rheumatoid arthritis: This is an autoimmune disease wherein the body's immune cells act against the cartilage lining between the bones of the wrist and hand. Rheumatoid arthritis generally occurs on both hands and, in some cases, on the elbows as well.
Causes of Hand Arthritis
Rheumatoid arthritis and fingertip joint arthritis usually have a genetic factor involved, whereas osteoarthritis can occur due to various reasons, such as:
Age: The chances of developing osteoarthritis increases with old age.
Weight: Obese people are more prone to osteoarthritis.
Sex: Osteoarthritis develops in men earlier than women but has more severe symptoms in women.
Genes: It is suspected that a genetic component is involved in osteoarthritis, which triggers the condition at a younger age, particularly in those with a family history.
Injuries: An injury to a joint, even with proper treatment, may cause the development of arthritis. This is also known as post-traumatic arthritis and commonly results from dislocations or fractures.
The other common causes of various types of arthritis include:
Infections: Certain bacteria and viruses can infect the joint and can trigger arthritis development.
Inflammatory/autoimmune/connective tissue diseases (such as gout, psoriasis, and rheumatoid arthritis).
Signs and Symptoms of Hand Arthritis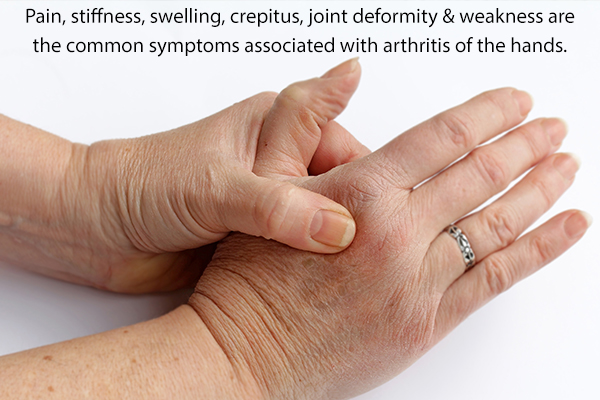 The common symptoms associated with arthritis in the hands are:
Pain: It may range from a dull ache to a sharp, shooting pain, which becomes constant as the problem advances. The pain is more evident in the morning in inflammatory conditions and can worsen with use in osteoarthritis.
Stiffness: With time, reduction or loss of motion may occur, which may prevent the complete opening or closing of the fingers.
Swelling: Swelling causes the joints to increase in size and appear oddly shaped and creates difficulty in movement.
Crepitus: A popping, clicking, or cracking sensation may be felt, signifying the movement of air pockets in the joints.
Joint deformity: Fingers may appear misshapen due to swelling, loss of cartilage, loose ligaments, and bone changes.
Weakness: The hand may become weaker and lose the strength required for pinching and gripping, therefore causing problems with daily activities such as turning keys.
Additionally, rheumatoid arthritis may also cause the following signs and symptoms:
Carpal tunnel syndrome
Boutonniere deformity
Swan neck deformity
Nodules
Tiredness and weakness
Low-grade fever
Lack of appetite
Weight loss
A feeling of poor health
Medical Treatment for Hand Arthritis
Generally, the pain and inflammation associated with arthritis can be managed with medications, including:
1. Nonsteroidal anti-inflammatory drugs (NSAIDs)
NSAIDs inhibit the release of chemicals from white blood cells to help decrease pain and inflammation. They are available in topical and oral formulations. Ibuprofen is an example.
2. Cortisone injections
These anti-inflammatory medications are directly injected into the joints for relief.
3. Disease-modifying antirheumatic drugs (DMARDs)
A combined use of DMARDs, such as methotrexate and biologic DMARD therapy, can help lower joint destruction and improve functioning in rheumatoid arthritis. (4)
In a few cases, surgical procedures may be required to help relieve pain or prevent deformity and weakness. The surgical procedures for hand arthritis include:
Osteotomy: The affected bones are cut and realigned so their movement does not induce pain.
Fusion: The affected joint is fused with the bone using a rod for stability after removal of the inflamed tissue.
Arthroplasty or joint reconstruction: Instead of joint fusion, implants may be employed. These may also be used to help restore motion in a fused joint.
Diagnosing Hand Arthritis
The following procedures and tests help determine the cause of hand pain:
Medical history: The doctor will inquire about any injury to the joint or family member who also has arthritis.
Physical exam: The doctor may conduct a physical exam to locate the source of pain.
Imaging tests: Imaging tests, which commonly include X-rays, MRI, and ultrasound, help highlight any inflammation or defect in the bones.
Other tests: Blood and urine tests may be done for confirmatory diagnosis, especially when evaluating for possible underlying causes
Complications Associated With Hand Arthritis
Arthritis can result in the following complications as the disease progresses:
Joint deformity
Cartilage breakdown (chondrolysis)
Bone death (osteonecrosis)
Stress fracture
Loss of stability
When to See a Doctor
You may need to schedule a visit with your general practitioner if:
The pain does not subside even after a trial of conservative treatment.
The pain is recurrent and interfering with your daily activities.
Your hands are swollen, red, stiff, or warm to the touch, especially in the morning, and do not return to normal after half an hour.
There is any deformity in the shape or color of your wrist or finger.
You feel a tingling sensation in your hands.
Your hands or fingers are numb or weak.
Your fingers, wrist, or hand has limited mobility.
Final Word
Arthritis in the hands can be discomforting and painful and requires proper treatment given that it has several potential causes. Exercises that improve hand arthritis generally focus on improving your pinch and grip strength, range of motion, and function.

Continue ReadingHow to Manage Arthritis in the Hands
Was this article helpful?