Toxins refer to poisonous substances that have deleterious effects on your health. Toxic chemicals can accumulate within the human body and cause harm.
The effect of toxins can be immediate or delayed and may be localized or may spread to different parts of the body. Moreover, toxins have a different impact on different parts of the body.
Therefore, it is best to prevent a buildup of toxins in your body, generally through modifying your diet and stress levels.
Dietary Tips to Detox
Various detox diets, claiming to aid in toxin elimination, liver detoxification, and health improvement, have gained recent popularity. However, these diets are not supported by any substantial and reliable clinical evidence. (1)
The human body has its own natural detoxifying system consisting of the lungs, kidney, liver, and skin. The functioning and metabolite management of these organs are highly influenced by your general lifestyle.
No particular diet can promise detoxification, but consuming a well-balanced diet can support your body in detoxifying itself.
Note: While a healthy diet can help prevent buildup of toxins in the body, you must consult a doctor if you have severe toxicity, such as alcohol poisoning or heavy metal toxicity.
Here are some dietary tips to help your body detox itself:
1. Drink plenty of water
Your body water level plays a vital role in maintaining homeostasis in your day-to-day life, thus directly impacting your functioning and health. (2) Water also helps eliminate toxins from your body through sweat and urine. Therefore, a deficiency of water can enable toxin buildup in the body.
In general, it is suggested to consume around 3.7 liters of water for men and 2.7 liters for women. However, the quantity may vary according to your diet and activity level.
2. Consume probiotics
Naturally fermented foods such as yogurt, kefir, sauerkraut, and kimchi are rich in probiotics that promote gut health, (3) thus supporting general body metabolism, especially the functioning of the digestive system.
A healthy digestive system is essential for the proper and regular removal of toxins in the form of excretions.
3. Consume prebiotics
While probiotics are helpful in supporting gut health, pairing them with prebiotics can enhance their function.
Prebiotics refer to those foods that help the growth of probiotics, including chicory root, leeks, garlic, asparagus, onions, artichokes, spinach, whole wheat, beans, and oats. (4)
4. Eat antioxidant-rich foods
Antioxidants help in reducing oxidative stress in the body. This, in turn, ensures the proper and healthy functioning of the body's organs, which is essential for preventing toxin buildup. (5)
Vitamins A, E, and C are some important antioxidants that can be consumed through green tea, berries, and fresh fruits. You can also consume lemon water, which, besides being rich in antioxidants, helps stimulate bile production, thus enhancing digestion and mineral absorption.
5. Increase your fiber intake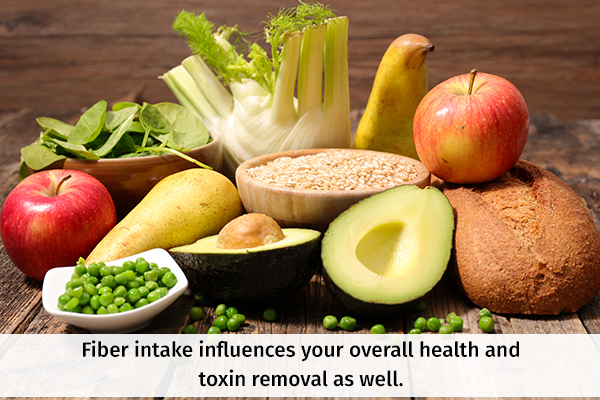 Optimal fiber intake not only supports your digestive function but also plays an indirect role in improving immunity, inflammation, and mood. (6) Thus, fiber intake influences your overall health and toxin removal as well. Make it a habit to consume fiber-rich vegetables, fruits, seeds, and nuts.
6. Include vegetables in your diet
Cruciferous vegetables such as Brussels sprouts, onions, leeks, broccoli, and artichokes stimulate detoxification pathways in the body. (7) You can consume vegetables as a main dish or even in the form of shakes and smoothies.
7. Go for lean protein
Lean proteins help maintain the levels of glutathione enzyme, which plays a key role in the natural detoxifying system of the body. (8)
8. Focus on micronutrients
Sulfur, phosphorus, and calcium are micronutrients essential to the body.
Sulfur is a structural element of various amino acids such as cysteine and therefore is vital to body functioning and growth. (9) Sulfur can be found in soybeans, onion, garlic, and kidney beans.
You can increase your intake of calcium through milk, cheese, eggs, leafy vegetables, and sardines.
Moreover, consuming dairy products, nuts, and beans can provide your body with the required levels of phosphorus.
9. Use anti-inflammatory herbs and spices in your meals
Inflammation is generally a symptom of a disorder in the body. Consuming ginger, cilantro, turmeric, and evening primrose can help control this inflammation and thus improve your health. (10)
Make a detoxification drink by mixing lemon juice, a pinch of cayenne pepper, 1 tsp of turmeric powder, and some honey in warm water, and consume this mixture daily. You can also drink green tea and licorice root tea. Avoid taking supplements without consulting your doctor.
ALSO READ: 10 Herbs That Detoxify Your Body Naturally
Self-Care for Detoxification
While a well-balanced diet is of prime importance for body detoxification, it will not be highly useful if not accompanied by other healthy lifestyle changes, such as:
1. Get enough sleep
The body primarily detoxifies itself from the metabolic wastes during sleep. (11) A lack of sleep is reported to be associated with an increased risk of Alzheimer's disease. (12) It is suggested to get an average of 8 hours of sound sleep.
2. Take warm baths
Immersing your body in a warm bath helps increase blood flow, thus supporting metabolic waste removal. This also helps relax your body and relieves physical and mental tensions. (13)
Adding Epsom salts and essential oils to your bathwater can further enhance the soothing effects of warm baths. (14)
3. Exercise regularly
Exercising daily can go a long way in improving body functioning, maintaining general health, and preventing diseases. (15) Besides improving your physical health, exercising also acts as a psychoactive drug that lifts your mood naturally. (16)
Preventing Toxic Buildup
While the above-mentioned methods can aid in the removal of toxins in your body, you can also take measures to prevent the accumulation of toxins in the first place.
Here's what you can do:
Avoid damaged, bruised, stale, or discolored foods.
Consume only those mushrooms and wild plants that have been marked safe.
Ensure proper ventilation and use air purifiers, especially when working with harmful chemicals. (17)
Use protective equipment such as masks and gloves while handling chemicals.
Check your source of drinking water and ensure that it does not contain chemicals such as lead. You can allow the water to run and filter for a couple of minutes before using it.
Use safe detergents for your laundry and wash your clothes properly to avoid chemical contact with your skin.
Search for nontoxic alternatives to items such as paints.
Maintain proper oral health and hygiene.
Avoid consuming refined sugars and processed foods. (18)
Decrease your salt intake to support cardiovascular health. (19)
Refrain from smoking or consuming tobacco.
Avoid alcohol consumption to the maximum. (20)
Stress-Busting Relaxation Therapies to Manage Toxin Buildup in the Body
Conditions of stress in the body are found to result in toxin accumulation, often leading to metabolic syndrome, including diabetes and cardiovascular problems. (21) Therefore, stress reduction is vital to prevent and manage toxin buildup in the body.
You can try the following techniques for stress management:
1. Meditate
Mindfulness meditation not only helps relieve stress but also impacts your immune system by reducing the pro-inflammatory process, increasing immune cell functioning, and enhancing the anti-aging enzyme activity of cells. (22)
2. Practice yoga and deep breathing
Yoga is an efficient alternative therapy that helps lower stress, depression, anxiety, and chronic pain. Moreover, it helps improve muscular strength, flexibility, reparatory functioning, cardiovascular health, disease treatment, sleep, and overall health. (23)
3. Try aromatherapy
Studies show a positive effect of essential oils in treating anxiety, insomnia, pain, and nausea. These beneficial oils include tea tree, peppermint, and lavender essential oils. (24) Moreover, the calming fragrance of these essential oils can bring down stress levels.
4. Get a massage
Massage therapy, when performed correctly, can help in the treatment of various skin conditions, autoimmune diseases, asthma, and hypertension.
By stimulating pressure receptors, massage therapy helps reduce cortisol levels in the body, thus relieving stress and anxiety. (25) Moreover, massage helps in the removal of toxins by dislodging them from muscles and joints, enabling easy expulsion.
Most-Asked Questions About Detoxification
Are colonic cleanses recommended for detoxification?
Colonic cleansing refers to flushing large parts of the bowel system to help remove parasites and fecal matter. Also known as colon hydrotherapy or colonic irrigation, this procedure is not suggested for detoxification.
Moreover, it involves various risks such as dehydration, impaired bowel function, disruption of intestinal flora, and electrolyte imbalance.
Can a liver cleanse help in detoxifying the body?
While liver cleanses are advertised as a simple way to improve liver health and treat overindulgence, they are not supported by hepatologists. Liver cleanses are not tested for efficacy and safety and use unregulated substances.
Is fasting good for detoxification?
Intermittent fasting is shown to help improve general health in a few studies. (26) However, its effects on detoxification are not evaluated; thus, this eating pattern is not recommended for such purposes.
Fasting, in fact, may pose risks for some people and also may suppress their natural detoxification pathways.
Are chlorella supplements useful for heavy metal detoxification?
While some studies show a positive impact of chlorella supplements for heavy metal poisoning, (27)(28) it is vital to consult a doctor first. Self-supplementation can do more harm than good, especially in cases of serious health threats such as that posed by heavy metal poisoning.
Final Word
While various diets claim to help detoxify the body, it is essential to know that the human body is self-sufficient in getting rid of toxins. What's vital is to maintain and support your general health by consuming a healthy diet, increasing fluid intake, exercising regularly, getting enough rest, avoiding contact with toxins, and getting regular medical checkups.

Continue ReadingHow Do Toxins Build Up in the Body and Affect Our Health
Was this article helpful?