Having oatmeal in the morning is probably one of the healthiest ways to start your day. Not only does it make for a delicious breakfast, but it is also rich in iron, protein, vitamin B1, and fiber.
Consuming oats regularly can also help regulate your blood sugar levels, protect you from heart diseases, and improve the functioning of your nervous system. (1)
If all of these benefits sound like old news to you, then here is something you probably didn't know — they are also great for your skin and hair! (2)
In 2003, the United States Food and Drug Administration (US FDA) approved the use of oatmeal in over-the-counter dermatological formulations. (3) Since then, it has become a regular ingredient in a wide range of skin and hair products.
Skin Benefits of Oatmeal
Oatmeal can help in the treatment of acne by soaking up excess oil on the face, which traps dirt and clogs the pores of your skin to trigger acne breakouts. It also has several antioxidant and anti-inflammatory properties that can help soothe and heal dry, damaged, and irritated skin. (4)
Oatmeal also makes for an excellent cleanser, moisturizer, and exfoliant for all skin types. (5)
Note: Always do a patch test before applying the following remedies to make sure you are not allergic to any of its ingredients. If you experience irritation or adverse reactions, it's best not to use these remedies.
1. Protects the skin
Oats contain proteins and lubricating fats that help maintain the natural barrier of the skin and protect it against UV rays. They also help in shielding your skin from external irritants such as airborne pollutants and chemicals in dermatological products.
2. Moisturizes the skin
Moisturizers that contain oatmeal can be especially beneficial for people with oily or acne-prone skin. This is because oats contain natural fats that quickly seep into the skin to provide deep hydration but without adding to the greasiness.
Plus, they absorb the excess sebum from your skin, making it less oily and thereby preventing breakouts. (5)(6)
How to use:
Grind 4 tablespoons of oatmeal into a fine powder.
Add 2 tablespoons of raw milk and 1 tablespoon of honey to the powdered oats and mix them well to form a smooth paste.
Add 1 teaspoon of olive oil to the paste.
Cleanse your skin and evenly apply the mixture. Leave it on for at least 15 minutes.
Rinse it off with cool water.
Use this mask twice a week for flawless and smooth skin.
3. Helps cure acne
Oatmeal is an excellent cleanser and offers several benefits for people suffering from acne. It absorbs excess oil from your face and exhibits antimicrobial properties that curb the growth of acne-causing bacteria, consequently clearing up the skin.
How to use:
Put 2 tablespoons of oatmeal, 1 tablespoon of honey, ½ a tablespoon of yogurt, and 4–5 drops of neem oil in a bowl.
Mix all the ingredients well to form a thick paste.
Apply the paste evenly to your face.
Massage it gently in circular motions for a couple of minutes.
Rinse it off with normal water.
4. Repairs your skin
Oatmeal is abundant in polysaccharides and lipids that help seal in moisture, preventing skin dryness and flakiness. This also helps rebuild the natural skin barrier.
Moreover, oats are a rich source of vitamin E, a powerful antioxidant that helps reduce and repair blemishes and scarring.
How to use:
Grind 1 cup of dry oats in a blender.
Fill your bathtub with water and add the ground oats powder to it.
Swirl the water lightly until the powder dissolves completely.
Let your body soak in this relaxing bath for 10–15 minutes before washing yourself with normal water.
You can enjoy this calming bath once or twice a week for the best results.
Alternative:
Mix 1 tablespoon of oats with 1 tablespoon of rose water.
Blend the mixture into a paste using a blender.
Apply this paste to your face and neck to treat dry or flaky skin.
5. Deeply cleanses the skin
Ground oatmeal makes for an excellent exfoliant that gently removes dirt, excess oil, and cellular debris from your skin, leaving it soft, smooth, and fresh.
Its fine granular texture scrubs out the impurities settled deep in your pores and loosens the dead cell layer on top of the skin to even out and brighten your complexion. (5)(7)
How to use:
Mix 1 tablespoon of yogurt with 1 tablespoon of powdered oats.
Mix a few drops of honey into this paste.
Apply the paste to your face and leave it to dry for 10–15 minutes.
Wash it off with warm water.
Alternatively:
Mix 2 tablespoons of oat powder with 1 tablespoon of milk and 1 tablespoon of olive oil.
Apply this paste to your face in circular motions and leave it to dry for 10 minutes.
Rinse it off with warm water.
6. Other skin benefits
Oatmeal is also known to:
Help in reducing skin inflammation
Stimulate collagen production
Aid in reducing blackheads
Hair Benefits of Oatmeal
Oatmeal can help treat a number of common hair problems due to its rich nutrient profile that helps repair, nourish, and strengthen your tresses.
1. Treats dandruff
Oats contain zinc, lipids, proteins, and saponins, (8) which help in improving scalp health.
Zinc reduces excess sebum in the scalp, which can cause irritation or dandruff. Lipids and proteins moisturize the scalp, (2) whereas saponins work as a cleanser that helps get rid of dandruff flakes.
How to use:
Grind 1 cup of oats in a blender.
Pour the oat powder into 2 cups of boiling water and mix until it dissolves completely.
Strain this mixture using a sieve.
Add 1 tablespoon of aloe vera gel and 10–15 drops of neem oil to the strained mixture.
Apply and gently massage the mask to your scalp and hair.
Leave it to dry for at least 15–20 minutes before washing off.
Pour the remaining unused mixture into an empty bottle for later use. Use this remedy once a week.
Alternatively:
Mix oats with 1 cup of yogurt.
Apply the mixture to your scalp.
Leave the mask on for at least 30 minutes before washing it off. This helps reduce scalp itchiness.
2. Helps reduce hair loss
Oats have exfoliating properties that can aid in unclogging pores. This action promotes hair growth and helps thicken your hair. Oats are also a great source of omega-3 fatty acids that can assist in fixing hair damage.
How to use:
Mix 1 tablespoon of oats powder with 1 tablespoon each of fresh milk and almond milk into a smooth paste.
Ensure your hair is brushed thoroughly and tangle-free.
Apply the paste to your hair and leave it on for 20 minutes.
Rinse it off with warm water.
3. Soothes dry and itchy scalp
Oatmeal is rich in B vitamins that help lock in moisture and hydrate the skin and scalp.
How to use:
Add 1 tsp of almond oil and ¼ cup of milk to ½ cup of oats.
Apply the mixture to your scalp and hair and leave it on for at least half an hour.
Rinse it off with warm water.
General Queries
Do oats help in lightening the skin?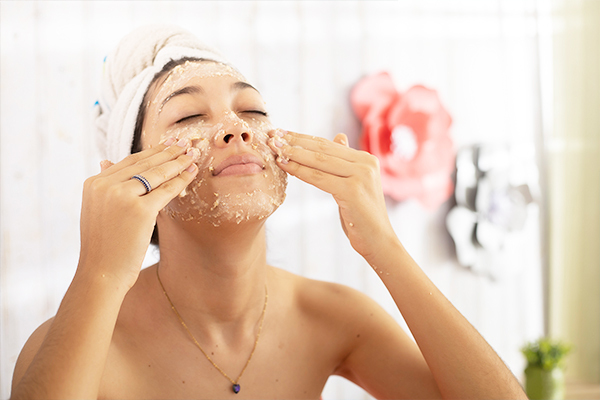 Oats are an excellent source of amino acids and vitamin B1, both of which may lighten complexion by fading hyperpigmentation, improving blood circulation, and giving your skin a natural glow.
Does oatmeal promote hair growth?
Oatmeal is filled with nutrients such as zinc, polyunsaturated fatty acids (PUFAs), iron, and fiber, which are all great for your hair. When used regularly either in the form of hair products or remedies, it can help nourish and stimulate your hair follicles to produce long, strong hair.
Final Word
Oatmeal has innumerable benefits for your skin and hair. It is a great cleanser, moisturizer, and exfoliant, it helps fight acne, and it is a useful remedy for hair loss.
Packed with nutrients such as iron, zinc, protein, and vitamins, it is a beauty store in itself. What more could you ask for?
Was this article helpful?