Everyone desires clear, glowing skin, not only for its cosmetic appeal but also because it reflects inner health. The soaring levels of pollution and the unhealthy lifestyles that have become the norm today only add to your skin woes.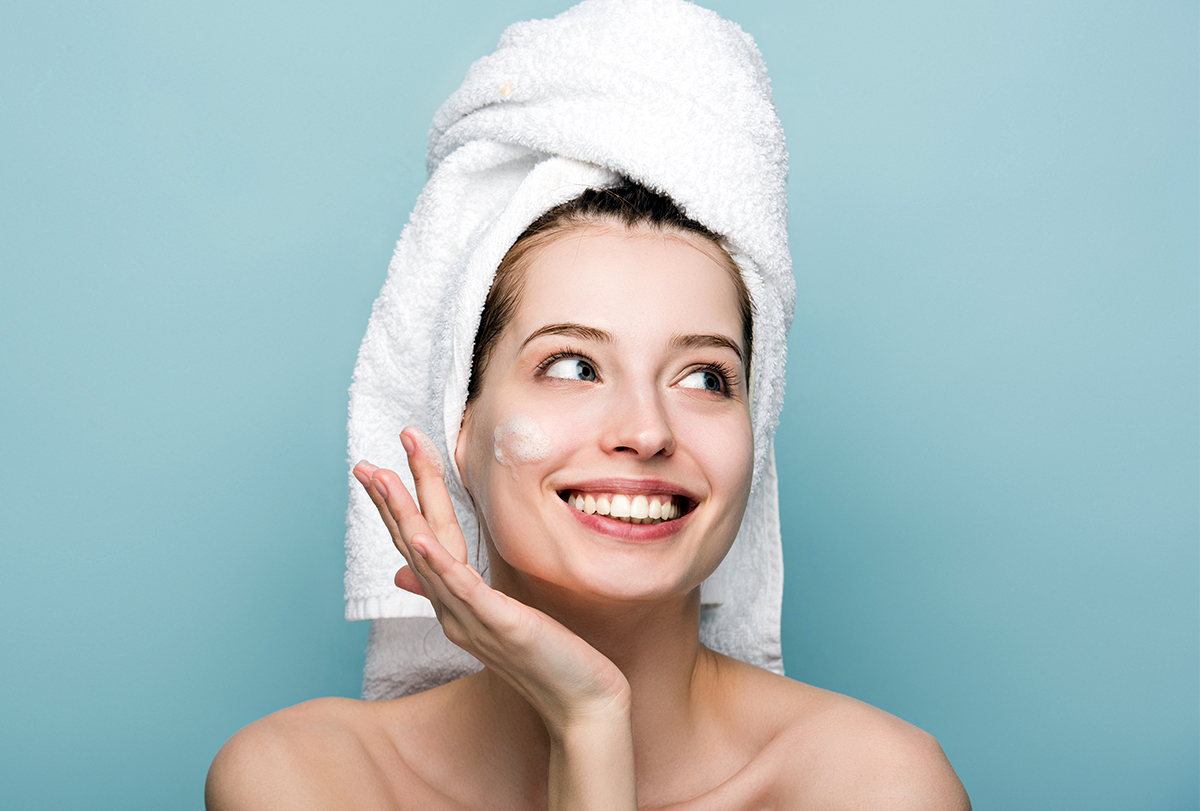 So, before you try to treat your skin problems, you need to understand what is causing them. Some of the common culprits are frequent exposure to pollutants, negligent skin care, poor nutrition, high stress levels, inactivity, sleep deprivation, smoking, and excessive drinking.
The good thing is all these factors are not beyond your control and can easily be fixed through simple self-care measures. But if the skin problem persists, worsens, or keeps coming back despite proper home treatment, it's best to consult a dermatologist for a proper diagnosis.
Home Remedies for Clear Skin
A number of kitchen ingredients are endowed with healing nutrients and compounds that can help undo skin damage. The following are home remedies that use such ingredients that give your skin a flawless, healthy glow.
Caution: Since these remedies are all natural, they are completely safe for your skin unless you are allergic to any of the ingredients, which can lead to an adverse reaction. So, it is important to rule out any such risk by patch testing the remedy on a small area of the skin, preferably the underside of your arm, before applying it to your face.
1. Lemon or lime
Lemon or lime is an excellent source of vitamin C (1) and citric acid, which are great for your skin. Vitamin C is a powerful antioxidant that combats free radicals and repairs the skin damage caused by them. Citric acid is an alpha hydroxy acid that works as a gentle skin exfoliant.
How to use:
Squeeze out some fresh lemon juice and dilute it with water or honey. Apply the mixture to your neck and face. Leave it on for 5–10 minutes, and then wash it off with lukewarm water. Then rub cucumber slices on your skin to soften and moisturize it. Do this every other day.
Take 2 teaspoons of freshly squeezed lemon juice in a bowl and lightly mix in the same amount of sugar, salt, or yogurt such that they don't dissolve completely. Gently massage this scrub on your face and neck in circular motions for a few minutes. Wait for about 10 minutes, and then wash it off with lukewarm water.
2. Honey
Honey is a natural humectant, which means it hydrates the skin and locks in the moisture to prolong that effect. It also works as an antimicrobial agent, warding off various skin infections such as blackheads, whiteheads, pimples, and boils. (2)
Honey also maintains the natural acidic pH of the skin, which is important to limit microbial overgrowth (3) and may help in fading dark spots, acne scars, and other forms of hyperpigmentation.
How to use:
Pour 2 teaspoons of milk into a bowl and stir in 1 teaspoon of honey. Add 1 teaspoon of gram flour and make a smooth paste. Apply the paste to your face and neck. Let it dry for 20 minutes, and then wash it off with lukewarm water.
Mix 2 tablespoons of honey and 1 teaspoon of cinnamon to form a paste. Cleanse your face gently. Apply the mask to your face, and leave it on for 15–20 minutes. Wash your face after.
3. Activated charcoal
Activated charcoal is an adsorbent, which binds to the impurities and sebum settled inside your skin pores and pulls them out for a deep-cleansing effect.
How to use:
Mix 1 tablespoon of bentonite clay, a few drops of tea tree oil, and 1 tablespoon of activated charcoal, water, or olive oil (depending upon your skin type) to make a smooth paste. Evenly apply the mixture to your face and neck. Leave it on for about 20 minutes and then rinse it off.
Mix 3 tablespoons of charcoal powder with 2 tablespoons of aloe vera gel. Pour in 3­–4 drops of lavender essential oil and mix thoroughly to make a paste. Massage this mixture all over your face and neck. Leave it on for 10 minutes before rinsing it off with warm water.
4. Turmeric
The bioactive compound in turmeric (4) is known to exhibit antiseptic properties that can help banish skin infections. Plus, it also works as a strong anti-inflammatory agent to curb the swelling, redness, and itching associated with acne and other inflammatory skin conditions. (5)
How to use:
Mix 1 tablespoon of turmeric powder with fresh cream to make a thick paste. Apply the mixture to the affected area, and let it dry for a few minutes before washing it off with cold water.
Add 1–2 teaspoons of turmeric to a glass of lukewarm milk and consume it before going off to sleep.
ALSO READ: 10 Skin Benefits of Turmeric and Ways to Use It
5. Papaya
Papain is an enzyme in papaya that exhibits antibacterial properties that can help treat and prevent skin infections. Not just that, it also promotes faster wound healing by triggering the growth of new skin cells. (6)(7)
How to use:
Chop a ripe papaya into small pieces and put them in a grinder.
Put in 1 teaspoon each of sandalwood powder and honey, and then blend all the ingredients into a paste.
Apply the paste to your face and neck, and leave it on for half an hour.
Rinse it off.
ALSO READ: DIY Papaya Face Mask Recipes for Clear Skin
6. Neem/mint
Neem consists of several anti-inflammatory and antimicrobial compounds (8) that help in the management of bacterial skin infections such as acne, boils, and abscesses. (9)
How to use:
You can either grind a few neem leaves with just enough water to make a thick paste, or use diluted neem essential oil instead. Apply it to the infected skin and let it get absorbed for 20–25 minutes before rinsing it off.
Boil a few neem leaves, and then drain the water in a clean container once it cools down. Use this liquid as an antiseptic solution to wash your infected skin multiple times a day.
Mix 1 teaspoon of mint powder, 1 tablespoon of plain yogurt, and 1 tablespoon of fuller's earth to make a thick, lump-free paste. Apply this mixture to your face and neck and let it dry naturally before washing it off with lukewarm water.
7. Aloe vera gel
Aloe vera gel is good for your skin in more ways than one. It works as an antioxidant to limit free radical-induced skin damage. Plus, it is a potent anti-inflammatory that can help soothe irritated skin. (10)
How to use:
Extract the gel from a freshly cut aloe vera leaf, and evenly apply it to your face and neck.
Leave it on for at least half an hour so that it gets sufficiently absorbed.
Wash it off with lukewarm water.
8. Rose water
Rose water contains rose extracts that are known to curb skin inflammation, promote collagen production, and reduce the signs of aging. (11) This liquid also works as a natural toner that is much more hydrating than regular alcohol-based toners that strip the essential lipids from your skin.
How to use:
Dip a cotton ball in rose water and dab it all over your face and neck. You don't need to wash your skin thereafter, but if you feel uncomfortable, wait for about 20 minutes before rinsing.
You can add a bit of milk or milk cream to your rose water for added moisturization and skin lightening effect. You can also add rose water to any of the remedies listed in this article.
ALSO READ: Simple DIY Method to Make Pure and Refreshing Rose Water at Home
9. Colloidal oatmeal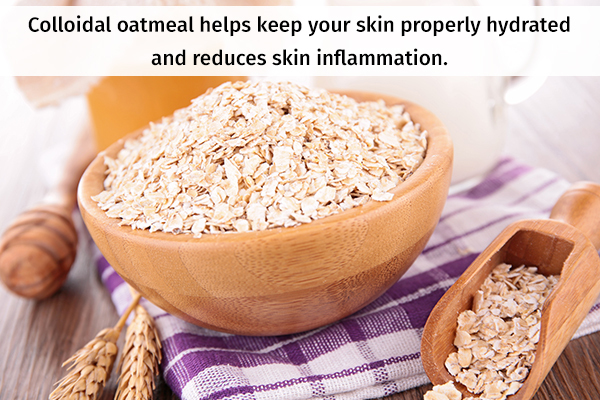 Oatmeal contains a high concentration of starches and glucans, oat phenols, and saponins, (12) all of which benefit the skin in different ways. Two of its main benefits are that it helps keep your skin properly hydrated and reduces skin inflammation.
How to use:
Prepare a scrub by mixing oatmeal with honey. If it becomes too thick, you may add milk or diluted yogurt to dilute it.
Gently rub it in circular motions all over your face and neck for a few minutes, and leave it on for 10–15 minutes.
Rinse it off with cool or tepid water.
10. Witch hazel
Witch hazel contains gallic acid, which works as an astringent (13) to minimize pores and dry out whiteheads, blackheads, and pimples. (14) It also removes excess sebum and dirt from the skin.
How to use:
Apply witch hazel to your washed face and neck with a cotton ball.
Leave it on for 10 minutes.
Rinse it off.
Note: Essential oils such as tea tree oil and rose oil are credited with different skin healing properties that can enhance the potency of all these remedies while also imparting a nice fragrance to them. So, you may add a few drops of your preferred essential oil to any of the above-mentioned remedies for added skin benefits.
Self-Care Measures for Clear Skin
Religiously follow these self-care measures to get clear skin and keep it that way:
1. Exfoliate your skin regularly
Exfoliate once or twice a week to remove the dead skin, impurities, and excess oil settled on the surface of the skin and inside your pores. However, do not scrub your skin too much as it may leave behind scars. Always use light, upward, circular motions while scrubbing your skin.
2. Manage stress
Stress can make your skin look dull and unhealthy. Calm your mind by getting proper rest, dancing, or practicing meditation, yoga, or Tai chi.
3. Exercise regularly
Take out at least 45 minutes from your daily schedule for exercise. A regular dose of physical activity helps relieve stress and makes your heart pump more blood throughout the body. Less stress means lower cortisol levels, which lead to healthier skin.
4. Keep your skin clean
Keep your skin clean by washing it with a medicated facial wash and water twice a day, especially after sweating or returning from a polluted environment.
Don't wash your face too much as excessive exposure to water and cleansing agents can strip the natural moisture from your skin, making it dry. Try not to touch your face, and whenever you do, make sure you do it with clean hands.
5. Avoid excessive sun exposure
Excessive exposure to sunlight is one of the main contributors to a wide array of skin problems, ranging from premature aging and hyperpigmentation to cancer. This is why it is extremely important to wear proper sun protection during the day, especially when stepping outside.
The most basic step is to apply a premium-quality sunscreen with at least 30 SPF to the exposed areas of the skin. Plus, you can wear a broad-brimmed hat and full-sleeved tops to minimize sun exposure.
6. Remove your makeup before sleeping
Always remove your makeup before going to bed, and keep your makeup tools clean. Avoid sharing them with anyone else.
7. Hydrate yourself
Drink at least 8 ounces of water daily to keep your skin hydrated from within and to flush out the harmful toxins from the body.
8. Consume a healthy diet
Diet plays a critical role in skin health. Consume a well-balanced diet that includes plenty of protein in the form of meats and lentils along with fruit and vegetables that supply a good dose of antioxidants and fibers.
Protein helps build skin cells, antioxidants help curb free radical activity and repair skin damage, and fiber helps clear out your bowels. The general recommendation is to eat a diversity of healthy foods that meet all your nutritional requirements. Nutritional deficiencies such as iron deficiency can make your skin crawl with infections.
Other dietary must-haves for clear skin include probiotics that improve gut function, foods rich in vitamin C to bolster your immunity against skin infections, (15) and green tea that contains phenolic compounds called catechins, which function as powerful antioxidants. 
Also try to get enough zinc through foods such as oysters, beans, nuts, whole grains, crab, and lobster. Omega-3 fatty acids are also an important requisite for maintaining healthy and clear skin, and you can get your fill from freshwater fishes, chia seeds, flaxseeds, nuts, soya bean, and plant oils such as canola.
There are some foods that you should be avoiding as well in the interest of better skin. These include dairy products, high-glycemic foods, and saturated fats. (16)
Final Word
Diligently following a holistic skin care regimen combined with a nutritious diet and an overall healthy lifestyle is the most fundamental formula for achieving clear, healthy, glowing skin.
But skin care is not limited to expensive commercial products that make tall claims but don't always deliver. Many of them contain chemicals that can be too harsh on your skin when used regularly.
So, it is very important to understand your skin and its needs before going skin care shopping. Always look through the ingredient list before making a purchase. You can also incorporate the above-listed home remedies into your beauty routine, especially since they only use natural ingredients, minimizing the risk of side effects and costing next to nothing.
Was this article helpful?