Many people desire radiant, glowing skin for aesthetic and cosmetic reasons. Also, a natural glow can be an indication of good skin health.
However, constant exposure to environmental pollution and lifestyle factors such as stress, lack of sleep, and improper skin care can make it difficult to keep your skin healthy, and achieving healthy and glowing skin requires conscious effort and work. This may involve developing a proper skin care routine, using home remedies, protecting the skin from damage, and improving your lifestyle.
This article talks about the different methods that can help you achieve naturally glowing skin and prevent skin dullness.
Home Remedies for Glowing Skin
While many skin care products are available to help you achieve healthy skin, they are often laden with chemicals that can potentially irritate your skin. As an alternative, you may try using natural ingredients to cleanse your skin and give a natural glow to your face.
Caution: Make sure to conduct a patch test before trying any home remedy or marketed product to check for allergy or sensitivity reactions.
You can try the following home remedies to make your skin glow naturally at home:
1. Chamomile tea cold compress
Chamomile has been widely used as a medical herb for its antibacterial and anti-inflammatory properties. The use of chamomile tea can help soothe the skin, especially in frozen form, giving a natural glow to the skin. (1)
How to use:
Brew 2–3 cups of chamomile tea.
Once the tea cools down to room temperature, pour it into ice cube trays and freeze.
Wrap the tea ice cubes in a clean towel, and apply it to your skin for 10 minutes.
2. Orange peel powder and sandalwood face pack
Orange peel powder is a natural exfoliant and especially suitable for oily skin as it absorbs the oil while removing dead skin cells. It has also been shown that orange peel extracts can help in skin whitening, keratinocyte proliferation, and UVB protection. (2)  
Using a face pack made of orange peel powder and sandalwood provides skin soothing and cooling properties, which are useful for managing acne-caused inflammation. (3)
How to use:
Mix 2 tsp of orange peel powder with 1 tsp of honey and 1 tsp of fresh cream, and add in cucumber water.
Apply the paste to your skin, and allow it to dry for half an hour.
Rinse your skin and pat it dry.
3. Charcoal peel-off mask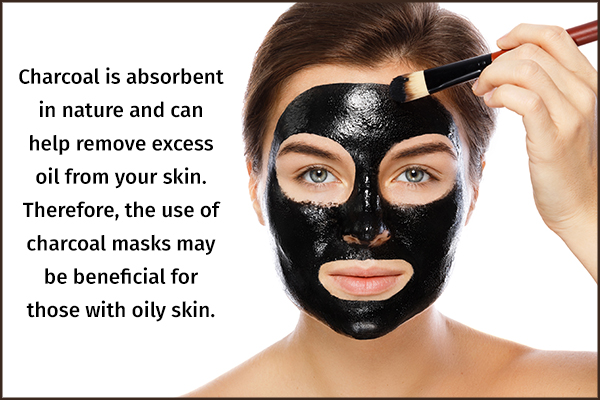 Charcoal is absorbent in nature and can help remove excess oil from your skin. Therefore, the use of charcoal masks may be beneficial for those with oily skin.
However, if you have dry or sensitive skin, it is best to avoid its use, as it can strip the skin of its natural oils. Moreover, further studies need to be conducted to prove the efficacy of activated charcoal as an exfoliating and antiaging agent. (4)
How to use:
Mix 2 tsp of activated charcoal powder, 1 tsp of unflavored gelatin, and a few drops of water.
Microwave the mixture for 30 seconds.
Apply the paste to your face, leaving the area around the eyebrows and hairline.
Once the mask is dry, which takes approximately 30 minutes, peel it off in an upward direction.
Wash your face, pat it dry, and apply a moisturizer.
4. Cucumber sprays
The high water content of cucumber helps moisturize and nourish your skin. Moreover, cucumber juice, when used daily, can help shrink skin pores, manage irritation and swelling, and soothe the skin. (5)
How to use:
Blend or grate one cucumber and transfer it onto a sieve.
Allow the juice to flow for 10–15 minutes, then squeeze out the remaining juice.
Transfer the cucumber juice into a spray bottle.
Use the toner on your skin, and rinse after 10–15 minutes.
Use this remedy daily.
5. Yogurt saffron paste
Yogurt contains lactic acid, a natural exfoliant that helps dissolve dead skin cells. The deep exfoliation provided by this alpha hydroxy acid cleanses and imparts a natural glow to it.
Saffron is recommended for its antimicrobial, antibacterial, and skin-lightening properties. In addition, saffron boosts blood flow to the skin, making it look radiant from within. (6)
How to use:
Add 2 tsp yogurt and 4–5 saffron strands to a bowl.
Whip the mixture until it is smooth.
Apply the paste to your face, and wash it off after 30 minutes.
6. Avocado mask
Avocados are rich in nutrients that can hydrate, nourish, and soothe the skin. You can also use honey with avocados for its astringent and moisturizing properties. An avocado honey mask may give your skin an even tone and radiant glow.
How to use:
Mash the pulp of an avocado, and mix in 1 tbsp of honey.
Apply the smooth paste to your skin, and wash it off after 15 minutes.
7. Papaya, milk, and fuller's earth mud pack
Fuller's earth has been long used for acne management, lightening pigmentation, and improving skin complexion. Milk boosts blood circulation to the skin, whereas papaya contains papain enzyme that exfoliates the skin and increases cell turnover.
How to use:
Mash 1 cup of ripe papaya, and mix in 1 tbsp each of milk and fuller's earth.
Apply the paste to cleansed skin, and wash it off after 15–20 minutes.
8. Cucumber and yogurt paste
As mentioned above, cucumber has soothing and refreshing effects on the skin. It is also rich in antioxidants that rejuvenate the skin. Yogurt exfoliates and nourishes the skin, helping restore its natural glow to your facial skin.
How to use:
Grate a small cucumber, and mix in 2–3 tbsp of yogurt.
Apply the paste to your skin, and wash it off after 5–10 minutes.
9. Oil pulling
Oil pulling is a safe and cost-effective procedure that can help balance the mouth and gut microbiome. Since the health of your skin is greatly affected by your inner health, this procedure can help ward off skin infections and acne and can even make your skin glow from within.
How to use:
Swish 1 tbsp of extra-virgin coconut oil in your mouth for around 20 minutes, then spit it out. Clean your teeth thoroughly and make sure to not swallow or gargle the oil.
Perform this procedure on an empty stomach every day.
Essential Skin Care Products
There are skin care products that are essential in achieving healthy, glowing skin. You may consult your dermatologist on the type of products best suited to your skin. These products include:
1. Moisturizers
Hydrating and moisturizing your skin regularly is essential to its health. It is recommended to apply moisturizers after a shower while your skin is still slightly damp to seal the hydration and prevent skin dryness.
You can use moisturizing creams, lotions, and gels on your skin. You may also use natural ingredients such as olive oil, shea butter, or coconut oil to moisturize your skin. If you have an oily skin type, use non-comedogenic or water-based moisturizers.
2. Sunscreens
Wearing sunscreen not only helps prevent skin damage and dullness but also gives your skin a glow, owing to its light-reflecting ingredients. Good-quality sunscreens moisturize the skin at the same time.
3. Facial cleansers
It is essential that you wash your skin daily to remove dirt and dust, which can make your skin look dull.
4. Toners
Applying a toner cleanses and shrinks your skin pores, achieving an even skin tone and a healthy glow.
5. Makeup remover wipes
Primarily used to remove makeup off the skin, makeup remover wipes can also clean the pollutants and dirt that may settle on the surface of your skin without leaving it dry.
6. Exfoliants
It is recommended to exfoliate one to two times a week to prevent the buildup of dead skin cells and dirt on your skin surface and pores. Exfoliating also gives your skin an even tone and radiant glow.
You can use commercially available mild exfoliators or natural ingredients such as orange peel, oats, and lentil powder.
7. Serums
Serums are excellent nourishing agents containing vitamins and other antioxidants that moisturize the skin without making it greasy or sticky.
Lifestyle Changes for Glowing Skin
Your lifestyle habits influence your skin health significantly. The following are a few lifestyle tips that can help you improve your skin health and achieve that natural glow:
1. Develop a suitable skin care routine
Make sure to cleanse your skin twice a day, preferably once while showering in the morning and once before going to bed. Also, keep your skin moisturized by applying creams or lotions.
You can also consult your dermatologist on the products and skin care tips that can prevent common problems such as acne.
2. Protect your skin from the sun
The harmful UV rays from the sun can cause photodamage, often leading to skin tanning, uneven skin tone, and dullness. Therefore, apply a sunscreen of SPF 30 or higher before stepping out in the sun.
3. Use night sleeping masks
You can use night sleeping masks to help hydrate your skin and manage acne. These masks also provide anti-aging and brightening effects. The overnight use of these masks helps your skin relax and repair through the night, imparting a natural glow once you wake up.
4. Always remove makeup
Remove your makeup before bedtime using a gentle cleanser. Otherwise, your skin will not be able to breathe through the night, impeding its repair and restoration activities.
5. Improve your diet
What you eat is reflected on your skin. Therefore, it is suggested to consume plenty of vitamin C through citrus fruits and vegetables. In addition, add antioxidant-rich fruits to your diet, such as blueberries.
You should also get checked for nutritional deficiencies if you have skin problems such as dryness or scales, as it can be an indication of a deficiency of vitamin A or D. You can also consult your doctor for supplements that can help improve your skin health.
6. Drink plenty of water
Consume 10–12 glasses of water daily to flush out toxins from your skin, giving it a natural glow.
7. Get ample sleep
As discussed, your skin repairs itself through the night and also produces new skin cells to replace the old ones. Therefore, it is vital to get at least 8 hours of sleep regularly for healthy glowing skin.
8. Exercise regularly
Exercising helps eliminate toxins from your body through sweat. It also boosts blood circulation, contributing to glowing skin.
How to Prevent Skin Dullness
The following tips can help prevent skin dullness and, therefore, aid in maintaining natural, radiant, glowing skin:
Avoid waxing your face: Your facial skin is extremely sensitive, and putting hot wax on it can be damaging. Moreover, facial hair protects the skin from sun rays and environmental pollutants. Therefore, waxing your face can increase the risk of irritation and bumps.
Avoid fragrance-containing skin products: Artificial fragrances found in moisturizers, creams, lotions, cleansers, and soaps can irritate your skin and cause inflammation.
Quit smoking. Cigarette smoking, and other addictions such as drug use and alcoholism, can disrupt your skin health and make it look dull and dry.
Don't be excessive. Use skin care products and home remedies in moderation. Be careful with combining products so as not to cause skin irritation, rashes, or breakouts.
Refrain from overwashing your skin. Washing your face multiple times a day can strip natural oils in your skin, making it dry and dull.
Manage your stress. When you are under a lot of stress, your skin tends to look lifeless and dull. Practice stress management techniques such as yoga and meditation.
General Queries
Can vitamin C help achieve glowing skin?
Vitamin C is an antioxidant that is essential for immune functioning. It also plays a key role in collagen synthesis and is thus highly useful in achieving healthy glowing skin.
Is face scrubbing an essential step in skin care?
Face scrubs are highly useful in removing dead skin cells from your face. This, in turn, helps new skin cells to grow, giving your face a younger, glowing appearance. However, you must avoid harsh physical scrubs such as sugar scrubs or fruit pits, as they can cause microtears in the skin over time.
Final Word
It can be pretty easy to achieve glowing, radiant skin by taking proper care of it, developing a skin care routine specific to your needs, eating right, improving lifestyle factors, managing stress, and protecting it from damaging chemicals and pollutants.
If general skin care products, home remedies, and an improved lifestyle fail to impart a glow to your face, consult your dermatologist as your skin dullness may be stemming from an underlying medical condition.
Was this article helpful?