Most conversations around healthy, beautiful skin revolve around how it looks, blemishes, and skin color, while another key aspect – its texture – is neglected.
It is vital that your skin care regimen should be geared toward improving not just the appearance of your skin but also how it feels. The ultimate goal is to achieve clear, glowing skin with a soft, supple, and smooth texture.
This article lists various beauty home remedies, procedures, skin products, and  along with useful skin care and dietary and lifestyle tips that can help you achieve that goal.
Home Remedies for Smooth Skin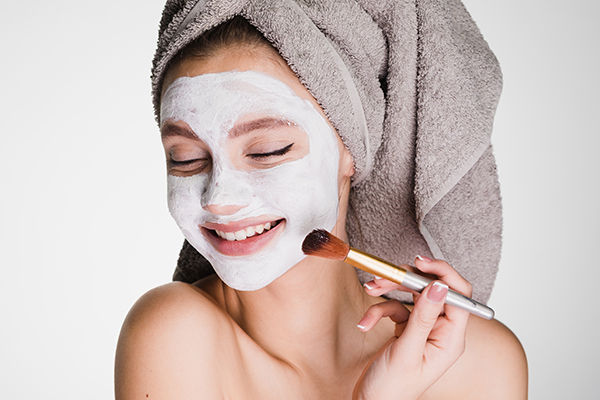 You can also try the following home remedies to smoothen your rough skin, if you don't wish to spend a fortune on commercial products. These remedies optimize the skin-healing potential of various natural ingredients that cost next to nothing and are easily available in most homes.
The following are some popular skin masks that you can try.
1. Honey (5) and egg mask:
Put the egg white of one egg in a clean bowl.
Mix in 1 tablespoon of honey and 1 teaspoon of cinnamon to make a smooth paste.
2. Aloe vera (6) and honey mask:
Scoop out the gel from an aloe vera leaf and put it in a bowl.
Add in 1 tablespoon of honey and 1 teaspoon of lemon juice.
You may add a lubricating oil such as coconut oil or almond oil to the mix, but this is optional.
Mix all the ingredients well to make a smooth paste.
3. Tomatoes mask:
Blend a tomato or two into a thick puree.
If the tomato puree is too runny, you can thicken its consistency by adding oatmeal powder or bentonite clay as needed.
Add in 1 teaspoon of lemon.
Mix all the ingredients well to form a lump-free paste.
4. Turmeric mask (7):
Take 1 teaspoon of organic turmeric powder in a bowl.
Add in 2 teaspoons of sandalwood powder.
Mix in a few drops of water or rose water to make a thick, smooth paste.
5. Tea tree oil and vitamin E oil mask:
Simply mix 4–5 drops of tea tree oil in 1–2 tablespoons of any vitamin E oil such as almond or jojoba oil.
6. Yogurt and cucumber mask:
Mix 2 tablespoons of grated cucumber and ½ cup of yogurt to make a face mask.
7. Oatmeal (8) and honey mask:
Take 2 tablespoons of ground oatmeal in a bowl.
Add in ½–1 teaspoon of honey.
Mix in a few drops of water to make a thick, lump-free paste.
How to use the masks:
Wash your face with tepid or cool water and let it air-dry. Pat it dry with a clean towel if you are in a hurry.
Use clean fingers, a brush, or a spatula to apply the mask all over your rough skin, but don't spread it too thinly.
Leave it on for 15–20 minutes, and then rinse it off with plain water.
Apply a suitable moisturizer all over the washed skin while it's still damp but not soaking wet.

Caution: Before using any of these masks, please conduct a patch test on a small area of skin, such as your neck or the underside of your arm, to eliminate the risk of adverse reactions.
Clinical Procedures to Smoothen Your Skin
Common skin conditions such as acne or peeling skin often lead to scarring and an uneven skin texture, which can be addressed through various specialized dermatological treatments.
Your doctor will first conduct a proper diagnosis and then recommend the most suitable option for you. These treatments can range from superficial and mildly invasive lasers to surgeries, but all of them require the expertise of a specialist.
The aim of these in-office skin procedures is mainly to accelerate the skin renewal process. Specialized tools are used to exfoliate the damaged superficial layers so that fresh, smooth skin can rise to the top.
Discuss the mechanism, side effects, and benefits of the treatment with your doctor before proceeding with it so that you know just what to expect. 
1. Chemical peeling procedure
Chemical peeling involves applying a mild alpha hydroxy or beta hydroxy acid on your skin to break down the bond between dead skin cells so that they become easier to shed. These chemical agents speed up the skin peeling process so that new smooth skin can rise to the top.
This procedure helps fade stubborn scars, discoloration, and other inflammatory blemishes, but multiple sessions are required to achieve spotless skin. (1)
Glycolic acid is the most commonly used peeling agent for this treatment, but lactic acid, salicylic acid, and kojic acid can also get the work done.
You can also get low-strength chemical exfoliants over the counter or find them in various skin care products that can be added to your beauty regimen at home, but they will take longer to show results. The ones used in clinical procedures are more concentrated and deliver faster skin resurfacing, but should only be handled by a skin specialist.
2. Microneedling
Microneedling involves pricking small needles into your skin to stimulate collagen production.
Puncturing the skin this way engenders a healing response from the brain. In other words, your brain sends a signal to increase collagen production in the microneedling site to repair the self-inflicted skin injury. (2)
3. Dermabrasion
Dermabrasion is a specialized exfoliation technique that uses a rotating electric brush to remove dead cells from the surface of the skin. This procedure has to be performed by the skilled hand of a specialist to avoid any undue skin damage.
There is bound to be some degree of redness and skin irritation after the procedure, which can take some time to subside. You may require multiple sessions to achieve the desired results.
4. Microdermabrasion
As the name suggests, microdermabrasion also works on the same principle as dermabrasion but only at a more micro level using a manual rather than an electric exfoliating tool.
The dermatologist sands down the damaged upper layer of the skin with either a diamond-tipped or crystal-tipped brush so that new smoother skin can take its place. Since the brush does not run on electricity, the exfoliating action will be relatively gentler than dermabrasion.
5. Dermal fillers and other injectables
Dermal fillers are injections of collagen/hyaluronic acid that help plump up saggy, wrinkly skin for a smoother texture. Collagen injections can also help promote skin repair to diminish scarring. Hyaluronic acid binds moisture to your skin for a softer feel.
Other popular injectables include Botox, or botulinum toxin, which is mainly used for smoothening out wrinkles and fine lines. Botox is directly administered into the creasing skin through a small needle to relax the underlying muscles. As the muscle relaxes, the overlying skin also expands and becomes smooth.
6. Laser resurfacing
Laser resurfacing involves lighting a targeted laser beam on the areas of wrinkly, saggy, or uneven skin to remove the dead upper layers. The sloughed-off skin is gradually replaced by freshly formed skin from underneath, which is tighter, softer, and smoother.
Among all procedures that promote skin regeneration, laser resurfacing works the fastest. (3)
7. Other noninvasive procedures
Elastin and collagen are the two main structural proteins that build the skin and keep it smooth and tight over the years. Both these proteins are naturally produced by the body in the deeper layers of the skin (dermis).
A steady supply of these skin components is needed to sustain the skin regeneration process, but it tends to dwindle with advancing age.
In such a case, certain noninvasive skin procedures can help trigger collagen and elastin synthesis by heating the deeper layers of the skin. These include intense pulsed light treatment, radiofrequency, and ultrasound skin therapy.
These procedures use a beam of concentrated energy that penetrates deep into the skin to stimulate collagen and elastin production for quicker skin repair and regeneration. This gradually improves your skin texture and appearance. (4)
8. Cosmetic surgical procedures
People with deep-seated wrinkles or extremely saggy skin may choose to undergo more invasive procedures, such as surgical lifts, to tighten their skin. Forehead lifts or brow lifts are commonly used to pull back the entire facial skin and smoothen out the frown line, crow's feet, and other such fine lines.
Skin Care Products for Smooth Skin
The market is flooded with countless skin products, such as scrubs, toners, primers, serums, creams, and lotions, that claim to repair, soften, and smoothen dry, damaged skin.
But many of these cosmeceuticals usually contain a wide range of harsh chemicals that remove the natural lipids in the skin to render it excessively dry and irritated with repeated use.
These products may improve the skin at first, but the positive results generally don't last once you stop using them. Plus, this temporary skin improvement is generally outweighed by the toxic and skin-drying nature of these chemical products.
The good news is there are certain skin products that actually deliver the promise without compromising skin health in the long run. They contain ingredients that benefit the skin through their own healing mechanism.
Some promote collagen production, which speeds up cell turnover to renew and repair the skin. More collagen helps build new skin cells to replace the old, dry, damaged ones. Then there are ingredients that gently exfoliate the rough upper layers of the skin to make room for fresh new skin. Humectants are often added to moisturizers and other skin products to bind moisture to the skin for long-lasting hydration.
So, if you are looking for products that can smoothen your rough skin, you should pay close attention to their ingredient list. Using the wrong products can worsen your condition. 
Here are the ingredients that you should look for:
Bentonite clay
Kaolin clay
French green clay
Aloe vera gel
Licorice root extract
Pomegranate extract
Alpha hydroxy acids (AHAs), preferably lactic acid, glycolic acid, tartaric acid, and malic acid
Beta hydroxy acids (BHAs), most preferably salicylic acid
Cucumber extract
Grapeseed extract
Lemon extract
Vitamin C
Vitamin E
Hyaluronic acid
Collagen and elastin proteins
Bilberry extract
Meadowsweet extract
Chios crystal oil
Musk rose extract
Rose water extract
Rice milk extract
Manuka honey extract
Retinol
Niacin/niacinamide
Glucose complex
Essential oils such as lavender, rosemary, peppermint, tea tree, rosehip, calendula, and frankincense
Olive oil, sunflower oil, coconut oil, and jojoba oil
Shea butter
Activated charcoal
Colloidal oatmeal
Here are the ingredients that you should avoid:
Sulfates
Parabens
Alcohol-based extracts
Formaldehydes
Artificial dyes
Always choose products that are labeled:
Noncomedogenic, which means the product won't clog your pores
Hypoallergenic, which means the product won't cause an allergic reaction when applied to the skin
Skin Care Guidelines for Smooth Skin
Everyone's skin is different and has to be looked after differently. You have to customize your skin care regimen according to your own skin type, sensitivities, and underlying dermatological issues.
But for any skin care to work, it must be followed consistently. If you are struggling with dry, rough, uneven skin, here are some skin care tips that may benefit you:
1. Refrain from frequent skin washing
There is a misconception that frequently washing the skin will make it cleaner, when all it does is make the skin drier. Excessive exposure to water removes the inherent moisture from your skin, making it rough, dehydrated, and crinkly.
Thus, it is recommended that you wash your face no more than twice a day, once in the morning and then later at night before going to bed. Also, avoid washing your hands too often, and bathe every other day.
2. Avoid the usage of hot water
Don't use hot water to wash your skin as it can strip away the natural lipids from your skin, leaving it dry and rough. Wash your skin with lukewarm, room-temperature, or cool water instead.
3. Use a gentle chemical-free skin cleanser
Use a gentle chemical-free cleanser on your face and body, and always apply it with your fingertips rather than a loofah, washcloth, or sponge that can further irritate your sensitive skin.
4. Exfoliate your skin
Exfoliation is an important step for removing the dead cells that accumulate on the surface of your skin. But this skin care technique can go horribly wrong if done excessively, vigorously, or with the wrong kind of exfoliants, especially on already sensitive skin.
You can make your own scrubs or exfoliating masks with natural ingredients, such as sugar, salt, uncooked rice grains, or ground oatmeal. These ingredients have mildly abrasive granules that gently exfoliate the skin without damaging or irritating it.
You can also use skin products with AHAs or BHAs, which dissolve the bond between dead skin cells so that they are easier to shed or scrub off. Dead skin will gradually peel after using these chemical agents, and then you can use a gentle scrub to eliminate the flaky patches.
Always apply the scrub in gentle circular motions, and don't exfoliate more than twice a week.
Note: Dermaplaning razors are available on the market and are used to exfoliate the skin at home, but their safety and effectiveness are subject to considerable doubt. These razors are used like any shaving razor to peel away the surface layers of the skin, which can give rise to cuts, injuries, irritation, and infection. Since the risks outweigh the potential benefits, it is best if you go for a clinical dermaplaning procedure by a professional rather than trying it yourself and then regretting it later.
Caution: AHA-based exfoliating agents can make your skin extremely sensitive to the sun (photosensitive). So, it's best to use this peeling agent at night. If you do treat your skin with AHA during the day, make sure to follow it with a broad-spectrum high-SPF sunscreen and avoid direct sun exposure as much as possible. BHAs are less likely to cause such extreme photosensitivity and are better suited for oily skin.
5. Moisturize your skin regularly
Moisturize your skin regularly with a suitable emollient. Moisturizers can have different consistencies and compositions, and different products suit different skin types. Moisturizers come in the form of creams, lotions, and ointments and can be water-based or oil-based. Water-based ones are lighter on the skin, whereas oil-based ones are heavier.
People with extremely dry skin usually require intense hydration through oil-based moisturizers, whereas people with oily skin should go for lightweight water-based moisturizers.
If you are unsure of your skin type or have problematic skin, you should ask your doctor to recommend the best moisturizer for you. You may need different moisturizers for your skin and body. The skin around your eyes is extremely delicate, so be ultra-gentle when applying the product here.
The ideal time to apply the moisturizer is soon after washing your skin when it is still damp to seal the water in. Look for moisturizers that contain squalene, ceramide, glycerine, or ceramide, which are deeply hydrating ingredients that lock in the moisture in your skin.
You can even dab a few drops of any hydrating plant oil such as coconut oil or natural fats such as shea butter or mango butter all over your dry skin, but do not use them on your face unless your skin specialist approves.
Reapply the moisturizer every time you wash your skin or after excessive sweating, which can wash away the product.
Note: You may use a jade roller when applying a moisturizer or any skin smoothening serum. The topical stimulation helps tighten your skin, increases microcirculation, and facilitates better product absorption within your skin. Other more invasive tools such as microneedles and dermabrasion rollers are available for home use too, but they can be risky, and so it's not recommended to use them without professional guidance.
6. Avoid excessive sun exposure
During the day, cover all the exposed areas of your skin with an FDA-approved broad-spectrum sunscreen that contains zinc or titanium oxide and has an SPF of 30 or higher to block out the UV rays of the sun.
Wearing sunscreen is not just important when you are stepping out, but also inside your homes. If your home has windows, the sun's UV radiation can find its way to your skin.
You must apply sunscreen even on cloudy days because the UV rays can breach the thickest cloud cover to reach the earth. (9)
Self-Care Tips for Smooth Skin
Here are some dietary and lifestyle measures that can help keep your skin smooth and healthy:  
1. Consume a well-balanced diet
Consume a well-balanced diet that includes the following: (10)(11)
Foods rich in antioxidants, mostly citrus fruits such as oranges, berries, etc., and pigmented vegetables such as bell peppers.
Anti-inflammatory spices such as turmeric.
Healthy fats such as omega-3 and omega-6 fatty acids, which are abundantly found in freshwater fish, flaxseeds, chia seeds, and nuts.
Prebiotic fiber, which keeps your gut healthy by promoting the growth of good bacteria. Some of the best dietary sources of prebiotic fiber are seeds, cereals, and fruits such as papaya, guava, and apple.
Probiotic foods such as kimchi, yogurt, curd, and sauerkraut also promote the growth of healthy gut bacteria, which facilitate better digestion and overall gastrointestinal functioning. 
Essential micronutrients such as zinc, potassium, selenium, calcium, and iron, which are found in poultry products, dairy products, legumes, soy, and beans.
2. Limit your intake of processed and refined foods
Limit your intake of processed and refined foods that are swimming with unhealthy fats, namely, trans and saturated fats.
Some people can also have an adverse skin reaction to dairy products in the form of sebum overproduction, which can lead to clogging of pores and worsening of acne. Avoid dairy if it doesn't suit your skin.
3. Stay hydrated
A well-hydrated body leads to well-hydrated skin. Thus, you must consume at least 8 glasses of water throughout your day. The water your drink helps flush out toxins from your body and hydrates the skin from within, and these are essential for achieving smooth, soft skin.
Proper fluid intake can make your skin more elastic, strengthen its barrier function, (12) and reduce its roughness and flakiness.
4. Exercise regularly
Exercise regularly for at least 30 minutes every day. Exercise, be it aerobic or strength training, keeps your skin clean and healthy. It makes the outer layers of your skin thin and inner layers thick and strong.
If you don't have such as lifestyle yet, begin by doing simple cardio exercises, such as bicycling and Zumba, and then gradually build the intensity of your workout.
5. Use a humidifier
Install a humidifier in your home during winters or if you reside in an arid terrain. This simple device can add some much-needed moisture to your living environment and can help keep your skin lubricated.
Dry air, on the other hand, can strip the moisture from your skin. When using a humidifier, make sure to clean it regularly to keep it mold-free.
6. Get adequate sleep
Get at least 7 hours of restful sleep daily. Sleep is important for your skin and overall health because this is the time when your body works overtime to filter out toxins, repair body tissues, restore collagen, and replenish your energy.
7. Avoid prolonged sun exposure
Shield yourself from the UV rays of the sun, which penetrate deep into the skin tissue to destroy healthy cells. Sun exposure releases free radicals in the body that attack healthy skin cells and induce premature skin aging.
Prolonged or excessive UV exposure can even ruin the DNA of your skin cells and increase the risk of skin cancer. Besides applying good-quality sunscreen, you can block out the sun by wearing full-sleeved clothes, a scarf, and/or a wide-brimmed hat.
On top of that, you should try to stay indoors when the sun is at its peak, between 11 am and 3 pm. If you must go out during the peak hours, seek shade.
8. Avoid tanning beds
Don't use tanning beds that subject your skin to a great deal of UV damage.
9. Wear comfortable fabrics
Don't wear coarse fabrics that rub against your skin to make it rough and irritated. Instead, choose soft, free-flowing fabrics that allow your skin to breathe.
10. Limit your alcohol intake
Keep your alcohol intake under control if you wish to avoid dry, rough skin. Alcohol is a diuretic, which means it increases urine output, thereby eliminating excess water from the body. Excessive alcohol consumption can therefore dehydrate your skin and body.
11. Quit smoking
Quit smoking as soon as possible. Tobacco cigarettes contain various chemical toxins, including nicotine, that cause a lot of damage to your skin, along with the rest of the body. Smoking not only makes your skin dehydrated and rough, but it ages the skin faster. (13)
These adverse skin changes set in gradually and may take some time to become visible. So even if you don't notice any dryness or wrinkling during the initial smoking period, they are happening little by little and will become more prominent as you continue with the harmful habit.
The sooner you give up smoking, the better are your chances of reversing this skin damage. Conversely, the longer you continue this habit, the graver and more permanent will be the skin damage. Nicotine addiction can be difficult to overcome, but a firm resolve and consistent efforts will get you there.
What Makes Your Skin Rough?
The skin undergoes a lot of structural damage due to environmental and biological factors, and such damage gets progressively worse with age.
The skin cocoons your entire body and serves as a barrier against external irritants, such as the sun's UV rays, dust, chemicals, pollutants, and infections, which wear it down over time. This constant onslaught of irritants can make the skin rough and dry.
Moreover, being the most expansive and exposed part of the body, the skin tends to suffer a lot of injuries and physical trauma, which can leave behind jagged scars. Fortunately, the skin is fully capable of repairing itself to overcome this wear and tear. The body sheds the damaged skin cells from the surface and replaces them with new ones.
Skin cells are made up of a protein called collagen, which is naturally produced by the body, but in lesser and lesser amounts as one gets older. This age-related decline in collagen synthesis makes it difficult for the skin to renew itself, leading to the accumulation of dead skin that looks dull and feels rough or uneven.
The progressive loss of collagen makes the skin lose its volume and become saggy. Loose skin is more prone to developing folds, creases, and wrinkles that can make a person look older than their actual age.
People with inflammatory skin conditions, such as rosacea, eczema, and dermatitis, tend to have exceedingly dry and irritated skin, often characterized by rough lesions. Severe acne can create pits in the skin to give it an uneven appearance and texture.
Final Word
Negligent skin care, poor nutrition, and an unhealthy lifestyle combined with hormonal and genetic factors can compromise your skin health.
A lot of beauty products that make tall claims of repairing your skin often contain harsh chemicals that strip the moisture from your skin and make it even drier and more irritated than before. So, it is important to go through the ingredient list before buying any skin product.
You can treat your skin with a number of skin-healing natural ingredients at home, but only after patch testing them to rule out any allergies.
However, no single remedy or product can cure your skin problem all by itself. The idea is to incorporate them in an overall wholesome and consistent skin care regimen. But even the most impressive skin care routine cannot deliver sustainable results unless coupled with a nutritious diet and an overall healthy lifestyle.
Was this article helpful?