Onions and aloe vera are both credited with hair benefits, but pairing them together can yield better results. This combination makes for an excellent hair remedy that not only improves hair quality but also promotes faster hair growth/regrowth. (1)
Plus, there is another good reason for clubbing these ingredients. Onions have a high sulfur content, which makes them slightly caustic, but the soothing and moisturizing nature of aloe gel can counter that. (1)
Read on to learn how you can use this remedy to achieve healthy and beautiful hair.
Role of Onions in Hair Growth
Onions have gained a lot of popularity as a hair care ingredient, as they exhibit the following properties: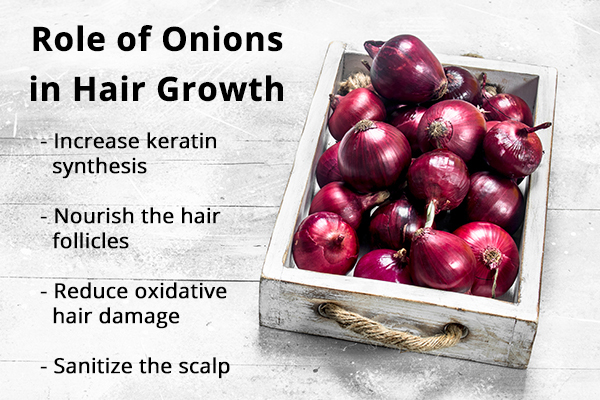 1. Increases keratin synthesis
Onions contain a lot of sulfur, which is used by the body to manufacture the main hair-building protein called keratin. About 65%–95% of the hair is composed of keratin. This structural protein is needed to make new hair cells as well as to repair the damaged ones.
Needless to say, a good supply of keratin allows the hair follicles to produce more hair cells to build healthier, stronger, and thicker hair that are less prone to breakage or shedding. Plus, keratin also facilitates speedy hair growth.
2. Nourishes the hair follicles
Onion juice or onion oil is known to stimulate blood circulation in the scalp when used topically. The improved supply of blood delivers more nutrients to the hair follicles.
Well-nourished follicles produce sturdier, softer, and shinier hair at a faster rate.
3. Reduces oxidative hair damage
Onions contain antioxidant compounds that curb the activity of free radicals. Free radicals are reactive molecules that attack the hair cells and hair follicles, causing damage via oxidative stress.
If left unchecked, these free radicals can ruin the texture of your hair and cause scalp inflammation. Scalp inflammation hampers the functioning of your hair follicles, resulting in stunted hair growth and undue hair fall.
According to experts, a healthy scalp is a prerequisite for healthy hair growth. (2) The antioxidant properties of onion help relieve the inflammation and thus restore normal hair follicle activity.
4. Sanitizes the scalp
Onions possess antimicrobial properties that help fight scalp infections such as dandruff, which are responsible for a great deal of hair loss. Plus, their pungent smell helps repel lice.
Role of Aloe Vera in Hair Growth
Aloe vera gel is renowned for its medicinal properties and has been used as a healing agent for centuries. (3) However, not many people are familiar with its benefits on the hair.
This hydrating gel was part of the hair care routine of the ancient Egyptian queen Cleopatra as it helped condition her tresses for a silky-smooth finish. Plus, it was used by the ancient Greeks to treat hair loss. (4)
Besides a high moisture content, aloe vera also contains plenty of vitamins, minerals, enzymes, antioxidants, and other compounds that help your hair grow long and strong. (1)
The hair benefits of aloe vera include:
1. Reduces hair fall triggered by inflammatory scalp conditions
Seborrheic capitis (SD), also known as dandruff, is an inflammatory condition that manifests in the form of redness, itching, and flaking on the scalp. (5)
Scalp inflammation inhibits hair follicle activity, impeding hair growth. Plus, scratching the dry, itchy scalp can weaken the hair roots and trigger hair fall. Aloe vera exhibits strong anti-inflammatory properties that can help relieve these inflammatory symptoms.
2. Conditions, replenishes, and repairs dry and damaged hair
The nutrient-rich aloe vera gel contains a specific group of protein compounds with an overall composition that's very similar to keratin. When applied externally to the hair, aloe vera is capable of refortifying the cuticles and restoring lost moisture.
Therefore, aloe vera juice mixed with water can work as a natural type of leave-in hair conditioner when sprayed or gently massaged into the hair strands.
3. Provides antimicrobial action
Aloe vera works as a natural antiseptic that inhibits the growth of fungi, bacteria, and lice on the scalp.
This antimicrobial property can be attributed to several compounds found in aloe vera, namely, lupeol, sulfur, salicylic acid, cinnamonic acid, and phenols. These antiseptic agents help keep the scalp free of infections and infestations.
How to Use Onion and Aloe Vera for Hair Growth
Extract fresh onion juice at home to ensure it has maximum nutrient value and no added chemicals.
Pour some aloe vera juice into the onion juice and mix them well.
Slather the mixture all over your scalp and hair.
Gently massage it into your scalp for proper absorption into the hair follicles. The massaging action stimulates blood circulation in the scalp.
Let it sit for a few hours.
Wash your hair with a mild shampoo and water.
Side Effects of Onion and Aloe Vera Usage on Hair
Onion juice in concentrated amounts can be harsh on the skin due to its rich sulfur content. This is why some people report experiencing a bit of itching, irritation, and redness after using it on the sensitive skin of the scalp. (6)
Aloe vera, on the other hand, is full of water and antioxidants that provide a cooling and soothing effect. Thus, using aloe can help balance out the caustic nature of onion juice when the two are used together.
Final Word
Anecdotal evidence and preliminary studies suggest that onions and aloe vera work well together to promote hair health and hair growth, but more rigorous research is needed to determine their true efficacy.
Both the ingredients contain several compounds that are good for your hair in different ways. They help nourish, repair, and condition your hair and scalp without causing any undue side effects. However, no single remedy can cure all your hair woes or transform your hair by itself.
You have to incorporate it into an overall wholesome hair care routine combined with a healthy nutritious diet. Plus, you must use it properly and consistently to get the desired effect.
Was this article helpful?