It is normal to shed around 50–100 strands of hair daily. (1) A higher rate of hair fall can be indicative of weak hair that breaks off before completing its life cycle. This problem can affect hair of all types and lengths, although long hair is more prone to damage and dryness.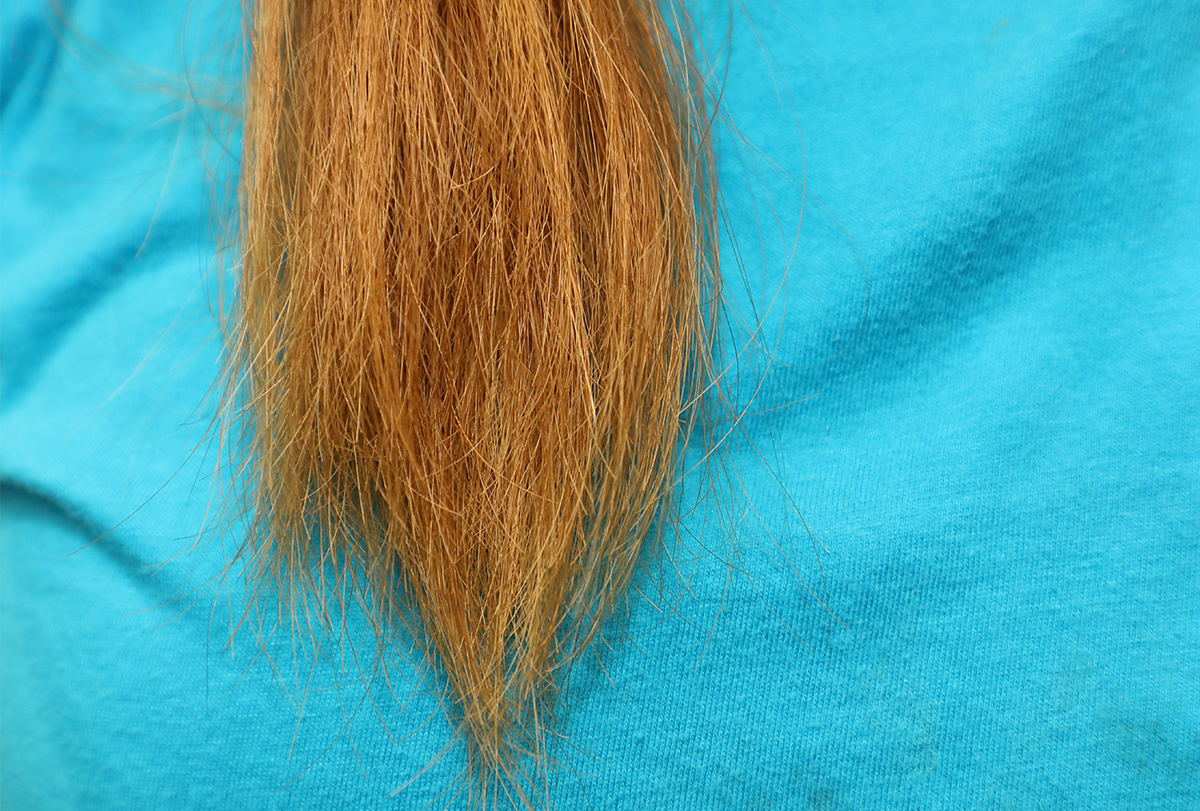 You can check for hair breakage or damage by examining your hair for the appearance of small white dots or split ends anywhere through the length of your hair. Your hair may also have a straw-like and brittle appearance.
Basically, if the root is present in the fallen hair, the hair is in the telogen effluvium phase of the hair cycle. If there is no root, the hair is breaking from within, which is actually worse than losing hair from the root.
Lost hair from the root regrows, but brittle hair takes a while to repair. Moreover, hair breakage, at the early stages, maybe preceded by losing color, changing to a rough texture, or tangling easily. On the other hand, healthy hair has cuticles lined up, giving it a smooth and shiny appearance.
Causes of Hair Breakage
Different factors can cause or increase the problem of hair breakage, including:
Dryness. The health of your hair is greatly affected by its hydration or moisture levels. This may occur due to a lack of water intake, improper nutrition, or not oiling the hair. Moreover, overwashing can strip your hair of its natural oils, leading to dryness. This can result in a stiff and straw-like texture, making the hair prone to damage. Generally, you will notice dryness toward the end of your hair length, as it is farthest from the scalp and, therefore, from nutrition and natural oils.
Excessive heat styling. Using heat styling tools such as straighteners, curlers, and hair dryers can damage your hair in the long run. (2)
Chemical treatments. Dying, perming, or keratin treatments use a mixture of chemicals that can harm your hair, making it prone to breakage. (3)
Towel drying the hair. Tying your hair up in a towel for drying can cause tangling and lead to hair breakage.
Improper diet. Since different nutrients are vital to your hair growth, a lack of vitamins, minerals, and other nutrients can compromise your hair health. Some nutrients essential for hair growth include folic acid, iron, and zinc. Consuming proteins and antioxidants can boost hair health.
Thyroid problems. Low levels of thyroid hormones in the body, generally due to a medical condition known as hypothyroidism, can often lead to hair loss and damage, as the hormone plays an important role in hair growth. (4)
Tight hairstyle. Tying up your hair tightly can cause pulling at the roots, often weakening the hair. This can also contribute to increased tangling, which causes hair breakage.
Rough brushing of hair. Combing your hair strands roughly can cause friction on the hair fiber, often damaging the cuticle or outer layer of the hair, making it prone to damage. This problem increases multifold when you comb wet hair.
Avoiding haircuts. It is suggested to get regular haircuts to cut out your split ends as they can increase, splitting the hair into two through the whole length and causing brittleness.
Stress. Stress is often a source of health problems that can affect your hair, (5) skin, and immune system. It can affect your hair growth cycle, inhibiting the growth of new hair.
Sleeping on a cotton pillowcase. Using cotton pillowcases increases friction on the hair, consequently weakening the cuticle.
Eating disorders. Eating disorders are associated with nutritional deficiencies, which can restrict hair growth by inhibiting the anagen phase of the hair cycle.
Home Remedies to Stop Hair Breakage
You can try the following home remedies to help strengthen and repair your hair and thus prevent hair breakage.
1. Perform a warm coconut oil scalp massage
It is common for hair to turn weak and break due to a lack of nutrition. To combat this problem, perform a hot oil massage with coconut oil to deeply moisturize and nourish the hair, thus helping prevent breakage.
Oils such as almond oil, coconut oil, olive oil, and castor oil can also be used. You can also try herb-based oils such as those containing black sesame, fenugreek, and onion as they contain hair-strengthening properties and help promote thicker and longer hair.
How to use:
Warm any oil and massage it onto your hair. Cover with a towel and allow it to nourish your hair overnight. Wash your hair in the morning.
Alternatively, massage your scalp with hot oil an hour before washing your hair. You can add vitamin E to the oils to maximize the benefits.
Repeat these remedies 2–3 times a week for best results.
2. Use a banana hair mask
Bananas are rich in potassium, proteins, and fats that nourish and strengthen your hair, thus helping prevent breakage.
How to use:
Mash two ripe bananas and add some olive oil and honey.
Apply the mask to your hair and wash it off after 15 minutes.
Repeat this remedy once a week for glossy and thick hair.
Note: Use a ripe banana for your hair mask and make sure to blend it into a smooth paste for proper application. If there are chunky bits in your mask, they can stick to your hair and make the rinsing process difficult.
3. Apply an egg mask
Egg whites are a great source of hair-strengthening proteins. (6) Applying eggs to your hair can boost the softness and health of your hair. Moreover, eggs possess anti-inflammatory and antioxidant properties that help control scalp inflammation and hair damage.
How to use:
Beat two egg whites with 2 tbsp of olive oil, 1 cup of milk, and a few drops of lemon juice. Apply the mixture to your scalp and hair and leave it for 30 minutes. Follow this by cleansing your hair with a mild shampoo.
Alternatively, whip one whole egg and apply it to your hair. Wash it off after 15 minutes with cold water. Repeat this remedy 2–3 times a month.
4. Apply essential oils
Almond essential oil is highly beneficial to your hair as it contains magnesium, vitamin E, and omega-3 fatty acids, which nourish the hair and prevent breakage and damage. (7)
You can also use chamomile essential oil for its anti-inflammatory and moisturizing properties. It also acts as an antifungal agent that prevents fungal infections of the scalp.
How to use:
Mix a few drops of any essential oil in 1 tbsp of carrier oil such as coconut oil or olive oil.
Use the oil blend to massage your scalp and hair gently.
Shampoo your hair as usual after a couple of hours.
5. Rinse with apple cider vinegar
Apple cider vinegar (ACV) is popular as a hair rinse as it makes the hair soft and less prone to breakage. It contains pH-balancing properties that help maintain hair and scalp health and anti-fungal properties (8) that work by reducing dandruff and flakiness.
How to use:
Dilute 1 tbsp of ACV with 2 cups of water.
Use this mixture to rinse your hair after shampooing.
Repeat this remedy once a week.
6. Try aloe vera
Aloe vera is widely used for its dermatological benefits to the skin and hair. It possesses antifungal and antibacterial properties (9) that prevent hair breakage and dandruff.
How to use:
Mix some aloe vera gel with almond oil and apply the mixture to your scalp and hair. You can also apply the gel to your hair directly.
Wash your hair after 30 minutes.
Repeat the remedy 2 times a week for best results.
7. Use green tea
Green tea is rich in antioxidant catechins that boost hair growth. (10) Moreover, it has anti-inflammatory and antifungal properties that prevent scalp infections and hair fall.
How to use:
Mix ½ tbsp of powdered green tea and 1 tbsp of coconut oil, and apply the paste to your scalp and hair. Wash your hair with cold water after 10 minutes.
Consume green tea daily to improve hair and overall health from within.
8. Apply an avocado hair mask
Avocados are rich in vitamins, minerals, and omega-3 fatty acids that nourish the hair. (11) When used as a hair mask, avocados can help in deep conditioning your hair and thus preventing hair damage and breakage.
How to use:
Mix half an avocado with one egg yolk to form a smooth paste, and add 1 tbsp of shea butter to the mix. Apply the paste to damp hair and scalp. Massage the scalp for a few minutes. Rinse your hair after 20 minutes and shampoo as usual. Repeat this remedy twice a month.
Alternatively, mix one avocado with 1 tbsp of honey and ½ tbsp of coconut oil to form a paste. Apply it to the length of your hair, avoiding the roots. Rinse your hair after 15 minutes.
9. Use a mayonnaise hair mask
Mayonnaise, being made of eggs, has high protein content. It also contains vitamins A, D, and E, folate, biotin, and fatty acids that nourish and moisturize the hair.
The vinegar in mayonnaise balances out the scalp pH and thus regulates the production of natural oils. The lemon juice and olive oil in mayonnaise can benefit the hair as well.
How to use:
Apply mayonnaise to clean damp hair, especially to the ends, like would apply a conditioner.
Wear a shower cap and leave it on for 15–30 minutes.
Rinse your hair and shampoo to effectively remove the mayonnaise.
Self-Care Measures to Prevent Hair Breakage
The following self-care tips can help improve hair health and prevent hair breakage:
1. Improve your hair care routine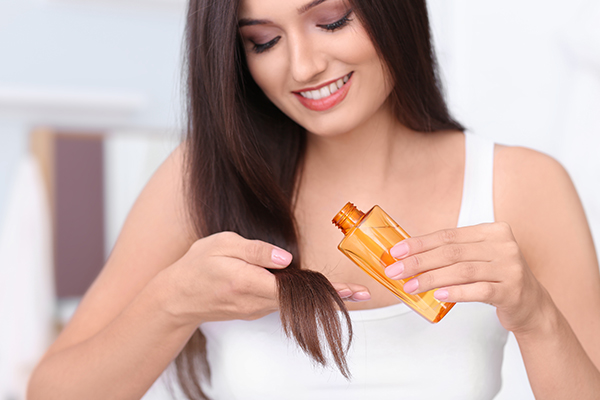 It is recommended to massage your scalp every day, preferably using essential oils, to boost blood circulation to the follicles. (12) Doing so improves the supply of nutrients and oxygen to the scalp, thus strengthening the hair.
You should also cleanse your hair and scalp 2–3 times a week using a mild shampoo to prevent the buildup of dirt and oil on your scalp.
2. Condition your hair
Always condition your hair after shampooing to moisturize the hair, especially the ends. Conditioning also provides nourishment to your hair, keeping it soft and smooth.
3. Avoid using towels to dry your hair
It is best to allow your hair to air dry. Avoid rubbing your hair with towels when dry to prevent breakage. You may use cotton shirts to dry your hair as they are soft on the hair.
4. Avoid using heat tools
Refrain from using heat tools on your hair as they can dry out and weaken your hair. These include hairdryers, straighteners, and curlers. Only use hot combs or straighteners on clean and dry hair and in the lowest heat setting.
5. Use a heat protectant
When using heat tools, make sure to apply a heat protectant to your hair first to reduce the risk of damaging the hair structure.
6. Use sulfate-free shampoos
Many commercial shampoos contain sulfates, a common detergent, which can dry out your hair and remove the natural oils. This increases the chances of hair breakage. Therefore, make sure to select sulfate-free shampoos to prevent damaging your hair. Instead, choose herbal shampoos.
7. Protect your hair from UV rays
Wear a scarf, hat, or use a UV spray to protect your hair from the harsh sun rays when stepping outside. (13)
8. Trim your hair regularly
Trim your hair every 6 months to prevent hair breakage or to reduce split ends.
9. Comb your hair gently
Comb out the tangles on your hair gently to avoid breakage, especially when it is wet. Try detangling your hair using a wide-toothed comb while it is still wet, starting from the ends and working your way up. Never pull on your hair to detangle a knot.
10. Choose the right hairbrush
Opt for wide-toothed combs with soft bristles instead of metal ones. Boar-bristle brushes are highly recommended since they detangle the hair gently and spread the natural oils evenly. Moreover, keep your brushes and combs clean at all times.
11. Do not tie your hair tightly
Avoid tying your hair tightly. Instead, let your hair down or tie them loosely to prevent breakage.
12. Use a silk pillowcase
Silk pillowcases are soft and prevent friction on the hair. Moreover, silk doesn't retain moisture and is thus a suitable material for pillowcases and scarves alike.
13. Get a protein treatment
You can get keratin and cysteine treatments in a salon to help treat hair breakage problems. The effects of these treatments can last for 3–6 months when cared for.
14. Include vitamins in your diet
It is essential to include vitamins such as vitamins C and D3 and biotin in your diet to improve your hair health. (14) Vitamin C boosts collagen production, vitamin D3 stimulates keratin production, and biotin increases hair growth.
Include cheese, leafy vegetables, citrus fruits, and eggs in your diet. You can also consume supplements upon consulting your doctor.
15. Reduce stress
Stress plays a role in inducing hair breakage. Try different stress management techniques such as meditation and yoga to reduce your stress levels. It is also essential to get proper sleep.
Final Word
Hair breakage is a common problem often characterized by frizzy, rough, dry, and thinning hair. This may occur due to various factors such as medical problems, environmental exposure, and lifestyle.
Most cases of hair breakage can be reversed and improved by changing your hair care routine, keeping your hair hydrated, improving your diet, and using home remedies, among other measures.
It is vital to treat hair breakage timely to prevent the worsening of the problem. You can consult your doctor if the hair breakage is accompanied by hair loss and doesn't improve with the above-listed measures.
Was this article helpful?