Proper hair care is not just about expensive products and professional treatments, but it can be done through simple, affordable, and easily available ingredients as well.
This article will take you through many such convenient remedies and measures that can help your hair grow longer and stronger.
Home Remedies for Promoting Hair Growth
Here are a few remedies that can promote hair growth when used repeatedly:
1. Coconut oil
Coconut oil provides intensive hydration to your hair and scalp as it is rich in lauric acid, which is known to penetrate deeper into the hair shaft and follicles than any other fatty acid.
Not only is coconut oil highly absorbent and lubricating, but it also forms a protective layer over the hair to prevent moisture loss and provide long-term hydration. Your hair is made up of protein that gets destroyed due to the daily onslaught of external irritants leading to brittle, rough, damaged strands over time.
Research has shown that coconut oil is the sole hair oil that has the ability to significantly reduce this protein loss to keep your hair strong and healthy. Plus, it also helps repair the already-damaged hair by preventing further protein loss. (1)
How to use:
Comb a large amount of coconut oil into your hair from the roots to the tips.
Wrap your hair in a bun and let the oil get properly absorbed for a few hours before rinsing it out with a gentle shampoo.
Tip: If you don't want to oil your hair during the day, you can do it overnight and then rinse your hair the next morning.
2. Onion
Onions contain flavonoids and lots of sulfur, both of which enhance blood circulation in the scalp. This brings more nutrients to the hair follicles, allowing them to produce longer, stronger hair. 
Quercetin is a flavonoid in onions that has anti-inflammatory, antioxidant, antibacterial, and antifungal properties that protect your hair from infections, free radicals, and other sources of damage.
Research has also shown that onion juice is an effective topical remedy to promote hair regrowth. (2)
How to use:
Extract onion juice and apply it to your scalp and your hair.
Let it sit for a few minutes before shampooing and conditioning your hair.
Tip: Onion juice has a pungent smell that may not go away completely even after a thorough hair wash, but you can make it less intense by massaging a few drops of any fragrant essential oil all over your washed hair to camouflage the stink.
3. Hibiscus
Hibiscus flower is rich in vitamin C, which is a powerful antioxidant that helps ward off free radicals and repair the hair damage they cause. Plus, it also stimulates blood circulation in the scalp to provide better nourishment to the hair follicles for better hair growth.
Hibiscus flower is also endowed with phosphorus, calcium, and other important nutrients that strengthen the hair to prevent undue shedding or breakage.
How to use:
Grind 3–4 hibiscus flowers and leaves into a paste.
Mix in a lit bit of water along with a few drops of olive oil to smoothen the consistency of the paste.
Apply the paste to your hair down to the roots.
Leave it on for 15 minutes, and then rinse it off.
4. Green tea
Green tea contains a polyphenol known as epigallocatechin gallate (EGCG, which is credited with significant antioxidant activity that can protect your hair and scalp from free radicals. It also reduces inflammation in the hair follicles to keep them functioning properly.
Not just that, EGCG is known to enhance hair follicle activity to speed up hair growth. It does so through two mechanisms: by stimulating hair cell proliferation and simultaneously by inhibiting hair cell death. (3)
How to use:
Consume green tea every day to give your body an instant shot of vital nutrients and antioxidants that can help improve your hair health.
You can also use it topically as a hair rinse. Prepare a strong cup of green tea by brewing 2 tea bags in 2 cups of boiling water, and then let it cool down to lukewarm before transferring it into a spray bottle. Spritz the tea all over your washed hair and scalp while they are still damp, and then massage it in for a few minutes. Wear a shower cap and wait for up to 30 minutes before rinsing your hair and scalp with cold water.
5. Rosemary oil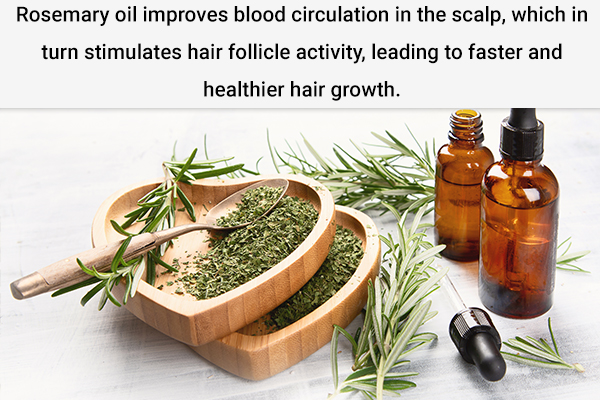 Rosemary oil improves blood circulation in the scalp, which in turn stimulates hair follicle activity, leading to faster and healthier hair growth. (4)
How to use:
Mix a few drops of rosemary oil in a carrier oil of your choice.
Massage this solution all over your scalp.
Leave it in for a few minutes and then rinse it off.
6. Ginseng
Ginseng is a Chinese herb that may help improve hair growth by triggering the formation of keratinocytes within the hair follicles. Keratinocytes are a type of cells responsible for producing the main hair-building protein called keratin.
On top of that, ginseng is also known to counter certain enzymes that inhibit hair growth. (5)
How to use:
You can directly massage ginseng powder into your dry scalp using the tips of your fingers, but it's better to oil it first for ease of application. This topical stimulation along with the nourishing prowess of ginseng increases blood flow to the follicles to encourage hair growth.
Lifestyle Changes
Here are some self-care measures that can help reduce hair damage and promote hair growth:
Use sulfate-free shampoos, conditioners, and styling products that contain natural healing ingredients that are gentle on your hair and scalp.
Sleep on a soft satin pillowcase to reduce friction against your hair, which can damage your cuticles.
Meet your recommended fluid intake (7–8 glasses of water daily) to keep your scalp hydrated from within. You can also consume coconut water for added nutrients that can improve your hair quality and growth.
Consume a healthy, well-balanced diet that is rich in all the vital nutrients but especially omega-3 fatty acids, which are great for your hair health. Get a good dose of leafy greens, walnuts, avocados, carrots, and other nutritious foods.
Biotin (vitamin B7) aids in the formation of amino acids, which are building blocks for all kinds of protein, including keratin, which makes up your hair. Thus, this nutrient can help stimulate hair growth, even in people who are suffering from alopecia. You can ask your doctor to start you on a biotin supplement or use it topically by mixing it in your hair-growth or hair-thickening shampoo.
Wash your hair with cold water as it helps tighten your cuticles and strengthen your hair follicles. Hot water, on the other hand, tends to dry out your hair and scalp.
Massage your scalp once a day. It stimulates hair growth by increasing blood supply to the hair follicles.
Exercise regularly. Doing so helps correct certain hormonal imbalances that may be contributing to your hair fall.
Trim your hair regularly to get rid of split ends. This is very important to keep your tresses in the best of shape and to encourage better hair growth.
Deep condition your hair by using hydrating hair masks can breathe life into your dry, lackluster hair.
Preventive Tips
Here are some useful tips to prevent hair damage and hair fall:
Don't overuse shampoo as it can remove the natural lipids from your hair and scalp, making them extremely dry.
Avoid tight hairstyles as they pull at your hair roots, which can weaken the foundation of your hair and making it easily fall out of the follicle.
Minimize the use of hairstyling tools such as straighteners, blow-dryers, and curling irons that expose your hair to a lot of heat, making them dry, dull, and brittle over time.
Avoid chemical hair treatments as they can damage your hair follicles.
Keep your stress levels under control through relaxation techniques such as yoga, deep breathing, meditation, and engaging in an activity or hobby that gives you joy. High stress triggers the release of cortisone hormone, which can negatively affect hair follicle function.
Don't use hair products that contain harsh chemicals such as parabens and sulfates as they strip the moisture from your hair and scalp while also causing toxic damage over repeated applications.
Wait for your hair to dry before gently brushing or combing them. This is because your hair is at its weakest when damp and can easily break or shed from the follicle when subjected to pressure. If you have long or curly hair, use a wide-tooth comb to detangle any knots before you start brushing/combing to prevent any hair breakage.
Most-Asked Questions About Hair Growth
When the hair becomes longer, does it slow down in terms of growth?
Your hair may not stop growing once it reaches a particular length, but it may stop growing after a certain period of time has passed.
Hair growth occurs across different stages that follow each other in a continuous cycle. When the hair has completed its growing phase, it enters into the final resting stage, during which it remains the same length until it finally falls out.
Is fenugreek a good remedy for hair growth?
Fenugreek is loaded with protein, which is the most abundant component of hair, and is therefore a good topical remedy for hair growth. It also contains lecithin, which helps hydrate and strengthen hair to reduce hair loss.
Final Word
For any hair care regimen to work, it must be followed diligently. A single remedy or therapy cannot fix all your hair problems by itself. Plus, every remedy will not give the same results for everyone. You have to look for the ones that suit your hair type.
If the goal is promoting hair growth, the above-listed remedies carry a lot of anecdotal support and are backed by scientific evidence as well. You can give them a try, but don't expect instant results. Also, make sure to combine these therapies with a healthy diet and a well-rounded hair care routine.

Continue ReadingHair Growth: Stages, Factors, and Treatment
Was this article helpful?