Eyebrows are a defining feature of your face. (1) They can make your face look more symmetrical and structured.
For this reason, many women trim or shape their eyebrows regularly. However, regular plucking and trimming can lead to thinning eyebrows, and losing eyebrow hair can be a distressing situation.
A number of factors may lead to thinning brows, including alopecia areata, fungal infections such as tinea, trichotillomania (hair-pulling disorder), nutritional deficiencies such as kwashiorkor, hypothyroidism, and atopic dermatitis.
Certain skin diseases that cause itching and irritation, such as psoriasis and eczema, can also lead to eyebrow loss. A few diseases, such as hypothyroidism and atopic dermatitis, can cause a distinct type of eyebrow thinning in the outermost part of the eyebrow. (2)
Chemotherapy for cancer can also lead to hair loss all over the body including the eyebrows. (3)(4) Moreover, people of some race have naturally thin brows that do not grow much due to their genetics.
Note: Hair regrowth may take time, around 3–6 months. But in conditions where there is permanent loss of hair roots such as post burn or discoid lupus erythematosus (DLE), hair regrowth might not occur. In such cases, hair transplantation can be sought by consulting a dermatologist.
Fortunately, several natural remedies can accelerate hair growth in the eyebrows and make them thicker. (5)
Disclaimer: Make sure to do a patch test on your elbows to make sure that you aren't allergic to any of the ingredients used here. Stop using if any of these remedies cause irritation or a burning sensation.
Home Remedies for Eyebrow Growth
Here are a few simple ingredients you can use at home to encourage the growth of your eyebrows:
1. Apply castor oil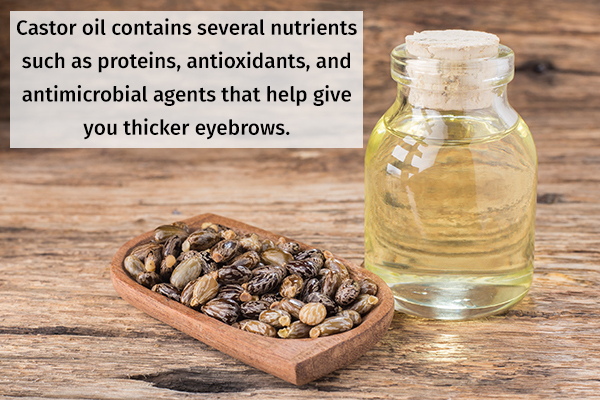 Castor oil is a well-known remedy for hair growth. It contains several nutrients such as proteins, antioxidants, and antimicrobial agents that help give you thicker eyebrows. It also contains ricinoleic acid that helps nourish your hair. (6)
How to use:
Method 1
Dip a cotton bud in castor oil.
Massage it on your eyebrows for 5 minutes
Let it rest overnight or for at least 20 minutes before washing it off.
Method 2
Mix 1 tbsp of castor oil, ½ tbsp of coconut oil, and a few drops of almond oil.
Massage this mixture on your eyebrows and leave overnight.
Daily use of castor oil may bring noticeable changes in as early as 4 weeks.
2. Massage with coconut oil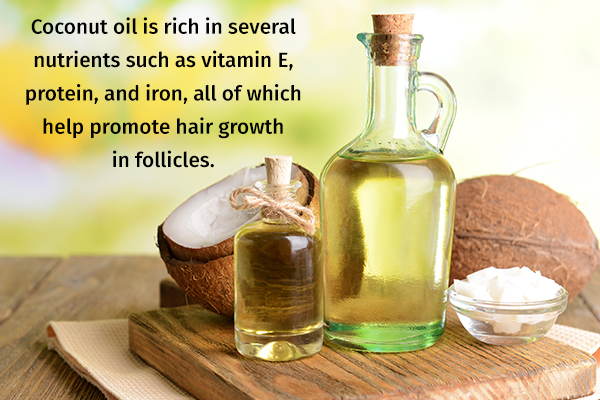 Coconut oil is an age-old remedy for hair growth. It is rich in several nutrients such as vitamin E, protein, and iron, all of which help promote hair growth in follicles.
Coconut oil also contains lauric acid, which exhibits antibacterial properties that help prevent and cure infections. (7)
How to use:
Take a few drops of coconut oil and massage it on your eyebrows for a few minutes.
Let it rest overnight.
Wash it off with lukewarm water in the morning.
Repeat daily for a few months.
3. Use onion juice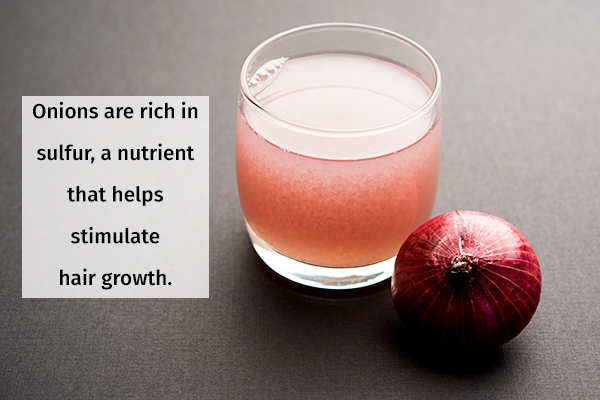 Onions are rich in sulfur, which helps stimulate hair growth. Onion juice also contains vitamin B, vitamin C, and other minerals that nourish the hair follicles, giving you strong and thick hair. (8)
How to use:
Massage fresh onion juice onto your brows.
Let it rest for at least an hour.
4. Apply aloe vera gel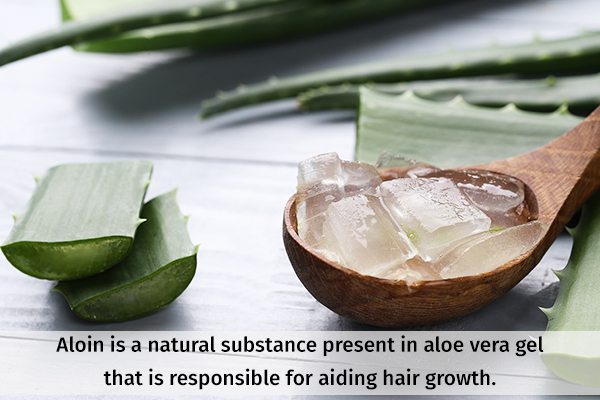 Aloe vera is very beneficial for your skin and helps moisturize it. Aloe vera gel is rich in antioxidants and anti-inflammatory compounds that soothe the skin.
Aloin is a natural substance present in aloe vera gel that is responsible for aiding hair growth. (9)
How to use:
Squeeze out fresh aloe vera gel from an aloe vera leaf.
Massage it on your brows.
5. Apply raw milk on your brows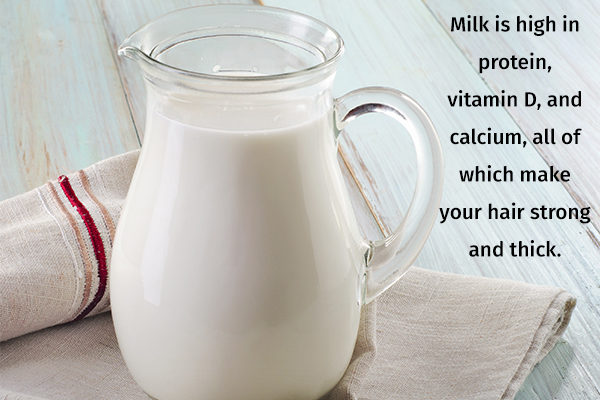 Milk is high in protein, vitamin D, and calcium that makes your hair strong and thick. Milk promotes hair growth in follicles by nourishing them. (10)
How to use:
Dip a cotton swab or ball in milk.
Apply it to your eyebrows before bed.
6. Give egg yolk a try
Egg yolk contains keratin and biotin that nourish eyebrow hair and help them grow. (11)
How to use:
Separate the egg yolk from one egg and beat it till it turns creamy.
Apply this egg yolk to your brows.
Wash it off after half an hour.
7. Apply jojoba oil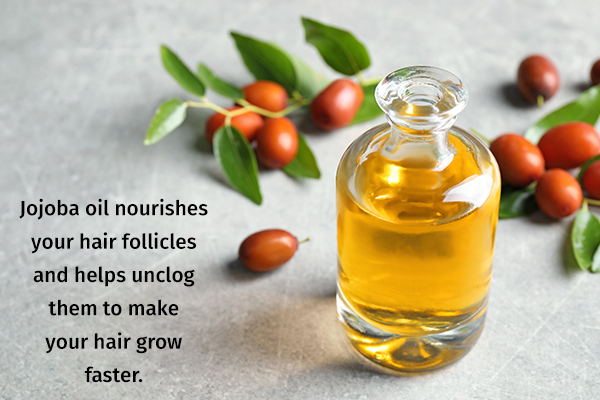 Jojoba oil nourishes your hair follicles and helps unclog them to make your hair grow faster. It is a humectant that seals in moisture for healthy hair.
How to use:
Apply a few drops of jojoba oil onto your eyebrows and let it rest overnight.
Wash your face in the morning.
8. Massage with olive oil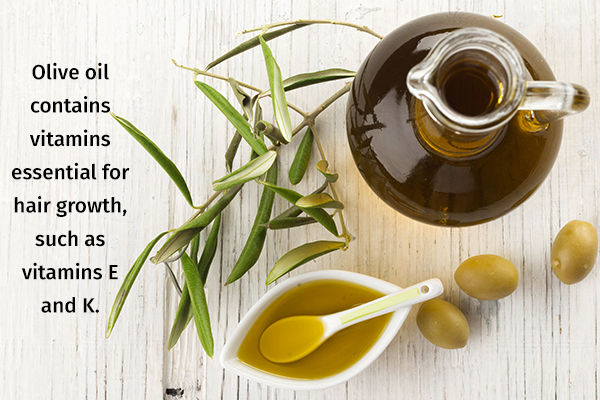 Olive oil contains vitamins essential for hair growth such as vitamins E and K. (12)
How to use:
Mix 4–5 drops of olive oil and 3 drops of honey.
Massage this mixture on your brows.
9. Use fenugreek seeds mask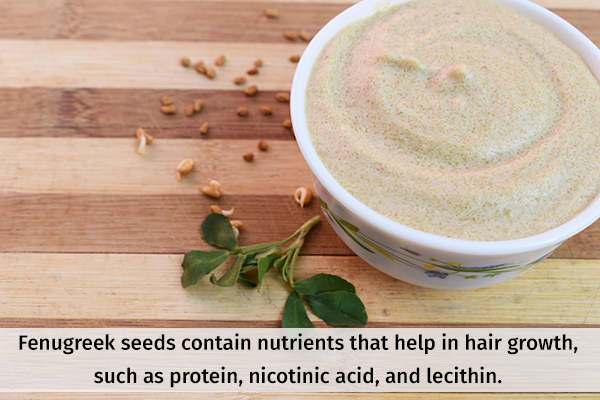 Fenugreek seeds contain nutrients that help in hair growth, such as protein, nicotinic acid, and lecithin. Fenugreek seeds also help in reactivating dormant hair follicles.
How to use:
Soak 1 tsp of fenugreek seeds in water overnight.
Grind them into a paste and add 1 tsp of coconut oil and 2–3 drops of almond oil. Mix them well.
Apply this mask to your brows before sleeping. Let it rest overnight.
Rinse it off with warm water in the morning.
Repeat every other day for best results.
10. Brahmi, bhringraj, and amla oil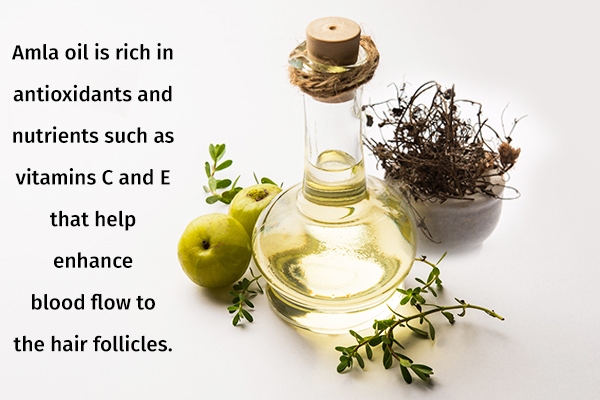 Brahmi, bhringraj, and amla are all ancient Ayurvedic remedies for hair growth.
Brahmi stimulates the hair follicles to grow new hair, while bhringraj stimulates the hair follicles to increase hair growth.
Amla oil is rich in antioxidants and nutrients such as vitamins C and E, which help enhance blood flow to the hair follicles. (13)(14)
How to use:
Mix 1 tsp of brahmi oil, 1 tsp of bhringraj oil, and 1 tsp of amla oil.
Massage the oil blend on your brows for 10 minutes.
Leave it on for at least 15 minutes or overnight.
Rinse it off with water.
11. Apply almond oil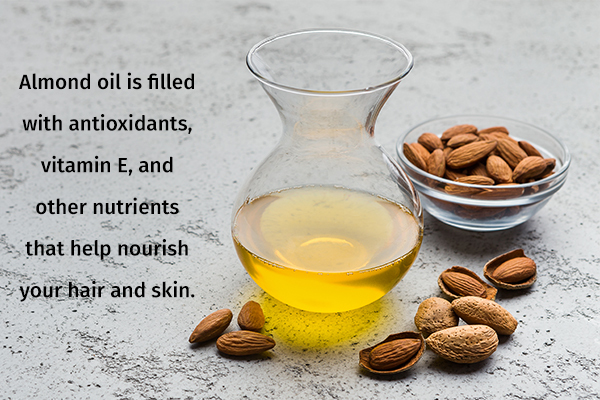 Almond oil is an excellent remedy for hair growth. It is no wonder then that this oil can also promote eyebrow hair growth. Almond oil is filled with antioxidants, vitamin E, and other nutrients that help nourish your hair and skin. (15)
How to use:
Take 4 drops of almond oil and massage it on your eyebrows for 10 minutes.
Rinse it off with water.
12. Incorporate vitamins in your diet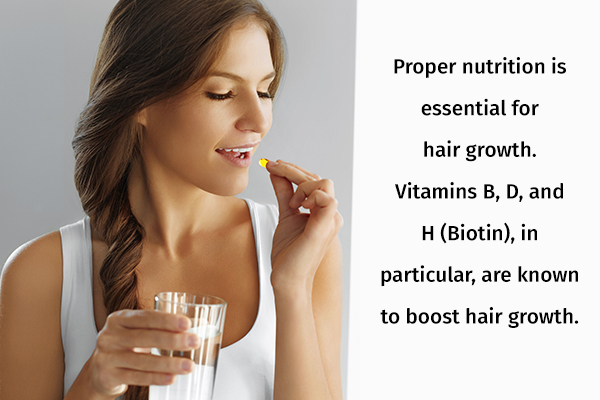 Proper nutrition is essential for hair growth. Hence, it is important to follow a diet rich in all types of nutrients, especially vitamins B, D, and H (biotin), as these vitamins are known to boost hair growth.
Here is a list of common nutrients and their food sources so you can include them in your diet:
Vitamin A: Carrots, red pepper, sweet potatoes
Vitamin C: Oranges, limes, spinach
Biotin: Eggs, avocados, fish
Omega-3 fatty acids: Olive oil, fish, walnuts
Vitamin B: Vegetables, fruits, dairy products
Iron: Beetroot, meat, milk, green vegetables, etc.
Sulfur: Cabbages, broccoli, etc.
Protein: Meat, milk, wheat, etc.
Self-Care Tips to Achieve Thick Eyebrows Naturally
Follow these self-care tips to achieve naturally thick eyebrows:
Massage your eyebrows regularly to enhance blood flow to the hair follicles and promote eyebrow growth.
Comb your eyebrows regularly as doing so also stimulates hair growth.
Drink adequate amounts of water every day. This helps improve blood circulation, remove toxins from the body, and increase the nutrient intake of your hair follicles. The recommended amount of water to drink is 8 glasses per day.
Keep track of eyebrow density to be aware of any premature balding or hair shedding.
Exfoliate regularly to clean your skin's surface and enhance hair growth.
Tips to Prevent Eyebrow Hair Loss
Avoid the following activities if you want to improve the health and the look of your eyebrows:
Do not wear makeup regularly, and if using makeup, make sure to thoroughly remove all of your makeup before sleeping.
Avoid using skin care products that contain harsh chemicals.
Do not wax or thread your eyebrows too often. In fact, not trimming the eyebrows for 5–6 months can greatly increase hair growth.
Hacks to Make Thin Eyebrows Look Fuller
Besides natural remedies, the following can enhance the fullness of your eyebrows:
Learn how to fill in your eyebrows using makeup. All you need is an eyebrow brush, eyebrow pencil, and eyebrow powder. Outline the shape of your eyebrow using an eyebrow pencil one shade lighter than your eyebrow color and lightly fill in its gaps by drawing eyebrow hair. Next, use the eyebrow brush and powder to add definition to your eyebrows and highlight their shape. Do not overuse any product as it can make your eyebrows look bad. You can use concealers under the arch for a more defined and classy look.
Brow gels and powders help fill in the gaps in your eyebrows and can make them appear darker.
Several brow serums and oils can help promote hair growth and make your eyebrows naturally thicker.
When to See a Doctor
Consult your doctor:
When there is continuous thinning of your eyebrows
When there is loss of your lateral eyebrows
When there is a sudden patchy loss of eyebrow hair
Most-Asked Questions
Is microblading safe for gaining thick eyebrows?
Microblading is a cosmetic procedure in which a small tool with tiny needles is used to add pigment to the eyebrows, giving them a thicker and fuller appearance. Hair strands are hand drawn onto the skin in the form of mini tattoos.
Although microblading is considered a mostly safe procedure, the use of unsanitary needles may cause skin infections. Moreover, microblading is not recommended for people with oily skin as the pigment tends to blur when exposed to excess oil.
Disclaimer: Always make sure that the microblading tool being used on you is sanitized and safe. Usually, a fresh blade is used for every new patient. Allow your skin to heal naturally and completely after the treatment to avoid infection.
Can bald eyebrows grow back?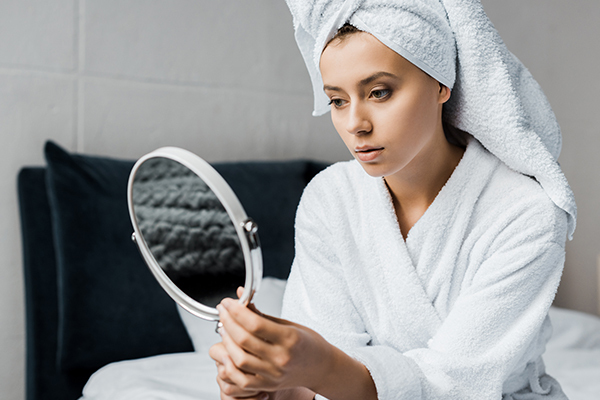 Just like the hair on your head, the hair on your eyebrows also goes through the hair growth cycle. Shaving off your eyebrows will have no effect on this cycle and the eyebrows eventually grow back.
Final Word
Thick, healthy eyebrows can be styled in any shape or form you desire. However, maintaining them can be a challenging task.
Follow the simple steps given above, do not overpluck your brows, and use hair growth remedies such as onion juice or aloe vera gel to give your eyebrows a naturally fuller look.
Make sure you are not allergic to any product by performing a simple patch test first.
Was this article helpful?