Hair loss (alopecia) is a common problem that can stem from various reasons such as hormonal problems, stress, medications, and genes. It can often become a source of concern, causing low self-esteem and stress. The condition can even affect your daily routine.
However, it might come as a relief to know that most cases of hair loss can be reversed.
The first step toward treatment involves a proper diagnosis of the cause and how it impacts the hair follicles and hair growth cycle. This helps determine the appropriate medical and complementary treatment for each individual.
Natural Remedies to Regrow Lost Hair
Various natural ingredients can be employed to stimulate hair regrowth and prevent hair thinning. You can find these natural ingredients in the form of powders, hair masks, oils, and supplements.
These natural remedies include:
1. Ginseng
Ginseng is highly useful in promoting hair growth owing to its bioactive constituents known as ginsenosides. The effectiveness of ginseng has been demonstrated in multiple scientific studies, and it is thought to work by increasing the number of hair follicles. (5)
2. Egg yolk
The use of egg yolk is a popular remedy that is backed by scientific evidence. Egg yolk and its oils contain peptides that promote hair growth. These peptides help stimulate an increase in the number of hair-producing cells within the scalp. (6)
3. Epigallocatechin-3-gallate
Epigallocatechins refer to the antioxidant polyphenols present in green tea. These compounds boost hair growth in ways similar to egg yolk, that is, by stimulating the multiplication of hair-producing cells known as dermal papillae. (7)
4. Essential oils
Essential oils such as (8) geranium essential oil, (9) lavender essential oil, (10) and rosemary essential oil (11) can increase hair density and can boost hair growth. However, human trials are warranted to conclude their efficacy and safety.
Always dilute essential oils with carrier oils before use.
5. Onion juice
Crude onion extracts are often used anecdotally for the treatment of alopecia areata. It also enjoys limited scientific evidence. However, the mechanism behind its effectiveness is not yet understood. (12)
Onion juice has also been observed to be more efficacious in men than in women.
6. Chinese hibiscus
A scientific study revealed that the petroleum ether extract of Hibiscus rosa sinensis can stimulate hair growth. The extracts from leaves were found to be more potent than the flower extracts. (13)
7. Caffeine
The use of caffeine for boosting hair growth and length is popular. It is thought to work by elongating the anagen phase in the hair growth cycle, allowing the hair to grow thicker and longer. (14)
8. Biotin
Biotin for hair growth is largely used in cases where hair loss results from a biotin deficiency. You can use biotin supplements if you have been diagnosed with such a deficiency and upon consulting your doctor. (15)
9. Fenugreek seeds
Fenugreek seeds have been used anecdotally for a long time to help stimulate hair growth. (16) This is also supported by a study that demonstrates the effectiveness of ethanolic extracts of fenugreek seeds for hair loss. (17)
10. Omega-3 and omega-6 fatty acids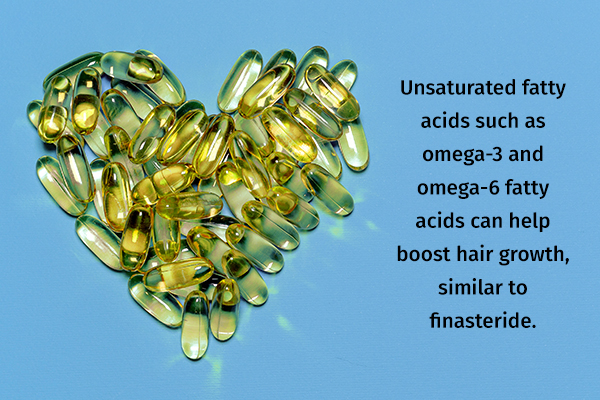 Unsaturated fatty acids such as omega-3 and omega-6 fatty acids can boost hair growth in a way similar to that of finasteride. Moreover, a study has shown that an omega-6 fatty acid, arachidonic acid, helps by increasing follicle proliferation. (18)
11. Jamba oil
Jamba or taramira oil, obtained from the plant Eruca sativa, can stimulate hair growth. This can generally be found in the form of hair products such as waxes and serums. (19)
12. Other remedies
You can also use the following natural ingredients, not to stimulate hair growth, but to help prevent further hair loss by acting on the underlying cause:
Spearmint
Inositol
Cinnamon
Maca root
Iron
Zinc
Pygeum bark
Licorice
Indian gooseberry
Black cohosh
How to use the natural remedies
Different natural remedies can be used in multiple ways to help stimulate hair regrowth. All these remedies, however, are easy to use and can be performed at home. The most common ways of using these natural ingredients include preparing hair masks and hair rinses.
However, these remedies provide results after considerable usage, as hair growth is a slow process. Also, these ingredients must be used in their proper dosage. It is thus recommended to use serums that contain these ingredients.
You can also consult your doctor on the use of these natural remedies in the form of oral supplements.
Ayurvedic Treatment that Help Regrow Hair
Apart from clinical treatments, you can also try the Ayurvedic way to help regrow your hair. Here are some Ayurvedic treatments for hair growth.
1. Ayurvedic medications
Several Ayurvedic medications can boost hair growth and even prevent further hair loss. Consult an Ayurvedic specialist for your condition, and he/she may prescribe the following medications:
Chyavana prasam
Narasimha rasayanam
Thikthakam kashayam
Thikthakam ghritham
2. Oil massage
Scalp oil massage is an age-old Ayurveda recommended treatment for baldness. Studies also show that massaging the scalp regularly boosts blood circulation to the scalp and hair follicles, which, in turn, helps improve hair growth and thickness. (4)
It is recommended to massage your scalp two to three times a week with lukewarm oils such as olive, argan oil, or Jamaican black castor oil. You can also add to it a few drops of any essential oil that is known to help stimulate hair growth.
3. Ayurvedic herbs
You can use hair products that contain the following Ayurvedic herbs to boost hair regrowth:
Brahmi (Bacopa monnieri)
Kumari (Aloe vera)
Bhringraj (Eclipta prostrata or Eclipta alba)
Lavender (Lavandula angustifolia)
Ashwagandha (Indian ginseng)
Medications to Regrow Lost Hair
Various prescription and nonprescription medications have been developed to support the regrowth of lost hair and are thus often recommended for hair loss treatment, including:
Minoxidil: This is the singular alopecia drug that has been approved by the FDA. Your doctor may recommend a 2% or 5% solution of minoxidil to be applied on the scalp. (1) You can also consult your doctor on the use of its OTC counterpart, Rogaine. 
Finasteride: It is a commonly prescribed drug for the treatment of androgenic alopecia. (2)
Dutasteride: This is another common prescription drug that is used for treating baldness in males.
Spironolactone: Often used in combination with other drugs, spironolactone helps avoid the worsening of androgenic alopecia by preventing further damage of hair follicles due to an increased concentration of androgens. (3)
Ketoconazole: The doctor can also prescribe topical ketoconazole to help stimulate hair growth and treat underlying dandruff.
Corticosteroids: The treatment of alopecia areata often involves injecting corticosteroids into the scalp. This may be accompanied by the use of methotrexate.
Anthralin: Similar to corticosteroids, anthralin is employed for the treatment of alopecia areata. However, this treatment involves the use of topical agents rather than injections.
Steroid tablets: Steroid tablets, when taken in large doses, may help stimulate hair growth. However, their use often comes with various side effects, and the alopecia may return once treatment is stopped.
Dithranol cream: While primarily used for the treatment of psoriasis, a skin condition that causes irritation, dithranol cream can also help stimulate hair regrowth in bald spots.
Nanoxidil: This is a successor to minoxidil. However, nanoxidil is largely considered to be a cosmeceutical rather than a pharmaceutical.
Hair Products for the Regrowth of Lost Hair
Besides over-the-counter medications, you can find different hair products, such as serums, waxes, shampoos, conditioners, lotions, and ointments, that claim to help regrow lost hair.
These products often contain a chief active ingredient that is thought to boost hair growth. While it is difficult to conclude their efficacy, you can try these products, especially along with medical treatments, as these are generally safe.
Make sure to avoid hair products that contain chemicals such as synthetic dyes, parabens, sulfates, formaldehydes, and alcohol.
Choose products that contain one or more of the following active ingredients:
Hair growth peptides
Biotin
Collagen protein
Grape stem cells
Moroccan argan oil
Ginseng
Niacin
Hyaluronic acid
Cedarwood extracts
Ketoconazole
Caffeine
Pyrithione zinc
Saw palmetto
Black cumin
Hempseed oil
Creatine and taurine
Ginger
Clinical Procedures to Regrow Lost Hair
If the above-mentioned noninvasive treatments are not helpful, you can consult your doctor on the following clinical procedures to help regrow your hair.
1. Hair transplant surgery
Hair transplant surgery involves cutting a tissue with hair and hair follicles from one region of your body, mostly from the scalp, and transplanting it to the bald spot. Since the transplanted hair has a proper growth cycle, along with functioning hair follicles, proper hair growth will continue.
This medical procedure is also known as the FUT method. Your doctor may recommend the FUE method in its place, wherein individual hair follicles are transplanted, rather than the whole tissue.
2. Low-level laser surgery
Often employed for the treatment of hereditary hair loss and androgenetic alopecia, low-level lasers are used to activate dormant hair follicles. However, its effectiveness depends on multiple factors and may not work for everyone. (20)
3. Platelet-rich plasma therapy
This procedure involves extracting plasma from your blood and injecting it into the scalp. This helps increase the concentration of platelets and hair growth factors in the scalp, thus stimulating the hair follicles for hair regrowth.
Final Word
Hair fall can occur due to multiple reasons and often become bothersome. However, most cases of hair loss can be reversed with proper care and treatment, as long as your hair follicles are functional.
You can consult your doctor on the different treatment modalities suitable for your condition, depending on the underlying cause of the hair fall, be it chemicals, pollution, or stress. Different treatment options include medications, herbs, natural remedies, and a few invasive techniques such as surgeries.
It is important to remember that not every treatment will work for everyone and most of the treatments require regular use for a long period before showing effective results.
Was this article helpful?