Healthy eating and proper hair care are the first steps toward strong and long hair. A number of self-care measures are worth trying as well, before resorting to more serious interventions for reducing hair loss and promoting hair growth.
Natural Ways to Encourage Faster Hair Growth
Here are a few do's and don'ts to get long, strong and healthy hair.
1. Keep your hair clean and protected
It is important to keep your hair clean and well-nourished, for which the following tips may be helpful:
Oily hair tends to attract more dust and grime. Thus, people who have naturally greasy hair should consider washing their hair more often than those who don't.
Given that most of the dirt and dandruff settle on the scalp, it is important to apply a generous amount of shampoo on the head and scrub it well for deep cleaning.
Applying conditioner after every shampoo wash can help soften your tresses, thus making them easier to untangle and reducing hair breakage.
Different hair types have different needs, which should be kept in mind when choosing your hair care products.
The chlorinated water in swimming pools can severely damage and dry out your hair. Wear a swimming cap before venturing into the pool to keep your hair covered. For added protection, you can put a generous amount of olive or coconut oil in your hair.
Chemically treated hair is drier and more brittle than normal hair and therefore requires greater and gentler care. Frequent washing can further strip away the moisture from it, resulting in a great deal of hair breakage. Thus, wash your treated or colored hair less often.
2. Massage your scalp
There is nothing more relaxing than a gentle head massage, which can work in favor of improved hair growth as well. Stress is a primary trigger for temporary hair loss.
Massaging your scalp can help offset this stress-induced hair loss by aiding relaxation. Not just that, gentle kneading helps warm the scalp skin and dilate the blood vessels underneath.
This enhances blood flow in and around the hair root and leads to easier and greater nutrient absorption by the hair follicles, thereby reviving hair health. You can use coconut oil or olive oil for this.
Several animal studies have also favored the use of selected essential oils, which include peppermint oil, lavender oil, lemon oil, ginseng, (1) and geranium oil (2) for scalp massages intended to promote hair growth. (3)(4)(5)
How to massage your hair with essential oil:
Mix some drops of any essential oil of your choice (peppermint, lavender, lemon, rosemary) in 3–4 tablespoon of carrier oil (olive oil, coconut oil, argan oil, or castor oil) to dilute its potency.
Warm the mixture slightly and use it to gently massage your head for about 20 minutes.
Leave the oil on for half an hour and rinse with tepid water.
3. Drink more water
The shortage of water takes away the shine from your hair, leaving it rough, lifeless, and highly prone to damage. Dry hair is also increasingly susceptible to split ends. Thus, you must try to maintain optimal fluid intake throughout the day to keep your hair cells healthy and well functioning.
Although there is no substitute for plain water, you can diversify your fluid intake by including juices, broths, and succulent fruits or vegetables in your daily diet.
4. Manage stress
Stress can affect the texture, appearance, and quality of your hair. Increased stress prematurely initiates the resting phase of your hair follicles and keeps your hair from growing long and strong.
People who take a lot of stress or go through some extreme trauma often experience excessive shedding of hair, and the only way to counter this hair loss is to bring the stress levels under control.
You can try yoga to help you increase oxygen intake, which switches the body from a sympathetic to a parasympathetic mode, bringing down stress. This, in turn, helps reduce stress-induced hair fall.
5. Avoid damaging styling tools and techniques
The bending, twisting, and heating that go into hairstyling can exert undue strain on your hair follicles and scalp. The application of high-velocity heat to your hair in a concentrated and prolonged manner can severely damage its structural integrity.
To minimize hair damage, exercise discretion, and moderation when styling your hair. Hair tools such as the hairdryer, curling irons, rollers, or hair straighteners can be a leading cause behind hair loss if done recklessly or repeatedly.
6. Avoid the bun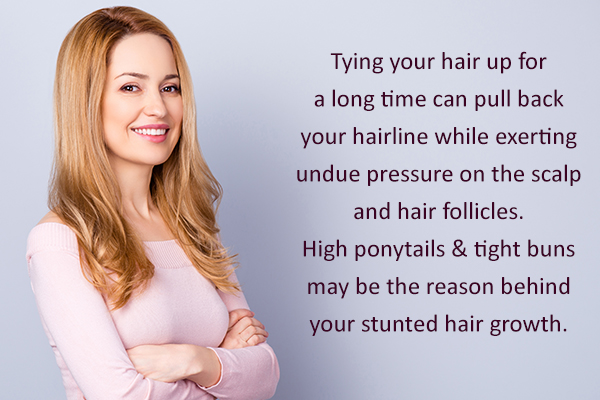 Although hair buns are very convenient in keeping hair out of your face, you may want to rethink its pros and cons. Tying up your hair for a long time can pull back your hairline while exerting undue pressure on the scalp and hair follicles.
It is recommended to experiment with new hairdos rather than sticking to a single style – do ponytails, pigtails, and buns alternatively. Also, tie your hair a little loose to relieve the pressure on the scalp.
7. Get proper nutrition
A wholesome, well-balanced diet that fulfills all the nutrient requirements of your body is an essential prerequisite for healthy hair.
Make it a point to include essential minerals, vitamins, and proteins in your diet since deficiencies can have negative implications for hair growth and texture. For instance, not getting enough vitamin E and zinc can accelerate hair thinning and hair fall.
Some other essential nutrients for healthy hair include:
a. Vitamin A
Spinach, collard greens, broccoli, kale, carrots, and black peas are all rich sources of vitamin A and should be included in your diet.
b. Vitamin B complex
All eight B vitamins can help promote healthy hair growth. Biotin, especially, can help reverse the hair damage caused by daily sun exposure and hairstyling techniques. Major sources of biotin are walnuts, peanuts, almonds, avocados, spinach, cheese, sardines, mushrooms, etc.
c. Vitamin C
Vitamin C is required to maintain the collagen structure of hair strands to keep its elasticity intact. Also, vitamin C can prevent premature hair whitening to an extent. Tomatoes, winter squash, black currents, thyme, and various citrus fruits are the main sources of vitamin C.
d. Vitamin E
There is no denying the popularity of vitamin E when it comes to taming those unruly, frizzy locks. This vital antioxidant can be found in high amounts in nuts, leafy greens, olive oil, etc.
e. Vitamin D
Vitamin D is vital for the hair follicle cycle, delaying aging, and preventing hair loss. A lack of vitamin D may result in serum and female pattern hair loss. (6) Salmon, tuna, mushroom, cheese, orange juice, and egg yolks are some rich food sources of vitamin D3.
f. Minerals
A lack of zinc in the body can lead to hair loss or impeded hair growth. (7) Other minerals that are necessary to prevent hair breakage and promote long and strong tresses are iron, copper, magnesium, and selenium. (8)
8. Address underlying medical issues
The "root" of your hair problems can sometimes be traced back to some undetected health issues. In such a case, any random hair treatment will most likely yield little to no positive results.
You have to seek proper diagnosis and treatment for the underlying cause before you can expect any noticeable improvement in the state of your hair.
People who are on certain medications can also face hair thinning and extensive hair fall as a side effect. Some common classes of drugs that can affect your hair are:
Birth control
Beta-blockers
Antidepressants
Anticonvulsants
Anabolic steroids
9. Protect your hair from the sun
Prolonged sun exposure damages your hair more than you realize. Ultraviolet radiation negatively affects the hair protein structure and can give you dry, brittle hair.
To minimize sun damage, use proper hair protection when stepping out. You can apply a hair-protective serum to block out the radiation. Also, consider wearing a cap, hat, or scarf to cover your hair.
Most-Asked Questions About Hair Growth
Is hair growth different during and after pregnancy?
Yes, pregnancy does affect hair. The estrogen hike during pregnancy disrupts the normal hair cycle.
Instead of advancing from one stage to another, estrogen keeps hair in the anagen or growing phase longer than usual. Improved hair texture that makes your hair shiny and luxurious is an added bonus.
However, these hormonal effects are rather temporary and are quickly reversed once the pregnancy is over. After childbirth, the female body goes back to its original mechanisms.
Can split ends stop hair growth?
Split or frayed ends are symptomatic of undernourished brittle hair, but they do not inhibit hair growth.
Split ends trigger excessive breakage at the ends. When the ends break off rapidly, it may appear that your hair is not growing fast enough. However, it is the hair follicle that fails to produce new hair length rapidly enough to keep up with the breakage at the ends.
How does chemotherapy affect hair growth?
The hair cycle is temporarily halted for the duration of the chemotherapy, which is why patients with cancer lose a lot of their hair. However, normal hair growth tends to resume once the treatment is over.
How does biotin help hair grow?
Vitamin B7 or vitamin H is a member of the vitamin B complex and is commonly known as biotin. It is required to produce the hair protein keratin.
A biotin deficiency can make your hair look drab and dull while rendering it susceptible to breakage and shedding. Try including egg yolk, nuts, and dark green leafy vegetables in your meals to make up for any biotin shortage.
Do omega fatty acids promote hair health?
Omega fatty acids, especially omega-3 and omega-6, are healthy fatty acids that can help lock down the moisture in your scalp and hair. A diet rich in omega fats makes your hair silky and smooth and increases its elasticity.
Walnuts, chia seeds, sardines, flaxseeds, and fish oil are all recognized as good sources of omega fatty acids.
Do home interventions help in hair growth?
Some anecdotally popular at-home interventions are believed to support hair growth. These include onion juice, (9) aloe vera, fermented rice water, castor oil massage, avocado, Indian gooseberry, and egg masks. However, scientific studies that support their efficacy are lacking.
Does vinegar make hair grow faster?
Vinegar, especially when mixed with beer or baking soda, is thought to help hair growth. However, it is more commonly used to give shine to the hair. Regardless, none of these claims are supported by any scientific research.
Does horsetail promote hair growth?
Horsetail has a high silicon content, which may help hair loss and improve hair quality. However, there is no study that supports the direct effects of horsetail consumption for the same. (10)
Does caffeine help in making hair grow faster?
The topical application of caffeine may help promote hair elongation and prevent hair loss. However, the oral consumption of caffeine for hair health has not been studied. (11)(12)
Do spermidine-based products promote hair growth?
Spermidine, a polyamine, is known to help promote hair elongation. There are various spermidine-based topical products that are seen to help hair growth by prolonging the anagen phase. (13)(14)(15)
Can dietary probiotics help in fast hair growth?
Preliminary research supports the use of natural probiotics such as yogurt and kimchi in supporting hair growth. (16)(17) However, further studies are warranted to establish their efficacy, safety, and dosage.
Can Chinese hibiscus promote fast hair growth?
The use of Chinese hibiscus for hair growth is a popular anecdotal remedy. However, it has only been tested in animals; therefore, practice caution when using it. (18)
Final Word
Everyone wants the best possible version of their hair, but only a few have it. For the rest, a lot of time and energy goes into solving daily hair problems that impede their growth.
Adopting some healthy and sustainable lifestyle and food habits can save you a lot of hair trouble. A balanced diet and healthy hair care routine are the first steps toward achieving the tresses of your dreams.

Continue ReadingSlow Hair Growth: Causes and Medical Treatment
Was this article helpful?