Leg cramps are a common problem that many people face. They can happen at any time, leaving you writhing in pain.
Leg cramps are sudden and painful muscle contractions that usually happen at night; three out of four cases occur at night during sleep. They can occur anywhere in the leg and are most common in the calf muscles.
Sometimes, there is no known cause of leg cramps (idiopathic). Other times, they can be associated with a specific condition such as pregnancy, kidney dialysis, poor blood circulation, electrolyte imbalances, peripheral nerve injury, or certain medications. (1)
Nocturnal leg cramps are associated with vascular disease, lumbar canal stenosis, cirrhosis, and hemodialysis.
The cramp can last from a few seconds to 10 minutes. After the cramping has passed, you may have pain and tenderness in your leg for several hours. 
Exercise can also trigger leg cramps, especially if you're not properly hydrated or if you're overexerting yourself. (1) The good news is several home remedies can alleviate the pain caused by leg cramps.
This article will discuss some effective home remedies for leg cramps.
Home Remedies for Leg Cramps
Here are some natural remedies to relieve discomfort associated with leg cramps.
1. Stay hydrated and replenish electrolytes
Drink plenty of fluids throughout the day. Dehydration can cause your muscles to cramp up, so it's important to make sure you're staying hydrated. (2)(3)
Plus, make sure you're getting enough electrolytes. (4) Electrolytes are minerals that help your muscles work properly, and when you sweat, you lose them.
You can replenish your electrolytes by drinking sports beverages with low sugar content and cow milk (low in fat) or eating foods such as yogurt, lentils, spinach, and bananas. (2)(3)
Eat a healthy diet full of fruits and vegetables. Low levels of potassium and magnesium can also cause muscle cramps, so it's important that you're getting enough of these minerals in your diet. (3)
Note: If you exercise often, consider drinking a hydration drink with electrolytes to help replenish what you lose through sweat.
2. Do RICE therapy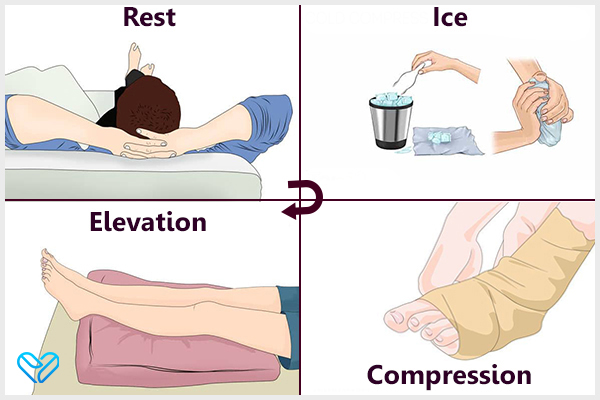 When you injure a muscle, such as getting a leg cramp, you can use the RICE principle to help you feel better.
RICE stands for rest, ice (cold), compression, and elevation. (5)
Rest – Rest is really important after an injury. It helps stop the muscle from getting more damaged and allows it to start healing.
Ice – Using ice on the injured muscle can also help reduce swelling and inflammation. Keep using ice for at least six hours after the injury.
Compression – Using a bandage or wrap on the affected area can help reduce blood flow to the injured area and stop more swelling from happening.
Elevation – Finally, elevate the injured area, such as your leg, above the level of your heart. (5)
3. Rub turmeric paste on the affected area
Taking oral curcumin as a supplement can help reduce the pain associated with muscle soreness. A study found that curcumin caused moderate to large reductions in pain during physical activities in men. (6)m
Also, curcumin has the ability to influence inflammation in the body, which can help control pain. So if you're experiencing leg cramps or muscle soreness, curcumin might just be your superhero.
How to use:
Mix 1 teaspoon of turmeric powder with a small amount of water to create a paste.
Gently massage the turmeric paste onto the affected area.
Leave it on for about 15–20 minutes.
4. Drink herbal teas
Herbal remedies are a great way to soothe muscle cramps. They are simple and sometimes effective for your condition.
Here are some herbal teas you can try drinking.
Ginger tea
Ginger has some super cool properties. It's got analgesic and anti-inflammatory powers, which means it can help ease pain and reduce inflammation.
A study revealed ginger tea reduced muscle issues such as soreness after a workout. This may suggest its possible use in leg cramps. (7)
Chamomile tea
Chamomile is a plant that has been used for centuries because of its therapeutic properties.
It is known for its sedative, antispasmodic, antiseptic, and anti-inflammatory effects. In other words, it can help relax your muscles, reduce inflammation, and soothe discomfort.
So, chamomile may help relax those tense muscles that are causing leg cramps. (7)
Garlic tea
When you crush garlic, it releases a compound called allicin. Allicin has been found to reduce muscle damage caused by eccentric exercise. It has anti-inflammatory and antioxidative properties.
This means it can decrease the inflammatory response and protect your muscles from damage, possibly curbing leg cramps. (7)
How to brew an herbal tea:
Find prepackaged herbal tea blends or create your own by combining dried herbs and flowers.
Pour hot water over the herbs in your infuser or teapot.
Let it steep for the recommended time. Usually, herbal teas require 5-10 minutes to fully infuse their flavors and properties.
Strain the tea into your cup using a fine-mesh strainer and enjoy!
5. Take a warm water bath with or without Epsom salt
There's nothing like a nice hot bath to ease those muscle cramps. Soak yourself in a tub of warm water, and if you want to take it up a notch, add some Epsom salt (magnesium sulfate) to the mix.
The heat helps increase blood flow to your legs and hopefully eases the pain. (3)(8)
Note: If you don't have a tub, no worries! You can also try using a heating pad on the affected area. It works in a similar way by providing soothing warmth to your muscles.
6. Massage the affected area
Massage can help prevent leg cramps. You can use your hands or a foam roller to massage the affected area.
When you get a massage, the pressure applied to your muscles can increase blood flow, which can help reduce cramping and soreness. Massage can also help to relax your muscles, reducing tension and stiffness that can lead to leg cramps.
So, the next time you're experiencing leg cramps, consider getting a massage to help ease the pain and prevent future cramping. (9)
7. Try mild exercises
Do you suffer from annoying leg cramps that wake you up in the middle of the night? Well, don't worry; some simple exercises might help!
Try doing some mild exercise, such as pedaling on a stationary bike or walking on a treadmill for a few minutes before bed. This might help relieve your leg cramps and help you sleep better.
If muscle fatigue is causing your cramps, graded exercise might be a good idea. This means starting with easy exercises and gradually increasing the intensity over time.
Physical therapy could also be helpful for some people. A physical therapist can create a personalized exercise plan that targets the muscles causing your cramps. (2)(10)
8. Do general stretching
Leg cramps can be super annoying. If you're looking for an easy way to help ease them, stretching might just do the trick.
Passive stretching
Passive stretching and deep tissue massage are safe and easy to do on your own. (10)
How to do it:
Sit on the floor or lie down on a flat surface.
Extend your legs out in front of you.
Use a towel or band to loop around the ball of your foot.
Gently pull the towel or band toward you until you feel a stretch in your calf muscle.
Hold the stretch for 15–30 seconds.
Release the tension and relax your leg.
Gastrocnemius stretching
Gastrocnemius stretching (that's the muscle at the back of your lower leg) is often recommended to prevent leg cramps. (10)
How to do it:
Stand facing a wall with your hands on the wall at shoulder height.
Step back with one foot, keeping your heel on the ground.
Keep your back leg straight and your front knee bent.
Lean toward the wall until you feel a stretch in your back calf.
Hold the stretch for 30 seconds.
Switch legs and repeat.
Forced stretching
If you're in the middle of a cramp, try forcefully stretching your leg or dorsiflexing your foot (pulling your toes toward your shin). It might help. (10)
Note: There's not a ton of evidence that stretching will cure your cramps, but it's worth a try!
9. Perform specific muscle stretches
Perform these stretches that target specific areas of your legs and prevent leg cramps.
Calf muscle stretch
Lean forward against a wall with one leg in front of the other.
Straighten your back leg and press your heel into the floor.
Hold for 15–30 seconds.
Remember to keep both heels flat on the floor and point the toes of your back foot toward the heel of your front foot. (2)
Hamstring muscle stretch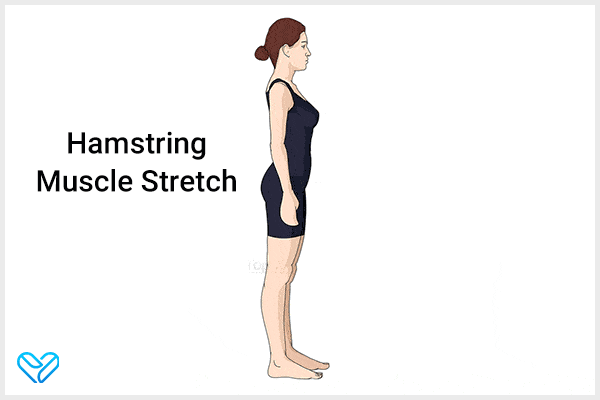 Sit with your legs straight in front of you and reach forward to touch your ankles.
Hold this position for 30 seconds.
Make sure to keep your chest open and back straight, and avoid rounding your back or locking your knees. (2)
Quadriceps muscle stretch
Hold onto a wall or chair for balance.
Lift one foot and bring your heel up toward your buttocks.
Grasp your ankle and pull it closer to your body.
Hold the stretch for 30 seconds and release.
Keep your knees close together and never stretch to the point of pain. (2)
10. Try some supplements on your doctor's advice
Supplements have been a popular choice for treating leg cramps:
Magnesium lactate/citrate supplements have been found to modestly reduce the frequency of leg cramps. This may be because a deficiency of magnesium causes the muscles to cramp. (3)(11)
Salt (sodium) supplements were once used to treat leg cramps in pregnant women, but the evidence of their effectiveness is not very strong. Plus, too much salt can raise blood pressure, so it's not a great option for everyone.
Calcium supplements have been tested, but the evidence suggests they don't help with leg cramps. They may just work as a placebo.
Multivitamins with minerals may have a small benefit.
Preventing Leg Cramps
Here are some easy tips to prevent those pesky leg cramps:
Improve your overall fitness by doing regular exercises that include flexibility exercises. These exercises can help stretch out muscle groups that are prone to cramping.
Always warm up before stretching. This can be done by slowly running in place or walking briskly for a few minutes. Warming up helps your muscles prepare for more intense activity. (2)
Keep your sheets and blankets loose.
Risk Factors for Leg Cramps
Some factors that can put you at risk for muscle cramps are: (2)
Being ill or overweight: When your body is already under stress, it's more likely to cramp up.
Overexertion: Pushing yourself too hard during exercise or work can strain your muscles and lead to cramps.
Certain medications: Some drugs, such as decongestants, diuretics, and cholesterol-lowering statins, can increase your risk of cramps. Other medicines include conjugated estrogens, raloxifene, and teriparatide. 
Age: As you get older, your muscles lose some of their strength and responsiveness, making cramps more likely.
Endurance sports: Marathon runners, triathletes, and other athletes who push themselves to the limit are more likely to experience cramps, especially early in the season when their bodies are still getting used to the workload.
Genetics: Some people are just more prone to cramps due to their genes.
When to See a Doctor
Acute calf pain along with swelling, redness, or warmth could be a sign of a blood clot, and you should seek medical attention immediately. (1)
Moreover, visit a doctor if your leg cramps are changing your daily activities or if you have frequent leg cramps and a feeling of numbness.
Most-Asked Questions About Leg Cramps
What should I do if I experience frequent leg cramps?
If you experience frequent leg cramps, it's important to speak with your healthcare provider to rule out any underlying medical conditions.
Can medicines cause leg cramps?
Some medications such as intravenous iron sucrose, conjugated estrogens, naproxen, and others can also be responsible for leg cramps. (10)
Some people take quinine to treat muscle cramps which is moderately effective in decreasing the frequency and intensity of muscle cramps but it can have serious side effects such as the risk of bleeding, so try to avoid it.
What medical conditions cause leg cramps?
Nocturnal leg cramps can be related to medical conditions such as poor blood flow, spinal canal narrowing, liver disease, kidney dialysis, and pregnancy. (10)
Final Word
Leg cramps can be a frustrating and painful problem, but several home remedies can help alleviate the symptoms.
Staying hydrated, stretching, massaging, and using heat and cold therapy can all be effective in preventing and relieving leg cramps. In addition, adding turmeric to your diet or taking magnesium supplements can help reduce inflammation and prevent muscle cramps.
If leg cramps persist or are severe, it is important to consult a healthcare provider.
Was this article helpful?