The sudden, spontaneous contractions of muscles that are sometimes too unbearable because of excessive pain and discomfort are known as muscle cramps.
You can have muscle cramps in any group of muscles including the legs, thighs, abdomen, arms, and even neck.
Vitamins and minerals play important functions in a lot of fundamental metabolic pathways, especially in energy-yielding processes, DNA synthesis, and oxygen transport. For this reason, deficiencies in vitamins and minerals are related to mental and physical fatigue.
In simple words, nutritional shortages can result in muscle cramps. So, taking care of any such deficiency is necessary for muscle cramp management. (1)
Vitamins and Minerals That Improve Muscle Cramps
Here are the vitamins and minerals you have to focus on to prevent and manage muscle cramps.
1. Magnesium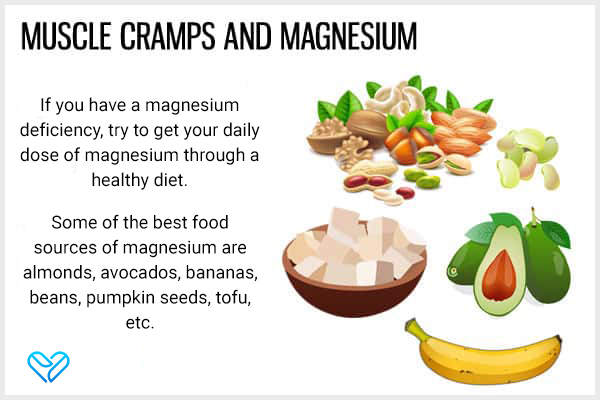 Magnesium is the fourth most abundant mineral in the body. It serves as a cofactor for around 300 enzymatic reactions. Magnesium plays a lot of functions in the human body including prevention and treatment of several diseases.
Magnesium deficiency can present itself with signs of increased neuromuscular excitability such as muscle cramps, especially in the legs and soles of the feet. (2)
Ailments that may result in low levels of magnesium in the blood (hypomagnesemia) include:
Alcoholism
Poorly controlled diabetes
Malabsorption
Hyperthyroidism
Renal disease
If you suffer from magnesium deficiency, try to include magnesium-rich food in your diet. These foods include:
Almonds
Avocados
Bananas
Tofu
Walnuts
Yogurt
Whole grains
Green leafy vegetables.
Magnesium supplementation can also be taken on professional advice. It is often well tolerated, but it can result in gastrointestinal symptoms, including diarrhea, nausea, and vomiting. (2)
2. Potassium
Muscle cramps that are impulsive, involuntary contractions of the muscles can happen when blood potassium levels are insufficient.
Potassium in the skeletal muscles aids in relaying signals from the brain to the muscles, thereby enabling contractions and also ending them. When potassium levels in the blood are low (hypokalemia), your brain cannot relay the signals properly, leading to cramps.
Cramps are not so probable with only mildly low levels of potassium (mild hypokalemia), but they may occur with severe hypokalemia with levels of potassium lower than 2.5 mmol/L in blood. (3)(4)(5)
Reasons that may cause hypokalemia include:
Chronic diarrhea
Cushing's syndrome
Hypomagnesemia
Medicines such as loop diuretics and thiazides
If you suffer from potassium deficiency, try to include potassium-rich foods in your diet. These foods include: (6)
Dried apricots
Dark chocolate
Dates
Salmon
White beans
Spinach
Baked potato (with skin)
Cod
Avocado
Sweet potato
Pork chop
Brussels sprouts
Bananas
Low-fat yogurt
Orange juice
Potassium supplementation can also be taken on professional advice.
3. Calcium
Calcium is required for muscle health and is involved in muscle contraction.
Studies on pregnant women show that even though the cause of their cramps is not known, changes in calcium concentration have been proposed.
Patients who were treated with 1 gram of calcium orally two times every day for 2 weeks showcased improvement in their cramps. On the other hand, untreated patients had the same frequency of cramps.
These results suggested the possible use of calcium in managing cramps. (7)
Reasons that may cause low levels of calcium in the blood (hypocalcemia) include: (8)
Renal disease
Hypomagnesemia or hypermagnesemia
Fanconi syndrome
Hypoparathyroidism
Medicines such as cisplatin, antiepileptics, aminoglycosides, diuretics, and proton pump inhibitors
If you suffer from calcium deficiency, try to include calcium-rich foods in your diet. These foods include: (9)
Sardines
Cheddar cheese
Milk
Yogurt
Cottage cheese
Tofu
Orange juice
Salmon
Kale
Soy
Bread
Calcium supplementation can also be taken on professional advice.
4. Sodium
Sodium levels have been established to be linked with health and performance problems in athletes. There are theories that explain how an electrolyte imbalance, particularly sodium, leads to the development of muscle cramps and hyponatremia.
The loss of body fluids during sports or exercise is primarily due to sweating. Thus, replacement of sodium loss in sweat is advised when the duration of exercise is longer than 2 hours.
Sodium aids in conserving serum electrolyte concentrations, resulting in equilibrium of intravascular osmotic pressure and plasma volume. It improves the thirst stimulus and decreases the quantity of urine produced, which eventually decreases physical fatigue and medical problems linked with these homeostatic imbalances in sports.
So, to diminish the health and performance effects on athletes, an emphasis should be positioned on both sodium and fluid intake. (10)
Reasons that may cause low levels of sodium in the blood (hyponatremia) include: (11)
Diuretic use
Liver cirrhosis
Adrenal insufficiency
Polydipsia
Hypovolemia
Heart failure
Hyperglycemia
If you suffer from sodium deficiency, try to include sodium-rich foods in your diet. These foods include: (12)
Cereals
Meat
Eggs
Fish
Milk and dairy products
Sodium supplementation can also be taken on professional advice.
5. Vitamin D
Musculoskeletal pain impacts almost half of all adults, most of whom are vitamin D deficient.
There are studies to indicate that dietary vitamin D supplementation can alleviate musculoskeletal pain. For this reason, vitamin D is promoted as a complementary or alternative medicine for nonspecific muscle pain such as cramps. (13)
Reasons that may cause vitamin D deficiency include: (13)
Obesity
Sedentary lifestyle
Senescence
Menopause
Lack of sunlight exposure
If you suffer from vitamin D deficiency, try to include vitamin D-rich foods in your diet. These foods include: (14)
Cheese
Beef liver
Eggs
Dark chocolate
Milk
Yogurt
Fat spreads
Orange juice
Breakfast grains
Plant-based beverages
Vitamin D supplementation can also be taken on professional advice.
Additional Expert Tips for Treating Muscle Cramps
Here are some tips you can incorporate in your life to deal with muscle cramps: (15)
When a cramp occurs, gently stretch the affected muscle.
Avoid exercising immediately after eating. Give your body some time to digest before getting active.
Before exercising or going to bed, gently stretch your muscles. This can help prevent cramps from occurring.
Drink plenty of fluids, especially those that contain potassium, after exercising. Staying hydrated can help prevent muscle cramps.
Most-Asked Questions About Muscle Cramps
How can I prevent muscle cramps after exercising?
Perform proper warmup and stretching to avoid developing muscle cramps after exercising.
Are leg cramps common in pregnancy?
Around 30%–50% of pregnant women complain of leg cramps, particularly in the third trimester. (16)
What are the drugs prescribed for muscle cramps?
Most of the drugs prescribed to prevent cramps (e.g., quinine, magnesium, and benzodiazepines) have no demonstrated efficacy and are not recommended.
Mexiletine sometimes helps, but whether using it is worth the risk of adverse effects is unclear. These adverse effects include nausea, vomiting, heartburn, dizziness, and tremor.
Calcium supplements are safe and have few adverse effects.
Final Word
Cramps are generally harmless, but they may often be a symptom or sign of an underlying nutritional deficiency such as lack of enough calcium, sodium, potassium, magnesium, or vitamin D in the body.
Regular cramping or severe cramping should, therefore, be examined by your physician.

Continue ReadingWhat Causes Muscle Cramps and How to Identify Them
Was this article helpful?