Injuries to the soft tissues, such as tendons, muscles, and ligaments, during physical exercise or even daily activities, are quite common.
It is suggested to immediately perform RICE treatment for such injuries to help reduce swelling, prevent further damage, and promote healing.
First-Line Treatment for Sprains and Strains
Most minor injuries like sprains and strains can be treated conservatively at home through the RICE method, which stands for rest, ice, compression, and elevation.
The Different Steps of RICE Treatment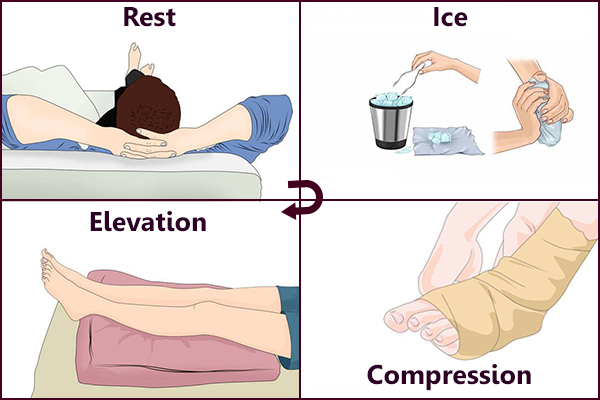 Generally, it is helpful to stat the RICE method immediately after a minor injury with the following steps:
1. Rest
It is recommended to rest the injured area to prevent further damage. You must strictly avoid sports or any weight-bearing activity, which can put extra strain on your injury.
This resting period should only last only a short period to avoid muscle wasting or atrophy unless instructed otherwise by your physician.
2. Ice
Icing should be performed for approximately 15–20 minutes every 2–3 hours. (1) It can be done with anatomic specific devices that pump cold fluid, with bags of ice, or even with frozen peas. 
ALSO READ: Ice Therapy: When and How to Use It Correctly
3. Compression
Compression is usually achieved with an elastic bandage such as an ACE wrap that fits snugly around the injured site but is not so tight that it constricts blood flow.
4. Elevation
This step involves keeping the injured hand or foot above the heart level to facilitate drainage of blood and fluid away from the extremity and towards the heart. This prevents swelling and edema at the site of injury, and can be achieved by propping it on top of a pillow. 
The Benefits of Using RICE Procedure as the First Line of Treatment
RICE treatment is an excellent form of conservative treatment for minor injuries, which can easily be administered at home with some readily available equipment.
In general, it helps to decrease swelling, pain, and inflammation with a quicker overall recovery.
Resting the injured area is required to promote healing and recovery. Any form of exercise or lifting heavy weight can apply pressure and thus increase pain.
Icing helps reduce the pain, muscle spasms, bruising, and swelling caused by the injury. This is also useful in the postoperative management of orthopedic surgeries. (2)
Compression is applied to prevent swelling and blood loss. (3)
Elevation is also helpful in reducing swelling and bruising.
The RICE protocol is found to be highly effective in treating acute injuries. It helps reduce the pain and improve the flexibility of sprained areas. (4)
Complementary Treatments to Be Used With RICE
Nonsteroidal anti-inflammatory medications, such as ibuprofen, are often used in conjunction with the RICE method. These medications are very effective at treating sprains and strains, but should be avoided in patients with kidney, stomach, or bleeding disorders.
How Long Should RICE Treatment Be Administered?
A staged approach should be taken to RICE treatment in terms of duration, depending partly on the type of injury.
Prolonged rest is usually unnecessary, but in certain cases, such as severe sprains, it may be necessary.
Icing is helpful for the first 2 weeks after an injury or until all swelling has abated.
Compression is often helpful shortly after an injury or to prevent swelling after activity.
Elevation can be terminated after most swelling has resolved, normally within the first 2 weeks.
Possible Side Effects of Using RICE Treatment
Although RICE treatment is fairly benign, there are potential consequences if it is not administered properly:
Prolonged rest and immobilization can result in joint stiffness, atrophy over the musculature, and deconditioning. (5) The duration of rest, if more than a few days, should be directed by a medical professional.
Icing should be performed intermittently with a cloth between the ice and skin to avoid any potential burning, which can result in pain and scarring.
Compression should not be so tight that the extremity below the compression turns dark or cool. Make sure to have a compression bandage applied snugly but avoid restricting blood flow.
People Who Should Not Use RICE Treatment
RICE treatment should only be used on the extremities and should be avoided if the patient suffers from restricted blood flow or is unable to monitor the treatment safely, as in the case of neuropathy.
Injuries That Require Medical Care Rather Than RICE Treatment
Whenever an injury results in deformity, inability to bear weight, or open wound, medical attention should be sought immediately. In cases of more minor injuries where the pain does not improve significantly over several days, a medical follow-up is recommended.
Final Word
Please seek medical attention if you are concerned about your injury. If RICE treatment is used before receiving advice from a medical professional, remember to avoid applying ice directly to the skin, do not constrict blood flow by applying a compression bandage too tightly, and finally avoid prolonged rest unless directed by your physician.
Was this article helpful?