The appeal of smoothies is they are an easy-to-make, nutritious, low-calorie, and delicious snack or meal and they can satisfy a sweet craving.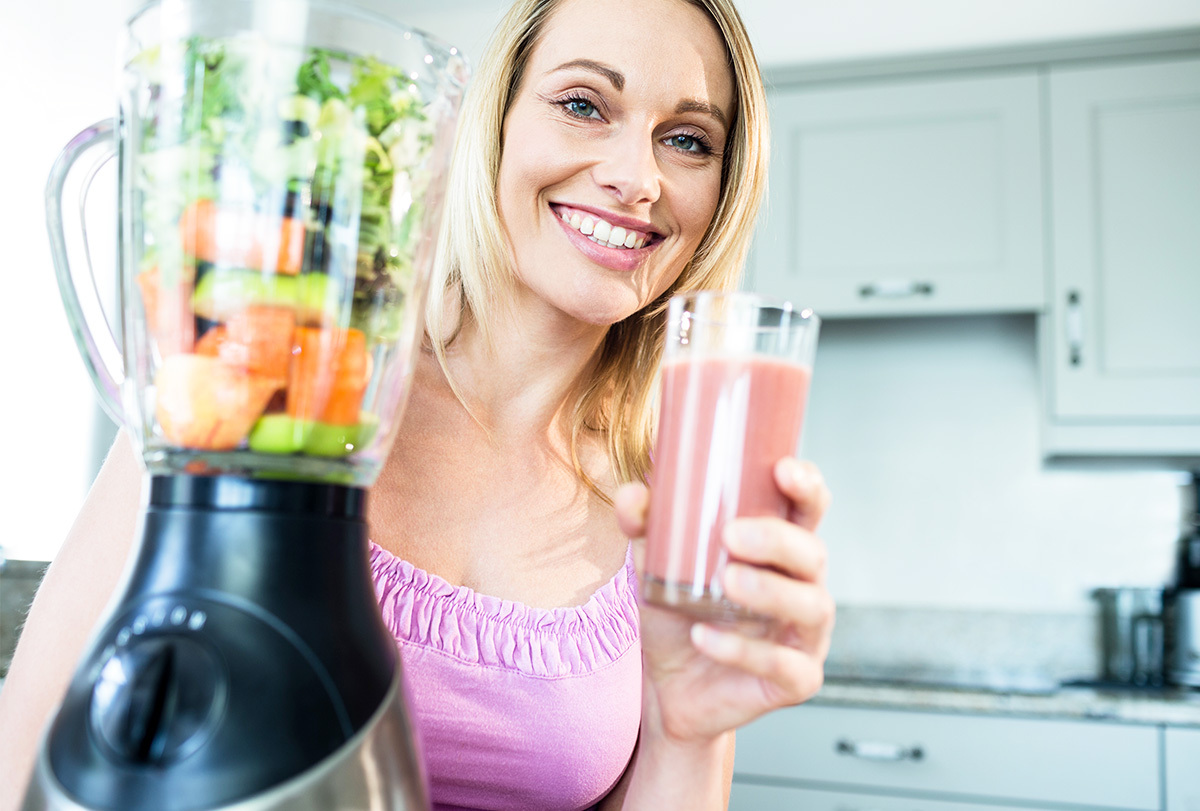 Smoothies may or may not be highly nutritious, depending on the ingredients you use. Some smoothies comprise heavy amounts of fat, sugar, and extra calories. Therefore, it is important to choose the ingredients wisely if you want your smoothies to be a healthy inclusion in your daily diet.
Increase the Nutritional Value of Your Smoothie
Using various fruits and vegetables, protein, dairy or dairy alternatives, or fiber can load your smoothie with vitamins, minerals, antioxidants, and phytochemicals.
Ground flaxseeds can be a beneficial addition to your smoothie as they are high in fiber and omega-3 fatty acids, which promote satiety. One study concluded that adding flaxseeds to your diet may be helpful for weight regulation. (1)
The common ingredients used in smoothies provide the following nutrients:
1. Vitamins and minerals
Fruits and vegetables carry a diverse range of vitamins and minerals, which enable various body functions, such as formation of bones and skin tissue, immunity, and cell repair or regeneration. (2)
The dairy products added to smoothies are rich in vitamin D and calcium, which are essential nutrients, especially for strong bones. Most dairy alternatives are also fortified with these nutrients.
2. Fiber
The key content of smoothies should be whole fruits and vegetables. Fruits and vegetables are rich in soluble and insoluble fiber. Insoluble fiber adds bulk to the stool, thereby improving digestion. Soluble fiber can help slow the release of sugar into the bloodstream.
3. Water
Smoothies are highly beneficial as hydrating agents, as fruits and vegetables have considerable amounts of water and rehydrating minerals. Adding in other liquids, such as ice, dairy/non-dairy milk, or coconut water, can further increase the hydrating effects of smoothies.
4. Protein
Proteins are building blocks of several body parts, such as the skin, muscles, red blood cells, hair, and bone. These may be added in smoothies in the form of peanut or any other nut butter, seeds, dairy, protein powders, and supplements.
Note: Other fruits and vegetables can be used depending on the availability or your taste preference.
Easy-to-Make Smoothies That Are Both Healthy and Delicious
The following low-calorie smoothies are a good source of fruits and vegetables and can be a part of a balanced diet for weight management. They could be consumed daily or multiple times a week.
1. Blueberry antioxidant smoothie
Blueberries are packed with nutrients and are rich in fiber, vitamins C and K, and manganese. Blueberries are abundant in antioxidants, anthocyanins, and other polyphenols that may play a role in the prevention and management of chronic diseases. (3)
Adding blueberries to your diet may also aid with muscle recovery from exercise. (4) You may use the following recipe as a base to make a low-calorie, high-nutrient blueberry smoothie.
Ingredients:
6 ounces low-fat blueberry Greek yogurt
½ cup ice cubes
1 cup fresh or frozen blueberries
Dairy or non-dairy milk, depending on the desired consistency (optional)
Directions:
Put yogurt, ice cubes, and blueberries into a blender.
Blend on high speed to obtain a smooth consistency.
If a smoother consistency is desired, add milk a few tablespoons at a time until the preferred consistency is reached.
Transfer into glasses and serve.
Top with additional blueberries if desired.
2. Heart-healthy green smoothie
Avocados provide heart-healthy fats that help suppress appetite and also facilitate the absorption of nutrients. They are also a source of fiber and many vitamins and minerals.
According to studies, regular avocado consumption, as part of a balanced diet, is associated with lower obesity rates and may help prevent weight gain in healthy individuals over time. (5) Additionally, avocados increase nutrient intake, improve diet quality, and help reduce the risk of developing metabolic syndrome. (6)
Here is a low-calorie smoothie using avocado.
Ingredients:
1 cup ice
1/3 cup chopped celery
½ cup coconut milk
1/3 cup peeled and chopped pear
¼ medium-sized avocado, peeled
2 tablespoons honey
¼ teaspoon lime zest
1 tablespoon lime juice
Lime slice and fresh mint
Directions:
Put ice, coconut milk, pear, celery, honey, lime zest, avocado, and lime juice into a blender.
Blend for approximately 1 minute or until a smooth consistency is achieved.
Serve in a large glass and add mint or lemon slice as garnish.
3. Low-calorie vegetable smoothie
Vegetables are nutritious smoothie ingredients and may be added in multiple ways.
Spinach is very low in calories and provides many nutrients. Spinach also contains a compound called thylakoid, which may help reduce hunger and increase satiety. (7)
Cucumbers are rich in fiber and very low in calories, a combination that helps keep you feeling full. Therefore, including them into your smoothie may help in weight loss.
Celery has antidiabetic, hypolipidemic, and hypotensive properties. (8) One study revealed that daily tomato juice supplementation of 280 mL for 2 months aided in the reduction of waist size and serum cholesterol in healthy young women. (9)
Note: People on a low-oxalate diet should avoid using spinach in their smoothie.
Here is a recipe for a low-calorie vegetable smoothie.
Ingredients:
1½ cups tomato juice
1/3 cup carrot juice
1 celery stalk with leaves
½ cup spinach leaves
½ cup peeled cucumber
1 cup ice
Directions:
Put the carrot juice, tomato juice, spinach, celery, cucumber, and ice into a blender.
Blend until smooth. You may add water or ice to make the smoothie thinner.
Pour into a large glass and garnish with a slice of cucumber or celery stalk if desired.
Additional Tips
Give the fruits and vegetables a thorough rinse before using them.
Keep the peels on fruits and vegetables to increase the smoothie's fiber content.
Use ripe fruits to extract their maximum natural sweetness.
Frozen fruits may be used to make a smoothie with a thicker consistency without affecting the flavor.
Cut or dice the fruits and vegetables to small pieces, so the blender can easily and quickly process them.
Consume the smoothies while they are still fresh. If left for long, they can change color and, sometimes, taste.
Leftover smoothies may be stored in the refrigerator for up to 24 hours. However, they lose their nutrition with time and should be consumed at the earliest.
You may utilize smaller appliances such as hand blenders to make the smoothie. However, refrain from using juicers, as they will strain out only the juice of the fruits and vegetables, leaving your smoothie devoid of fiber and some nutrients.
Smoothies can also be consumed as a substitute for desserts. You can serve them in smaller quantities, accompanied by small dark chocolates (optional).
Instead of ground flax seeds, you may use chia seeds soaked in water.
Final Word
Smoothies are a delectable and exciting way of including fruits and vegetables into your diet. While they offer various health benefits, excessive consumption may have a few negative impacts, such as gastrointestinal issues.
Also, the high content of natural or added sugars in some smoothies can contribute to dental problems or blood sugar issues. Therefore, it is important to follow low-calorie recipes and refrain from added sugars for the best nutritional profile.
Was this article helpful?