Coconuts belong to the palm family Arecaceae. 'Nam Hom' is the variety of coconut that is most frequently used to yield coconut water, and the nuts are harvested at an early stage.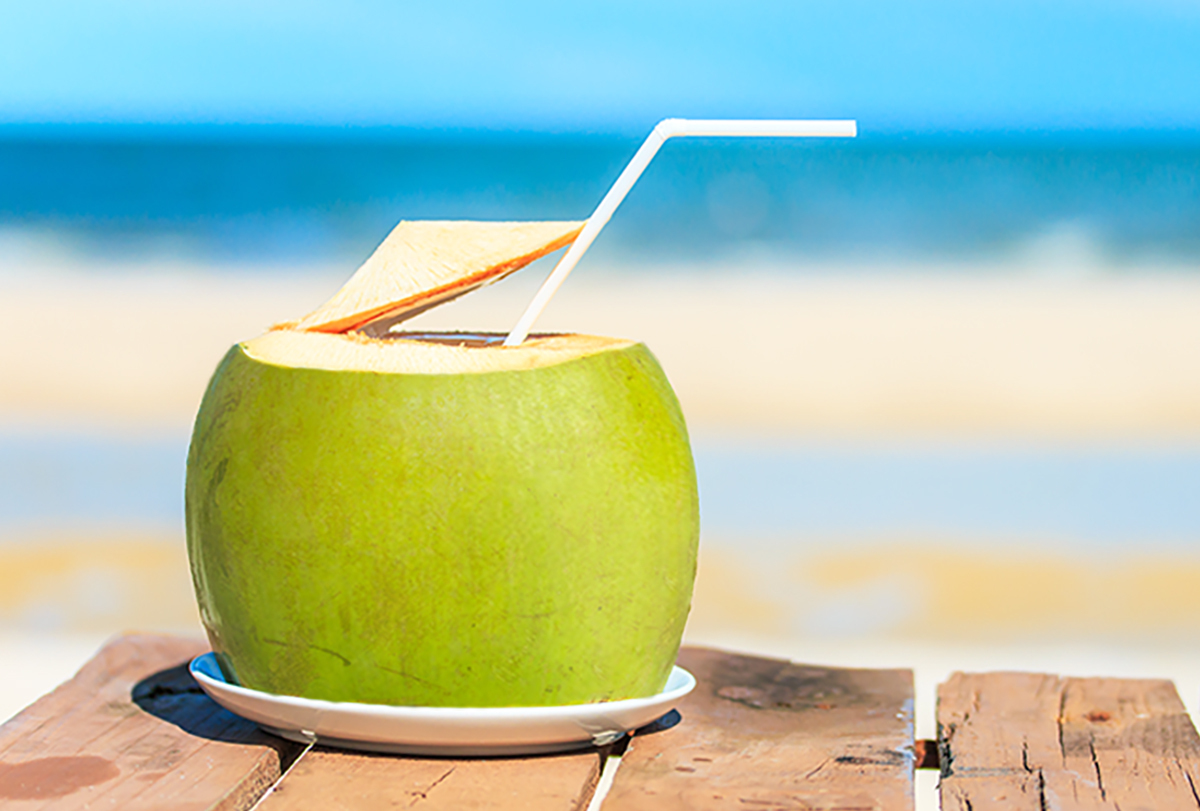 'Nam Hom,' which means "fragrant water," is popular due to its aromatic flavor. Every coconut contains 1–4 cups of coconut water.
Coconut water is not the same as coconut milk. Coconut milk is made by blending or grating the meat of a mature coconut and creating an emulsion.
What Does Coconut Water Taste Like?
Coconut water is slightly sweet and nutty. It has a bit of a coconut flavor but is relatively neutral in taste.
Nutritional Profile of Coconut Water
Coconut water contains many vitamins and minerals, including electrolytes. The electrolyte content varies based on the maturity of the coconut.
One cup of coconut water provides:
45 calories, no fat, 2 g of proteins, and 9 g of carbohydrate, of which 2.6 g is fiber
10% (6 g) of your daily vitamin C needs and 8% of your daily riboflavin requirement.
600 mg of potassium (17% of the daily requirement)
60 mg of magnesium (15% of the daily value)
252 mg of sodium (11% of the daily value)
0.3 mg of manganese (17% of the daily value)
57.6 mg of calcium (6% of the daily value) (1)
Benefits of Coconut Water
Consuming coconut water is beneficial to the body in several ways.
1. Serves as nature's sports drink
Coconut water is an energizing drink that may serve as a healthier substitute for sports drinks and fitness waters.
It contains plenty of sodium and potassium, which are the same electrolytes used in commercial energy drinks. (2) It may just be as hydrating as plain water during exercise, plus it provides an extra shot of energy. (3)
Coconut water contains some naturally occurring sugars, but 100% coconut water does not contain added sugars as sports drinks do.
Note: Some coconut water products do contain added sugars, so read the ingredients label before buying.
Summary:
Compared to water and sports drinks, coconut water may not rehydrate any better, but it does have less added sugar and calories than many commercially prepared sports drinks.
2. Provides low calories
Compared with orange and grapefruit juices, coconut water has about 60% less sugar and half the calories. (4) One cup (8 oz) contains 45–60 calories with 11–12 g of naturally occurring sugar.
3. May prevent kidney stones
One study found that coconut water resulted in an increase in urinary citrate excretion. Citrate can prevent calcium kidney stones from forming by competing with calcium. (4)
While coconut water may be helpful for preventing kidney stones, more studies are needed to evaluate its efficacy and safety.
Summary:
Coconut water increases urinary potassium, chloride, and citrate and, therefore, may be beneficial for the prevention of kidney stones.
4. Controls blood pressure and promotes heart health
Coconut water may help counter high blood pressure, a claim that has been validated by some preliminary studies. The antihypertensive effect of coconut water can be attributed to its substantial potassium content.
Studies have found that an extract from coconut helped reduce blood pressure and cholesterol in rats. (5)(6)
Summary:
While there is some evidence that points to coconut water's beneficial effect on heart health and blood pressure, the studies were done on animals. Hence, further research is needed to determine coconut water's effects on humans.
Is Coconut a Superfood?
Coconut water offers several health benefits, and it is often touted as a "superfood" and a miracle drink. Well, to call anything as a superfood would be to oversell it.
Some claim that coconut water can aid in weight loss, slow aging, reduce cholesterol levels, and lower blood pressure, but all these claims are not supported by scientific evidence.
Other Coconut Products
The coconut tree is often entirely used and can produce beverages, fiber, food, utensils, instruments, and more.
Coconut meat is often used in desserts and sauces.
Coconut milk is a popular culinary ingredient made from grated coconut flesh that has been pressed or squeezed and sometimes mixed with water.
Coconut oil is extracted from the coconut flesh and is purely fat, 80%–90% of which is saturated fat. It is inexpensive and has a high smoking point, which makes it ideal for cooking crispy, deep-fried junk foods.
Desiccated coconut is the grated, dried, and generally unsweetened flesh of a coconut, which is often used as a filler or topping, especially in baked goods and desserts.
Coconut flour is a gluten-free flour with a minimal fat content that can be mixed with wheat flour to make your dishes a little healthier. But always read the ingredient list to make sure there is no added sugar in it.
Storage of Coconut Water
If purchasing coconut water in a can, bottle, or carton, check the date for freshness.
Once opened, keep coconut water in the refrigerator with its container tightly closed to make it last a few days. Discard it if you notice any unpleasant odor, appearance, or flavor.
Safety and Side Effects of Coconut Water
Coconut allergies are rare, but many people can have skin reactions, such as contact dermatitis, in response to a product containing coconuts, such as skin and body care products. Some people are also sensitive to coconut pollen.
Coconuts are very different from peanuts and tree nuts and are less likely to cause an allergic reaction. (7) People who have high levels of potassium may want to limit their intake of coconut water, as it is also rich in potassium.
Additionally, people with kidney disease may want to limit or avoid coconut water, as their kidneys may not filter out potassium efficiently. Coconut water can influence blood pressure. Therefore, those preparing or recovering from surgery may want to limit or avoid coconut water.
Common Questions About Coconuts and Coconut Water
Will coconut water cure a hangover?
Coconut water is rich in electrolytes and water and, therefore, may help relieve the dehydration that accompanies drinking too much alcohol. However, there is no scientific evidence to prove that it is a cure for hangovers.
Will coconut water slow aging?
In general, proper hydration is key to keeping the skin looking clear, soft, and smooth, and coconut water can help with that. However, there is no scientific evidence that coconut water, in particular, can delay skin aging.
Will coconut water speed up my metabolism?
Dehydration will lead to a slowing of the metabolism. Anything that is hydrating, such as plain water, broth, or coconut water, will help keep your metabolism ticking right along.
Whenever you eat or drink anything, there is a temporary increase in your metabolism's speed because your body has to work harder to digest. However, increasing your metabolism consistently over the long term is a complex process.
There are many different variables, including diet and nutrition, hydration, meal times, sleep, exercise, and physical activity. There is no single nutrient or food that will boost your metabolism in a meaningful way for a significant period. The best approach is to adopt an overall healthy lifestyle.
Is coconut water allowed on a keto diet?
Coconut water contains naturally occurring sugars and carbohydrates. Depending on your daily carbohydrate limit, some coconut water may fit. One cup (8 oz) of coconut water contains 9 g of carbohydrate.
Is coconut a fruit, nut, or seed?
Many people consider coconut to be a fruit, others a nut, and some a seed. Coconut is a one-seeded drupe, also called a "dry drupe." A drupe is a fruit that has a hard covering that contains the seed, such as olive or peach.
Is coconut water rich in antioxidants?
Coconut water and coconut extracts have been studied for their antioxidant properties, but these studies are either in vitro or non-human based. (8)(9)
Final Word
Coconut water is a natural beverage that is refreshing and enjoyed throughout the world. There are some health benefits to drinking coconut water, as it contains vitamins, minerals, and electrolytes.
People with kidney disease or high levels of potassium in their blood should exercise caution when drinking coconut water. There is little scientific evidence to support many of the health claims that are made in popular culture.
Was this article helpful?