When you are plagued with colds or other infections of the respiratory tract, you will often cough or sneeze uncontrollably. This is the body's mechanism to clear the lungs and the respiratory tract of phlegm or any obstruction.
Usually, the cough will last the entire duration of the illness and will stop 1–2 days after the infection has cleared. (1)
The main way of treating a cough is by taking a cough suppressant to stop the coughing or a medication that aids in the removal of mucus. However, medications in the form of syrups often have no beneficial effect.
Moreover, the American College of Chest Physicians also discourages the use of over-the-counter combinations for the treatment of acute cough due to common cold. (2)
Making your own cough syrups at home can be a good alternative to medicated cough syrups. They have lesser possible side effects and can be used safely for all ages.
Make Your Own Cough Syrup
Ingredients:
1 cup of honey
¼ cup of fresh lemon juice
¼ cup of fresh ginger juice
1 tbsp of cayenne pepper powder
½ tbsp of cinnamon powder
Method:
Heat honey in a pan, but don't let it boil.
Add the fresh ginger juice, fresh lemon juice, cayenne pepper powder, and cinnamon powder, and mix them well.
Store the mixture in an airtight glass jar.
Take 1 tbsp of this cough syrup twice a day.
Benefits of the Ingredients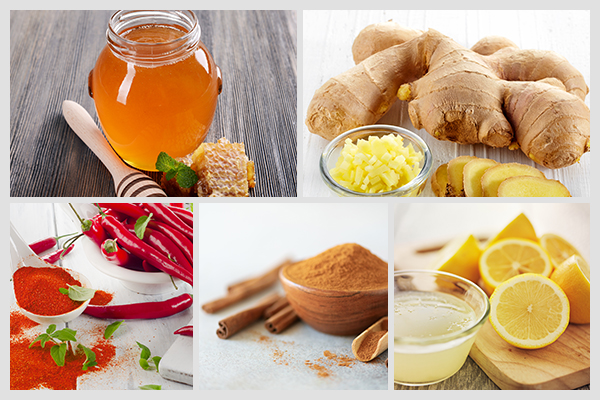 The ingredients of this homemade cough syrup offer different health advantages.
1. Honey
Honey has been used as medicine since the time of the ancient Greeks. It has antimicrobial, antioxidant, anti-inflammatory, and some anticancer activities. Plus, it tastes sweet and is liked by children. (3)
Several studies have found honey to be beneficial in dealing with cough due to infections of the upper respiratory tract. It reduced the severity and frequency of cough in a single dose (1 tbsp). (4)
2. Ginger
Ginger and its bioactive component can control smooth muscle cells in the lungs to ease respiratory symptoms and improve asthma (5)
Furthermore, the combination of ginger with honey is used specifically to ease coughs and hiccups. (6)
3. Cayenne pepper
Cayenne pepper has a bioactive compound called capsaicin, which gives it its spicy property. Capsaicin has been found to have cough-reducing properties.
In a study, intake of capsaicin capsules for 4 weeks was effective in reducing cough sensitivity and symptoms by desensitizing the cough receptors. (7)
4. Cinnamon
Traditional remedies have made use of cinnamon to treat sore throat, coughs, abdominal cramps, indigestion, nausea, and diarrhea. (8)
5. Lemon juice
Lemon juice contains many polyphenolic compounds that have anti-inflammatory and antimicrobial activities. Lemon essential oil and, in some countries, lemon juice mixed with coconut oil is used to treat cough. (9)
Expert Recommendation
You can also drink tulsi (holy basil) tea or chew a few of its leaves to relieve cough. (10)
Precautions to Consider
This cough syrup is meant to treat acute cough caused by common colds and not chronic cough due to an underlying condition.
Do not store the cough syrup for more than 4 days as some ingredients may lose their potency.
Keep allergies and insensitivities in mind before consuming any natural remedy.
Most-Asked Questions
What teas can help ease cough?
Teas made out of ginger, peppermint, marshmallow root, or slippery elm can help. You can add a teaspoon of honey to increase their potency and make them more effective.
Can I use vinegar as a cough syrup?
Vinegar may help with coughing. You can dilute 1 tsp of vinegar in a glass of water and use it to gargle.
You can also drink diluted vinegar (1 tsp of vinegar to a glass of water); however, be careful not to overdo it as it can damage the tooth enamel.
How do you get rid of a cough overnight?
No treatment will help get rid of acute coughing overnight. However, keeping the throat moist by sipping on lukewarm water, sucking on cough drops, and using honey will help speed up the healing.
Final Word
The homemade cough syrup presented in this article is made of ingredients that are beneficial in reducing coughs and easing the symptoms of common colds.
These ingredients include honey, ginger, lemon juice, cinnamon, and cayenne pepper. They are usually free of side effects and can be safely used for children.
Was this article helpful?