The conjunctiva is a thin, clear mucous membrane covering the outer surface of the eyeball and the inside of the eyelid. It secretes mucus and tears to lubricate the eye and provide protection against external irritants and pathogens.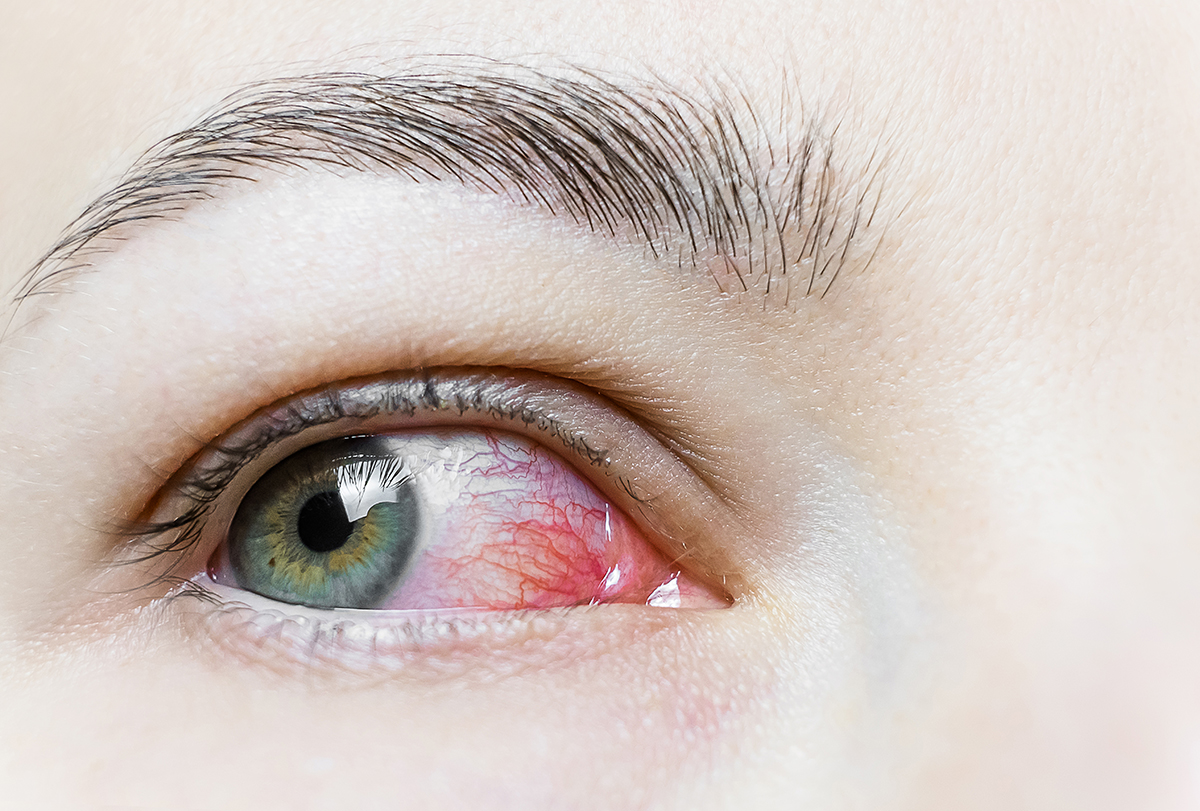 Inflammation in the conjunctiva makes the white part of the eyeball (sclera) turn pink or reddish and is referred to as pink eye or conjunctivitis.
Most cases of conjunctivitis are caused by viral or bacterial eye infections, but it can also be a result of allergies, dry eyes, and irritation or injury to the eye. (1)
Conditions That Are Commonly Misdiagnosed As Pink Eye
The following conditions are often wrongly assumed to be pink eye since they share common symptoms such as redness in the white part of the affected eye, watering from the affected eye, and itchiness in and around the affected eye. (2)
1. Allergies
Pink eye is largely the result of viral or bacterial infection but can be a reaction to certain allergens or irritants as well.
The leading cause of conjunctivitis is adenovirus, which is responsible for the common cold and other respiratory infections. This is why viral pink eye is usually accompanied by a common cold or sore throat.
Other viral strains can trigger this condition as well. Similarly, many different bacterial strains such as Staphylococcus aureus, Streptococcus pneumoniae, and Haemophilus influenza can also lead to pink eye. Very rarely, certain fungi or parasites can also trigger the condition. (3)
Allergic conjunctivitis occurs when you get exposed to allergens such as pollen, dust, animal dander, and mold, which trigger the release of histamine in the body.
Histamine is an inflammatory substance that accounts for symptoms such as redness, itching, grittiness, and burning in the eyes along with swollen eyelids, watery eye discharge, and some nasal symptoms such as sneezing and runny nose. (4)
These symptoms are similar to the ones experienced in infectious pink eye, but there are some key differences between the two. It is important to distinguish between infectious and noninfectious or allergic conjunctivitis since the former is highly contagious and warrants proper precautions to prevent it from spreading to others.
Although most cases of conjunctivitis are mild and self-resolving, you may need treatment if the condition persists, worsens, or becomes painful. Since the underlying cause for different types of pink eye is different, the same treatment will not work on all of them.
Viral conjunctivitis has no treatment and subsides on its own once the infection has run its course, but you can use a warm compress and other such home interventions to soothe your symptoms.
Bacterial conjunctivitis is typically treated with a short course of antibiotics. Meanwhile, allergic conjunctivitis requires over-the-counter antihistamines to curb the inflammation.
Most people assume pink eye to be the result of viral or bacterial infections and treat it accordingly, not realizing that it could be triggered by allergies as well.
2. Dry eye syndrome
Dry eye syndrome is a common condition wherein the eyes are unable to produce enough tears or good-quality tears to keep them properly lubricated.
Dryness in the eyes causes inflammation, which makes them turn red and irritated along with several other symptoms that are common to conjunctivitis. Thus, it is quite possible to misdiagnose one for another. 
Dry eye syndrome and pink eye share the following symptoms: (5)
Burning or stinging sensation in the eyes
Blurred vision
Sensitivity to light
3. COVID pink eye
Nearly 1%–3% percent of COVID-19 patients develop redness in their eyes, which has come to be known as COVID pink eye. One study showed that 1 out of 10 hospitalized noncritical COVID-19 patients suffered this condition while grappling with the disease. (6)
4. Iritis
Iritis or anterior uveitis is inflammation of the iris that affects the middle layer of your eye (the uvea) located between the white part and the retina. This condition can be mistaken for pink eye due to some common symptoms such as redness, pain and discomfort in the eye, light sensitivity, and hampered vision.
Iritis can occur in one or both eyes, depending on the cause, such as injury. (7)
5. Keratitis
The cornea is the transparent dome-shaped outer layer covering the front of the eye, which includes the iris, pupil, and anterior chamber.
If the cornea becomes irritated, damaged, or infected, it tends to become inflamed, causing redness in the eyes. This condition is called keratitis, which can be misdiagnosed as pink eye since both of them have similar symptoms such as the following: (8)
Pain, stinging, or discomfort in the affected eye
Redness in the affected eye
Excessive tearing or discharge from the affected eye
Sensitivity to light
Hazy vision
Inability to open the eyes
6. Stye
A stye (hordeolum) is a small, painful, red bump that develops along the margin of the eyelid and looks like an acne pimple or a boil.
The edge of the eyelid is lined with hair follicles that produce your eyelashes. Each of these hair follicles is attached to a tiny oil gland inside the eyelid. If one or more of these oil glands become clogged, it becomes a breeding ground for bacteria, resulting in an infection that causes the stye to form.
Both pink eye and styes can lead to pain and irritation in the eye, which is why it is easy to mistake one for another. (9)
ALSO READ: How to Get Rid of Eye Stye: 8 Home Remedies and Preventive Tips
7. Blepharitis
The buildup of dead skin cells, bacteria, and sebum along the lash line can clog the underlying oil glands, causing swelling, irritation, itching, and redness along the edges of the eyelids.
This a fairly common condition called blepharitis, whose symptoms are quite similar to those of pink eye, such as redness in the eyes, eye discharge, excessive tearing, sensitivity to light, blurred vision, and crust formation along the eyelashes. (10)
However, each of these conditions affects different parts of the eye. Blepharitis causes inflammation of the eyelids, whereas pink eye involves inflammation of the conjunctiva.
How to Identify Pink Eye Symptoms
The most common symptoms of pink eye are:
Bloodshot eyes
Itchy or burning sensation in the eyes
Watering from the eyes
White, yellow, or green fluid (discharge) coming from your eyes
Crust accumulation along your eyelids or eyelashes, which can make it difficult for you to open your eyes when you wake up
Swelling in the eyelids
Sensation of having foreign debris in your eye
Sensitivity to bright light
Blurry vision
Tender and swollen lymph nodes in front of the ears (11)
Extreme discomfort while wearing contact lenses and increased difficulty in keeping them in place (12)
The trouble is that many other eye conditions mimic the symptoms of pink eye but may be far more serious and require a different treatment. So, it is important to go for a proper eye examination to get an accurate diagnosis and then start treatment accordingly.
What Are the Signs to Look Out for in Any Eye Disorder?
According to experts, the following ocular complications should not be ignored and warrant prompt medical attention:
Sudden redness in the eye accompanied by severe pain and vomiting
Zoster skin rash
Blurred vision
Formation of an open sore on the cornea, which is known as a corneal crater
Branching, dendritic corneal lesion
Most-Asked Questions About Pink Eye (Conjunctivitis)
Are pink eye and conjunctivitis the same?
Conjunctivitis is characterized by inflammation in the conjunctiva, which makes the white part of the affected eye turn a little pink or red. So, yes, pink eye is another name for conjunctivitis, which is a fairly common eye problem that can have an infectious (viral or bacterial) or noninfectious (allergen) cause. (13)
How can I treat pink eye at home?
Here are some easy tips that can promote faster recovery from conjunctivitis:
Soak your eyes with a washcloth dipped in cold water.
Change your pillowcase daily.
Use fresh towels daily.
Don't use eye makeup or contact lenses until your condition goes away.
Wash your hands thoroughly before and after treating your eyes.
Avoid touching your eyes, but if you do, properly wash your hands thereafter.
Infectious conjunctivitis is highly contagious and spreads through the discharge from the infected eye, so it is important to keep your clothes, glasses, and towels for personal use only as they may be contaminated. (14)
How long will it take for my pink eye to heal?
Recovery time for conjunctivitis depends on its type. The most prevalent type is viral conjunctivitis, which usually resolves after 1–2 weeks without medicine, but the healing period may extend to 3 weeks or more in some cases.
If you have bacterial conjunctivitis, it may subside in 2–5 days, but it can take 2 weeks or more to go away completely. (14)
Final Word
Redness in the white of the eye is usually associated with conjunctivitis, but it can be symptomatic of other conditions too.
So, don't just assume that you have pink eye and start self-treatment, but consult an optometrist for a thorough examination to get the correct diagnosis and then proceed with the appropriate treatment.
Was this article helpful?