The upper and lower margins of your eyelids are lined with tiny oil glands that can sometimes become clogged with excess sebum or dead cells.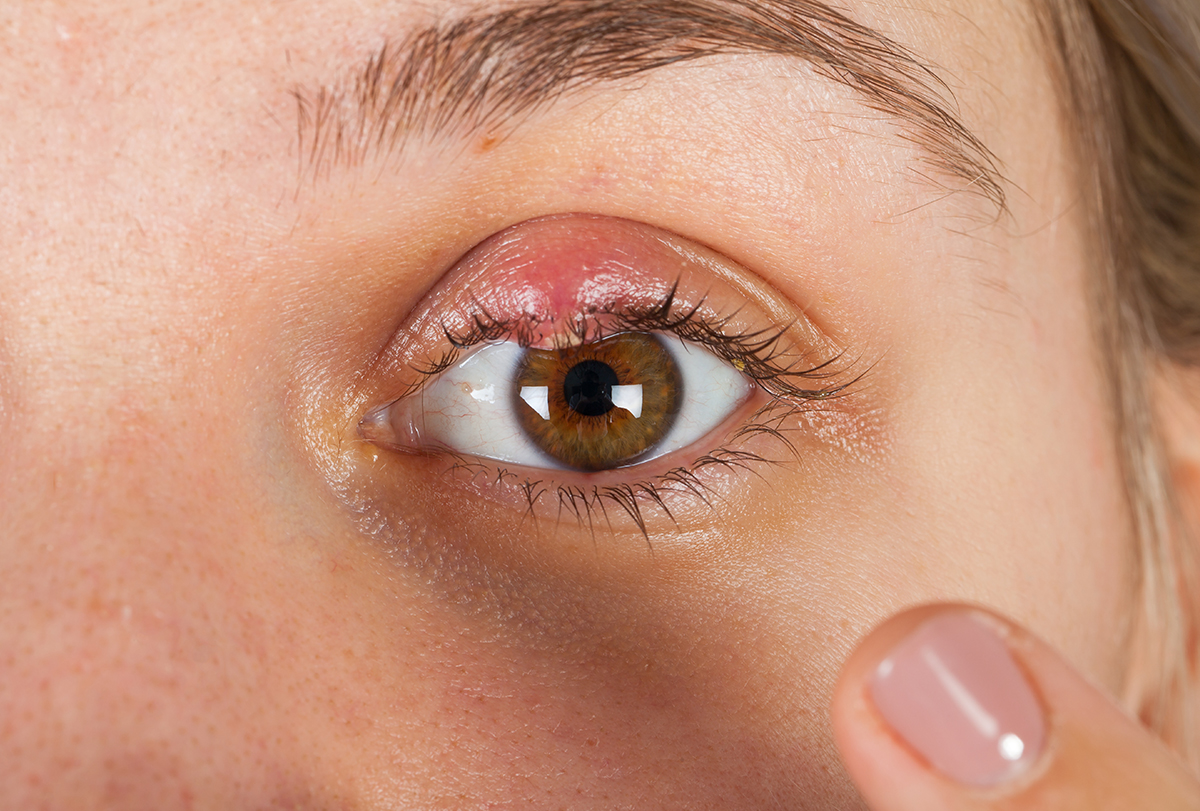 Your eyelids are naturally populated with certain bacteria, including Staphylococcus, that feed on this organic matter, allowing them to grow rapidly and trigger an infection.
The buildup of bacteria, oil, and cellular debris inside the plugged gland makes it swell up and bulge out from under the skin in the form of a red, painful, pus-filled lump on the eyelash line.
This inflamed abscess is called a stye, which causes mild pain, swelling, and redness. (1) The medical term for a stye is hordeolum. (2)
Styes are generally not contagious and do not spread along the eyelid. However, it is possible to get more than one stye at the same time.
The early symptoms of a stye are mild. Generally, these symptoms cause slight discomfort or redness along the eyelash line. They may also cause irritation to the affected eye.
After 1-2 days, an external hordeolum localizes to the eyelid margin. There may be tearing, photophobia, and a foreign body sensation. Typically, a small yellowish pustule develops at the base of an eyelash.
Home Remedies for Eye Styes
Styes tend to resolve on their own within a few days, but the following measures can help speed up the healing process and also reduce symptomatic discomfort and the risk of recurrence.
1. Apply a warm compress
Topical heat therapy is one of the most effective and easiest ways to get rid of a stye. (3)
The application of warm temperature expands the underlying blood vessels, increasing blood flow and inadvertently bringing more nutrients and white blood cells to the site of infection.
White blood cells kill the bacteria to make the infection go away faster, while nutrients promote tissue repair.
The improved blood circulation in the eyelid also brings down inflammation to relieve the pain, swelling, and redness associated with a stye. Moreover, the heat helps soften the pus collected inside the stye and makes it rise to the surface for easier drainage.
How to use:
Dip a clean washcloth in warm water, and wring out the excess liquid. Lightly press the warm, damp washcloth on the affected area for at least 15 minutes. Do this a few times daily until the stye subsides.
Alternatively, you can apply a warm tea bag to the affected eyelid for about 10–15 minutes at a time. It's best to use green tea, such as matcha, for this purpose as it is loaded with antioxidants that help ease inflammation and repair damaged tissue.
2. Do a chamomile and rosemary eyewash
Chamomile and rosemary are both medicinal plants that work well together to relieve a stye.
Chamomile is extremely calming in nature due to its rich antioxidant content. When used on a stye, it can help ease the inflammation, pain, and irritation in and around the infected area.
Rosemary works as a natural antibiotic that can eliminate the infection-causing bacteria to make the stye heal faster. (4)
How to use:
Put 3 rosemary stems and 30 g of chamomile flowers in ½ liter of boiling water for 5 minutes.
Strain the liquid into a container and let it cool down.
Wash your eyes with this cooled-down infusion 2–3 times a day until the stye goes away.
3. Use organic baby shampoo
When you have a stye, maintaining proper eye hygiene is very important to prevent the infection from growing and causing more discomfort.
Organic baby shampoo works great as an eye wash due to its mild chemical-free formula. It effectively removes germs, pus, cellular debris, and other impurities from the eyelid without irritating the delicate skin in the area.
Moreover, it is unlikely to cause any stinging, irritation, or damage even if it accidentally gets inside the eyes.
How to use:
Gently rub some baby shampoo onto the eyelids and the surrounding area.
Rinse with normal water.
After washing, place a warm compress on the affected eyelid to relieve the discomfort.
4. Apply a clove infusion compress
Clove is credited with natural analgesic properties that can help mitigate stye-related eye irritation. Plus, its antimicrobial effects help control bacterial growth at the site, reducing the infection and its associated symptoms. (5)
If these bacteria continue to grow, the infection will get worse, resulting in more pus accumulation, pain, and swelling.
How to use:
Put 6 cloves in a cup of boiling water for 5 minutes.
Strain the liquid and let it cool down to a comfortably warm temperature.
Soak a clean cloth or gauze into the water, and squeeze out the excess water.
Place the warm moist cloth over the affected eyelid for 5–10 minutes.
Do this 2–3 times daily.
5. Perform a coriander seed wash
Coriander seeds possess strong antibacterial properties that can help combat the bacterial infection responsible for stye formation. (6) The stye will heal only when the underlying infection goes away, and this remedy can help speed up that process.
Moreover, it can provide considerable symptomatic relief to make you feel much better within a few days.
How to use:
Add 1 teaspoon of coriander seeds to a cup of water and bring it to a boil.
Turn off the heat and let the water cool down. Strain the liquid.
Use the infusion to wash or clean the affected area.
Do this 2–3 times daily until you get relief.
6. Dab with castor oil
Castor oil contains ricinoleic acid, which exhibits anti-inflammatory properties that can ease the pain and swelling associated with a stye. (7)
Plus, it works as an antibacterial agent that can limit the growth of bacteria in the area, thus reducing the severity and duration of infection.
How to use:
Gently dab some castor oil on and around the stye with a clean cotton ball, 2-3 times a day.
Treat the area with a warm compress for about 15 minutes to relieve the discomfort.
7. Massage the area
Gently massaging the stye and the area around it can help loosen the pus inside so that it drains out more easily. (3)
The aim is to soften the stye so that it naturally releases the pus. The topical stimulation increases blood circulation in the area to deliver more white blood cells at the site of infection and relieve inflammation.
However, never exert too much pressure as that can end up rupturing the stye, which will spread the infected pus to the surrounding tissue and possibly leave a scar.
How to use:
Wash your face and hands thoroughly with soap and water.
Apply a warm compress to relax the eyelid, but this step is optional.
Carefully massage the eyelid with your finger for a few minutes.
If you notice any fluid discharge, wipe it clean and rinse with an eye wash.
Guava leaves contain antibacterial and anti-inflammatory compounds that can help clear a stye faster and reduce the symptomatic discomfort associated with it. (8)
How to use:
Thoroughly wash a few guava leaves.
Put them in warm water for a while.
Apply the warm moist guava leaves to the affected eyelid for 10 minutes.
8. Use potatoes
Potato has astringent properties that can help contract the swollen tissue (9) in and around the stye. It is known to decrease inflammation, pain, and general eye discomfort associated with this condition.
How to use:
Grind a potato into a paste.
Put it on a clean, soft cloth.
Apply the cloth to the stye.
Prevention Against Eye Stye Formation
Here are a few tips to reduce the risk of stye formation:
Practice proper hand hygiene. Wash your hands with soap and water or clean them with a sanitizer several times a day, but especially before touching your eyes.
Avoid touching your eyes as much as you can, especially in the case of infection.
When buying eye makeup, go for dermatologically and ophthalmologically tested products. Don't share your eye makeup with others, and replace it every 6 months as it can breed germs over time.
Always remove eye makeup before going to bed. Do this gently and carefully to avoid irritating or damaging the sensitive area.
Disinfect your contact lenses regularly and wash your hands before handling them.
Don't share your towel with anyone.
Don't use the same face mask for too long. Keep changing it regularly.
Never squeeze, pop, or pick styes as this can rupture the underlying tissue and leave it open to other bacteria and contaminants. This kind of tissue damage often leads to scar formation.
When washing your face, make sure to clean your eyes, eyelids, and eyelashes as well.
Shield your eyes from chemicals, pollutants, and other irritants by wearing protective glasses when going out or working in the lawn.
Consume enough omega-3 fatty acids in your regular diet as they help keep your eye surface properly hydrated and healthy. Some of the best food sources of omega-3 are fatty fish such as salmon, flaxseed oil, and walnuts.
Final Word
Styes are quite common but largely harmless and self-resolving. You can try the above-listed remedies to soothe the symptomatic discomfort associated with this condition and promote faster healing. However, do consult your doctor if you develop severe pain or vision problems.
Was this article helpful?