There may have been days when you looked in the mirror and saw that your eyes appeared red. Sometimes, the white of your eyes may turn a little red; this isn't a serious problem. But since the eyes are a sensitive organ, you have to make sure that nothing goes without being checked properly.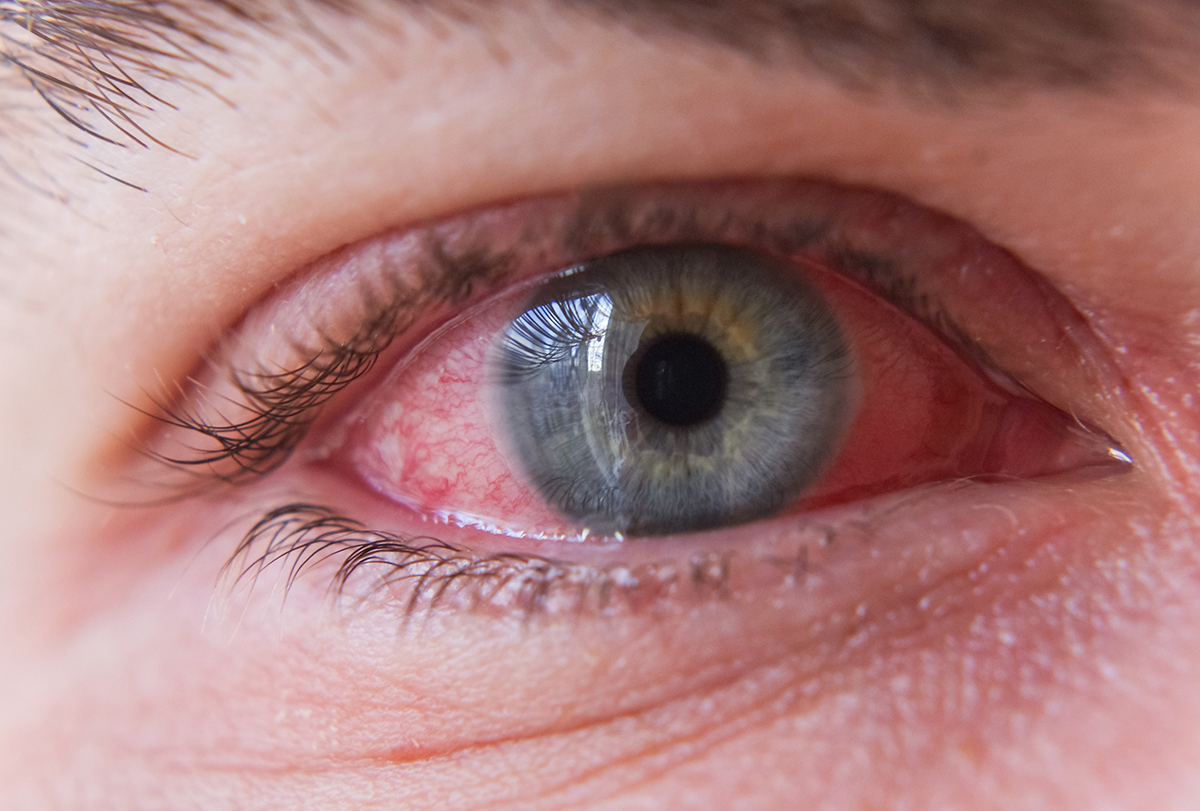 The appearance of red eyes is due to a blood supply change to the membrane that covers the front of the eyes. This can be due to the change in the size of blood vessels under the surface as they become larger or inflamed.
Medically speaking, the term "red or pink eye" describes an open eye that appears red due to the enlargement of the superficial vessels in the eye. (1) Continue reading to dive a little deeper and see what causes red eyes, what its symptoms are, and what to expect.
What Causes Red Eyes?
Red eyes can happen due to: (1)(2)
1. Conjunctivitis
Conjunctivitis refers to inflammation of the conjunctiva, which is the thin tear film that protects your eye from foreign particles. It can be infectious or allergic.
In conjunctivitis, there is a dilation of blood vessels and watery secretions, which often cause reddening of the eye.
2. Blepharitis
Blepharitis is the inflammation of the eyelids, which can cause your eyes to appear red and swollen. If not managed properly, it can cause serious symptoms such as loss of eyelashes and vision. (3)
3. Dry eyes
Dry eye is a disease of the tear film that happens when there is a tear deficiency or excessive tear evaporation. It can be caused by underlying diseases such as diabetes or environmental factors such as dry climate.
Red eye is one of the notable symptoms of dry eyes. (4)
4. Glaucoma
Glaucoma is an ophthalmological disorder that is oftentimes due to increased internal ocular pressure. It is often asymptomatic, but red eyes can be a danger sign. If not treated, glaucoma can lead to blindness. (1)
5. Allergies
The eye is a common site and target for the development of an allergic inflammatory disorder. In practice, approximately 6% of consultations of general practitioners concern inflamed or red eyes, half of which are caused by an ocular allergy. (5)
6. Smoking
Smoking, both active and passive, creates a plethora of health-related problems. Smoking also affects the eyes.
The toxins associated with smoking decrease blood flow or aid in the formation of clots in the ocular capillaries, thus cutting off vital nutrients that are essential for eye health. (6)
7. Inflammation
Red eyes are a common symptom of non-infectious causes. The conjunctiva, uveal tract, episclera, and sclera are most commonly involved. (1)
Note: Experts suggest that red eyes are frequently caused by corneal abrasions and foreign bodies, which often result in complaints of eye pain or injury. However, for young children and infants, such information may not be readily available despite the presence of redness in the eye. (1)
What Are the Signs and Symptoms of Red Eyes?
The signs and symptoms of the red eye include: (2)(7)
Eye discharge
Redness
Pain
Photophobia
Visual changes
Swollen eyelid
Tears in the eyes
Eye abrasion
How Are Red Eyes Managed and Treated?
The treatment for red eyes depends upon the cause. The common treatments would include remedies and over-the-counter (OTC) eye drops for symptomatic relief.
Specific treatments include: (2)
Decongestant eye drops
Antihistamines
Artificial tears
Steroidal eye drops
Antibacterials
Note: Healthcare professionals generally do not recommend using OTC topical vasoconstrictors for the treatment of red eyes.
Clinical recommendations for the management of red eyes include: (2)
Practice good hygiene with proper and frequent hand washing to control the spread of viral conjunctivitis.
Eye drops containing antibiotics may be regarded as important for the treatment of bacterial conjunctivitis.
If red eyes are from an allergic response or allergic conjunctivitis, they may be treated with an OTC antihistamine medicine or topical antihistamine.
Anti-inflammatory agents, topical corticosteroids, and systemic omega-3 fatty acids are appropriate treatments for cases of dry eye.
Diagnosing Red Eyes
When diagnosing red eyes, healthcare professionals typically perform a general examination that includes assessing the head and neck for signs of associated conditions such as upper respiratory infections, allergic rhinitis, or shingles rash.
They also take a medical history that includes questions about any known allergies or autoimmune disorders, as well as a drug history that specifically asks about recent use of topical ophthalmic drugs, including OTC medications that may cause sensitization. (2)
Who Is At Risk of Red Eyes?
In addition to the above-mentioned causes, the following factors can also increase your susceptibility to suffering from bloodshot red eyes: (7)
Wearing contact lenses
History of diabetes
Age over 39 years
History of hypertension
History of lipid disorders
Low immunity
Can Contact Lenses Cause Red Eyes?
Those who wear contact lenses frequently suffer from a unique type of bacterial conjunctivitis. They may be affected by Acanthamoeba or P. aeruginosa.
Mainly with pseudomonads, red eyes with corneal ulceration may become a problem. The ulcer generally exhibits greenish-yellow mucus. These causal pathogens are oftentimes present in the lens fluid or contact lens container and are usually resistant to vastly used antibiotics.
For the convenience of diagnosis, you should provide the unwashed lens container and the fluid to your ophthalmologist. (1)
When to See a Doctor
Your eyes are very delicate organs that require all the care and attention of the world. You have to make sure you take good care of them and be alert of signs and symptoms that may point at an eye problem to address it before it leads to anything serious.
You should go see a doctor if you experience:
Pain in the eyes
Blurred vision
Light sensitivity
Worsening of symptoms
Pus or mucus from the eyes
Fever
Eye discomfort
Decreased visual acuity
Zoster skin rash
Sudden, severe pain and vomiting
Branching, dendritic corneal lesion
Glaucoma in medical history
What can your ophthalmologist ask?
When assessing a patient with red eyes, ophthalmologists will evaluate the history of their current condition, taking note of when the redness began and how long it has lasted, as well as any changes in vision, itching, scratchy sensation, pain, or discharge.
The clinician will also assess the nature and severity of pain, including whether it is exacerbated by light (photophobia), and determine whether any discharge is watery or purulent.
Other questions may pertain to the patient's history of injury, including any exposure to irritants or use of contact lenses (such as potential overuse, such as wearing them while sleeping). Previous episodes of eye pain or redness, as well as their timing, will also be discussed.
Do ophthalmologists always ask for investigations?
According to experts, in most cases, there is no need to test for red eyes. However, if the clinical diagnosis is unclear and there is suspicion of herpes simplex or herpes zoster, viral cultures may be helpful. Corneal ulcers are typically cultured by an ophthalmologist.
Gonioscopy is a procedure that is typically performed in patients with glaucoma. If a patient has uveitis without an obvious cause, testing for autoimmune disorders may be beneficial. Additionally, patients with sclerosis will require further testing as directed by their ophthalmologist.
It is important to consult with a healthcare provider or ophthalmologist to determine the most appropriate diagnostic tests based on the individual's medical history, symptoms, and clinical presentation. It is also important to seek urgent medical attention in cases of sudden vision changes, severe eye pain, or other concerning symptoms. (2)(8)
Final Word
Red eyes can be a very common day-to-day problem that does not have any serious underlying cause. It is usually nothing to worry about and can be managed at home with remedies and OTC medications. Those who suffer from red eyes usually know why it is happening and also know how to take care of them.
Red eyes become a problem if it is accompanied by pain, light sensitivity, or swelling, after which you have to make an appointment with your eye doctor immediately.

Continue Reading8 Home Remedies for Red Eyes
Was this article helpful?