A fuller face with apple cheeks can make you look young, whereas a slim face with hollow cheeks can add years to your appearance. However, some people may struggle with excessive facial fat that forms a saggy layer over their features.
There are around 43 muscles in the face and 20 in the neck. (1) These muscles tend to weaken with age, causing the facial fat to shift downward, collect in unwanted places, and form a double chin and nasolabial folds. This drooping of the face can inadvertently make you look older. 
It is a well-known fact that face fat is considered the second most stubborn fat to burn.
The genes that cause babies and other children to gain weight differ from those that make adults overweight. Researchers have now found a genetic reason why babies get chubby cheeks, which are actually a healthy sign. (2)(3)
While there is nothing you can do to stop aging, there are some exercises that can help strengthen your facial muscles and reduce unwanted facial fat to bring out the underlying bone structure. (4)(5)
Ways to Reduce Chubby Cheeks and Lose Facial Fat
The following measures can help reduce facial fat and chubbiness in the cheek.
1. Perform some facial exercises
Here are some easy exercises to reduce facial fat.
a. Lip pull exercise
Pull up your bottom lip as far as possible while stretching your jawbones but holding your head steady.
Maintain this position for 15–20 seconds.
Repeat 15–20 times.
b. Chin lift exercise
This exercise can help give you a well-sculpted jawline.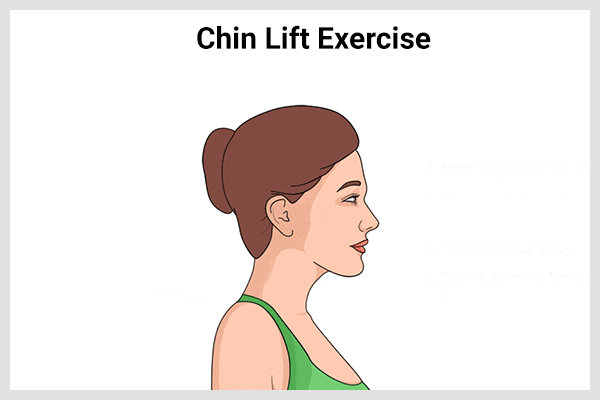 Stand still and tilt back your head to look at the ceiling.
Tightly pucker your lips into a kissing shape such that you feel a strain along the jawline.
Hold this position for 15 seconds.
Repeat this exercise 10 times.
c. Jaw release exercise
This exercise can help you lose the excess fat around your jaw and cheeks to give you a more chiseled face.
Sit with your mouth closed.
Mimic the action of chewing your food for 20 seconds, take a pause, and repeat.
d. Chipmunk cheek squeeze
This exercise can help slim down your face to accentuate your cheekbones and jawline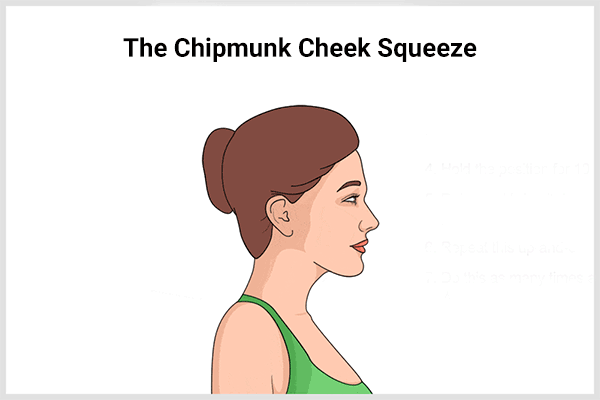 Push your head as far back as you can while moving your chin forward.
Squeeze in your cheeks as much as possible.
Hold this pose for 5 seconds.
Repeat 10–15 times.
e. Pufferfish press
This exercise can help reduce nasolabial folds to fade the appearance of laugh lines around the mouth.
Fill your mouth with air to puff up your cheeks.
Shift the air toward one cheek and hold for 10 seconds.
Shift the air toward the other cheek and hold for 10 seconds.
Perform 10–15 reps.
f. Cheekbone lift
This exercise can help reduce the fat from your chubby cheeks and add definition to your cheekbones.
Keep your fingers over each cheekbone and gently lift until your skin feels taut.
Make an "O" with your mouth such that you feel a tight pull in your cheek muscles.
Maintain this pose for 5 seconds.
Do it again 10–15 times.
g. Brow lift
This exercise can help lift your face.
Sit down comfortably.
Place the index and middle fingers of each hand above the respective brow.
Lift your brows up and down while gently pulling down your skin with your fingers.
Repeat 10–15 times.
h. Duck face
This exercise works out the center-most muscles of the cheeks and helps eliminate excess cheek fat. 
Sit comfortably.
Pucker up your lips.
Open and close your mouth.
Push your lips outward and tense your face to feel a stretch in your muscles.
2. Say no to alcohol
Alcohol is a diuretic, which means it increases urination. Too much alcohol intake can make your body lose essential fluids through excessive urine output, which will lead to dehydration.
As a result, your body will start to conserve water by storing it in your tissues, including your facial tissue. (6) This fluid retention will cause bloating, which can make your body and face swell up.
Moreover, alcoholism is known to trigger inflammation and gas buildup inside the body and further adds puffiness to the face. Thus, you need to limit the amount of alcohol you consume to notice a visible improvement in the natural contour of your face.
3. Add cardio exercises to your routine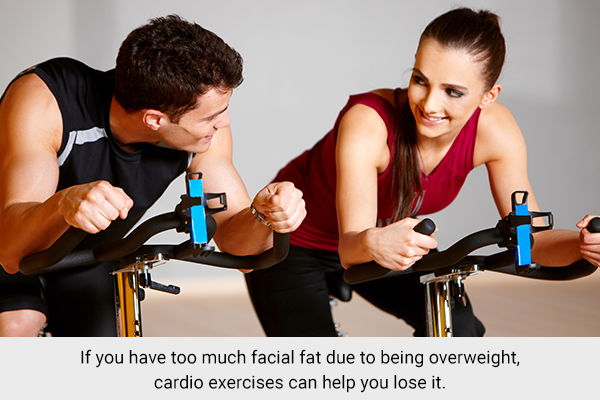 Some people are born with a naturally round and chubby face, while others may get it due to unwanted weight gain. The excess body fat is stored in various problem areas, such as the abdomen, thighs, hips, arms, and even the face.
If you have too much facial fat due to being overweight, cardio exercises can help you lose it. Cardio refers to any physical activity that accelerates your heart rate, such as running, brisk walking, dancing, cycling, and swimming. It is considered to be one of the most effective ways for speedy weight loss. (7)
Spot reduction, which means losing fat from a specific area of the body through exercise, is a myth. But a cardio or aerobic workout helps you burn fat from all over the body and give you a slim physique and face. 
Aim for 20–40 minutes of moderate to vigorous cardio every day of the week.
4. Drink more water
Water is essential for various bodily functions. So, when you don't consume enough of it, your body will start to retain water in the tissues for its daily needs.
Water retention in the facial tissues will, in turn, make your face look puffy. This shows how important it is to maintain proper fluid intake for a more sculpted face.
Not just that, drinking more water promotes prolonged satiety and reduces your overall appetite. This is a good strategy to avoid overeating or unnecessary snacking between meals. 
In fact, a small study found that drinking water before a meal helps you eat less thereafter. Some studies even suggest that increasing your water intake may help speed up your metabolism, which means your body will be able to burn calories faster. (8)
All these effects can aid weight loss and can reduce excess fat from the face along with the rest of the body.
5. Cut back on refined carbs to lose cheek fat
Refined carbohydrates go through extensive processing that removes most of their fiber and nutrient content while leaving behind only sugar and calories. The lack of fiber means that these carbs are digested quickly and don't make you feel full for long.
All in all, diets loaded with refined carbs tend to cause rapid fluctuations in your blood sugar as well as frequent hunger pangs or overeating, which can result in weight gain and increased fat accumulation.
In fact, one study found that people who consume more refined carbohydrates may run a higher risk of gaining abdominal fat and becoming obese. (9)
At present, there is no research about the effects of refined carbohydrates on facial fat, but experts recommend cutting down on their intake to lose weight in general. Adding fiber to your diet reduces body fat, which includes facial fat. (10)
6. Reduce salt and sugar in your diet
Many a time, the main component that contributes to the retention of water in the body and its facial accumulation is sodium. Limiting your sodium consumption will help you avoid water retention, and as your body releases more water, you'll feel lighter overall. (11)
Moreover, unwanted fat on the face and around the abdomen has been connected to sugar. (12) To stop desiring sweets, switch to healthy options such as fruit salads.
7. Get good sleep
Lack of good-quality sleep causes the body to release cortisol (stress hormone). This results in eating inconsistently and emotional hunger. (13) In emotional hunger, mostly junk food is consumed.
ALSO READ: 10 Factors That May Affect Your Sleep
What Can Be the Reason I Am Not Losing Cheek Fat Despite Trying All Exercises?
Hypothyroidism can be a reason why cheeks look chubby in spite of exercises (14) and other efforts.
Moreover, when it comes to weight loss or getting rid of chubby cheeks, the only way to lose fat is by shifting the balance between calories eaten versus calories burned.
One more important reminder is that people with Cushing's syndrome may see their face get round ("moon face"). (15) They gain weight in unusual ways, bruise easily or feel weak, and get tired and sad. This moon face is not healthy chubby cheeks.
If you have a family history of diabetes mellitus, dyslipidemia, and hypertension and you are having chubby cheeks, you must visit your nearest endocrinologist.
Final Word
The above-listed tips and exercises can help naturally sharpen your facial features, but you shouldn't expect a complete transformation of your face. If your face is naturally round, you cannot change its shape through these interventions.
The aim should be to eliminate the sagginess, puffiness, and excess fat from the face to highlight your bone structure. This can only be achieved if you remain consistent with your efforts.
Was this article helpful?