In recent years, customers have gained more awareness about natural therapies and ancient principles for the treatment of various issues. This is mainly because these natural methods are considerably safer than synthetic medicines.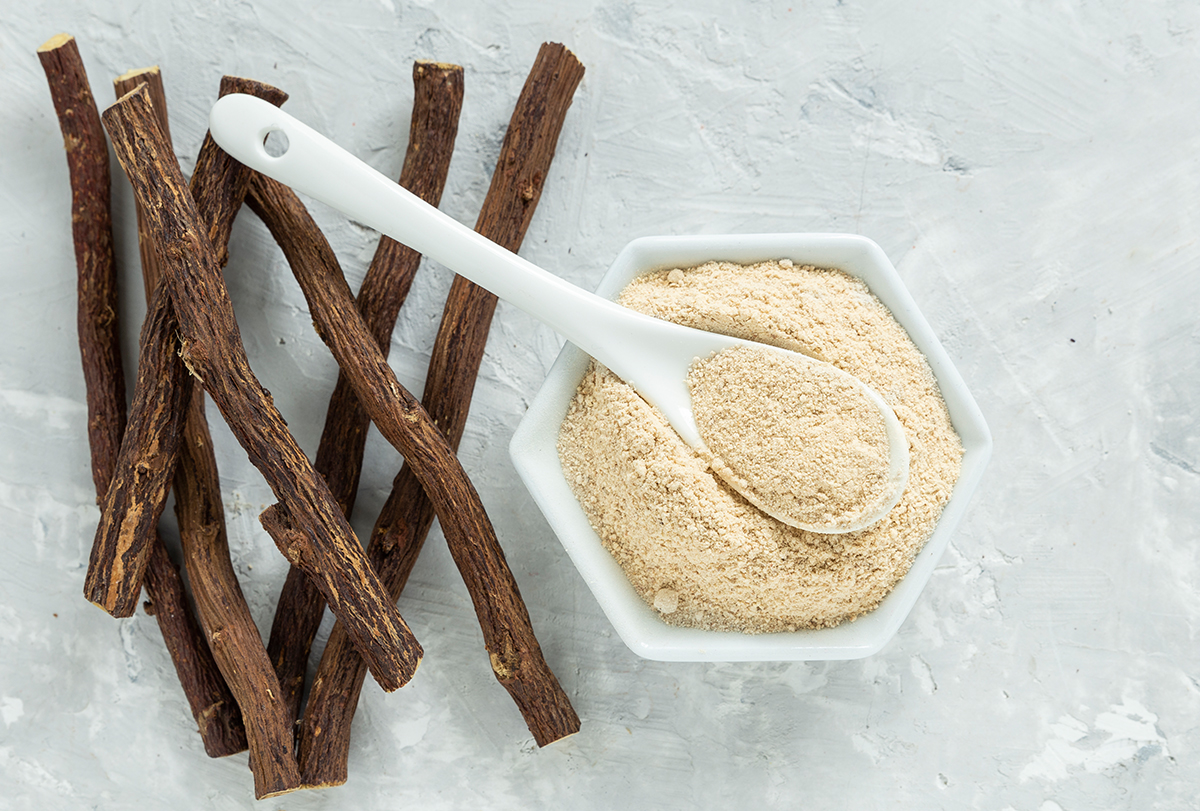 This has also created a growing demand for plants used in traditional therapy for incorporation into nutraceuticals, cosmetics, or pharmaceuticals. One such blessing of nature is licorice root.
Licorice root is obtained from Glycyrrhiza glabra. The plant has been famous for a long period for its medicinal components that provide health benefits.
Licorice root extract is extensively used in cosmetic products because of the various benefits it has for the skin, which range from offering protection from sun damage to decreasing skin pigmentation. (1)
Read on to know all the benefits of licorice root for your skin.
Licorice Root Benefits for the Skin
Licorice root offers the following advantages to your skin.
1. Reduces dull skin and hyperpigmentation
You may have noticed different colored patches on your skin or dark spots that make your skin look uneven and badly textured. This is termed hyperpigmentation. Licorice extract can help resolve this problem and make your skin look healthy.
Excessive exposure to the sun and hormonal imbalances due to various underlying reasons can cause skin dullness. Licorice extract can help brighten your skin in such cases as well, giving you the glow you always wanted. (2)
Various chemically derived depigmenting agents are currently available, but they are very harsh on your skin. Licorice is a good natural alternative to them. (1)
2. Treats sun-induced pigmentation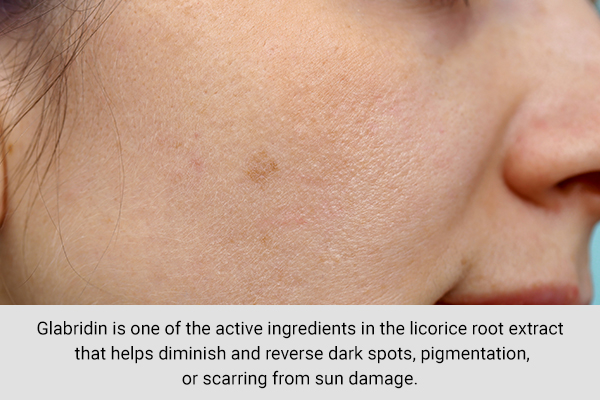 Spending too much time out in the sun can be harmful to your skin. Sun rays are known to damage your skin and cause discoloration. This is mainly due to the UV radiation that comes from the sun.
Also, the sun can trigger an increase in melanin production, which may cause irregular pigmentation of the skin.
Glabridin is one of the active ingredients in the licorice root extract that diminish and reverse dark spots, pigmentation, or scarring from sun damage. Glabridin has enzymes that block UV radiation, thereby preventing sun-induced skin damage. (3)
3. Accelerates wound healing and fading of scars
The skin is prone to scarring from injury, acne spots, or other reasons. Scarring usually occurs as a protective and healing measure when the body tries to repair damaged skin. These scars can be anything from a small and fine line to a tiny hole-like appearance on the skin.
Licorice accelerates the healing process of wounds and also helps in diminishing scars by halting the production of melanin, which is the main component responsible for pigmentation. (4)
Note: Melanin is an important amino acid that protects the skin from damage, but if produced in excess, it can lead to unwanted scarring and dark spots.
4. Acts as an anti-inflammatory agent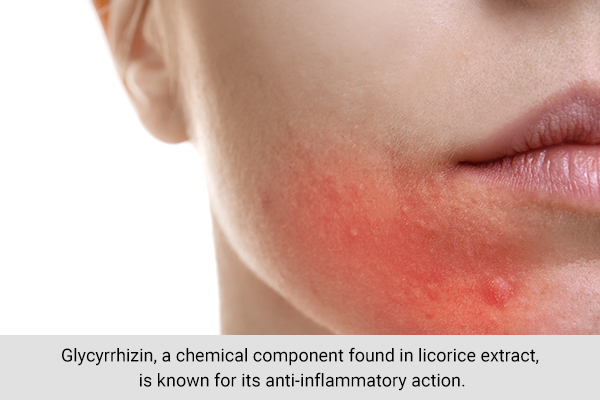 Skin inflammation is characterized by the presence of rashes, redness, pain, itching, swelling, and dryness on the skin. It can be due to various underlying issues or reasons such as dermatitis, coming in contact with poison ivy, or rashes.
Skin inflammation is the body's immune response and, hence, cannot be avoided, especially in the case of viral, fungal, or bacterial infections.
Glycyrrhizin, a chemical component of licorice extract, is known for its anti-inflammatory action. It reduces redness, swelling, and irritation that are caused by an inflammatory response. It can be applied topically to treat skin conditions such as dermatitis. (5)
5. Keeps the skin soft and smooth
A good collagen level is important in ensuring soft and smooth skin. This is because collagen plays a role in the renewal and repair of skin cells. Licorice also plays a role in regenerating collagen in the skin, hence keeping the skin soft and smooth. (6)
Another component in the skin called elastin is a naturally occurring protein that your body produces to provide strength and elasticity to your skin. Licorice extract boosts elastin production to keep your skin healthy and elastic. (7)
Not only that, but licorice also preserves hyaluronic acid, which is a molecule present in the body naturally. It stretches and flexes the skin to reduce wrinkles and lines, thereby keeping your skin plump.
6. Disintegrates excessive melanin to prevent pigmentation
Many people face the problem of excessive melanin production, which leads to hyperpigmentation.
Although the issue in itself is harmless, those with excessive melanin end up having dark patches on their skin that also darkens the surrounding skin. Pigmentation can be embarrassing and frustrating.
This excess melanin can be disintegrated by liquiritin, which is found in licorice extract. (8)
7. Protects the skin from oxidative damage
Licorice is popularly and widely used as a potent antioxidant. Licorice contains antioxidants that decrease reactive oxygen species and free radicals that can discolor the skin.
Therefore, licorice will help protect the skin from the oxidative damage caused by free radicals and also by environmental aggressors such as UV radiation. (9)
8. Controls excessive oil production
Oily skin is the result of the overproduction of sebum by the skin glands producing, which later leads to oily skin with a greasy surface that may clog pores and cause acne.
Licorice can help curb the production of excessive oil in the skin and prevents inflammation. (10)
How to Use Licorice Extract
Several products contain licorice extract and can be used in the following ways:
A face serum containing a high concentration of licorice extract can be used for spot removal.
Licorice extract can be used by itself for sun protection and skin softening.
You can mix licorice extract with aloe vera gel for fighting inflammation.
You can steep licorice roots in water to make tea that can be consumed daily.
Licorice is also available as chewable tablets and capsules.
What Are the Side Effects of Licorice Extract?
Licorice is not known to have side effects or major effects. Licorice is rarely an allergen for anyone and is therefore good for most people to use in their skin care regimen.
To confirm it won't cause any irritation to your skin, you can simply apply it to a small spot on your hand or face as a test. If the spot does not develop irritation, you can use licorice extract for skin care. (11)
Do note that chronic use of licorice can cause hypertension (high blood pressure) and hypokalemia (decreased potassium levels). (11)
Final Word
Another wonderful herb with therapeutic benefits is the licorice plant, which has been used to treat several disorders since time immemorial. It also has many benefits for the skin and can address several skin conditions.
Incorporate licorice into your skin care routine to reap its various benefits.
Was this article helpful?