Wrinkles are characterized by aging skin, and this aging could be either natural or prematurely induced. As you age, the rate at which new skin cells are produced declines and your skin, particularly the inner layer called the dermis, becomes gradually thinner.
The dermis rests on what is known as the basement membrane. This membrane is made up of protein fibers collagen and elastin, which are in abundant supply during youth and remain tightly entangled to give your skin its structural integrity.
Your skin is the most exposed part of the body and therefore undergoes a lot of wear and tear on account of external irritants and injuries.
The good thing is your skin is fully capable of repairing itself as it keeps producing new skin cells to replace the damaged ones. In fact, the entire outer layer of the skin, which faces the most damage, slowly sloughs off and freshly formed skin rises to the surface from underneath. But this skin regeneration process relies on the production of collagen and elastin, which become scarce with advancing age.
As you grow older, your skin fibers continue to break down but your body is unable to synthesize new fibers fast enough to repair this damage. (1) As a result, their mesh no longer remains effective to support your skin, making it loose and wrinkly. (2)
While there is little you can do to stop or reverse this age-related skin degeneration, there are factors that can accelerate it and make you look older beyond your years. This includes unhealthy lifestyle choices, poor nutrition, sun damage, and some beauty habits that may seem like a good idea but are actually ruining your skin.
Skin Care Mistakes That Can Lead to Premature Wrinkles
The following are some skin care mistakes that can lead to the development of premature wrinkles.
1. Handling the skin near your eyes roughly
Your facial skin is relatively thinner than the skin on the rest of your body and therefore has to be handled more gently. This holds especially true for the skin around your eyes, which is perhaps even more delicate than the surrounding facial skin.
It is believed that the more you tug at your eye, the more this delicate skin stretches. This rough mechanical force can certainly break down the collagen and elastin fibers, thereby making your skin wrinkly and loose.
It is therefore important that you handle your eyes with care when applying and removing eye makeup.
Tips:
Use an eyeliner that glides smoothly on your eyelids to avoid unnecessary tugging.     
Apply under-eye creams, eyeshadows, and eye products gently without rubbing.
To remove eye makeup, first use coconut oil or a makeup removal greasy balm to help remove makeup more gently. Also, use a soft cotton ball to gently remove the eyeliner without scrubbing your eyelids.
2. Cleaning your skin too harshly or too much
The outermost layer of the skin keeps shedding dead and damaged cells to make room for new ones. But this skin regeneration process is a gradual one that takes about a month to complete. These dead cells are bound together and build up on the surface, giving your skin a dull appearance. Plus, the skin keeps releasing excess sebum, which also builds up on the surface.
As you venture out for your job or to run daily errands, you get exposed to all kinds of environmental toxins such as airborne pollutants, pollen, and microbes, which accumulate on your skin along with the dead cells and sebum.
If you don't clean your skin properly and regularly, these impurities will trickle into the skin pores and clog them. Clogged pores will not only make your skin unable to breathe and derive proper nutrition, but they are perfect breeding grounds for acne-causing bacteria, which will only add to your skin woes.
Therefore, stringent skin hygiene is the bedrock of any skin care routine. You must properly cleanse your skin after a long day and exfoliate it now and again to remove all the deep-seated gunk from your pores. However, a lot of people go overboard with their skin cleansing ritual and end up paying the price in the form of premature wrinkles.
You may think that washing or scrubbing your face frequently with forceful hand motions or harsh chemical products will make your skin extra clean, but this rough treatment will only put your underlying skin layers under mechanical stress, leading to collagen breakdown.
This vigorous pulling and tugging will result in the formation of new wrinkles and fine lines while making the existing ones more visible.
Tip:
Always use products that are light on your skin, and apply them with gentle hands.
3. Over-exfoliation and overwashing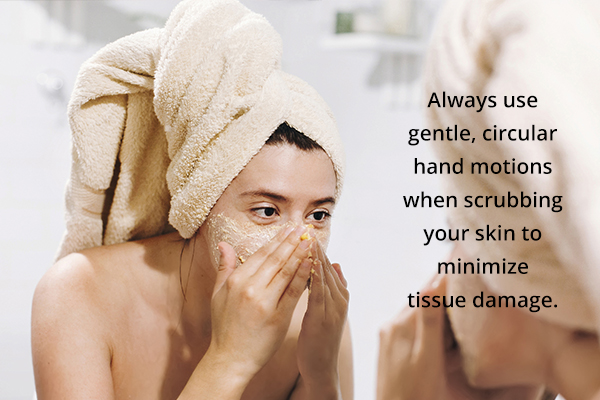 Exfoliation is necessary for removing the stubborn dirt, cellular debris, and excess oil piled up on the surface of the skin and in its pores. It gives your skin a smooth texture and even complexion by removing the dry, dead skin flakes from the surface, allowing for better makeup application. Plus, exfoliation opens up your pores to facilitate better product absorption.
But the trick is to do it periodically rather than regularly. Over-exfoliating can remove the natural lipids from your skin, rendering it dry, red, and irritated. These oils lubricate your skin to keep it elastic and also form a protective barrier to ward off external irritants.
Another habit that some consider as "quite important" is to wash their skin several times a day to make it clean and hydrated. Excessive washing has counterproductive effects on your skin. It can make your skin dry by stripping the natural oils and can even promote the growth of infectious bacteria by disrupting your skin's pH.
Excessive exposure to water does not moisturize your skin but pulls the moisture from it, especially if the water is hot. Therefore, long hot showers are a big no-no, especially if your skin is already dry. Dry skin is less elastic and therefore more prone to tearing, creasing, and wrinkling.
Tips:
Chemical exfoliants such as alpha hydroxy or beta hydroxy acids help peel off the dead superficial skin layers to reveal fresh layers from underneath, but excessive application can dehydrate and damage your skin. You can also get granular scrubs and mechanical brushes to brush off the dead cells and impurities from your skin but they can be more abrasive than chemical exfoliants. Choose your exfoliation technique according to your skin type, and seek the advice of your dermatologist if you have any confusion.
Do not apply chemical or mechanical exfoliants on active acne or open cuts.
Excessively oily skin collects more dirt on its sticky surface and therefore may require more frequent exfoliation than dry skin. According to skin experts, dry to normal skin should ideally be exfoliated one or two times a week, while oily skin should be exfoliated twice a week.
Always use gentle, circular hand motions when scrubbing your skin to minimize tissue damage.
If your skin is mildly flaky or irritated, it is best to hydrate it with a moisturizer rather than exfoliating it.
4. Skipping sunscreen
The importance of wearing sunscreen during the day to avoid premature aging cannot be stressed enough. The UV rays in sunlight are a major source of oxidative damage to the skin, which triggers the formation of premature wrinkles.
UV radiation penetrates deep into the skin to release free radicals, which are unstable reactive molecules that attack healthy skin cells. This free radical-induced damage leads to the degeneration of collagen and elastin, thus making your skin saggy and wrinkly.
Excessive and unprotected sun exposure can even destroy your skin's DNA structure to give rise to skin cancer.
A broad-spectrum sunscreen with a sun protection factor (SPF) of at least 30 can form a shield over the skin to minimize the risk of photodamage as well as skin cancer. It does so by absorbing the harmful UV rays of the sun before they can enter the skin. On top of that, sunscreen also helps repair the sun damage that has already occurred. (3)
You can now get sunscreens with additional protective properties against pollutants and against blue and infrared light, which all contribute to skin damage in the form of premature aging.
Tips:
When buying sunscreen, make sure it:

Carries the label of broad spectrum, which means it protects against both UVA and UVB rays as well as other sources of damage
Contains zinc and/or titanium
Has an SPF of 30 or more

Make sure to apply sunscreen all over the exposed areas of the skin every day, even when it's cloudy outside because the UV rays can easily penetrate the cloud cover to reach the earth. Many people only wear sunscreen when venturing out, not realizing that the sun's UV rays can easily reach you inside the house through windows. So, use this product even when you are not directly exposed to the sun.
5. Uneducated experimenting with lots of antiaging products
Several kinds of antiaging skin products claim to prevent and reverse wrinkles and fine lines, but many of them fail to deliver actual results.
Some products may improve your skin condition at first, but end up damaging it in the long run. They contain chemicals that can irritate your skin or induce inflammation, (4) both of which can worsen the signs of aging.
So, you must do the proper research before adding any new product to your skin care regimen. Also, you must understand that a particular product may not work in the same way for everyone. Every skin is different will respond differently to a given skin care product.
The least you can do is to make sure that your skin products are dermatologically tested and contain the right ingredients. Several "organic" skin products are merely cosmeceuticals and are therefore not FDA approved.
Tip:
The best way to use skin care products for reducing wrinkles is to use only those products (retinols (5) and antioxidants) that have stood the test of time and in fair quantities.
6. Relying solely on moisturizers to reduce your wrinkles
Moisturizers have attained high importance when it comes to skin issues, be it dry skin, itchy skin, rashes, or something else. In fact, many people believe them to be the second most important skin care product after sunscreens when it comes to tackling and often preventing several signs of aging, particularly wrinkles and fine lines. (6)
Unfortunately, this is not entirely true. Dry skin can get creased and give you an illusion of fine lines. Simple moisturizers merely bind moisture to your skin and keep it supple, but they do not influence the mechanisms of collagen and elastin, which are primarily linked with wrinkling of the skin.
Moisturizers are indeed very important for your skin, especially as it ages because there is a progressive decline in sebum production, which necessitates the application of topical moisturizers to keep your skin hydrated and soft.
Lack of moisture in the skin will make it dry, dull, flaky, and less elastic, which means your skin fibers won't be able to stretch properly and break under pressure. This breakdown of fibers will lead to loose, wrinkly skin.
So, moisturizing is definitely an important step for preserving the structural integrity of your skin, but this single step alone cannot ensure it unless incorporated in a holistic skin care regimen along with a healthy lifestyle and diet.
Tip:
You can get moisturizers that are specifically formulated for fighting premature skin aging. They have in-built antiaging properties attributed to ingredients such as antioxidant vitamins, selenium, zinc, green tea extracts, and vitamin A or its derivatives.
7. Not having patience with products
For any skin care product or regimen to work, you must use it properly and consistently. Giving up on a product because it does not provide significant results instantly will deprive you of its potential benefits.
Skin repair is a long and gradual process, so you will have to wait even with the best skin care or antiaging product. Be patient and give the product time to work its magic.
Even if you don't notice any improvement at first, use the entire product in the recommended dosage so long as it does not cause any adverse reaction or visible skin damage. In fact, some skin products may make your skin worse before making them better.
So, educating yourself about how the product ingredients and what they do to your skin will help you manage your expectations.
8. Limiting your skin care to your face
Wrinkles, fine lines, and other signs of aging are not limited to the face alone, but they can just as easily affect the skin covering the neck and hands.
However, many people focus all their skin care efforts on their face while ignoring the rest of the body. As a result, the face may appear youthful, but the skin around the neck will begin to sag and the skin on the hands will become thin and wrinkly, making them look older than their age.
It is therefore very important to cleanse, scrub, and moisturize your neck, ear, and hands along with your face, and the same goes for applying sunscreen.
Tips:
Use a hydrating lotion to moisturize your entire body, but use a separate facial moisturizer for the area above the neck. You even add special hand creams to your beauty kit.
The best time to apply a moisturizer is when the skin is slightly damp because it locks in the water for prolonged hydration. Reapply the moisturizer after profuse sweating or washing your skin.
Apply a broad-spectrum sunscreen with above-30 SPF all over the exposed areas of your skin, which includes your face, neck, ears, hands, arms if you are wearing sleeveless tops, and your legs if you are going out in shorts.
9. Aggressive strength training regimens to make yourself look younger
Strength training, which involves lifting weights, helps build your muscles that are directly attached to your skin. When these muscles expand, they tighten the overlying skin to minimize the appearance of wrinkles and fine lines. But you must do it properly to get the desired results or it can have the opposite effect.
Oftentimes, amateurs plunge themselves straight into rough and aggressive training sessions without warming up their body for it. Meanwhile, some make the mistake of working out more than their body can bear.
Excessive or abrupt exercises can jolt your body and break down the collagen fibers connected to the muscles. Moreover, twisting your face during weightlifting and other strenuous exercises involves pulling the underlying muscles, the force of which can tear your skin fibers and induce visible signs of premature aging.
Tip:
Your workout regimen should include both cardio and strength training exercises in moderation and not exceed 60 minutes a day.
10. Improper beauty sleep
Beauty sleep is an important part of a skin care regimen, in both men and women. However, beauty sleep becomes counterproductive if you do it improperly.
If you are in the habit of sleeping with the side of your face pressed into the pillow, this will put constant pressure on your delicate skin that breaks down collagen to accentuate the wrinkles and fine lines. This becomes especially apparent when you sleep on coarse fabrics that rub against your skin.
You might be tempted to lie on your belly, but this is not an ideal sleeping posture either as it can hurt your abdomen and its organs.
Tip: The most skin-friendly way to sleep is on your back, but it is impossible to monitor your position in a state of slumber. The least you can do is sleep on a smooth satin pillowcase that does not cause friction against your facial skin.
11. Coupling antiaging products with a poor lifestyle
Everyone desires youthful skin, and a lot of people hopelessly scour the market for miracle antiaging products without paying attention to their overall lifestyle.
You have to understand that skin aging is a complex process that can only be addressed through a multifaceted approach, which encompasses your beauty regimen, diet, and general lifestyle.
Tips: Here's how you can maintain healthy, young-looking skin:
A consistent skin care regimen that involves cleansing, toning, moisturizing, wearing sunscreen, and using dermatologically approved antiaging serums or creams along with other tried-and-tested beauty remedies
A well-balanced diet that focuses on nutritious, high-fiber, antioxidant-rich foods while limiting carbs as well as trans and saturated fats (7)
Maintaining proper fluid intake (at least 8 glasses of water) throughout the day to hydrate the skin from within
Staying active through regular exercise
Stress management through yoga, meditation, and other relaxation techniques
Giving up unhealthy habits such as smoking and excessive alcohol intake (8)
Another unhealthy habit is not removing your makeup properly before going to sleep. The layer of makeup won't cause wrinkles on your skin, but it can entrap bacterial and fungal spores, which can lead to skin inflammation and may even infect the deep layers of your skin.
Final Word
The innermost layers of your skin are dynamic – they are involved not only in creating new skin cells but also in giving your skin its texture, structure, and flexibility.
The collagen and elastin fibers hold your skin together, but they degenerate at the hands of external irritants, a poor diet, and an unhealthy lifestyle. Moreover, there is a natural decline in the production of these structural proteins with advancing age, which makes your skin saggy and less capable of repairing itself. Loose skin is more likely to crease, giving rise to wrinkles and fine lines.
There are things you can do to make sure your skin does not age prematurely, but you must consider their pros and cons before trying them. Most people are so afraid of wrinkles that they will unthinkingly try any new product, remedy, or technique that claims to banish wrinkles but actually ends up ruining their skin in the long run.
So, it is very important to make your peace with skin aging, which is a completely normal process that everyone has to go through, and then address it with a well-thought-out approach. Focus on the basics such as a healthy diet and a regular exercise regimen and use dermatologist-approved antiaging products with patience.
Was this article helpful?