Keratosis pilaris, also known as chicken skin, refers to a common skin condition that leads to bumps and scales over the hair follicles. These bumps can cause irritation and itching due to the inflammation and can give your skin an uneven texture.
Keratosis pilaris affects the upper arms and thighs. In severe cases, bumps and scales can form on the forearms and lower legs as well. Keratosis pilaris is most common among children, but the condition improves on its own with age.
Keratosis pilaris is generally harmless, (1) but it may cause a great deal of discomfort, especially when it worsens in the winter months, in a low-humidity environment, with skin dryness, during pregnancy, and after childbirth.
Causes of Keratosis Pilaris
Keratosis pilaris occurs due to the overproduction and accumulation of keratin, along with dead skin cells, in the hair follicles, giving the skin a bumpy, rough appearance.
Several factors contribute to the onset of keratosis pilaris, including:
Cold or dry weather
Skin sensitivity and dryness
Hormonal fluctuations during pregnancy or periods
Medications such as vemurafenib used in chemotherapy
Medical conditions such as atopic dermatitis and ichthyosis vulgaris
Symptoms of Keratosis Pilaris
Symptoms of keratosis pilaris include:
Treatment for Keratosis Pilaris
A number of over-the-counter products and dermatological procedures can help in the treatment of keratosis pilaris.
Topical treatments
The following creams may help manage the symptoms of keratosis pilaris:
1. Moisturizers
Apply moisturizers to your skin daily to help prevent dryness, soothe the skin, and manage the bumps. Make sure to use unscented moisturizers to prevent irritating your skin further. You can also use moisturizers containing ceramide or mild acid as they help prevent the buildup of dead skin cells.
2. Alpha hydroxy acids
The use of alpha hydroxy acids such as lactic acid and glycolic acid helps mildly exfoliate the skin and unclog the hair follicles, therefore minimizing the bumps. This also helps the moisturizer to reach the deeper layers of the skin.
You can use lotions, creams, cleansers, or scrubs containing alpha hydroxy acid for this purpose.
3. Salicylic acid
Skin lotions or cleansers containing salicylic acid help exfoliate the skin and boost cell turnover rates. It has been shown that 5% salicylic acid and 10% lactic acid are effective in the treatment of keratosis pilaris. (2)
4. Urea
Urea helps bind moisture to the skin and therefore aids in blocking the hardening of skin cells by keratinization. You can apply urea-based skin creams daily.
5. Prescription topical retinoids
Retinoids are vitamin A derivatives that help increase cell turnover, therefore preventing clogging of hair follicles.
Nonsurgical treatment
Your doctor may suggest either of the following procedures to improve the affected skin:
1. Microdermabrasion
A handheld is used tool to remove the top layer of skin, giving way to new skin cells and therefore giving the skin an even appearance. Microdermabrasion can thus help in the treatment of keratosis pilaris by removing the keratin buildup from the skin surface.
Microdermabrasion is especially effective for keratosis pilaris when used in combination with a 595-nm PDL and a long-pulsed 755-nm alexandrite laser. (3)
2. Chemical peels
Performed by an expert, chemical peels use alpha and beta hydroxy acid solutions to exfoliate the superficial layer of the skin, making it "peel off." This helps in the generation of new skin cells, giving the skin a smooth and revitalized appearance. (4)
3. Laser treatment
Lasers can be used to target hair follicles and damage the hair follicles, therefore preventing the accumulation of keratinized cells in them. Q-switch and ND-YAG lasers are the most effective treatment modalities for keratosis pilaris. (5)
4. Photopneumatic therapy
Intense pulsed light laser and a mild vacuum are used to unclog the hair follicles, therefore improving the inflammation and redness associated with keratosis pilaris. (6)
Diagnosis of Keratosis Pilaris
Since the symptoms of keratosis pilaris can look similar to other skin conditions, it is best to consult a dermatologist for the correct diagnosis.
The dermatologist will conduct a physical exam of the skin to check for keratosis pilaris bumps. In a few cases, the doctor may take a skin biopsy sample to confirm the diagnosis.
Lifestyle Changes to Manage Keratosis Pilaris
It is vital to make some changes in your skin care and lifestyle to manage keratosis pilaris, aid treatment, and prevent it from flaring up in the future. Here's what you can do:
1. Maintain skin pH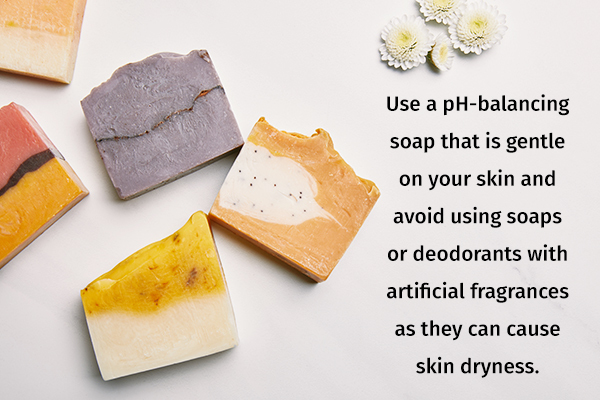 Any disturbance in the skin pH can cause irritation, redness, dryness, and roughness. Therefore, it is vital to maintain an optimal skin pH to prevent the exacerbation of symptoms.
For this, use a pH-balancing soap that is gentle on your skin. Avoid using soaps or deodorants with artificial fragrances as they can cause skin dryness.
2. Keep the skin moisturized
Use humectants and emollients to protect and strengthen your protective skin barrier, which otherwise weakens with skin dryness, leading to itchiness and irritation. Humectants bind moisture from the environment to the skin surface, while emollients hydrate the skin and boost skin repair.
3. Use gentle exfoliants
Using mild exfoliants to remove dead skin cells can prevent their buildup.
4. Wear loose clothes
Wear loose clothing, especially around the affected areas, to prevent friction and damage. Also, pat your skin dry and do not rub it with a harsh towel to avoid irritating the skin.
5. Avoid touching the skin
Refrain from picking, rubbing, or scratching the affected skin as it can increase the risk of scars and infection.
6. Use a humidifier
Turning the indoor humidifier on, especially during dry weather, can help prevent skin dryness and, thus, worsening of keratosis pilaris.
7. Stay hydrated
Maintain body hydration to curb the symptoms of keratosis pilaris and prevent recurrence.
8. Avoid hot tubs or public pools
Refrain from entering swimming pools as chlorine can irritate the skin. Also, do not use hot water for bathing as it dries out the skin. Instead, use warm water and bathe or shower only once a day.
When to See a Doctor
It is recommended to consult a doctor if you notice any symptoms of keratosis pilaris to get a confirmed diagnosis. This is more so important if your symptoms don't improve despite proper self-care and the use of over-the-counter lotions and creams.
Most-Asked Questions About Keratosis Pilaris
Are there foods that must be avoided by people with keratosis pilaris?
While foods do not play a role in the onset of keratosis pilaris, some people may notice exacerbation of symptoms when consuming certain food groups. Therefore, if you notice a flare-up after consumption of certain foods, such as meat or dairy, it is best to steer clear of them.
Is it okay to pop the keratosis pilaris bumps?
Scratching or popping the bumps of keratosis pilaris is highly discouraged as it can irritate the skin further and can increase the risk of scar formation. Moreover, you may damage the skin and cause infections in the area.
Final Word
Keratosis pilaris is a dermatological problem characterized by the appearance of bumps and scales on the skin surface. These occur due to the accumulation of keratin and dead skin cells in the hair follicles, clogging the skin pores. While keratosis pilaris is generally not harmful, it can make your skin look rough and can be a cosmetic concern.
It is best to consult your dermatologist to treat the condition. Make sure to improve your skin care routine and make lifestyle changes to prevent flare-ups in the future, following the suggestion of your dermatologist.
Was this article helpful?