Itching is referred to as pruritus in medical terminology. It typically manifests as a normal defensive response of the body to external skin irritants. It can also stem from other dermatological, systemic, or psychological ailments.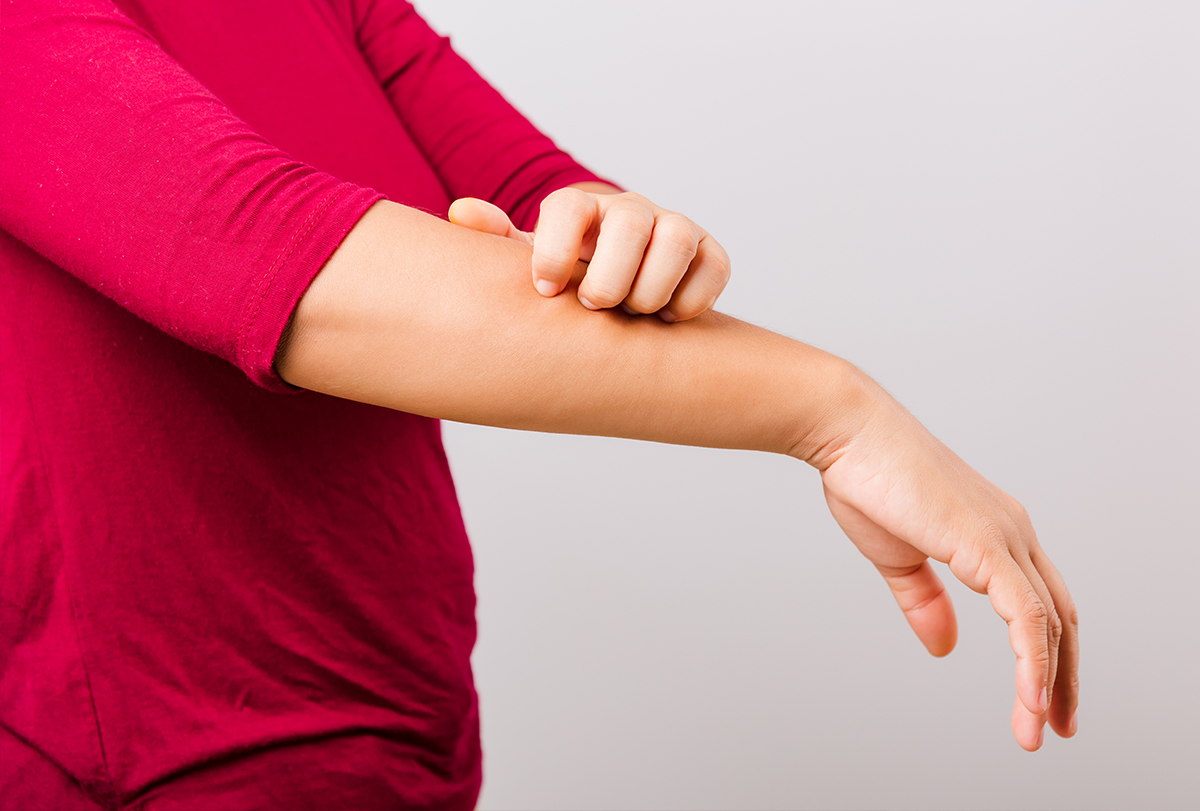 The skin discomfort can range from mildly irritating to severely aggravating, depending upon the underlying cause.
An itching is essentially a sensation that makes you want to scratch the affected skin. This urge to scratch can be restricted to specific areas of the skin or affect the entire body. (1)
Duration of an Itch
The duration of the itch can range from short term or acute to relatively chronic, which can last for more than 6 weeks.
People who suffer from itchy skin usually struggle to get a good night's sleep. The constant discomfort can also keep them from performing their day-to-day activities and can negatively impact their overall quality of life. (2)
Types of Itch
There are basically four common types of itch:
1. Pruriceptive itch
Pruriceptive itch is a natural inflammatory response to a skin-related issue, allergy, bug bite, or drug. It is typically associated with skin dryness, inflammation, or damage, as well as a number of dermatological ailments such as atopic dermatitis (eczema), psoriasis, and urticaria (hives).
Pruriceptive itch is brought on by a release of histamine in the body and is therefore treated with medications known as antihistamines that can alter or curb this innate immunogenic response.
2. Neuropathic itch
Neuropathic itch can be traced back to underlying nerve damage or impairment of the nervous system, usually caused by a burn injury, stroke, shingles, or chronic neuropathic condition called notalgia paresthetica, which affects the upper and middle back.
This itch is typically accompanied by numbness and tingling and can be treated with non-narcotic analgesics and capsaicin.
3. Neurogenic itch
Neurogenic itch mostly affects people who have been suffering from prolonged liver or kidney disease. It is induced by the extensive use of opioid neuropeptides and can be treated with both narcotic and non-narcotic pain relievers.
4. Psychogenic itch
Psychogenic itch develops in response to two neurotransmitters or chemical messengers that are responsible for mood management.
These chemicals, namely, serotonin and norepinephrine, are quite significant in the context of multiple psychiatric issues, including stress, depression, obsessive-compulsive disorder, and delusional parasitosis.
Antidepressants and antipsychotic medications are the primary treatment options to control a psychogenic itch. (1)
Causes of an Itchy Skin
Pruritus or itching can be triggered by a number of different causes, which include the following:
Common skin conditions including eczema, dandruff, psoriasis, and prurigo
Skin infestation by parasites such as lice or scabies
Dry skin (xerosis) due to insufficient moisture or oils in the skin
An allergic response to certain cosmetics, fabrics, metals, dyes, food, or medications
Skin exposure to or contact with common allergens such as chemicals, poison ivy, stinging nettle, and detergents
Dehydration
Hormonal changes or disorders
Excessive perspiration
Fungal infections such as ringworm, athlete's foot, and thrush
Insect bites
Psychological conditions such as anxiety and stress
Conditions that hamper the nervous system such as shingles, multiple sclerosis, pinched nerves, and diabetes
Some chronic long-term ailments such as thyroid issues, liver disease, kidney disease, and certain forms of cancer
Superficial skin infections such as folliculitis and impetigo
Pregnancy
Hair regrowth
Healing wounds
Hepatitis
Nutritional deficiencies including insufficient vitamin A and iron in the body
Progressive thinning or drying of the skin with advancing age, which is particularly noticeable after the age of 65 (3)
Treatment for Itchy Skin
The preliminary treatment for pruritus focuses on shortening the itch-scratch cycle and reducing the intensity of the itch through topical ointments and oral medications.
People with chronic skin conditions such as eczema and allergic contact dermatitis suffer from repeated flare-ups of itchiness. They have to rely on the long-term use of creams and ointments to manage skin discomfort. (4)
Here are some of the commonly used lotions, creams, and drugs for itch relief, which may be available over the counter or prescribed by a dermatologist:
Menthol-containing creams to soothe the itchiness
Zinc oxide-containing calamine lotion
Topical creams containing anti-itch ingredients such as crotamiton or capsaicin to calm the irritated skin
Mild steroid-containing ointments such as hydrocortisone cream to bring down the skin inflammation
Antihistamine tablets to curb any underlying allergic reaction or immune response
Lightweight anti-itch lotions, which have a thinner consistency than sticky creams, that are specifically designed to control the itching in hairy areas such as your scalp
It is generally recommended to apply medicated skin creams and ointments to the affected areas before applying moisturizer over your entire body, including areas treated with medication.
Caution: It is best not to try any topical or oral therapy without consulting your doctor first. This is particularly true for antihistamines and steroid creams, which can trigger an adverse reaction and worsen your condition if not taken properly.
Diagnosing Itchy Skin
To determine the underlying cause of your itchy skin, your dermatologist will review your symptoms, take into account your detailed medical history, and perform a thorough assessment of the affected skin.
If the preliminary analysis proves inconclusive, your doctor may order additional tests to get a clearer understanding of your condition. These include:
Thyroid function tests to rule out thyroid issues
Skin scraping test (KOH test) to look for any sign of an infestation or infection
Skin biopsy
Blood tests or a full-blown "pruritus screen," which involves a combination of different tests that typically includes blood, urine, stool, and radiographic tests to detect any underlying disease or organ malfunction
Once the doctor has a clear diagnosis, he/she will recommend the appropriate treatment to address the root cause of the itchiness.
The Itch-Scratch Cycle
Itchy skin and the natural impulse to scratch it reinforce each other in a cyclic manner, which is referred to as the "itch-scratch cycle."
The surface layer of the skin is the epidermis, which serves as your body's outermost barrier against harmful environmental substances or parasites.
If an external irritant breaches this protective cover, your immune system responds by releasing an inflammatory chemical called histamine from the skin cells to combat the foreign threat. Histamines make your skin itchy. Increased skin dryness and exposure to allergens can also trigger a similar inflammatory response in the body.
Subsequently, certain receptors in the skin communicate this inflammatory response to the brain, which then signals your body to scratch the itch.
The relief you get by scratching the itchy areas lasts only for a momentary period until your skin begins to itch again, sometimes even more intensely than before. This is because when you try to quell the itchiness by rubbing or scratching the affected site, the friction at the surface makes the skin cells feel like they are still under attack.
This, in turn, prolongs the itch-inducing response against the suspected source of skin irritation.
Itchy Skin (Pruritus) Without a Rash
If you develop pruritus or itching without a rash, the cause behind the sensation can be hard to detect.
You will experience a strong desire to scratch the skin but in the absence of any noticeable signs of skin damage or irritation. As you continue to scratch the itch, the affected skin can become damaged over time and develop the following:
Scars or scratch marks
Hypopigmentation (pale marks)
Skin thickening
Lumps
Scabs
Open sores
Warning Signs That Your Itch May Be Serious
If the pruritus is accompanied by other distressing symptoms, a more serious underlying condition may be present, which may need prompt medical attention.
Excessive thirst, sudden weight loss, and an unusually frequent urge to pee can be symptomatic of diabetes.
Unusual fatigue, weakness, numbness, or a tingling sensation in your skin along with the itchiness may indicate a nervous system disorder.
Abdominal pain or yellowing of the eyes and skin can signal a liver or gallbladder ailment when presented with itchy skin.
Itchy skin accompanied by unexplained weight loss, feelings of exhaustion, and night sweats may be due to a serious underlying infection or a tumor.
Possible Complications of Prolonged Itching (Pruritus)
Severe or prolonged episodes of itching can lead to the following complications:
As itchiness tends to be more intense at night, it can leave you utterly sleep-deprived over time.
When you continue to scratch the itchy skin for an extended period, the tissue may rupture and subsequently become infected.
Frequent and excessive scratching causes a great deal of friction, which can potentially damage the skin tissue and lead to scarring, thickening, or discoloration of the affected skin.
The constant scratching of the head due to excessively itchy scalp may result in increased dandruff or flakiness of the skin, head bumps, and hair loss.
When to See a Doctor
You may need professional assistance from a skin specialist (dermatologist) in the following cases:
If the itching becomes so intense that your breathing becomes labored
If you experience dysphagia, or difficulty swallowing, along with the itch
If the itchiness continues unabated despite adequate self-care measures for more than 2 weeks
If the itch is so severe that it hampers your daily routines
If you experience frequent itching spells that have a sudden onset and no discernible cause
If the itch encompasses your entire body
Expert Answers (Q&A)
Answered by Dr. Michelle Levy, MD (Dermatology)
Are warm water baths advised to get relief from itchy skin?
Short, lukewarm baths are best for those with itchy skin. Hot water removes some of the natural oils that the skin produces, making it prone to dryness. Dry skin can lead to inflammation and can make the itch worse.
Are there foods that may contribute to itchy skin?
Certain types of food allergies can cause rashes and itchy skin, but diet is generally not a contributing factor for itching.
Is it normal for a pregnant woman to feel itchy?
When a woman is pregnant, mild itchiness of the skin on the abdomen is very common as the skin stretches to accommodate the growing baby. Widespread severe itch or the new onset of rashes may require further testing and needs to be evaluated by a doctor.
Can dietary changes help reduce itching?
For most people, changing their diet will not improve the itch. But, of course, if you are allergic to certain foods, then remove them from your diet. Also, seek medical attention if any food gives you rashes.
About Dr. Michelle Levy: Dr. Levy is a board-certified dermatologist with 15 years of experience. She has a private practice in medical and cosmetic dermatology in Toronto, Canada.
Final Word
Itchiness is a discomforting but largely harmless condition. It can usually be managed with proper skin care and non-prescription ointments. However, if you suspect that an underlying medical condition is causing the itch, visit your healthcare provider immediately.

Continue ReadingHome Remedies for Itchy Skin and How to Prevent It
Was this article helpful?