Frequent friction on the skin, due to rubbing against surfaces such as clothing or other body parts, can lead to skin chafing.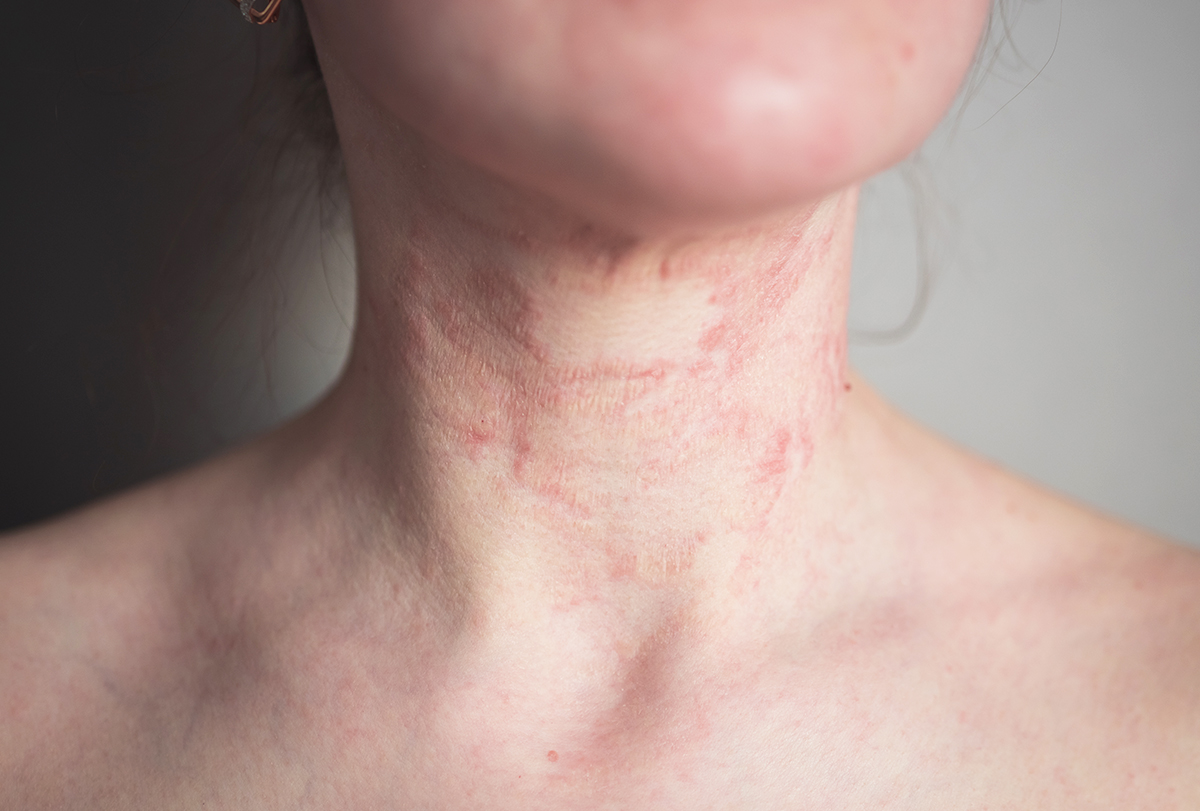 Chafed skin generally appears to be red and irritated red and may cause pain. It is most commonly seen in the areas of inner thighs, armpits, nipples, and groin. This common skin issue is usually mild. However, it often causes friction burns.
It is best to take proper care of your skin, including using breathable clothes and keeping the skin dry, to prevent skin chafing. For severe cases, medical treatment may be required.
Causes of Skin Chafing
The following factors can irritate the skin and contribute to skin chafing:
Bras. The daily use of bras and bra pads can irritate the skin around the nipples, especially in breastfeeding mothers.
Tight clothes. Wearing tight clothes, especially in humid weather, can increase the chances of skin chafing due to rubbing against the cloth.
Low-quality clothing. The rough fibers of such clothes can irritate the skin with constant contact.
Hyperhidrosis. Excessive sweating of the body can soften the skin, making it more susceptible to tears.
Non-absorbent socks. Thin, non-absorbent socks fail to absorb moisture or protect the skin from hard shoes.
Beach sand. The sand particles on the beach can chafe the skin on moving.
Sanitary pads and diapers. (1) These items, if not changed frequently, can cause rashes and skin chafing.
Signs and Symptoms of Skin Chafing
Irritated, chafing skin is associated with the development of the following symptoms:
Erythema (redness of the skin)
Red, sore marks and fissures
Burning and stinging sensation (2)
Pain
Dry skin and crust formation
Inflammation
Bleeding
Medical Treatment for Skin Chafing
The primary care for mildly chafed skin involves the following aspects:
Keeping the affected area dry
Preventing further friction
Controlling inflammation
Your doctor may suggest some home-based interventions or OTC medications for these treatment goals. However, you may require proper medical treatment if you have a skin infection. This may involve:
Barrier creams
Steroid creams
Antibiotic ointments or tablets
Antifungal creams
Antihistamines and analgesics (for pain and itching)
Hydrocolloid blister plasters
Silicone gel sheets
Soft bandages
If your skin develops large blisters, the doctor may suggest mild surgery, which involves prickling the blister with a sterile needle to drain it.
Diagnosing Chafed Skin
Skin chafing can be diagnosed with a basic physical exam to determine the severity and cause and with the patient's medical history to rule out any hereditary medical conditions.
Your doctor may conduct a biopsy if there is blistering and inflammation to identify any microbial infections. If your skin is prone to blistering and is recurrently severely chafed, you may require other tests such as a genetic examination.
Risk Factors for Skin Chafing
The following factors can make you prone to skin chafing:
Obesity or excessive weight (3)
Large thigh muscles that easily rub against each other
Hot, humid climate
Carrying heavy loads
Excessive exercising such as endurance training and cardio (4)
Genetic conditions such as epidermolysis bullosa (5)
Complications of Unresolved Skin Chafing
If severe cases of skin chafing are left unresolved, the following complications may occur:
Skin infections
Intertrigo
Jogger's nipples
Skin discoloration
Severe pain that affects performance
Pyogenic granuloma
Scarring
When to See a Doctor
Although mildly chafed skin only causes irritation and discomfort, it is essential to consult a doctor if the chafing of the skin is accompanied by the following:
Bleeding
Itching
Discoloration
Eruption of boils
These symptoms are generally indicative of skin infection and cutaneous inflammation.
Final Word
Skin chafing may not be medically concerning, but it can cause a great deal of discomfort. You can try different self-care measures and home remedies to help treat mild skin chafing.
Severe cases of skin chafing require medical attention, as the skin barrier may break, increasing the risk of infections and other complications. The doctor may recommend antibiotics for any infection and analgesics or antihistamines for the associated itching and pain.

Continue ReadingHome Remedies for Skin Chafing and Preventive Tips
Was this article helpful?