The first outbreak of genital warts can leave you uncomfortable, terrified, and baffled. You might be distressed and angry, but you are not alone.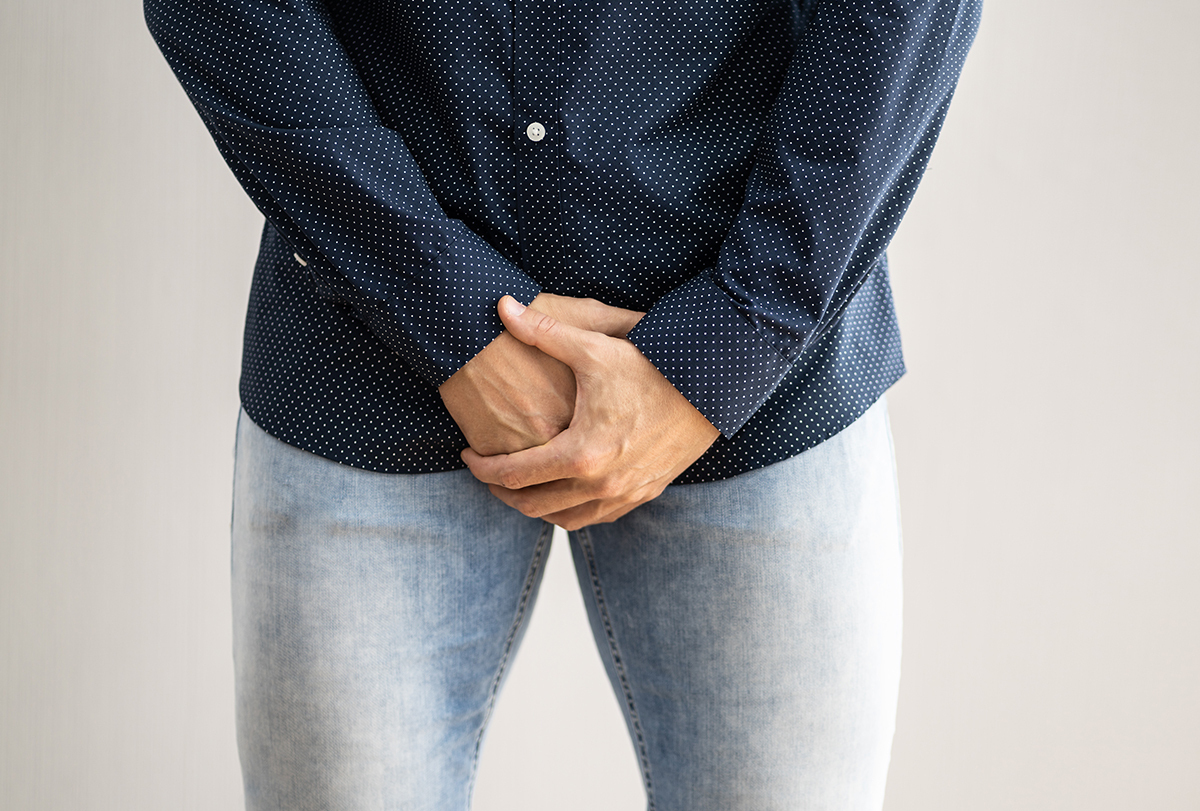 Genital warts are the most common sexually transmitted disease caused by a ubiquitous virus called the Human papillomavirus (HPV).
Warts are flesh-colored or gray outgrowths on the skin of the genital area, presenting itself as either a single bump or in clusters.
Prevalence of Genital Warts
According to the Journal of Clinical and Aesthetic Dermatology, there are about 500,000 to 1 million new cases of genital warts diagnosed each year in the United States (1) and several undiagnosed cases.
Genital warts can affect both males and females. Sexually active individuals are vulnerable to the infection of genital warts. These warts can be seen on the external genitalia and the pubic area. These can also appear in the space between the thighs, inside the vagina, and in the anal canal.
Causes of Genital Warts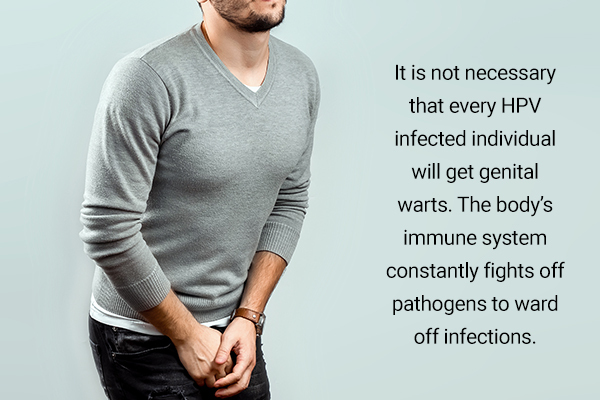 Genital warts are also known as condylomata acuminata or venereal warts. This contagious infection is attributed to the Human papillomavirus (HPV), which manifests itself in different forms, ranging from benign genital warts to invasive cancer.
Although more than 120 strains of HPV have been identified, types 6 and 11 are primarily associated with genital warts.
HPV is transmitted through oral, anal, and vaginal sexual contact. Every sexually active individual is susceptible to HPV infection. It is most common in homosexual men and frequently occurs in bisexual and heterosexual individuals.
It is not necessary that every HPV infected individual will get genital warts. The body's immune system constantly fights off pathogens to ward off infections.
In most cases, the virus can go away without harming your body. However, a weakened immune system can derail the body's ability to fight off pathogens. This persistent HPV infection can result in genital warts. (2)
Several potential causes have been associated with the prevalence and transmission of genital warts, including the following:
Unprotected sex with multiple partners can increase the likelihood of an HPV infection that is caused by penetrative sex. An HPV-infected person might not have visible warts but is a carrier of the virus himself and aids in its transmission without having any prior knowledge of it.
The presence of other sexually transmitted infections or diseases has been associated with genital warts.
People with a weakened immune system cannot counter any infectious attack, resulting in the appearance of genital warts in such HPV-infected individuals.
An infected mother can transmit the virus to her baby during childbirth. This is called perinatal transmission.
HPV can also be transmitted through skin to skin contact involving open-mouthed kissing and genital touch.
Fomite transmission is the communication of diseases through objects such as hands and surfaces that might be infected. HPV has also been reported to be transmitted by used sex toys of an HPV-infected individual.
Lack of proper hygiene can facilitate fomite transmission.
Signs and Symptoms of Genital Warts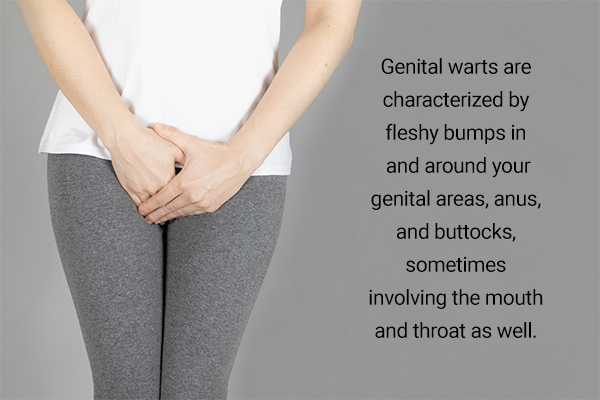 Genital warts are characterized by fleshy bumps in and around your genital areas, anus, and buttocks, sometimes involving the mouth and throat as well. If you are noticing growths on your genital skin or anal region, you may have contracted genital warts.
Some genital warts may be too small and flat and cannot be seen with the naked eye. They can grow as small flat patches or in clusters in the shape of a cauliflower.
Genital warts on males can appear on the penis, groin, scrotum, and thighs, inside the urethra, and on surrounding areas. In females, these warts may appear in the vulva, vagina, cervix, and surrounding areas.
In both sexes, genital warts can show upon the mouth, throat, lips, and anus.
Common symptoms that are indicative of genital warts include:
Foul-smelling vaginal discharge
Vaginal pain
Pelvic pain
Abnormal vaginal bleeding after intercourse
Burning sensation in the genital area
Irregular bleeding
Treatment for Genital Warts
Visible genital warts can be treated by the following methods and procedures:
Topical treatment: This is the direct application of a chemical agent in the form of a cream, lotion, or liquid on warts until warts wear off. It is a time-consuming process.
Surgical therapy: This procedure involves excising the wart by using different techniques, namely, cryotherapy, surgical excision, electrocoagulation, and laser treatment. There are chances of recurrence in surgical therapies.
Caution: Do not use over-the-counter treatments for genital warts.
Diagnosing Genital Warts
Genital warts can be diagnosed by a physical examination of the affected genital area. The healthcare professional will ask questions about your health, sexual behavior, and sexual history. This might be a little awkward and uncomfortable, but essential for a proper diagnosis.
Certain strains of HPV are oncogenic and are known to cause cervical cancer. Because genital warts can occur deep inside the female genital parts, a Pap test is conducted to check the presence of HPV in females. This test can help determine any changes in the cervix that can develop into cancerous forms.
Women should also undertake regular pelvic exam and Pap tests to detect any changes that might be taking place inside their cervix.
Risk Factors for Genital Warts
Certain factors can give rise to an increased risk of developing genital warts:
Smoking
Indulging in unsafe sex with multiple partners at multiple times or a partner who involves in such an activity
Presence of other sexually transmitted diseases
HIV-infected individuals upon chance communication of HPV
Frequent episodes of sexually transmitted diseases
A weakened immune system, derailing the body's ability to recuperate from external and internal infections
Sexual abuse during childhood
Possible Complications of Genital Warts
Prolonged and untreated genital warts can lead to the following complications:
You may pass on the infection to your partner/partners.
The infection can also be transmitted to a newborn from an infected mother during childbirth causing laryngeal papillomatosis (warts in the mouth) in the newborn.
Significant genital warts are characteristic of the presence of various HPV strains. Because some HPV strains are oncogenic and can promote cancerous growths, it is recommended to get yourself screened for the presence of any abnormal changes in your genital parts.
When to See a Doctor
Although it is difficult to detect a genital wart, it is recommended you talk to your doctor if you observe any bump that doesn't disappear for weeks.
You should also check for STD-related symptoms such as abnormal discharge from genitals, irregular bleeding, itching, and discomfort in genital areas. You should immediately seek help from a doctor and get a sexual health check-up.
Final Word
It is possible to have a genital wart and not be aware of its presence. Most of the time, these warts clear up on their own. Due to the risk of transmission and cancerous growth that it entails, visible genital warts should be treated appropriately.

Continue Reading10 Home Remedies for Genital Warts and How to Use Them
Was this article helpful?