Warts were considered to be a curse of God or black magic by the folks in the early days. People indulged in all sorts of bizarre remedies such as prayers and charms to get cured of warts. With the evolution of scientific methods, this myth was busted, and it was established that warts develop as a result of a viral infection.
Genital warts are a manifestation of the Human papillomavirus (HPV) that causes bumps in the genital area. Most cases tend to resolve on their own, but sometimes warts may last for a long time, become hardened and cause significant discomfort.
These patches or outgrowths are contagious and prolonged infection can cause undue complications like further transmission of HPV from an infected person to their partner, from an infected mother to her new-born, and even increase your cancer risk.
So, it is important to consult a doctor if the wart doesn't clear on its own in a few days and start treatment. Plus, there are things you can do at home to speed up recovery.
Natural Ways to Get Rid of Genital Warts
Here are some home remedies that can help promote the healing of genital warts:
1. The front runner of home remedies, apple cider vinegar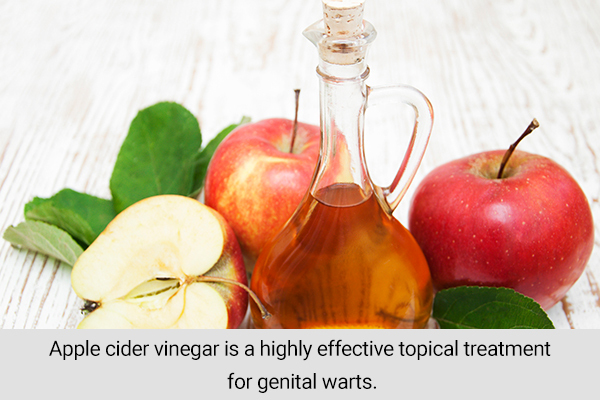 Apple cider vinegar is a highly effective topical treatment for genital warts. Besides being inexpensive, it is a much sought-after home remedy to treat infections. Apple cider vinegar has a mild quantity of acetic acid that contributes to its corrosive nature.
When apple cider vinegar comes in contact with the affected skin, it helps wear down the abnormal growth of the skin tissues, and warts fall off after a few days of topical application.
Apple cider vinegar is a rich blend of vitamins, minerals, and enzymes and has been touted as an immunity booster. Its antimicrobial properties successfully beat the virus out of your system and aid in healing genital warts.
A 2012 study established that in extremely mild or subclinical cases of genital warts, the use of a 3 percent to 5 percent acetic acid solution may be helpful in promoting wart visualization. (1)
How to use:
Apply petroleum jelly on the skin surrounding the genital wart to protect the unaffected skin from burns. Mix two parts apple cider vinegar in one part water. Moisten a cotton ball in this solution and apply it to the affected area. Use an adhesive tape to hold the cotton ball in place for two to three hours. Remove the cotton ball and wash the area with warm water. After half an hour, repeat the process. Use this treatment two times daily for a few days to go wart-free.
You can also add 2 teaspoons of apple cider vinegar to 1 glass of water and drink this solution daily for its therapeutic benefits on your system.
Caution: Care should be taken when using apple cider vinegar topically as it can cause stingy sensations. Always dilute it with water.
2. The garlic mix
Garlic is known for its antioxidant and antiviral properties, which can help you get out of this unfortunate plight.
A study published in Dermatologica Sinica corroborated that the use of 10 percent garlic extract on genital warts for 2 months was equivalent to the effects of cryotherapy. (2)
How to use:
Crush a few garlic cloves into a fine paste. Apply the paste on the affected area. Cover the area with a bandage, and leave it on overnight. Next morning, remove the bandage and wash the area with lukewarm water. Repeat daily until you get rid of genital warts.
Soak a cotton swab in garlic oil and dab it over the genital wart. Leave it on overnight, and rinse it off with water the next morning. Repeat every night for 2 to 3 weeks.
3. Soothe your warts with some aloe vera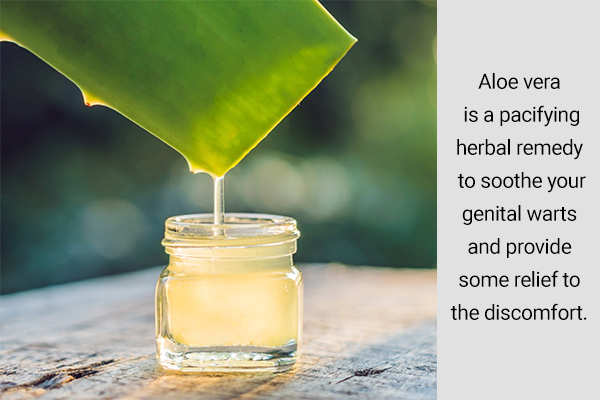 Aloe vera is a pacifying herbal remedy to soothe your genital warts and provide some relief to the discomfort. Its anti-inflammatory properties can relieve itching.
Aloe vera has been known to stimulate the immune response against viral infections. (3)
How to use:
Cut open an aloe vera leaf and extract the gel.
Dip a cotton ball in the gel and apply it directly on the affected area.
Secure the cotton ball with tape and leave it on overnight.
The next morning, remove the cotton ball and wash the gel off with warm water.
Repeat once daily for 1 month or until your warts are gone.
Also, drinking aloe vera juice daily can boost your immune system and ameliorate its ability to fight infections.
4. Tree tea oil for the discomfort
Tea tree oil is conventionally known for its antimicrobial activity. This is due to the presence of various compounds including terpinen-4-ol.
Tea tree oil is beneficial as an alternative topical application to prevent infections. Its antiseptic and antiviral properties favor a considerable decline in HPV infection. (4)
How to use:
Repeat either of the following remedies two or three times a day until the wart disappears.
Mix together 4 or 5 drops of tea tree oil with 1 tablespoon of almond oil or olive oil. Dab the oil mix on genital warts, and leave it on for 1–2 hours. Then, rinse it off with warm water.
Add a few drops of tea tree oil to warm bath water. Soak yourself in this bath for 15 to 20 minutes.
Caution: Tree tea oil is potent and can cause burning sensations. It is recommended to use it with a carrier. Avoid oral use.
5. Green tea extract to relieve the warts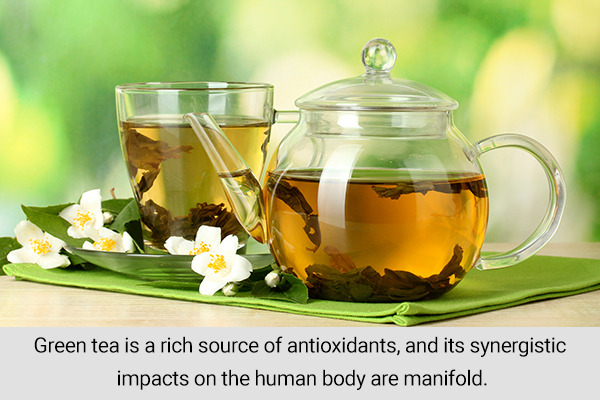 Green tea is a rich source of antioxidants, and its synergistic impacts on the human body are manifold. According to the American Family Physician, green tea extract can effectively cure genital warts. (5)
A 2015 study concluded that a green tea extract called sinecatechins is as effective as a standard topical medication in the treatment of genital warts. (6)
How to use:
Put the sinecatechins (green tea) extract in a bowl.
Add a drop or two of coconut oil.
Using a clean finger, spread a very thin layer on the genital wart.
This treatment should not be washed off.
Do this three to four times a day.
6. Witch hazel water for sensitive skin
Witch hazel is another popular remedy for genital warts. Being mild in nature, it can be used by people with skin sensitivity. Witch hazel flowers contain tannins, which contribute to its healing properties. It inhibits the growth of genital warts by drying them off.
A 2014 study supported the use of witch hazel in fighting HPV strains that can cause genital warts. (7)
How to use:
Soak a cotton ball in distilled witch hazel.
Apply it on the warts and leave it on for about 15 minutes before washing it off.
Repeat this twice a day until the warts clear up.
Caution: Witch hazel is recommended for external application only. Oral use can cause damage to the liver and digestive tract.
7. Say yes to castor oil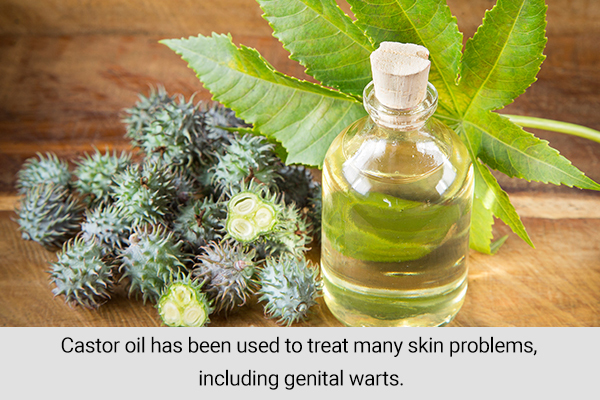 Castor oil has been used to treat many skin problems, including genital warts. Although not medically proven, but the odorless and tasteless castor oil has anti-inflammatory and antiviral properties. This activity is attributed to its bioactive component ricinoleic acid, which can aid in healing genital warts.
How to use:
Soak a cotton ball in pure castor oil. Put the cotton ball over the wart and secure it with tape. Leave it overnight. The next morning, remove the cotton ball and clean the area with warm water. Gently exfoliate the area with a washcloth or loofah sponge to remove the dead skin cells. Repeat this remedy daily until the wart becomes dark and eventually falls off.
To 1 tablespoon of castor oil, add 1 tablespoon of baking soda. Mix them to form a thick paste. Apply the paste on the wart and secure it with a bandage. Leave it on overnight. The next morning, remove it and rinse the area with water. Repeat once daily for a few weeks.
Note: Castor oil can be used in combination with crushed garlic, peppermint oil, or lemon oil given that the person is not allergic to either of them. Care should be taken when using castor oil for topical application as it is highly viscous and difficult to apply.
8. Onion juice burns and heals
Onion is a potent antimicrobial agent that helps to reduce the spread of the HPV strains that cause genital warts. Also, it promotes proper circulation of the blood. For best results, use a mixture of onion juice and salt as a topical application to treat the genital warts. (8)
How to use:
Cut two onions into slices and sprinkle one teaspoon of salt over them.
Cover and let it sit overnight.
The next morning, put the onions in a sieve and press with a spoon to extract the juice.
Apply this juice to the genital warts.
Leave it on for one hour, and then rinse it off with warm water and pat the area dry.
Repeat this two to three times daily until you get rid of the warts.
Caution: This remedy may cause a burning sensation, which will buzz off quickly.
9. Banana peel to pacify your warts
Banana peel contains antioxidants and enzymes that can effectively dissolve the warts. Eating bananas helps boost the immune system to fight off the virus that causes genital warts. Alternatively, you can also use banana peel to heal flat and common genital warts.
How to use:
Cut a piece of banana peel similar to the size of your wart.
Place the inside of the peel against the wart.
Secure it with tape or a bandage.
Leave it on overnight.
Remove the peel the next morning.
Repeat this daily for a few weeks or until you get rid of the warts.
10. Dietary changes to boost your immune health
A robust immune system is the body's defense force against infectious agents. Genital warts are an outcome of an infection by some HPV strains as a result of a weakened immune system. You can bolster your immune health by supplementing your diet with abundant quantities of food that will upgrade your immunity levels.
Eat vegetables that contain indole-3-carbinol (I3C) such as cabbage, broccoli, kale, Brussels sprouts, and cauliflower to help clear up genital warts.
Include folate, B12 supplements, and reishi mushrooms in your diet to strengthen your immune system to help your body kick out the HPV infection.
Eat antioxidant-rich foods such as blueberries, cherries, tomatoes, squash, and bell peppers.
Include probiotic supplements to maintain the pH of your vagina.
Consume grapefruit seed extract, which is known for its antimicrobial properties.
Avoid processed foods and fat-rich foods.
Avoid food allergens such as soy, milk, and peanuts.
Avoid smoking and follow a healthy regimen.
Prevention of Genital Warts
Genital warts are the most prevalent sexually transmitted disease affecting millions of people across the globe. The incidence and recurrence of warts cannot be fully determined due to its invisibility and ability to disappear on their own.
The symptoms of HPV infection can take months to years to make an appearance. This can keep you perplexed as from where you contracted the disease.
Thus, to ensure you stay on the safe side, certain preventive measures can be taken:
Abstain from sex of any form, whenever you suspect an infection.
Use dental dams or condoms for protection to reduce the risk of contracting the disease from your partner. Although condoms are not 100 percent efficient as they do not cover the entire genital area, you can still decrease the chances of an infection.
Regularly perform a self-examination to monitor your sexual health.
Vaccination against HPV can protect individuals from most of the HPV strains that cause genital warts. These shots are administered to individuals aged 9–45. It is advised to get vaccinated before you indulge in any sexual activities to prevent from contracting the HPV. Vaccines are also available against cervical cancer-causing HPV strains.
Be selective when it comes to intimacy in your relationship. Being sexually conservative can help you prevent any future mishaps. Have a heart to heart conversation before indulging in any sexual activity.
Be open about your sexual health and HPV status with your partner to avoid winding up any infection on each other.
Ensure that you and your partner are not engaging in multiple sexual relations.
Additional Tips
Don't scratch the affected area.
Regularly change your undergarments and wash them to keep clean.
Keep your genitals dry. After taking a shower, thoroughly dry your genitals with a towel.
Do not share your undergarments or towels.
Consider wearing cotton undergarments. Avoid using tight synthetic undergarments that can chafe your intimate areas and aggravate the condition.
Maintain proper hygiene.
Final Word
The first thing you need to do if you notice any abnormal growth in your genital area is to consult your doctor to rule out any serious underlying condition. Take proper preventive measures to protect yourself from this infection, and seek medical treatment if it does occur.
On top of that, you can try the above-listed home remedies to ease the discomfort associated with genital warts and make them go away faster.

Continue ReadingGenital Warts: Causes, Symptoms, and Treatment
Was this article helpful?