Lemon, probably one of the most commonly found citrus fruits that are available throughout the year at your grocery store, isn't only great for adding a little zest to your dishes. It turns out lemon can also be immensely beneficial for your hair.
Recent research has demonstrated that citrus fruits are very abundant in compounds such as limonin and can stimulate hair growth by triggering the fundamental processes in the scalp that can help treat hair loss. (1)
Another study concluded that lemons with their lemon polyphenols (LPPs) have antiaging effects, which means better hair health, delayed hair loss, and reduced hair coarseness, which are associated with old age. (2)
Moreover, experts from various fields and people from all around the world swear by the positive effects of lemon juice on their hair, from dandruff resolution to improved hair texture.
The good news is that you can enhance the positive impacts of lemon juice on your hair by adding it to other ingredients.
Note: Don't apply concentrated lemon juice, as it is acidic and has a bleaching effect. Do a patch test before using it.
Ways to Use Lemon Juice for Healthy Hair
Several natural ingredients work well with lemon juice and can be used to achieve healthy hair.
1. Aloe vera and lemon juice
Aloe vera has been used for centuries to improve skin and hair health. It has so many useful nutrients that keep your strands healthy and nourished. (3)
Aloe is rich in magnesium, which triggers the hair follicles and thus facilitates the growth of tresses, experts explain.
Aloe contains another compound called aloin, which is known for its ability to moisturize the hair, thereby keeping it shiny and smooth. In fact, it was used by the Queen of Egypt to keep her hair healthy and by the Ancient Greek communities to treat hair loss. (4)
How to use it:
Mix 2 tbsp of aloe gel with 2 tsp of lemon juice.
Apply the mixture to your scalp, and leave it on for 20 minutes.
Rinse it off with water.
2. Rosewater and lemon juice
Roses are a symbol of love as they have a great smell and beautiful appearance, which are soothing to the senses. Moreover, roses are rich in antioxidants, and they are a famous ingredient in hair care products. (5)
Experts claim that, upon regular use, rosewater can help revitalize dry and damaged hair. They also have the ability to fight away dandruff.
All these effects make rosewater a perfect thing to add to a hair care regimen.
How to use it:
Combine 1 tbsp of lemon juice with 2 tbsp of rosewater.
Apply this mixture to your hair after shampooing as a final rinse.
Leave it for 5 minutes, and rinse it off with cold water.
3. Chamomile tea and lemon juice
Chamomile is a famous herb that contains chamazulene, terpenoids, flavonoids, and other compounds that have amazing anti-inflammatory properties, which make it a healing agent that can be very good for your hair. (6)
Many experts believe that chamomile can deal with scalp problems and infections because of its antimicrobial action while also treating dandruff and related flaking.
How to use it:
Brew a strong cup of chamomile tea. Allow it to cool.
Mix it with 1 tbsp of lemon juice.
Apply this mixture to your hair as a final rinse after shampooing.
4. Shea butter and lemon juice
Shea butter is a natural ingredient that has incredible moisturizing properties, which help soothe the scalp and keep the hair hydrated, as explained by experts.
In a study, when shea butter was used on shaved animal models, notable hair regrowth and improved hair mass were observed with only 1 month of use. (7)
How to use it:
Apply it on your hair and scalp, and leave it on for 30 minutes.
Wash your hair with a mild shampoo.
5. Rosemary water and lemon juice
Rosemary water can have a lot of medicinal uses including its potential for hair care. This is because it is rich in antioxidant compounds that can improve blood flow to your scalp to stimulate hair growth. (8)(9)
A study found that rosemary can be just as efficacious as minoxidil for inducing hair regrowth after 6 months of use. It also helps deal with hair problems such as excessive greasiness, dryness, and dandruff. (9)
How to use it:
Blend ½ cup of rosemary water with 1 tbsp of lemon juice.
Apply the mixture to your hair and scalp as a hair rinse.
Leave it on for 30 minutes.
Rinse your hair with water.
6. Onion juice and lemon juice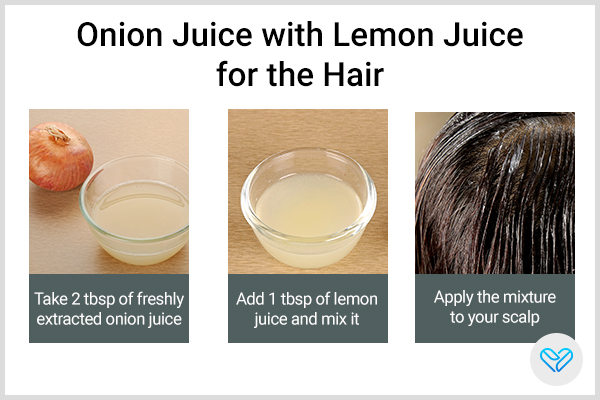 Hair loss conditions such as alopecia areata are getting more and more common around the world. This is why there is a lot of research to find new treatment options for enabling hair regrowth in such conditions.
According to a study, applying crude onion juice to areas affected by hair loss can lead to hair regrowth starting just after 2 weeks of treatment. Researchers observed that a whopping 86.9% of the subjects experienced hair growth. (10)
This suggests that onion juice can have an amazing role in inducing healthy hair development.
How to use it:
Combine 2 tbsp of freshly extracted onion juice with 2 tsp of lemon juice.
Apply this mixture to your scalp, and leave it on for 30 minutes.
Wash your hair with a mild shampoo.
Most-Asked Questions
Can lemon juice be applied directly to the hair?
It's best to dilute lemon juice with water or other ingredients before using it on your hair.
Does lemon juice lighten hair naturally?
Yes, lemon juice may be able to lighten hair.
Can lemon juice be used to treat oily hair?
Lemon juice can be helpful to control excess oil on the scalp.
How do I use lemon juice to combat dandruff?
You can mix lemon juice and aloe vera and apply the mixture to your scalp to treat dandruff.
Can lemon juice be used to remove hair dye?
Lemon juice can help fade hair dye over time in some cases.
Does lemon juice help with frizzy hair?
Lemon juice can temporarily help with frizz.
Does lemon juice remove lice?
Lemon juice may not be effective in removing lice.
Final Word
Lemon juice is a versatile ingredient that can help promote hair health. By mixing lemon juice with other natural ingredients, you can enhance its positive impact on your hair.
Aloe vera, rosewater, chamomile tea, shea butter, rosemary water, and onion juice are some excellent options. These ingredients offer various benefits such as moisturizing and revitalizing the hair and scalp and promoting hair growth.
Was this article helpful?