"Damaged hair" is a blanket term for hair that appears brittle and dry, has split ends, lacks shine or luster, or breaks easily.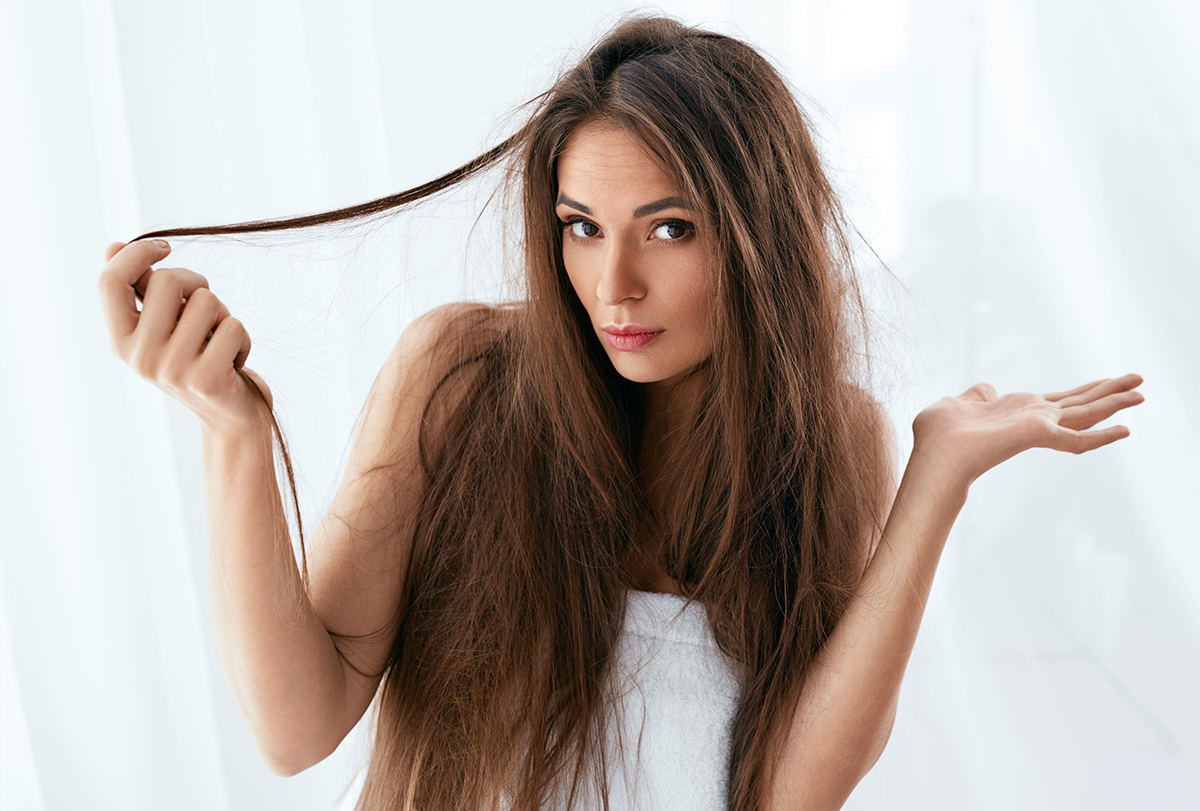 Hair damage is a distressing situation for many people. Your hair is an important aspect of your appearance, and dull or lifeless hair can make you self-conscious.
Fortunately, a number of natural remedies can restore moisture and shine to your locks.
Hair damage can be caused by a variety of factors such as:
Excessive sun exposure
Use of hair products containing harsh chemicals
Nutritional deficiencies  
Bleaching the hair
Excessive use of heating products such as hair straighteners and blow-dryers
Dehydration
Exposure to chlorine (in swimming pools)
Certain disorders such as hypothyroidism and anorexia
Genetics
Home Remedies to Help Repair Damaged Hair
Several natural ingredients in your kitchen can be extremely beneficial for your hair. Here are some home remedies that can save your tresses:
1. Use coconut oil, curry leaves, and rosemary oil
Coconut oil is an age-old remedy for dry hair. It contains essential fatty acids (such as lauric acid) that soften your hair. It can penetrate deep into the hair strands due to its low molecular weight and thus can deep condition your hair. (1)
Rosemary oil is a soothing substance that contains several antioxidants and anti-inflammatory properties. It also boosts blood circulation to the hair follicles and nourishes them.
Curry leaves are filled with beneficial nutrients such as calcium and carotene, which help restore your hair's shine and elasticity. (2)
When used together, these magic ingredients can give your hair a smooth and glossy look.
How to use
Ingredients:
5 pieces curry leaves
1½ cup coconut oil
A few drops of rosemary oil
Steps:
Mix the curry leaves and coconut oil in a vessel and heat the mixture on a medium flame.
Remove from heat after the leaves turn darker in color.
After the oil has cooled, strain it into a jar or bottle.
Add the rosemary oil to it.
Apply this oil all over your hair and scalp.
Massage your scalp for a few minutes for better absorption of the oil.
Wash your hair after 3 hours.
2. Prepare a honey and yogurt hair mask
Honey is a natural humectant, which means it helps absorb moisture from the atmosphere and seep it into your hair strands. It is also rich in antioxidants and nutrients that can promote hair growth and thickness.
How to use
Ingredients:
1½ tbsp of raw honey
½ tbsp of yogurt
1 tbsp of castor oil
Steps:
Mix all the ingredients well to make a paste.
Apply this hair mask to your hair and cover it with a shower cap.
Let it rest for around half an hour.
Wash your hair with a mild shampoo.
Apply hibiscus flowers to your hair
3. Apply hibiscus flowers to your hair
Hibiscus is another effective natural conditioner for your hair. It moisturizes your hair, adds shine to it, nourishes your scalp through the essential amino acids in it, and increases hair growth.
How to use
Ingredients:
4 pieces hibiscus leaves
3 pieces hibiscus flowers
2 tbsp moringa oil
Steps:
Grind the hibiscus leaves and flower petals with 1 tablespoon of water.
Boil the moringa oil in a pot for a few minutes and add the hibiscus powder to it.
After cooling, apply this oil to your scalp and hair.
Wear a towel or shower cap over your hair for 20–25 minutes.
Wash your hair with lukewarm water and a mild shampoo.
4. Make a banana-yogurt hair mask
Bananas contain potassium, carbohydrates, and vitamins that can heal damaged hair and strengthen them.
Yogurt is an effective conditioner and moisturizes dry hair. It also contains several nutrients that can help thicken your hair and protect it from split ends or premature shedding.
Biotin and choline, two essential amino acids present in yogurt, enhance blood circulation to the scalp and nourish the hair follicles.
How to use
Ingredients:
1 ripe banana
2½ tbsp yogurt
Steps:
Mash the banana in a bowl and add yogurt to it.
Mix this paste until it becomes smooth.
Evenly apply this hair mask to your scalp and hair.
Wear a shower cap over your hair and let it rest for half an hour.
Wash your hair with a mild shampoo.
5. Try an egg mask
Eggs are a great source of protein and fatty acids, both of which help strengthen and add shine to your hair. Eggs also contain certain beneficial enzymes and minerals that can help increase hair growth.
How to use
Ingredients: 1 egg
Steps:
Beat the egg until it turns smooth.
Massage this egg onto your hair evenly and wear a shower cap.
Let it rest for half an hour.
Wash your hair with a gentle shampoo.
6. Use aloe vera gel as a conditioner
Aloe vera is one of nature's best moisturizers. It hydrates and softens dry hair.
Aloe vera also contains several antioxidants, amino acids, enzymes, vitamins C and E, and anti-inflammatory properties that can soothe your scalp and nourish your hair.
How to use
Ingredients:
3 tbsp aloe vera gel
2 tbsp honey
2 tbsp almond oil
Steps:
Mix all the ingredients well to form a paste.
Apply it evenly to your hair and scalp and let it rest for half an hour.
Wash your hair with a mild shampoo.
7. Apply beer to your hair
Beer is a good source of protein, which is a major building block of hair and helps increase hair strength and elasticity. When beer is applied to your hair, the hair strands absorb the protein in beer, giving the hair a soft and lustrous look.
How to use
Ingredients:
2 tbsp vitamin E oil
½ cup beer
Steps:
Mix the oil and beer well.
Massage this mixture to your hair and scalp.
Wear a shower cap and let the hair mask rest for half an hour.
Wash your hair thoroughly with a mild shampoo. Use a conditioner if you want to get rid of the beer smell.
8. Use a fenugreek seed mask
Fenugreek seeds are a rich source of several essential nutrients. They contain calcium, folic acid, iron, potassium, protein, nicotinic acid, lecithin acid, and vitamins A, K, and C, all of which moisturize and soften your hair to reverse hair damage. (3)
How to use
Ingredients:
3 tbsp fenugreek seeds
1 tbsp olive oil
1 tbsp coconut milk
Steps:
Soak the fenugreek seeds in some water and leave them overnight.
The next day, grind the soaked seeds into a paste.
Add the coconut milk and olive oil to this paste.
Massage the paste on your scalp and apply it evenly to your hair.
Let it rest for 20 minutes.
Rinse the paste off with a mild shampoo and apply a conditioner to your hair.
Lifestyle Changes to Manage Damaged Hair
These changes that you can make daily can help restore the shine and volume of your hair:
Make sure to drink an adequate amount of water (at least 7–8 glasses of water) every day.
Use a mild shampoo without any harsh chemicals to wash your hair every other day.
Do not be rough on your hair while combing or brushing it. Use a wide-toothed comb to gently comb your hair every day.
Use natural hair masks regularly to add shine and softness to your hair.
Make sure to squeeze out all the water from your hair using a towel after a hair wash.
Go for deeply hydrating treatments for your hair every now and then to prevent dryness and hair damage. Hydration also helps improve hair strength and thickness.
Preventive Measures to Curb Hair Damage
As the old saying goes, prevention is the best cure. Here are some measures you can take to prevent hair damage:
Heating tools such as hair dryers and straighteners can cause irreversible hair damage. (4) Avoid using them regularly.
Most swimming pools contain chlorine that can dry your hair, so it's very important to shampoo after every swim.
Wear a hat or a silk/satin scarf over your head to protect your hair from environmental damage, especially in extreme weather conditions such as strong winds and high heat.
Manage your stress levels by practicing relaxation techniques such as yoga, deep breathing, or meditation.
Final Word
Everyone desires healthy, lustrous locks. While it may seem like a distant dream if you have dry or damaged hair, a little bit of hard work and perseverance can go a long way in helping you achieve this dream.
Try out different affordable and effective natural hair masks until you find the one that works for you. If your hair falls or dryness persists even after doing so, it may be best to consult a dermatologist for advice.
Was this article helpful?