Hair loss is a common problem faced by millions of people. It can be triggered by various health issues such as autoimmune diseases, hormone imbalances, hereditary factors, and stress. (1)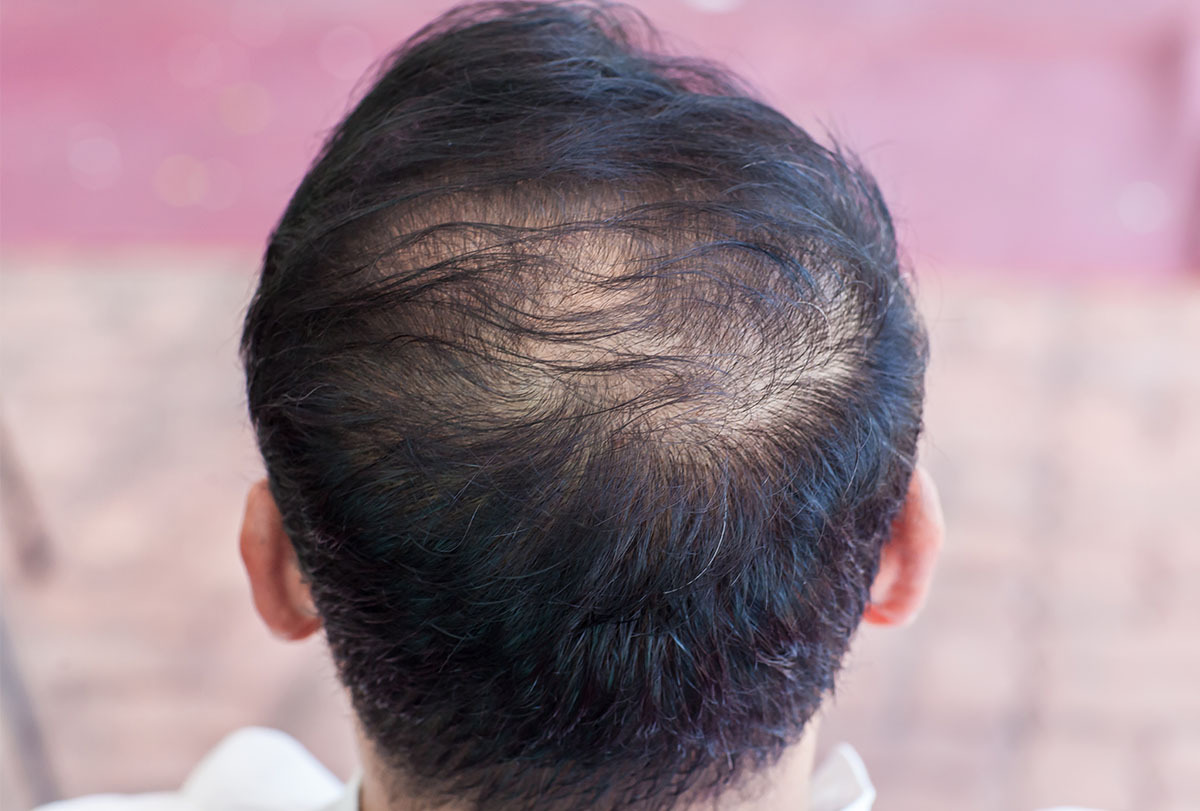 Androgenetic alopecia, triggered by the hormone testosterone, is the most common form of hair loss in men. (2)(3) It is also a major cause of hair thinning in several women above the age of 30. Apart from androgenetic alopecia, some autoimmune diseases and medical treatments (such as chemotherapy) may lead to baldness in patients.
Read on to learn about the causes of and treatments for most types of hair loss faced by both men and women.
Causes of Hair Thinning and Balding
Most people shed around 100 hairs per day. Losing more hair than this is a sign of hair loss.
Hair loss can be of different types and brought on by different factors. For instance, androgenetic hair loss is caused by an excess of androgen hormones in the body that reduce the size of your hair follicles, leading to hair loss.
Other well-known triggers that can cause hair thinning are:
Nutrient deficiencies
Hereditary factors
Harsh chemical treatments (such as perms or hair dyes)
Sudden weight loss
Excessive stress or anxiety
Certain drugs and medications
Hormone imbalances
Pregnancy or breastfeeding
Certain diseases
Old age
Treatment for Hair Thinning and Balding
Hair loss is easier to reverse when treated in its early stages. A number of different topical, oral, and surgical procedures that can help you grow back your hair are available nowadays:
a. Over-the-counter (OTC) drugs:
Minoxidil (Rogaine)
Topical minoxidil is available over-the-counter in the form of serums or solutions. Minoxidil is a medication that helps decrease hair loss and increase hair growth by promoting blood flow to the scalp and nourishing the hair follicles. (4)
Note: Women should not use higher concentrations of minoxidil as this may lead to side effects.
b. Prescription medications:
1. Finasteride
Finasteride is an oral medication used for the treatment of hair loss in men. It helps to prevent and reverse androgenic alopecia by lowering the levels of dihydrotestosterone (DHT) in the body. (4)(5)
DHT plays a major role in causing hormone-related hair loss. It acts on the hair follicles, reducing their size and eventually stopping hair growth. Finasteride reduces DHT levels in the body by inhibiting the conversion of testosterone to dihydrotestosterone.
Note: In some men, this medication may lead to decreased libido or erectile dysfunction.
2. Spironolactone
Spironolactone is a hair loss medicine that is also used to treat androgenic alopecia in both men and women. It works by inhibiting the effect of androgens on the hair follicles. (6)
Disclaimer: Pregnant or breastfeeding women should not use spironolactone.
3. Cyproterone acetate
Cyproterone acetate is a medicine that helps cure hair thinning and baldness by blocking the effects of testosterone on the hair follicles. It is also found in some oral contraceptives used by women.
Cyproterone acetate is commonly used to treat hereditary alopecia in women. (7)
c. Surgical and other treatments:
1. Growth factor concentrate treatments
Growth factor concentrate (GFC) is a preparation made of the patient's own growth factors collected from their blood. This is then injected into their scalp to enhance the growth and regeneration of the hair follicles.
GFC is a highly beneficial procedure that can be performed on both men and women. (8) It helps reduce hair fall, increase hair volume, and promote the growth of new hair. Results can usually be seen after 3–4 sessions.
There are very few side effects of this treatment as the concentrate is prepared from the patient's own blood. Injection-related side effects such as mild pain and irritation may occur in some people.
2. Mesotherapy
Mesotherapy is a procedure in which vitamins, enzymes, hormones, plant extracts, and sometimes even pharmaceutical drugs are injected into the scalp to promote the growth of new hair and rejuvenate the hair follicles.
Multiple sessions of mesotherapy may help reverse hair loss and baldness. (9)
3. Peptide sprays
Copper peptides can help cure hair loss and alopecia by inhibiting the effects of DHT on the hair follicles. They can help your hair grow thicker and longer by promoting blood circulation to the scalp and increasing hair follicle size. (10)
GHK-Cu is particularly known for its ability to stimulate hair growth and reduce hair fall.
4. Scalp reduction
Scalp reduction is a surgical procedure in which bald patches or parts with less hair on the scalp are surgically removed and the rest of the scalp is extended. This creates the impression of a full head of hair. (11)
5. Platelet-rich plasma
Platelet-rich plasma (PRP) is injected into the scalp to promote the growth of new hair. Platelets help increase hair growth and increase hair density. They also help repair skin cells and scalp tissue. (12)
6. Hair transplantation surgery
Hair transplant surgery is a procedure in which hair is taken from other parts of your body such as the back of the scalp and transplanted onto your bald patches. Hair transplant procedures have improved significantly over the years to give your hair a more natural look. (13)
7. Low-level laser therapy or LED light therapy
LED light therapy is a noninvasive treatment in which low-level lasers are used to increase ATP production and nitric oxide in the scalp. This helps increase hair growth and blocks the action of DHT on the hair follicles. (14)
Diagnosing Hair Thinning and Balding
Your dermatologist can make a diagnosis after taking a brief history of your medical health and examining your scalp. They may also ask you about the medical history of your family to check for hereditary causes of hair loss. (15)
In some cases, the doctor may ask you to undergo the following diagnostic procedures to observe the condition of your scalp and hair.
Trichoscopy: The dermatologist performs a microscopic observation of your hair strands and scalp. It helps diagnose and treat your hair loss correctly.
Dermoscopy: The scalp skin is observed under a microscope. It is a simple, painless, and noninvasive procedure that can help a doctor assess your scalp health.
Hair pull: The dermatologist may perform a hair pull test to determine the rate of your hair loss.
Blood tests: You may be asked to undergo certain blood tests to determine your thyroid function, iron levels, etc.
Skin scrapings or swabs: Skin scrapings or swabs may be collected as samples for microbial testing.
Hair Growth Cycle
Each hair strand is made up of the hair follicle (the structure that hair arises from) and hair shaft (the visible part of your hair). All of the hair strands on your scalp are in different phases of hair growth at any time.
The different hair growth stages are: (16)
The anagen stage – During this growth phase, the hair keeps growing longer. It usually lasts for a couple of years or longer.
The catagen stage – During this transition phase, the hair stops growing and separates from the hair root. It usually lasts for a couple of weeks.
The telogen stage – During this resting phase, the hair follicle enters a period of 3–4 months where it recovers before producing a new hair strand.
The exogen stage – This phase is also known as the shedding phase, in which old hair is shed.
Types of hair loss
Here is a summary of the different types of hair loss:
Involutional alopecia: Involutional alopecia is a common and natural hair loss condition that causes thinning hair as you age.
Androgenic alopecia: Androgenetic alopecia is a hormonal disorder that leads to hair loss and baldness. It can affect both men and women and is usually caused by excessive production of androgens in the body. In men, the condition leads to a receding hair line, whereas women tend to lose hair all over their scalp. (17)
Alopecia areata: Alopecia areata is a common hair disorder that leads to patchy and sudden hair loss. (18) It is usually temporary, but at times, hair loss can occur all over the scalp, leading to baldness. Hair loss may become irreversible in such cases. Alopecia areata is an autoimmune disorder.
Telogen effluvium: Telogen effluvium is a form of hair loss triggered by stress. It may occur due to physical stress such as pregnancy, surgery, and diseases. (19) It lasts as long as the stress factor does and tends to heal on its own.
Alopecia universalis/totalis: Alopecia totalis is a condition in which nearly all of the hair on the body is lost. It is a very rare condition and accounts for only 1% of all hair loss cases. (20)
Scarring alopecia: Scarring alopecia occurs when the hair follicles are destroyed due to infections or certain medical conditions.
Nonscarring alopecias: Nonscarring alopecias do not cause inflammation or redness. Most forms of hair loss such as alopecia areata, telogen effluvium, androgenetic alopecia, and male-and female-pattern baldness come under this category. Medical conditions such as thyroid diseases or autoimmune disorders can also lead to nonscarring hair loss. It can also be a side effect of aging in some older people. (20)
Ophiasis: In ophiasis, hair loss occurs at the sides of the head and the back in a wave pattern.
Diffuse alopecia areata: Diffuse alopecia areata is a condition in which hair loss occurs all over the scalp and the remaining hair strands lose color and turn grey. It is sometimes confused with telogen effluvium due to similar symptoms.
Cicatricial alopecias: In cicatricial alopecias, the hair follicles are destroyed as a result of inflammation. There are two types of cicatricial alopecias: primary, in which the hair follicle itself suffers from inflammation, or secondary, where the hair follicles are injured due to surrounding trauma such as infections or burns). (21)
Trichotillomania: Trichotillomania is a psychological disorder in which the patient subconsciously breaks or plucks out their hair. It is quite common in children, and they usually grow out of the habit. However, trichotillomania in teenagers or adults may need psychiatric intervention.
Trichorrhexis nodosa: Trichorrhexis nodosa refers to abnormal hair loss due to physical trauma to the hair strands. It can occur when the hair becomes weakened or fragile at some points due to excessive heat styling, tight hairstyles, chemical treatments, and even harsh brushing.
Anagen effluvium: Anagen effluvium is a type of hair loss in which the hair starts falling out rapidly during the anagen phase or growth phase. This is a type of acute hair loss usually caused by certain drugs or chemotherapy. Anagen effluvium is reversible, and hair growth goes back to normal a month or two after removing the causative agent.
When to See a Doctor
It may be best to consult a doctor as soon as possible if:
Your hair is falling out in clumps.
You develop visible bald patches on your scalp.
You have redness, itching, or scarring on your scalp.
You are a woman under the age of 30.
You are female and also have other signs of hormone imbalance, such as hair growth on your chin or chest, irregular periods, and abnormally deep voice.
Final Word
Hair loss is a common problem faced by many people around the world. There are different types of hair loss caused by various factors.
Most types of hair loss are reversible and can be cured in a few months. Consult a dermatologist to determine the exact cause of your thinning hair and seek treatment.

Continue Reading5 Home Remedies to Prevent Balding and Thinning Hair
Was this article helpful?