Hair loss, or alopecia, can be unappealing to anyone at any age. Many factors can trigger hair loss, such as poor hair hygiene, genetic predisposition, and a deficiency of iron, zinc, or other essential minerals, among others.
This article will explore the role of a specific hormone or androgen called dihydrotestosterone (DHT) in causing a specific type of hair loss disorder called androgenic alopecia in both men and women.
The nature and symptoms of this disorder along with some treatment modalities will also be discussed.
What Is DHT?
DHT is an androgen produced as a byproduct of the male hormone testosterone. Androgens are called male sex hormones because they are responsible for the development of male traits, not because they are found just in men. In fact, androgens are present in females as well, only in smaller amounts. Plus, the levels of androgens in the body vary from one person to another.
Testosterone is the most abundant or common androgen that is converted into DHT by the action of an enzyme called 5-alpha reductase (5-AR) produced in the testes, prostate, female reproductive tract, ovaries, and other organs including the nervous system.
In women, DHT can also be derived from dehydroepiandrosterone (DHEA). High concentrations of and sensitivity to DHT is known to induce androgenic alopecia in both men and women.
Four Phases of the Hair Growth Cycle
Your hair grows out of a hair follicle, which is a tunnel-like depression within the scalp, at the bottom of which is a collection of hair-producing cells.
Anagen phase – This is the active growth wherein the hair grows to its full extent.
Catagen phase – The hair stops growing any further.
Telogen phase – The hair follicles are pushed into a state of inactivity or rest. This phase lasts the longest.
Exogen phase – This last phase is marked by the shedding of the fully grown hair.
The longer the anagen phase, the stronger and thicker the hair. On the other hand, the longer the telogen phase, the thinner and weaker the hair becomes until it falls out.   
DHT, Receptors, and Hair Loss
At increased concentrations, DHT is known to induce androgenic alopecia. (1)(2) But high DHT levels alone do not cause hair loss.
Hair follicles have certain receptors on their surfaces that attract and bind androgens such as testosterone and DHT. DHT interacts more strongly with these receptors than testosterone to adversely change the structure of the hair follicle.
Since the scalp loses hair at a much faster rate than it regrows new hair, baldness sets in. The larger the number of androgen receptors, the more sensitive the hair follicles are to these hormones.
The number of androgen receptors in your scalp is decided by your genetics, which often makes baldness a hereditary trait. (3) Besides DHT levels and androgen receptors, your genes also play a crucial role in the onset and progression of this hair loss disorder. (4)
These genes are responsible for the production of androgens, their interconversion, and the number of receptors present on the hair follicles.
Signs of DHT-Related Hair Loss
It is completely normal to lose an average of 80–100 hair strands per day, but excessive hair fall on a regular basis can be a warning sign of androgenic alopecia.
Androgenic alopecia is often called male-pattern baldness because it affects men much more than women. This increased prevalence among males can be explained by the simple fact that men have much higher levels of androgens (DHT) than women. But this does not mean that women are immune to it, only less prone to it.
Moreover, this condition manifests differently in men and women, which is why androgenic alopecia is classified into two types:
Male androgenic alopecia or male-pattern baldness
Female androgenic alopecia or female-pattern baldness
Androgenic alopecia mostly affects people in their 40s or 50s, but it can set in their 20s as well, although not as commonly. Male-pattern baldness includes the recession of the frontal hairline especially at the sides, loss of hair on the crown or vertex, and thinning of chest hair.
In female-pattern baldness, hair loss typically occurs on the vertex. It starts with the recession of the central hair on top of the head, which results in the widening of the partition line, while the frontal hairline is rarely affected.
Treatment for DHT-Related Hair Loss
The medical treatment for androgenic alopecia primarily aims at reducing the production of DHT and keeping it from binding to the androgen receptors on your hair follicles. (5)
There are two separate treatment modalities for each of these purposes:
1. 5-AR inhibitors
5-AR inhibitors are a class of oral medications that block the activity of 5-AR enzymes, which convert testosterone into DHT. Two of the most commonly prescribed inhibitors are finasteride and dutasteride.
2. Antiandrogens or testosterone blockers
Antiandrogens or testosterone blockers are drugs that not only curb the production of androgens but also block their interaction with the androgen receptors present on the hair follicles.
Spironolactone is an antiandrogen that is used to treat DHT-related hair loss in women that does not respond to standard treatments such as minoxidil. (6) DHT blockers also come in the form of over-the-counter shampoos.
Some side effects of DHT inhibitors and blockers include:
Skin rashes
Erectile dysfunction
Premature ejaculation
Nausea and vomiting
Water retention
Birth defects
Irregular menstruation
Some other treatment modalities that do not influence the hormones directly include:
Topical solutions minoxidil (prescription strength) and nanoxidil (OTC)
Ketoconazole
Low-level laser therapy
Platelet-rich plasma therapy
Hair transplant surgery
Herbs and Minerals for Managing DHT-Related Hair Loss
Certain herbs and minerals have been found useful in addressing androgenic alopecia. These are available in the form of supplements that need to be taken in the prescribed dosage to notice positive results. 
But these herbs and minerals will only help manage hair loss when used as complementary measures along with the main medical treatment.
Caution: Since herbal and mineral supplements are not FDA approved, it is best to consult a doctor before taking them. The doctor will properly assess your condition and medical history to recommend a suitable supplement and appropriate dosage for you.
1. Zinc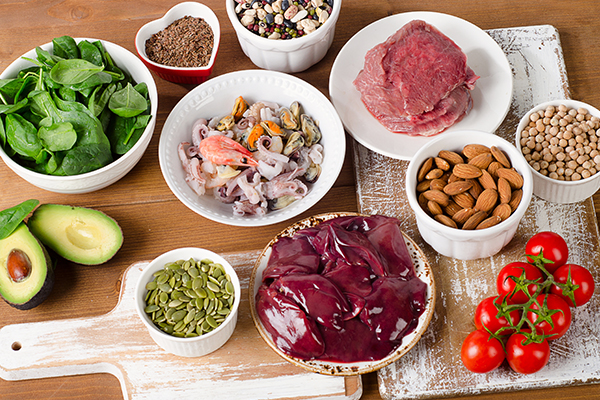 Zinc inhibits the conversion of testosterone into DHT by blocking the activity of 5-AR. (7)
Adding zinc-rich foods such as oysters to your daily diet should be the first step to get your required dose of this mineral. But if you fail to meet your zinc needs through diet alone, ask your doctor to start you on a zinc supplement such as zinc sulfate.
2. Pygeum bark
Pygeum bark extracts contain atraric acid, which has been shown to possess antiandrogenic properties. (8)
3. Pumpkin seed oil
Both human and animal trials have shown that the intake of pumpkin seed oil can inhibit the conversion of testosterone to DHT by blocking 5-AR, with no reported side effects so long as the subject is not allergic to the oil. (9)
4. Saw palmetto
Saw palmetto works in the same way as pumpkin seed oil in fighting androgenic alopecia. (9)
5. Spearmint
Spearmint is a therapeutic herb that has been credited with significant antiandrogenic activity. But the research done on this topic is subject to certain limitations, necessitating the need for more extensive and rigorous studies to conclusively establish this claim. (10)(11)
Spearmint is available in the form of tea and supplement capsules.
6. Epigallocatechin-3-gallate
Epigallocatechins are polyphenols found in green tea that are known to exhibit antiandrogenic activity. (12) They keep androgens such as DHT from binding to the receptors on the hair follicles, essentially rendering them harmless. (13)(14)
7. Licorice
Licorice is an herb that is known to exhibit several medicinal properties and may even work as a natural antiandrogen in the body. (12) It also inhibits the conversion of testosterone into DHT by blocking the activity of 5-AR. (15)
8. D-chiro inositol
Consuming D-chiro inositol may help reduce free androgen levels in the body, which is important for managing androgenic alopecia.
9. Giant dodder, Chinese knotweed, and night-flowering jasmine
Studies have shown that the extracts of giant dodder, Chinese knotweed (Polygonum multiflorum), and night-flowering jasmine can limit the activity of 5-AR to curb DHT levels in the body. (16)(17)(18)
Do High Testosterone Levels Lead to Androgenic Alopecia?
Men with high testosterone levels don't necessarily struggle with androgenic alopecia. Testosterone has to be converted into DHT for it to damage the hair follicle. Moreover, a considerable number of androgen receptors are needed to bind enough DHT to cause any real damage.
Final Word
A high DHT concentration in the body is a major cause of hair loss in both men and women, but it is not the only cause. This hormone will only damage the hair once it attaches to the androgen receptors lining the hair follicles. So, people with high DHT levels but low androgen receptor count should have no reason to worry.
Some people are genetically predisposed to this condition, which presents itself differently in men and women. Males lose more hair than females.
Plenty of hair loss treatments addressing increased DHT concentrations and heightened sensitivity of hair follicles toward this hormone are available, but they take time to work. However effective the treatment may be, it can't stop or reverse the hair loss completely.
The best you can expect is to set back the rate of balding, but some degree of hair fall will still occur. If the standard treatments and supplements mentioned above do not deliver significant improvement, you can try newer modalities such as low-level lasers.
Was this article helpful?