Hair growth occurs in a cycle, within which hair grows about 1 cm every month, while about 50–100 strands are shed every day. This kind of nominal hair fall is completely normal and affects people of all ages and genders, but some people have it worse. 
Excessive hair fall can stem from a variety of factors, including a genetic predisposition, nutritional deficiencies, stress, hormonal changes, and several other underlying medical conditions. It can occur gradually (thinning) or in clumps (shedding), and it may affect the whole scalp or may be limited to certain areas only.
Hair thinning or balding can greatly alter the way you look, and not for the better. So, even though it does not signify any major health concern, it can hamper self-confidence by making you increasingly conscious of the way you look.
This negative psychological impact is generally more devastating among women than men. Nevertheless, the problem is usually temporary and can be corrected by treating the underlying cause.
How Common Is Hair Loss?
Hair loss affects nearly 50 million men and 30 million women in the United States, pointing to its overwhelming prevalence. (1) Moreover, half the men in the world tend to suffer some degree of hair thinning by the time they turn 50. (2)
Types of Hair Loss
Partial or total baldness is referred to as alopecia. This kind of excessive hair loss has various types:
Androgenetic alopecia: Androgenetic alopecia is the most common form, affecting both genders, and is also known as male- or female-pattern hair loss. It is a hereditary condition that can be treated with medications or surgery. Malnutrition, thyroid disease, and iron deficiency anemia are some conditions that cause hair loss similar to androgenetic alopecia.
Hair shaft abnormalities: Various hair shaft abnormalities can cause thinning and weakening of the hair, making it prone to breaking. As a result, the hair may break anywhere along its length, as opposed to follicular hair loss, which leads to small, brittle hair.
Alopecia areata: This affects approximately 2% of the population regardless of gender and is more common in children. The cause of this acute, patchy alopecia is unknown. However, it is suspected to have an autoimmune development. (3) It may appear as a single episode or recur in the same area.
Traction alopecia: This is a result of constant pulling of the hair and generally presents along the hairline. It is commonly observed in African-American women who practice tight braiding or cornrow hairstyles. It can also be seen in men who attach hairpieces to their heads. Moreover, the repetitive use of hairpieces in the same positions can lead to permanent hair loss.
Cicatricial (scarring) alopecia: This refers to hair loss caused by scarring of the scalp. The scalp can scar from injury by physical trauma, burns, or compulsive hair-plucking (trichotillomania). Even traction alopecia can cause scarring of the scalp over time. All these conditions lead to permanent scars and, therefore, permanent hair loss.
Telogen effluvium: This is caused by a sudden shift of around 90% of the hair from their growing or resting phase in the hair growth cycle to the shedding phase. This can occur due to any traumatic experience, such as malnutrition, severe infection, extreme stress, major surgery, and childbirth.
Anagen effluvium: Use of substances that inhibit or damage the hair follicle's metabolic or dividing activity can cause hair loss. The most common frequent cause of anagen effluvium is chemotherapy. As chemotherapy targets cancer cells, which divide rapidly, it can also affect other fast-dividing cells, including hair follicles in the growth phase.
Causes of Hair Loss
Hair loss can be triggered by the following factors:
1. Medical conditions
Often, hair loss is a symptom of underlying problems that need to be diagnosed for proper treatment. These include:
Endocrine conditions: Thyroid or diabetes can impede hair production, therefore causing hair loss.
Polycystic ovarian syndrome: Hormonal imbalance can lead to hair loss in teenage girls and even adult women.
Lupus
2. Medications
It is commonly known that chemotherapy drugs used for cancer treatment cause excessive hair loss. However, other prescribed medications can also cause hair loss, including those used for the treatment of ADHD, acne, and bipolar disorder. Additionally, amphetamine-containing diet pills can also trigger hair loss.
3. Poor nutrition
Nutrients such as minerals, vitamins, and proteins are essential for the growth of hair. Therefore, a lack of such nutrients due to poor eating habits is a common cause of hair loss. This can be seen in people with eating disorders such as bulimia and anorexia.
Moreover, vegetarian teenagers may experience hair loss if they do not consume enough proteins from non-animal sources.
4. Age
The growth of hair slows down with age until the hair follicles eventually stop growing hair. Therefore, it is common to experience hair loss or thinning with advancing age. The hair also loses its color and women may notice receding of the hairline.
5. Pregnancy
Women often notice hair loss around 3 months post-delivery. This is because high levels of hormones during pregnancy prevent regular hair fall. Once the hormone levels return to normal, the normal hair growth cycle resumes, and the hair falls out.
6. Infections
Fungal infections of the scalp can cause hair loss in children and adults. These can be treated with antifungal medications.
7. Stress
Hair loss is often experienced when a person is under constant stress. These may include situations such as the death of a loved one, divorce, recovery from an illness, or an operation.
8. Genetics
Both genders can experience hair loss due to genetic factors. Also known as inherited hair loss, it is generally seen as bald spots in men and hair thinning in women, mainly on the top of the head, both occurring gradually.
The genes may render the hair follicles highly sensitive to testosterone. Due to this, thinning and shortening of hair with each cycle may be observed.
9. Hair treatment and styling
Using chemicals on the hair during procedures such as hair coloring, bleaching, perming, or straightening can cause temporary hair loss or breaking of the hair.
Applying excessive heat with blow dryers or hot iron can also cause hair loss. Additionally, wearing your hair in a tight ponytail or other hairstyles that pull on the hair for long periods can cause hair loss.
Symptoms of Hair Loss
Different types of hair loss manifest in different ways: 
Hair loss triggered by medications usually affects the entire scalp in a diffused manner.
Hair fall associated with a ringworm infection or alopecia areata results in small bald patches.
Hair loss caused by traumatic alopecia depends on the method of hair injury and is most pronounced in areas where the hot rollers, braiding, or chemical treatments were applied.
Some common warning signs to identify abnormal hair loss:
Sudden onset of hair shedding
Oval or round bald patches on the scalp
Lots of hair on the pillow or hairbrush
Reduced volume of ponytail
Widening part
Bald spots that increase with time
Gradual thinning of the hair
Receding hairline
Treatment for Hair Loss
Most hair loss cases do not require treatment as they are a result of old age or are temporary, in which case they will grow back. If the hair loss is caused by an underlying medical condition, it is important to treat the cause as hair generally grows back once the problem is resolved.
Here are the most commonly prescribed treatment options for hair loss.
1. Medications
Lotions and tablets can be used to prevent hair loss. However, these treatments require prolonged use, as regrowth ceases once the medications are stopped.
These are some medications used to treat hair loss:
Finasteride is a tablet used for reversing extreme hair loss, but it has to be taken regularly for at least 3–6 months before any visible improvement can be seen.
It works by stopping the conversion of testosterone into dihydrotestosterone (DHT), a hormone that is known to shrink hair follicles and thus prevent normal hair growth. However, the positive effect of this drug usually subsides within 6–12 months of stopping it.
Caution: Finasteride is unsafe for pregnant women or those planning to conceive as it can cause birth defects. Moreover, this drug may induce erectile dysfunction in men.
Minoxidil comes in the form of a lotion that has to be massaged into the scalp every day to promote hair regrowth. Like finasteride, it takes several months of regular use for the results to show and the hair loss resumes once the treatment is stopped. This medication is primarily used for correcting male-pattern baldness.
Caution: Minoxidil can trigger adverse side effects such as skin irritation, flaky or itchy scalp, and excessive facial hair on the forehead and cheeks of women, and it can aggravate preexisting heart problems.
Corticosteroids are injected into the bald patches of the scalp to suppress the inflammation caused by alopecia areata and promote hair re-growth. These injections are administered every 1 or 2 months to achieve the desired results.
Caution: Overuse or overdose of steroids can lead to skin thinning and can make you increasingly susceptible to infections, osteoporosis, and sore or hoarse throat, among other harmful side effects. Thus, you must take these injections under the guidance of a board-certified dermatologist.
2. Surgical procedures
If medications do not work, the following surgical procedures may be recommended by your doctor:
Hair transplant involves plucking strands from areas of dense hair growth, typically the back of the head, and surgically plugging them in bald patches. This can be done through multiple procedures. (4)
Scalp reduction involves surgically removing the bald patches and stitching together the hair-covered areas of the scalp.
Scalp expansion involves surgically inserting a device called a tissue expander under the scalp to stretch the skin and then using this newly expanded patch of skin to cover the adjacent bald spot through another surgery.
Note: These surgical procedures are mostly recommended for correcting male-pattern baldness and rarely for female-pattern baldness. They usually run the risk of minor scarring and scalp infection. People who have sparse hair growth all over the scalp or are prone to keloid scar formation are not suitable candidates for these surgeries.
3. Other treatments
Hair loss problems can make you socially anxious. For this, wigs or hairpieces can be used to cover the hair loss. While these are not a treatment, they help prevent other problems. Furthermore, you may join a support group or counseling.
Other treatments that are suggested for hair loss include massage, herbal remedies, zinc, vitamin supplements, hair lotions, and tonics. However, most of these have no evidence to support their role in hair growth or prevention of hair loss.
Diagnosing the Cause of Hair Loss
To diagnose the cause behind your hair loss, your doctor will first review your medical history and then physically examine your scalp to look for signs of scarring, redness, hair breakage, swelling, lesions, and extent and pattern of hair loss. Women are usually asked about their menstrual health as well.
The doctor might conduct the following tests to identify the root cause of your hair loss:
Blood work – To diagnose any underlying medical conditions.
Pull test – About 40–60 hair stands are held at their base using the thumb, index, and middle fingers and are gently pulled away from the scalp to determine the stage of the shedding process.
Biopsy – Skin scrapings from the head or a few hairs plucked from the scalp are examined under a microscope to look at the hair roots and to rule out signs of a scalp infection.
Light microscopy – A specialized device is used to analyze hair strands that have been trimmed at their bases to rule out disorders of the hair shaft.
Different Hair Loss Patterns in Men and Women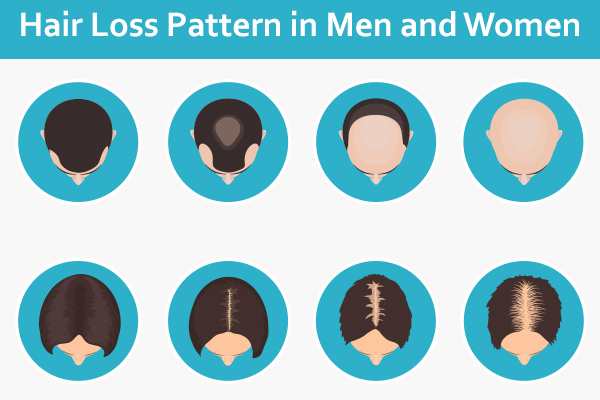 Excessive hair fall is a problem that is not exclusive to any one gender, but it usually manifests differently in men and women. 
Male-pattern baldness first sets in above both temples, which is followed by the gradual recession of the hairline as more and more hair is lost from the outline of the head. This eventually leads to the formation of a characteristic "M"-shaped hairline. While the hairline is pulled back, the hair at the top of the head also starts thinning, usually advancing to partial or complete baldness.
Female-pattern baldness is characterized by diffused thinning of the hair that affects the entire head rather than specific patches around the temples or crown of the head. Thus, the hairline does not recede and total baldness is fairly uncommon. Unlike male-pattern baldness, hair loss in women usually occurs in a spread-out manner rather than a well-defined one.
Risk Factor for Hair Loss
The factors that predispose you to hair loss include:
Family history of balding
Old age
Autoimmune disorders such as Hashimoto's thyroiditis or systemic lupus erythematosus
Physical or mental stress
Significant weight loss
Susceptibility to allergic reactions or allergic skin problems
When to See a Doctor
Consult a doctor whenever you are concerned about your hair loss, especially if it is accompanied by other symptoms. The doctor will assess the cause of your hair loss and refer you to a nutritionist if he suspects a nutritional deficiency.
If your child (6 months or older) is experiencing hair loss, consult your pediatrician to rule out malnutrition or other medical problems.
You should mostly be worried and seek immediate medical help if:
You lose clumps of hair.
You experience sudden and abnormally heavy hair fall.
Your scalp burns or itches along with the hair fall.
You notice bald patches.
You are generally experiencing too much stress.
Final Word
Many people consider a thick head of hair as a trait of beauty, vitality, and youth. Therefore, losing hair can inadvertently lower self-esteem, but hair loss is more or less considered a cosmetic problem rather than a serious health risk.
However, the possibility that sudden, unexplained hair shedding may stem from an underlying medical concern that requires treatment cannot be overlooked. In such a case, early diagnosis and treatment will not only save you from unwanted hair loss but also potential health complications.
For this, first consult a dermatologist to understand the root cause of the problem and then address it accordingly. Once the source of hair fall is corrected, you can take the necessary measures to promote hair regrowth.
If your hair loss is untreatable or beyond repair, you can opt for wigs, hairpieces, hair weaves, different hairstyles, or artificial hair replacement to cover the bald areas and feel more confident.

Continue ReadingHome Remedies and Self-Care for Hair Loss
Was this article helpful?