Skin aging is a natural process, but it is often accelerated by the environment and lifestyle. This kind of aging caused by preventable factors is known as extrinsic aging.
This article discusses the various signs and symptoms of aging and talks about lifestyle changes that can help delay skin aging.
Signs of Skin Aging
Genetics and the environment determine much of the way each individual ages. (1) Signs of aging include:
Dullness
Roughness
Uneven skin tone
Discoloration such as brown and red spots
Loss of skin elasticity and volume
Fine lines and wrinkles
Such visible signs of skin aging can start as early as in your 20s.
Factors That Contribute to Premature Skin Aging
The most notable factor for skin aging is ultraviolet (UV) light exposure. (2) UV rays cause DNA damage when they hit your skin, resulting in cellular defenses in the form of a tan, freckles, and, ultimately sunburns.
UVB penetrates superficially and is responsible for the tanning response. UVA penetrates the deeper layers of skin and is responsible for photoaging by creating oxidative stress. This damages collagen and causes the production of abnormal elastin fibers, which manifest as wrinkling. (3)
Sources of UV light include the sun and tanning salons. Much of this light is emitted by screens such as phones and computers. Other habits that may add to premature aging include smoking and repetitive facial expressions.
Medical Treatment for Skin Aging
Dermatologists have a great number of varied treatments in their toolbox for treating the signs of aging, including:
Chemical peel
Lasers
IPL and other light-based devices
Injectable neuromodulators
Intradermal fillers
Any regimen begins with good skincare. Antiaging and skin cancer prevention measures will overlap. The ability to treat aging skin can have a profound impact on an individual's confidence, self-esteem, and overall well-being.
Tips to Delay Skin Aging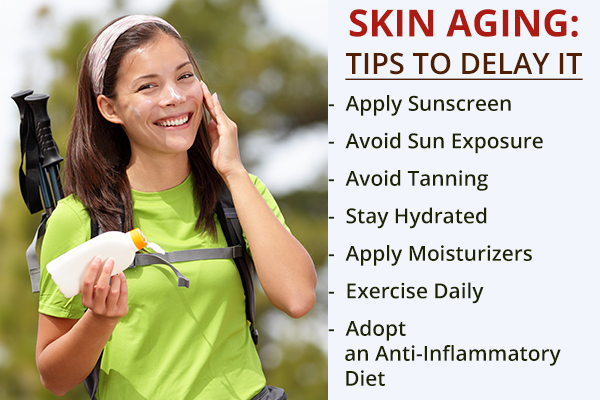 Good skincare and protection/avoidance from factors that accelerate aging are optimal.
Daily sunscreen use of SPF 30 or higher is a skin health habit that can be started early in life and lead to long-term antiaging benefits. Use proper amounts of sunscreen and reapply as necessary.
Avoid sun exposure by seeking shade wherever possible and using UPF clothing and wide-brimmed hats.
Avoid tanning bed use, smoking, and excessive alcohol consumption. Smoking (4) and alcohol have been observed to be related to the skin aging process. (5)
Stay hydrated and drink adequate amounts of water to keep your skin healthy.
Dry skin tends to show signs of aging sooner in the form of dullness and lines. Moisturizers and emollients can help. Certain ingredients, such as hyaluronic acid (6) can provide superior skin hydration when used routinely.
Exercise is beneficial for many aspects of aging. (7) Exercise may have indirect benefits on skin aging by decreasing overall stress and increasing well-being. Individuals who exercise outdoors need to be aware of the sun exposure they are getting over a lifetime.
Anti-inflammatory diets that are low in fat, processed food, and simple sugars/carbohydrates can benefit the skin as inflammation is responsible for accelerating the signs of aging.
A diet containing fruits and vegetables is beneficial overall for maintaining vitamin levels and antioxidant effects. (8) It remains controversial whether there are any direct links to specific food consumption and skin health.
Skin Care Tips for Healthy Skin
Skincare regimens recommended by board-certified dermatologists address the patient's specific skin type and concerns.
In general, any regimen will include a reliable sunscreen with adequate SPF. The best sunscreen is the one a patient is willing to use every single day.
Moisturization is vital in plumping fine lines and increasing the suppleness of the skin.
A few drops of an antioxidant serum in the morning selected for the patient's skin type can help scavenge free radicals caused by the damaging effects of UV rays and pollution. Serums containing vitamin C are the most common products on the market.
A complete nighttime routine includes either retinol (over the counter) or tretinoin (prescription) to chemically exfoliate dead layers of skin, enabling cellular renewal. They also assist in diminishing discoloration, fine lines, and wrinkles. (9)
A hydrating moisturizer to replenish water loss and repair skin barrier function should be applied nightly.
Vitamin E may be regarded as a beneficial antioxidant for fighting skin dullness and pigmentation in combination with other antioxidants. Rubbing vitamin E oil on at bedtime likely serves to benefit the skin by its moisturizing effects. However, claims about vitamin E and its antiaging effects (10) require some substantiating.
Final Word
You have no control over your genes and the natural process of skin aging. However, you can delay skin aging by managing the extrinsic factors.
Extrinsic aging is highly influenced by your environment, such as sunlight and pollution, and lifestyle habits, including your diet and stress levels. Therefore, it is vital to avoid sun exposure, exercise daily, and refrain from smoking, among other things, to prevent premature skin aging.
Was this article helpful?