Activated charcoal is produced by exposing regular charcoal to very high temperatures in the presence of a gas, which creates numerous tiny spaces or pores between its carbon molecules.
When activated charcoal comes in contact with a surface, it traps any gaseous, liquid, or solid molecules in these gaps, a process called adsorption. This property makes activated charcoal very good for binding and removing toxins.
When applied to the skin or hair, activated charcoal sticks to the dirt, chemicals, sebum, pollutants, microbes, and other microscopic particles on the surface so that they can be easily removed.
Activated charcoal even draws out impurities settled deep inside the pores to thoroughly detoxify the skin; this explains why it is often used in soaps, face masks, and deodorants. (1)
How to Use Activated Charcoal
Here are some ways you can use activated charcoal for beauty enhancement:
1. Reduces acne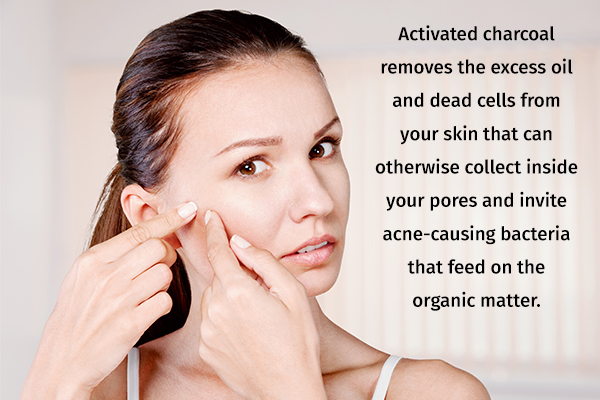 Activated charcoal removes the excess oil and dead cells from your skin that can otherwise collect inside your pores and invite acne-causing bacteria that feed on the organic matter.
It also absorbs and eliminates the existing bacteria to bring the infection under control.
How to use:
Break open a capsule of activated charcoal and empty the powder into a clean bowl.
Mix in a few drops of water to make a thick paste.
Apply the paste to acne-ridden skin.
Let it dry for 30 minutes, and then wash it off.
2. Eliminate blackheads
A blackhead is a pore that becomes congested with dead cells and sebum but remains open at the top. Exposure of the organic debris inside the pore to air turns them dark due to oxidation, forming a "blackhead."
Activated charcoal can help unclog the pores and remove these blackheads for a spotless face.
How to use:
Put 1 tsp of activated charcoal in a bowl and slowly mix in just enough water to make a paste.
Apply the paste to your face or just the affected skin.
Leave it on for 10 minutes before rinsing it off with warm water.
Pat your skin dry with your fingers or a clean towel, and then finish off with a moisturizer.
3. Exfoliates skin
Activated charcoal exfoliates the skin far more gently than regular scrubs that contain abrasive particles, which can cause irritation and create microtears. Activated charcoal simply sticks to the dead skin cells and other impurities to facilitate their easy removal.
How to use:
Prepare a body scrub by mixing 1/2 cup of white sugar, 1 tbsp of activated charcoal, 1–2 tbsp of coconut oil, and 3–4 drops of tea tree essential oil in a bowl.
Gently massage this paste all over your legs, arms, and other body parts to get rid of dead skin, extra oil, dirt, and other impurities to reveal fresh, bright skin.
4. Prevents aging
The buildup of free radicals and toxins inside the body can hamper the functioning of organs, adversely affecting overall health and the skin as well. These toxins find their way into the body via chemically treated foods, medication, or environmental pollution.
They break down the collagen and elastin fibers that make up the skin and keep it tight. Such negative effect inadvertently causes loose and wrinkly skin, making you look older than you are.
Activated charcoal, when taken orally, passes through the body, attaching itself to these toxins and eventually flushing them out of your system.  
How to use:
Put 1 tbsp each of activated charcoal and agar powder in a bowl and stir in 3 tbsp of warm distilled water to make a smooth paste.
Rinse your face with warm water, pat it dry with a towel, and then apply two coats of the paste with a clean makeup brush.
Place a dry mask sheet over the paste and press it firmly so that it sticks.
Wait for 35 minutes for the mask to dry and then slowly peel it off.
Use a clean soft towel soaked in cool water to gently wipe your face.
5. Balances oily skin
Activated charcoal is a godsend for people with oily skin as it deeply cleanses excess sebum from the face for a fresh bright appearance.
How to use:
Mix ½ tbsp of fuller's earth clay powder, 2 tbsp of activated charcoal powder, and 4–5 tbsp of cucumber water to make a lump-free paste.
Wash your face, pat it dry, and then apply the paste to your face using a makeup brush.
Leave it on for 15–20 minutes before rinsing it off with cool or lukewarm water.
Apply a moisturizer as this mask can leave your skin a little too dry.
6. Whitens teeth
Activated charcoal can help you achieve pearly white teeth by absorbing plaque and other chemicals that stain them.
It also binds with acidic compounds inside the mouth to raise the pH level. This acidic environment deters the growth of oral bacteria, which are at the root of plaque formation, foul breath, gum disease, and cavities.
How to use:
Wet your toothbrush, dip it in activated charcoal powder, and brush your teeth with it like you normally do.
After you've finished brushing, take a sip of water, thoroughly swish it around your oral cavity, and then spit it out.
Rinse your mouth a couple more times to get rid of charcoal residue.
7. Can be a DIY eyeliner
Use activated charcoal to make a natural eyeliner that won't irritate your eyes. When you mix the powder with water, you'll get a simple eyeliner that's free of toxins or harsh chemicals, making it ideal for people who are allergic to store-bought eyeliners or have sensitive eyes.
You can further enhance the quality of this DIY eyeliner by adding other skin-friendly ingredients such as coconut water and beeswax to the mix.
8. Can be a DIY mascara
You can also make your own mascara using activated charcoal. It can plump up your eyelashes without causing undue damage or irritation as it is completely chemical-free.
How to use:
In a bowl, mix 2 tsp of activated charcoal, 2 tsp of coconut oil, 3 tbsp of aloe vera, and 1 tsp of molten beeswax to form a smooth paste.
Using a clean, single-use mascara brush, apply the mixture to your lashes.
Note: Make sure that your eyes are not sensitive to activated charcoal to avoid eye irritation.
9. Treats dandruff and itchy scalp
Activated charcoal cleanses the grease, dead skin flakes, and other impurities from the scalp to keep it infection-free. This deep-cleansing effect also allows the hair follicles to breathe, which helps avoid irritation.
An unclean scalp, on the other hand, becomes a breeding ground for microbes that cause dandruff and other such infections, which trigger a lot of itching, redness, dryness, and flaking. Plus, scalp buildup can clog the hair follicles, hampering hair growth and triggering scalp inflammation.
How to use:
Mix 1 tbsp of activated charcoal in your shampoo.
What Is the Difference Between Activated Charcoal and Charcoal?
Charcoal is produced by thermally decomposing carbon-rich materials such as wood, sawdust, coal, coconut shells, and petroleum materials at high temperatures in a constant zero-oxygen environment.
When this black carbon residue called charcoal is exposed to oxygen, carbon dioxide, steam, or acids, it becomes "activated" and is referred to as activated charcoal. (2)
Final Word
Activated charcoal is quickly becoming a popular addition to everyone's beauty routine. It whitens teeth, decreases acne and other skin impurities, removes dirt and other toxins from the hair and scalp, and many more.
If you have very sensitive skin or have special concerns regarding the safety of activated charcoal, consult your doctor or dermatologist first.
Was this article helpful?