Tea is a popular beverage consumed worldwide. It originated in China as a medicinal beverage, becoming common around the 3rd century.
The most common types of tea are black and green tea, both made from leaves of the plant Camellia sinensis. Other teas such as oolong tea and white tea, floral teas such as lavender and chamomile, and herbal teas such as peppermint, rooibos, and ginger are also very popular.
Apart from being consumed for leisure, teas are also had for their several medicinal properties, ranging from soothing nausea and improving digestive health to easing stress and reducing high blood pressure. Some teas are also proposed for their weight loss and metabolic benefits.
This article will present some of the teas famously known for their weight loss benefits.
Teas for Weight Loss
The following teas are credited for their weight loss benefits and can assist you in your weight loss journey.
1. Green tea
Green tea gained popularity for its rich antioxidant profile. It also is a predominant source of catechins along with polyphenols and flavanols. (1) Green tea plays a protective role in aging, heart diseases, cancer, inflammation, and even diabetes. (1)
In a study, consumption of decaffeinated green tea extract for 4 weeks reduced the body fat of the participants significantly. (2) However, it is important to note that, in this study, the participants were exercising for more than an hour. Therefore, it is unclear whether green tea alone can induce weight loss.
In another study including individuals with type 2 diabetes, drinking up to 4 cups of green tea resulted in a significant reduction of weight and lowered blood pressure. (3)
However, it is also important to note that green tea has been reported to have the potential to cause liver toxicity and increase liver enzymes. (4) Therefore, green tea must not be overconsumed to reap its benefits.
2. Matcha tea
Matcha tea is not very different from green tea. Its main difference is the plant is grown in a traditional way, under a shade, to increase its theanine, caffeine, chlorophyll, and catechin composition. Another difference that sets it apart is that instead of brewing the dried leaves in hot water, matcha powder is dissolved in water and consumed. (5)
In a study on females who brisk walked for 30 minutes, consumption of matcha tea increased their fat oxidation, which is how fatty acids break down in the cells. (6)
The effect of matcha alone in reducing weight is not supported by enough data, but it can be safely said that, alongside a daily exercise routine, matcha can aid in weight loss.
3. Black tea
The main difference between the production of green tea and black tea is that black tea leaves undergo a fermentation process.
The polyphenols within black tea have some anti-obesity activity without known side effects. This tea prevents fat digestion, improves its metabolism, and blocks the processes by which obesity occurs. It prevents fat formation within the body and encourages its oxidation. (7)
A study done on mice fed with a diet rich in fat showed that black tea consumption lowered their weight. (8) Though there is some information available on the possibility of black tea aiding weight loss, more human trials are needed.
4. Oolong tea
Oolong tea is made from the same plant as green and black tea. The difference comes from its partial fermentation in a very specific way.
In a recent study, oolong tea extracts had a beneficial effect in reducing body weight and decreasing the size of fat cells in obese mice. It also affected the way fats were metabolized in a way that reduced their storage. (9)
Human studies are needed to establish if oolong tea polyphenols have the same influence on human fat cells.
5. White tea
White tea is made from the young leaves of the plant that produces black and green tea. It is minimally processed, has a delicate flavor, and is naturally low in caffeine.
Studies on diet-induced obesity in mice showed that white tea can help prevent obesity by increasing the amount of calories burned and amount of fat that is used up. It also inhibits the amount of fat converted for storage. (10)
With its much higher polyphenol content than green or black tea, white tea may possibly induce a greater amount of weight loss. More studies and trials are needed to establish conclusive results.
6. Ginger tea
Ginger is a root typically used in cooking to flavor dishes. It exhibits some medicinal benefits and is used in the treatments of colds, nausea, migraine, and even high blood pressure. (11)
Ginger has been studied for its use in reducing weight. The main active compound of ginger – gingerol – has been found to reduce fat and cholesterol in mice. (12) In one study, ginger water reduced weight in obese mice by increasing fat metabolism and improving insulin sensitivity in cells and glucose metabolism. (12)
A review of human randomized controlled studies also revealed that showed supplementation with ginger in obese individuals resulted in reduced weight and improved fasting blood glucose. (13)
There is no known side effect to ginger, and having its tea can be a delicious and effective way to aid weight loss.
7. Hibiscus tea
Hibiscus tea is prepared by brewing dried hibiscus flowers in hot water. It has been known to offer several health benefits such as lowering high blood pressure, reducing fat in the body, and improving liver and kidney disease. It also has a role in cancer treatment. (14)
Hibiscus has a rich polyphenolic and antioxidant profile that gives it all of its benefits. (15)
In a review published in 2019, hibiscus was found to reduce weight, fat accumulation, and total cholesterol levels in animal and human studies. (15)
The toxicity of hibiscus is being studied to establish a safe dose; however, doses of 250 mg/kg and 500 mg/kg per body weight in obese rats showed more obvious weight loss benefits than anti-obesity drugs. (16)
8. Pu-erh tea
Pu-erh tea or puer tea is a type of fermented tea in China and is historically used for the treatment of illnesses such as the common cold, flatulence, and indigestion. But it has many more health benefits. (17)
Recent studies have shown that consumption of Pu-erh tea can help decrease weight and discourage fat formation. The benefits of this tea are a result of theaflavins, theabrownins, and complex polysaccharides found in the tea. (17)
Some human studies evaluating the use of Pu-erh tea for weight loss showed it helped decrease weight and body measures. (17)
More human trials in varying populations need to be conducted to replicate results, but consuming Pu-erh tea can be beneficial in aiding weight loss.
9. Purple tea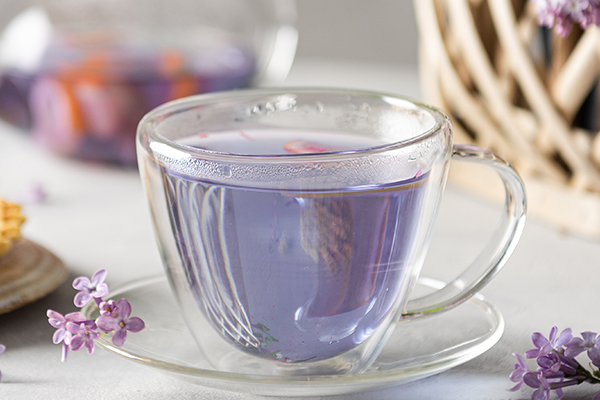 Purple tea comes from a variety of the same plant that gives green and black tea, and it is processed much in the same way as green tea but resulting in lower caffeine content. It is rich in the polyphenolic compounds found in green tea but also contains anthocyanidins. (18)
In animal and human studies, purple tea exhibited anti-obesity activities by suppressing fat absorption through its content of caffeine and catechins. (18) This effect was observed in a 4-week daily consumption of purple tea, hence suggesting long-term use may give beneficial results.
How to Consume
Tea connoisseurs will tell you to brew your tea at the right temperature for the right amount of time to make sure the tea tastes its best. And they wouldn't be wrong. Each type of tea has its own specific brewing time to extract all of its beneficial compounds without affecting the taste.
Teas are to be brewed in the range of 65–95°C (when the water is simmering and not boiling). Green tea and white tea need to be brewed at a temperature lower than black tea. The brewing time is between 5–10 minutes, with no significant difference in the polyphenol content of the tea (if the tea is in teabags) with each increased minute. (19)
Precautions to Consider
Drinking tea is one of the easiest ways to take care of your health. It's a leisure activity you can do with friends.
However, some debate on the potential toxicity of tea exists. Drinking more than 5 liters of green, black, or oolong tea per week can lead to loss of fluorine from the teeth and bones.
Teas also have some amount of lead that is within the acceptable limits of daily consumption. However, overconsumption of tea can lead to the accumulation of this heavy metal in the body, which is responsible for serious illnesses, especially in pregnant women and children. (20)
Most-Asked Questions
Will I get the same benefits if I add milk to my black tea?
Adding milk may decrease the potential antioxidant activity of tea due to the interaction between the milk proteins and tea catechins. (21)
Also depending on the type (full fat or skim), milk may contribute some calories, which may not be beneficial if the tea is being consumed for weight loss.
Is iced tea just as good as hot tea?
If you brew your tea with hot water for the right amount of time and then add ice to your drink or chill it, it will have the same beneficial effects. However, avoid adding sugar or other artificial flavors to your iced tea.
Final Word
Tea is a popular beverage. Black tea, green tea, and matcha are popularly consumed in many cultures on a daily basis. Due to its rich catechin and polyphenolic content, tea has several health benefits, some of which are reducing weight and improving the way the body stores and utilizes fat.
Several teas have been studied for their weight loss benefits. If brewed properly, tea can be an effective adjunct to weight reduction treatment plans. But it is also crucial not to overconsume tea in a zeal to lose weight.
Adding sweeteners or milk to the tea may also add extra calories to the drink that may reduce its weight loss benefits.
Was this article helpful?