Carrots are the most commonly consumed root vegetable all over the world. It is used in a variety of savory and sweet dishes. It comes in a variety of colors ranging from deep purple to yellow, though orange is the most popular and widely available variety.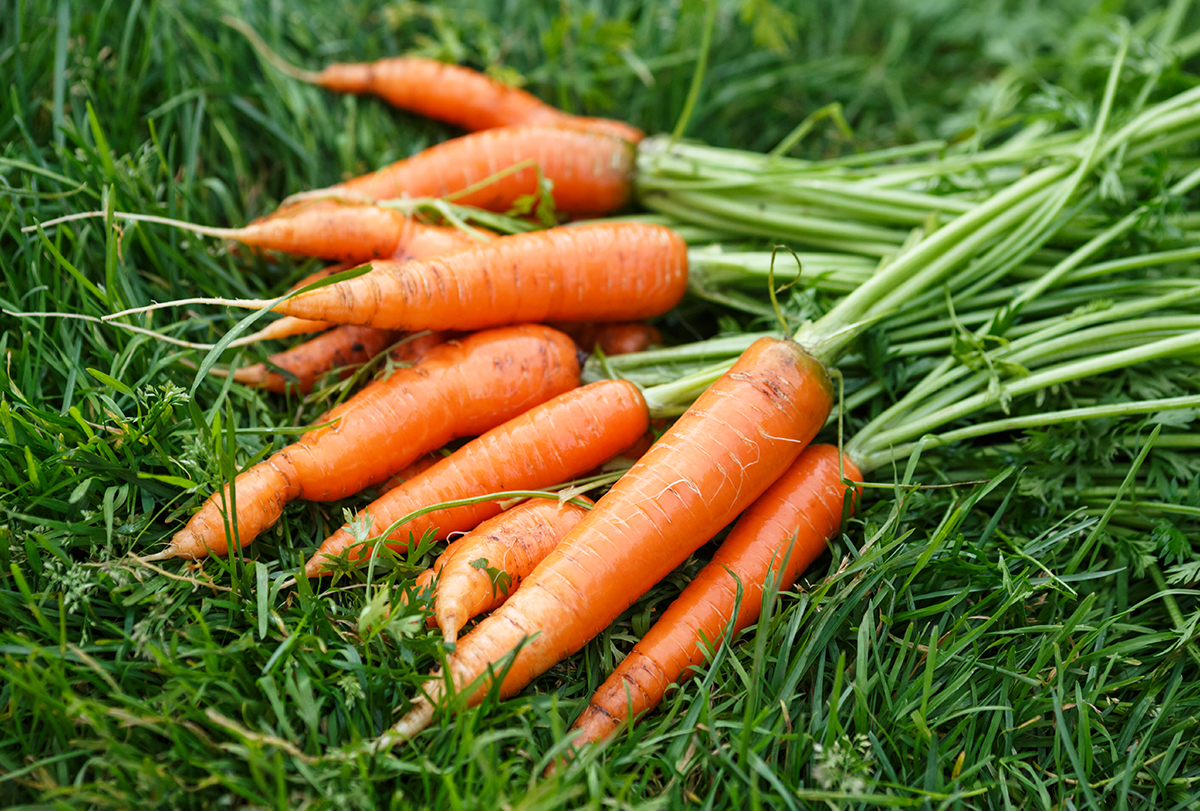 Carrots are rich in carotenoids, anthocyanins, dietary fiber, vitamins, and minerals. Carotenoids and anthocyanins are known to have several health benefits.
Nutritional Composition of Carrots
One medium carrot (61 g) contains only 25 calories, 54 g of water, and 1.7 g of fiber.
It has 509.35 mcg of vitamin A, which makes up for 57% of the day's requirement, 3.6 mg of vitamin C, 0.1 mg of vitamin B6, 8.1 mcg of vitamin K, and 195 mg of potassium. It is also rich in beta carotene, lycopene, lutein, and zeaxanthin. (1)
Health Benefits of Carrots
Here are some of the health benefits carrots have to offer.
1. Improves vision and eye health
Carrots have long been famed for their ability to improve vision and eye health.
Recent researches have shown that carrots are able to do so due to their beta carotene, lutein, and zeaxanthin content. They act by removing free radicals from the cells of the eye, which are responsible for causing oxidative stress and damage to the retina. (2)
Long-term studies have indicated that consuming a higher intake of lutein and zeaxanthin reduces the risk of developing age-related degeneration of the eye. (3)
2. Lowers cholesterol levels
Beta carotene is usually associated with a reduced risk of atherosclerosis (accumulation of fat in the blood vessels). (4)
Current research is ongoing to investigate the mechanism by which beta carotene reduces cholesterol, but general consumption of beta-carotene-rich carrots is good for overall health.
3. Reduces the risk of heart diseases
The antioxidants in carrots can reduce the presence of free radicals, thus reducing the overall risk of heart diseases. (5)
A population study showed that drinking 16 fluid oz of carrot juice for 90 days reduced systolic blood pressure and increased antioxidant capacity in the body. (6)
4. Aids in weight loss
Regular consumption of carrots as part of a healthy diet may help with weight reduction.
In animal studies, consuming carrot juice over a long period reversed the accumulation of fat in cells and reduced triglyceride and insulin levels in the blood. In the case of type 2 diabetes, carrot juice also reduced body weight, body mass index (BMI), and body fat percentage. (7)
In addition, the presence of fiber-rich food in the diet such as carrots, which are rich in soluble fiber, alters blood glucose and cholesterol levels (8) and brings about satiety, which reduces the risk of overeating. These effects are crucial in the management of obesity. (9)
5. Maintains healthy digestion
Due to their fiber content, carrots can support digestive health by increasing the diversity of gut microorganisms. (10) This healthy diversity is important in maintaining overall health.
Fiber also adds bulk to the stool and eases the symptoms of constipation.
6. Maintains oral health
Consuming a fiber-rich diet, such as one that includes carrots, is associated with a reduced risk of periodontal disease, an infection of the gums that may affect the bone if left untreated. (11)
7. May help in the management of diabetes
In animal studies, mice with type 1 diabetes that were fed with carotenoid-rich carrot powder had reduced blood glucose levels. (12)
Another study showed consumption of fermented carrot juice rich in polyphenols and organic acids may prove beneficial in regulating blood sugar, insulin, and antioxidant capacity. (13)
8. Improves skin health
Many phytonutrients are being studied for their potential role in protecting the skin against UV-induced sun damage.
Studies have supported the role of lutein and carotenoids, such as those in carrots, in improving UV-induced skin damage. (14) Furthermore, antioxidants such as those in carrots bind free radicals to protect the skin and slow down skin aging. (15)
Daily consumption of carrots may help in keeping the skin healthy and reversing skin damage.
9. May boost immunity
Beta carotene in the diet may boost immunity. Along with vitamins A, E, and C, vegetables such as carrots can be part of an immune-boosting diet.
One study revealed that consumption of beta carotene reduced the severity and duration of rhinovirus infection in humans by improving immune response. (16)
10. May reduce the risk of cancer
Antioxidants such as vitamins A and C and beta carotene have been studied for their potential role in cancer therapy. (17) The beta carotene in carrots may inhibit cancer cell formation and its multiplication. (18)
How to Consume Carrots
Carrots can be consumed in various forms cooked or raw. Consumption of one medium carrot per day can be sufficient in reaping all its benefits.
It is advisable not to use aggressive cooking methods such as boiling when preparing carrots as they can reduce the amount of beta carotene that can be used. Grilling, roasting, stir-frying, and steaming are better choices for cooking carrots. (19)
Carrots can be used in salads, side dishes, and snacks. Toddlers and children can also be fed carrots as purees.
Precautions to Consider
As with any food, you need to practice some precautions when eating carrots.
Do not consume carrots in large quantities as it can cause an excessive accumulation of beta carotene in the body, which can cause skin discoloration. (20)
Avoid consuming carrots as a juice as it may cause blood sugar levels to rise, especially if you have uncontrolled diabetes.
Some people may have allergies to carrots and must be careful in their consumption.
Most-Asked Questions About Carrots
Can I eat carrots every day?
Eating up to one medium carrot each day as part of a healthy diet is perfectly alright.
Can I eat carrots raw?
Cooking carrots increases the bioavailability of beta carotene. Cooking also converts fiber into soluble fiber, which is beneficial for easing symptoms of constipation.
Final Word
Foods rich in antioxidants are being heavily studied for their benefit in maintaining health. Carrots – a powerhouse of beta carotene – are useful in preventing heart diseases, lowering cholesterol levels, and reducing obesity.
The rich antioxidant profile of carrots makes them a useful adjunct in boosting immunity, preventing infections of gums, and protecting against cancer.
Like other foods, carrots are to be included as part of a healthy diet and shouldn't be used in place of medicine, especially for managing chronic conditions such as heart diseases and diabetes.
Was this article helpful?