Fat is metabolized by the body to release the energy it needs to stay active and perform the most basic physiological functions. This energy is measured in terms of calories.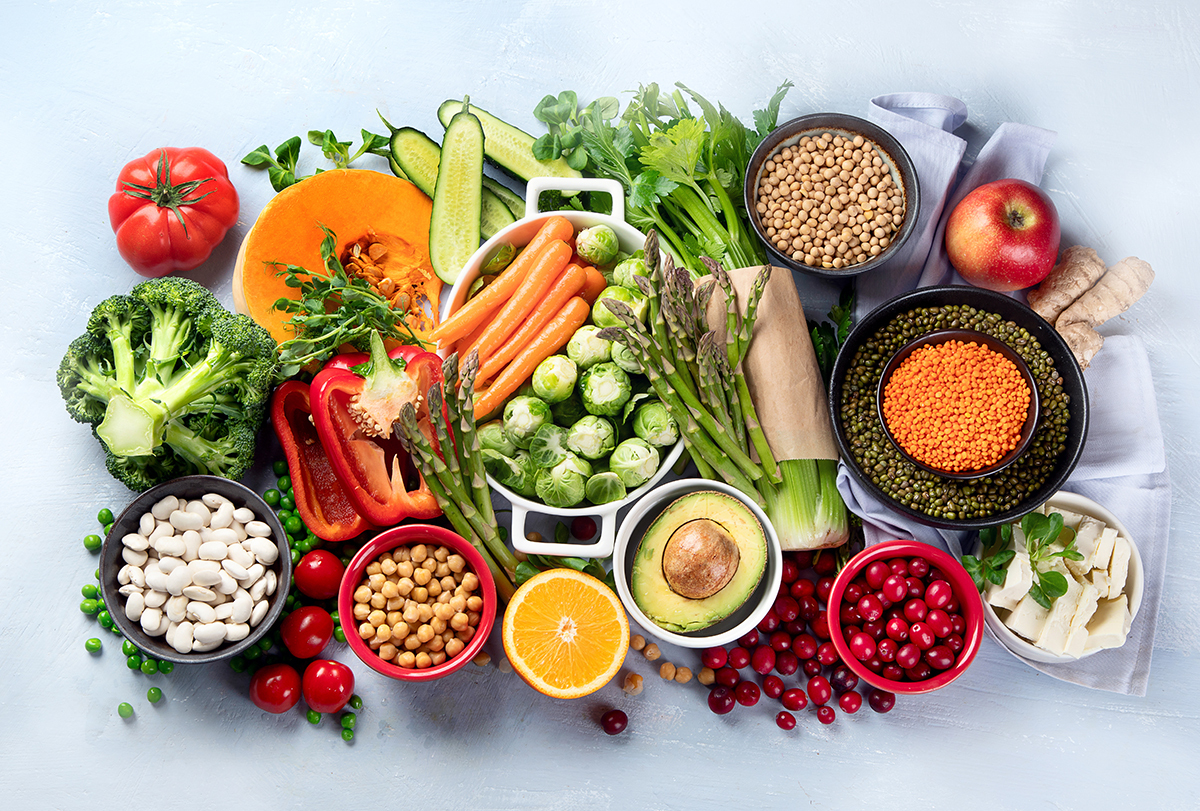 But if you consume more calories than you are burning, the body will store the excess fat, leading to weight gain. The more active you are, the more calories your body will burn, and vice versa. By that logic, weight loss is achieved when you burn more calories than you consume.
Your diet plays a significant role in body composition – it is the most influential environmental input affecting body fat.
Food is molecular information that modulates your gene expression and provides instructions to your physiology, telling it what to do. Needless to say, eating healthily is crucial for body fat management.
The Best Fat-Burning Foods
Here are some foods that can help melt away excess body fat:
1. Fiber-dense foods
Flaxseeds, chia seeds, and colorful nonstarchy vegetables (purple cabbage, zucchini, cauliflower, asparagus, dark leafy greens, etc.) (1) are all nutrient-dense foods with high fiber content but low calorific and glycemic values. These foods bulk up the volume of dishes without the need to add what is called "adipogenic or fat-laden foods."  
The fiber and phytochemicals in them help decrease the absorption of the calories and fat in other foods, mitigate blood sugar spikes, and thus concomitantly reduce your insulin levels. The insulin hormone is produced by the pancreas and is known to limit fat metabolism while also signaling the body to store fat.
When it comes to planning your weight loss diet, focusing on the addition of such foods rather than the restriction of other less healthy ones can help you lose fat in a sustainable manner.   
2. Green tea
Green tea is one of the most studied beverages. Clinical (human intervention) and epidemiological evidence suggests that the consumption of green tea is associated with a decrease in body fat and improvement of metabolic parameters. (2)
Green tea contains many bioactive constituents including polyphenols (especially catechins such as epigallocatechin-3-gallate, which has been shown to have high biological activity), free amino acids (such as L-theanine), and caffeine (which stimulates the hormone-sensitive lipase).
There is also ample mechanistic insight to glean from basic science research on green tea's hypolipidemic and anti-obesity effects, demonstrating that green tea influences fat metabolism, interrupts fat absorption, suppresses adipogenesis, and increases energy expenditure and fat oxidation. (3)
3. Ginger
Ginger has anti-inflammatory properties and compounds that can increase insulin sensitivity, such as gingerols, which have been shown to have anti-obesity effects. (4)
Inflammation directly antagonizes the insulin-signaling cascade, which reduces your sensitivity to insulin and tells your body to secrete more. This can result in hyperinsulinemia, which may progress to type 2 diabetes later on.
Gingerols can help keep your blood sugar stable, which helps with weight management. Also, ginger has been shown to aid in better digestion. (5)
A meta-analysis that looked at ginger's weight loss effects demonstrated that ginger has a significant effect on body weight and visceral fat. (6)
4. Raspberries
Raspberries are the most fiber-dense fruit. They contain little sugar and more fiber, and they are loaded with phytochemicals (such as anthocyanins) that have positive effects on metabolic health and body composition. (7)
5. Green apples
The skins of organic green apples (which are rich in a soluble fiber called pectin) (8) are better than the whole apple.
6. Broccoli
Cruciferous vegetables in general have been shown to have a myriad of health benefits, including anti-obesity effects. Along with broccoli sprouts, broccoli contains the most glucosinolates out of all the cruciferous vegetables. (9)
7. Cacao
The highest cacao content is found in 100% dark chocolate that is NOT processed with alkali, which destroys many of its beneficial compounds. It's best to buy pure varieties that don't contain sweeteners or milk. The less adulterated it is, the better.
Cacao has been shown to reduce appetite, improve insulin sensitivity, improve mood, and provide many favorable cardiometabolic effects. One of the ways cacao helps with fat loss is by improving mitochondrial biogenesis. (10)
A randomized controlled trial in 2020 showed weight loss from cacao consumption. (11) One study also showed that women who smelled dark chocolate had reduced levels of ghrelin, a hunger-stimulating hormone. (12)
8. Apple cider vinegar
The acetate in apple cider vinegar is a short-chain fatty acid/postbiotic that induces mitochondrial uncoupling, which short-circuits ATP synthesis and dissipates energetic substrate as heat.
Short-chain fatty acids have many health benefits including fueling the colonic cells in your intestines and enhancing intestinal integrity. (13)
Furthermore, apple cider vinegar has been demonstrated in randomized control trials to reduce postprandial blood sugar spikes when taken before, during, or after a meal. (14)
9. Lean proteins such as branzino and egg whites
Your body uses more energy for metabolizing protein than it does for metabolizing any other macronutrient (carbohydrates or fat). Protein is also harder to store than fat and primarily serves as a structural component of the body.
Plus, protein-rich foods induce the satiety hormones peptide YY and cholecystokinin (CCK) that make you feel full even after eating small amounts. (15)
10. Fatty fish such as wild Alaskan salmon
Not only is wild Alaskan salmon a great source of high-quality protein, but it is also rich in long-chain omega-3 fatty acids, EPA and DHA. (16) It is also high in a strong antioxidant called astaxanthin, which is responsible for giving salmon its pinkish color.
EPA and DHA are anti-inflammatory essential fatty acids that increase fatty acid oxidation. Sardines and herring are also low in mercury and rich sources of EPA, DHA, and protein.
11. Oysters
Oysters are a nutrient powerhouse; they are low in calories yet rich in bioavailable selenium, zinc, copper, vitamin B12, and protein. (17)
12. Black coffee
The caffeine and phytochemicals (such as chlorogenic acids) in coffee have been shown to increase the fat-burning machinery, such as the hormone-sensitive lipase that is a rate-limiting enzyme to lipolysis in adipose tissue.
13. Yerba mate
Yerba mate contains phenolic compounds and flavonoids that help reduce cholesterol levels and promote weight loss. This herbal tea has been demonstrated to have anti-obesity effects in randomized control trials. (18)
What Lifestyle Changes Should Be Made to Reduce Fat?
Incorporating the following modifications in your daily routine can contribute to fat loss:
Focus on addition (of nutrient-dense, calorically dilute foods such as nonstarchy vegetables) rather than restriction.
Take a shot of apple cider vinegar before, with, or after meals.
Change the order of eating your foods: fiber-rich vegetables first, followed by protein and then carbohydrates and/or fat. Changing the order you eat your foods will influence your physiological response to them. The fiber and protein help mitigate blood sugar spikes and may even reduce the number of calories absorbed.
Eat in a compressed feeding window (time-restricted feeding), and avoid eating late at night (such as after 7 pm). Food is one of the most significant cues that influence your circadian rhythm, and your body metabolizes foods differently depending on when you eat them. It's not just what or how much you eat but also when you eat that impacts your body composition and overall health.
Observe good sleep hygiene as it is fundamentally critical for overall health and has a significantly influential impact on body fat. Being sleep deprived even for a day can make your phenotype resemble that of a type 2 diabetes patient. Sleep is important in the regulation of stress hormones as well as hunger hormones. For instance, poor sleep increases levels of ghrelin and reduces levels of leptin. (19) Furthermore, elevated stress hormones such as cortisol and epinephrine have many deleterious effects including increased fat storage (especially in the abdominal area), decreased insulin sensitivity, and increased blood sugar.
Exercise regularly. There are several mechanisms by which exercise promotes fat loss. (20) It stimulates mitochondrial biogenesis, making you better at burning fat. It increases brown adipose tissue, which is saturated with mitochondria and highly thermogenic. Plus, it causes the activation of brown fat, which increases energy expenditure.
Final Word
There is no one miracle food that will burn away the excess fat all by itself. You will have to plan your diet to meet all your nutritional requirements while cutting down your total calorie intake.
To that end, there are many healthy foods that help melt the extra fat stored in the body. Incorporating these foods into your regular diet can help you lose the extra weight and keep it off. The good thing is that these foods generally offer a number of other health benefits as well due to their high nutritional value.
Consuming a nutritious, well-balanced diet along with regular exercise and favorable lifestyle changes is the only effective way to achieve sustainable weight loss without compromising your health. Starving yourself may seem like a shortcut to a slimmer physique, but it deprives your body of key nutrients that it needs to function properly.
Similarly, rigorous workouts without diet control may help you lose the extra pounds, but you will gain them back as soon as you give up exercise. And not to forget, consistency is key if you want your weight loss to last.
Was this article helpful?