When people talk about health, the first focus is always on the food they eat and the diseases they suffer from. Very little attention is paid to water and how important its role is in maintaining the body's normal physiological functions.
The body is made up of 75% water, and its deficit can affect several functions. (1)
Though there are no studies that state drinking warm water is more beneficial than cold water, there might be some benefits that warm water may offer.
Benefits of Drinking Warm Water
Here are some of the health benefits of drinking warm water.
1. Provides hydration
Maintaining a healthy level of hydration is very important for optimal overall health. It helps in the transport of nutrients, maintains the volume of blood, and aids in the removal of waste and toxins from the body. (1)
Dehydration in the body can occur in the case of diarrhea, excessive sweating due to exercise or weather, and insufficient water intake. (1)
2. May aid digestion
Warm water is believed to have a positive effect on digestion. It can relieve gastrointestinal spasms.
In one study, drinking warm water post-surgery enabled the release of gas and improved intestinal movement in patients. (2) Though more specific studies are needed to link warm water to digestion, there is no harm in sipping on warm water to boost digestive health.
3. May soothe a sore throat
Saltwater gargles have been used to ease throat ache caused by the common cold. The salt stops viruses from replicating and growing. (3) Warm water can be used for these gargles to soothe an achy and raw throat.
Warm water nasal irrigation, which is done by pouring a thin stream of warm saline water, can also help clear out nasal passages in the case of rhinitis. (4) However, caution needs to be exercised when using warm water.
Although there is no established link between drinking warm water and its benefit in common colds, you can consume it to soothe your throat.
4. Warms the body
A study has established that modulating the temperature of drinks can help in modulating the core temperature of the body. (5) In the study, body shivering due to cold temperatures was reduced within 10 minutes upon consuming warm water. (5)
This finding is promising for people who live in cold places and struggle to maintain a warm body temperature.
5. May improve brain function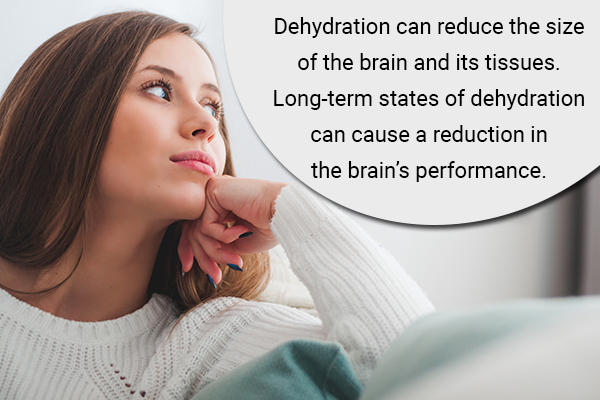 Dehydration can reduce the size of the brain and its tissues. Long-term states of dehydration can cause a reduction in the brain's performance. (6)
Consuming water, warm or otherwise, can therefore boost the brain's performance.
6. Eases constipation
There have been claims stating warm water is beneficial in reducing stomach spasms and improving movement along the intestines. (2)
Additionally, since dehydration is one of the causes of constipation, ensuring optimal levels of hydration in the body by drinking warm water or otherwise can help ease constipation. (7)
7. Improves circulation
Hydrotherapy has been used to treat several patients and rehabilitate them.
According to studies done on healthy young adults with the ability to maintain optimal body temperatures, immersion in warm water baths eased their cardiovascular system and improved blood circulation. This is attributed to the fact that warm water can relax the muscles including those of the blood vessels.
This is a promising avenue of research into the possible management of high blood pressure using warm water baths. (8) However, most of these studies were done in younger individuals, and the efficacy of a similar treatment has not been established in the elderly.
8. May decrease stress levels
Many research studies have observed drinking plain water at warm or room temperatures can be effective in decreasing the risk of depression and anxiety in adults. (9)
Also, taking warm water baths at temperatures of approximately 40°C has been known to improve blood flow. This effect is beneficial not only in maintaining healthy physiological functions but also in improving blood flow to the brain, which can lead to better mental health. (10)
In one study, Japanese participants who had warm water immersion baths reported feeling more relaxed, refreshed, and relieved from stress. (10)    
Soaking in a warm water bath for 10 minutes can therefore relieve some amount of stress and anxiety.
9. May aid kidney function
The kidneys are the primary organs responsible for eliminating most of the waste from the body via the process of filtration and urine. (11)
Studies have reported that drinking enough water and avoiding a state of dehydration improve the function of kidneys. (11)
There is no evidence to suggest warm water has any particular benefit as compared to room-temperature or cold water. However, drinking enough water is essential for optimal kidney health.
10. May aid achalasia
Achalasia is the difficulty in swallowing food and drinks through the food pipe (esophagus). (12)
In one study, warm water at around 60°C improved the flow of food and caused a reduction in the retention of food in the esophagus in patients with achalasia. (12)
This is a simple and easy-to-use remedy to ease the difficulty in swallowing in those with achalasia.
Precautions to Consider
When consuming warm water, it is essential to maintain its temperature between 30°C and 60°C and not to consume it when it is too hot as it can burn the tongue and throat.
According to traditional Persian medicine, drinking warm water for a long time weakens the stomach and intestines. This medicinal system gives preference to drinking cool water (without ice). (13)
Most-Asked Questions About Drinking Warm Water
What temperature should the warm water I drink be?
Warm water for drinking should be maintained at a temperature of 30–60°C.
Will drinking warm water make me healthy?
There is no direct evidence linking warm water to being healthy; however, it may help maintain optimal levels of hydration and will promote good digestion. 
Final Word
Water is an important component of human physiology as it is involved in several human functions. Drinking less water can cause dehydration and harm to the organs.
Though drinking warm water has no particular benefit over room-temperature or cool water, it is beneficial as a bath and gargle. Caution needs to be exercised so as not to drink or use excessively hot water as it may cause burns.
Was this article helpful?