Water contains zero calories and barely any organic nutrients, but is essential for various life-sustaining biological functions. (1) So much so that humans may survive without food for 2 weeks but cannot survive without water for more than 2 days.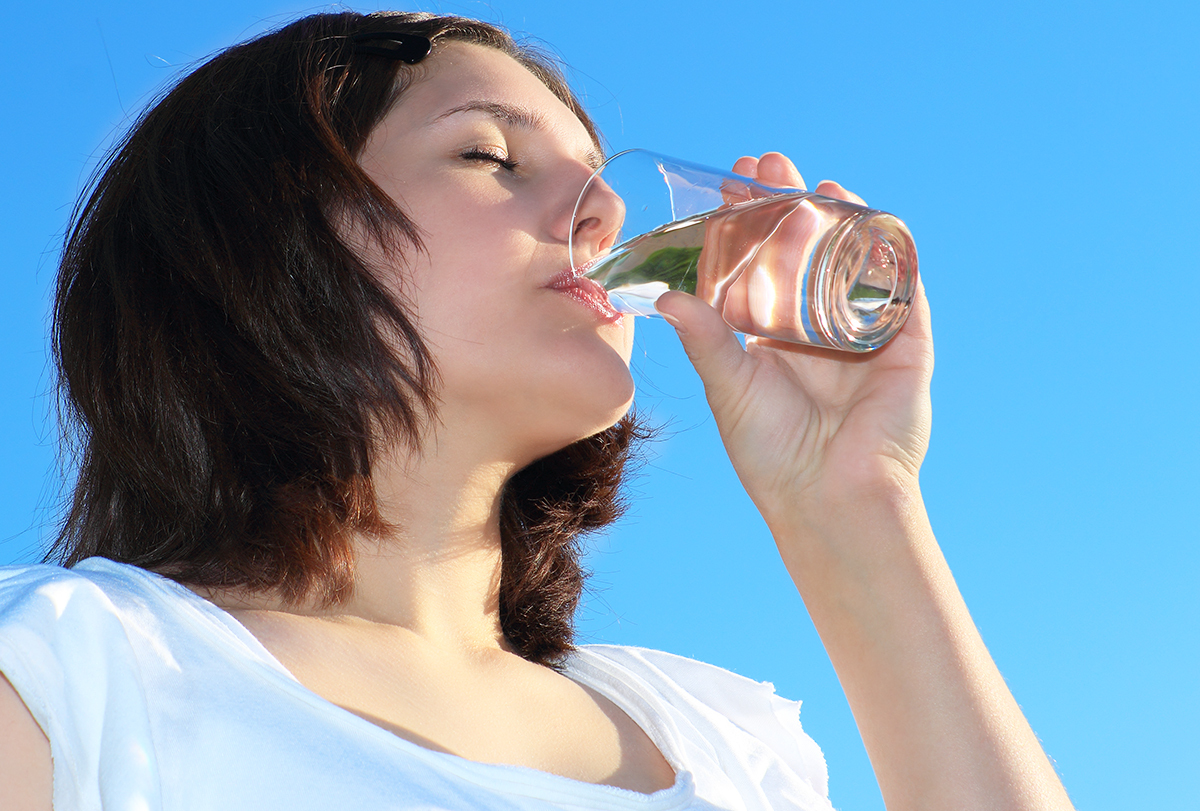 Water and the Human Body
Water is a major constituent of various body parts and is present in the following amounts:
Brain and heart – 73% water
Lungs – 83% water
Skin – 64% water
Muscles and kidneys – 79% water
Bones – 31% water
At birth, babies are composed of 78% water and this decreases to 65% by age 1.
Women tend to carry more fat, which contains less water than lean tissue. Thus, bodies of adult women are composed of 55% water, whereas bodies of adult men are composed of 60% water.
What Increases Water Needs?
Your body's water requirement increases in these conditions:
Fever
Diarrhea or vomiting
Physical activity or exposure to warm/hot conditions
Replace fluids lost through sweat. With excessive sweating, drinks rich in sodium are recommended. (1)
Consuming a high-protein diet (to help promote proper kidney function)
Consuming a high-fiber diet (to prevent constipation)
What Role Does Water Play in the Body?
Water is a vital component in the human body as it fulfills these functions:
Cellular homeostasis
Regulating body temperature
Lubricates the joints
Protects the spinal cord and sensitive tissues
Promotes a healthy digestion
Assists in the removal of waste via urination, perspiration, and bowel movements
Assists in the transportation of nutrients and oxygen to cells
Promotes normal blood pressure and stabilizes the heartbeat
Promotes normal saliva production
Moistens the mucous membranes in the lungs and mouth
Assists in maintaining proper electrolyte balance
Benefits of Drinking Water
Drinking enough water is beneficial to the body in several ways.
1. Maintains a healthy digestion
Sufficient water intake improves the body's ability to break down food, hence promoting a smooth-functioning digestive system. It prevents constipation as well as reduces gas and bloating.
When the body has inadequate water supply, the colon absorbs water from the digested food in an effort to hydrate the body. This often results in an altered fluid balance in the gut and hardened stools or constipation.
Several studies found that daily consumption of natural mineral water that contains magnesium sulfate and sodium sulfate improved bowel movement frequency and stool consistency. (2)(3) Water can also help reduce heartburn, which is a very common gastrointestinal symptom.
A randomized control study found that hydrogen-carbonate-rich mineral water was effective in alleviating heartburn frequency and severity. (4)
2. Aids in weight management
Increasing your daily water intake may help trigger weight loss in the following ways:
Being a healthier substitute to sugary, calorie-laden beverages (5)
Some studies showed that consuming more water can help facilitate greater weight loss as well as better BMI and appetite scores, (6)(7)(8)(9) but further research is needed to establish these claims conclusively.
3. Promotes proper kidney function
In order to work properly and efficiently, the kidneys require adequate fluids to clear the unwanted wastes from the body. Water acts as a medium to flush out the toxins from the body via sweat and urine.
Studies showed that increased water consumption reduces the risk of nephrolithiasis, chronic kidney disease, and kidney stones. (10)(11)
4. Promotes healthy skin
Maintaining adequate water intake keeps the skin hydrated and improves capillary blood flow to support healthy and young-looking skin. Conversely, a dehydrated state thickens the blood and dries out the skin.
A study showed that water intake might increase the hydration of the stratum corneum, which is the outer layer of the skin. (12) Water also helps prevent or even treat soft lines, scars, acne, and wrinkles. (13)
5. Reduces the risk of urinary tract infections
Urinary tract infections (UTI) occur when bacteria moves from the bladder to the urethra to contaminate the genitourinary system. This recurrent condition is associated with inadequate fluid intake, low urine output, and high urine osmolality and acidity.
The most basic step in preventing and treating UTIs is drinking plenty of water, as doing so increases your urine output to flush out the infection-causing bacteria and helps maintain optimal urine pH to keep it from becoming too acidic. (14)(15)
Some studies demonstrated that increased daily water intake over 1 year decreased the frequency of cystitis by 50%. (16)(17)
6. Treats headaches and migraines
An inadequate fluid status can result in triggering headaches or migraine episodes.
Chronic mild dehydration may lead to frequent headaches, which are best treated and prevented by meeting the body's daily water requirement. (18)
Some studies highlighted the beneficial impact of adequate water intake in reducing the intensity of headaches. However, others found it to be largely ineffective in reducing the duration of headaches. (19)
7. Relieves fatigue
Fatigue is one of the first detectable symptoms of dehydration. When the human body suffers from dehydration, it experiences a decrease in blood volume. As a result, pumping oxygenated blood throughout the body becomes more difficult and less efficient. This extra work on the body can lead to fatigue.
8. Helps alleviate mood
Mild dehydration occurs when there is a fluid loss of 1%–3% that is not replaced. This loss is found to negatively impact the brain, impairing mood, concentration, and memory. (20)
An inverse relationship was also found between plain water consumption and depression, (21) but further research is needed to clearly understand and establish this link. To conclude, it is safe to say that meeting your recommended water intake can help improve your mood when feeling low.
9. Additional benefits
Sufficient water intake may also improve your health in the following ways:
Helps rehydrate the body and control hangovers
Assists in stress relief
Improves foul-smelling breath
Aids the body in staying physically active
However, more research is needed to confirm these benefits.
How Much Water Do You Need?
A person's daily water requirement varies depending on various factors, including gender, age, pregnancy or lactation, diet, weather, and level of physical activity. The old standard is drinking at least eight (8-ounce) glasses of water a day.
However, the National Academies of Sciences, Engineering, and Medicine determined that men should have 3.7 liters (125 ounces) and women 2.7 liters (91 ounces) of water a day. (22)
Water intake should be throughout your day and increased with exercise. You should never feel thirsty because that means you are already in stage one of dehydration.
Sources of Water
It is found that 80% of total fluid intake is obtained from drinking water and other beverages that often contain caffeine. The other 20% of fluid needs are obtained from food intake.
What to consume: Soup, milk, tea, coffee, soda, drinking water, and juice are all sources of water, as are succulent fruits and vegetables with high water content.
What to avoid: Although alcohol contains water, it is a diuretic, which means it increases urine production and thus promotes water loss.
Water Content in Different Food Items
The following shows the amount of water in foods. (23)
| Percent of Water Present | Sources |
| --- | --- |
| 100% | Plain water |
| 90%-99% | Fat-free milk, cantaloupe, strawberries, watermelon, lettuce, cabbage, celery, spinach |
| 80%-89% | Fruit juice, yogurt, apples, grapes, oranges, carrots, cooked broccoli, pears, pineapple |
| 70%-79% | Bananas, avocados, cottage cheese, ricotta cheese, baked potato, cooked corn, shrimp |
| 60%-69% | Pasta, legumes, salmon, ice cream, chicken breast |
| 50%-59% | Ground beef, hot dogs, feta cheese, cooked tenderloin steak |
| 10%-19% | Butter, margarine, raisins |
| 1%-9% | Walnuts, dry-roasted peanuts, chocolate chip cookies, crackers, cereals, pretzels, peanut butter |
| 0% | Oils, sugars |
Excessive Water Loss: Dehydration
Water losses are normal for the human body through sweat, tears, breathing, urine, and bowel movements. Typically, healthy individuals are able to replace these losses and remain hydrated through the consumption of fluids and foods in which water can be derived.
Individuals who suffer from a fever, diarrhea, vomiting, or overexposure to heat are at higher risk for dehydration due to excessive losses in water that are not being replaced adequately.
Symptoms of dehydration include:
Dark-yellow and concentrated urine
Dizziness or light-headedness
Dry mouth, lips, and eyes
If you experience such symptoms, drink fluids. You may need to consult a medical professional for IV fluids to rehydrate.
What Is Overhydration?
Overhydration, also known as water intoxication, is a rare phenomenon that occurs when the consumption of water is much higher than the losses of water.
Overhydration causes an imbalance of sodium and other electrolyte levels. Hyponatremia occurs because sodium levels become diluted in the bloodstream. (24)
Also, water starts to leave the bloodstream to enter the cells, causing swelling. Such swelling requires immediate medical treatment, especially if occurring in the brain.
Most-Asked Questions About Water Intake
What is a full liquid diet?
Full liquid diets are composed only of fluids or foods that are liquid at room temperature. Full liquid diets include dairy products and are therefore less restricting than clear liquid diets.
Clear and full liquid diets are often recommended before or after certain types of surgery and are not recommended for long-term use.
Where does drinking water come from?
Drinking water is supplied to homes from two sources:
Surface water: Collected from streams, rivers, lakes, or reservoirs.
Groundwater: Collects in spaces within rocks or underground aquifers. Obtaining the water requires drilling wells and pumping water to the surface.
Public water systems obtain water from both sources.
When can babies drink water?
Breast milk and infant formula are recommended from birth until 6 months. After 6 months of age, babies can consume small amounts of water in addition to breast milk or formula feedings.
Is drinking water before bed recommended?
The main downside of consuming too much water right before bed is the likely sleep interruption due to the need to use the restroom in the middle of the night, also known as nocturia. Such disturbances in the sleep cycle can lead to feeling less rested in the morning. (25)
Expert Answers (Q&A)
Answered by Olivia DiPio, RDN
Does drinking ample amounts of water lead to weight loss?
Drinking ample amounts of water does not lead to weight loss, but it does aid it. However, oftentimes people confuse hunger and thirst.

That is why dietitians suggest having a glass of water before meals because it makes you feel full and prevents mindless snacking.

Drinking water is a vital part of losing weight because when you are hydrated properly, then your body can perform at its peak. Also, replace sugary drinks with more water and watch the weight melt off!
Does drinking plenty of water make the skin radiant and shiny?
Your body is 80% water, which enables cellular homeostasis and various other critical physiological functions that keep your body alive and healthy.

The skin is the biggest organ, which needs to be hydrated, not just externally but also from within, through proper water intake.

Every individual has different water needs, which must be fulfilled to improve skin structure and appearance. However, you cannot expect to overcome all your skin problems with this intervention alone. If you need help with your skin, I suggest reaching out to a dermatologist that can better help your skin needs.
Is it advised to drink water with a meal or before/after meals?
It is never a bad idea to have a glass of water before eating because it will help you not overeat. But you should strive to drink water all day, every day.

The best way to do this is to always keep a reusable water bottle with you to ensure that you have easy access to water. Try to drink 8–16 ounces of water when you wake up to jump-start your water intake and get your body set for the day.
Should one consume warm or cold water?
Evidence goes back and forth on whether one is better than the other. My opinion is whichever way helps you increase your water intake is the best way for you – whether that is having warm water with lemon or iced-cold water. There is no "bad" way to consume more water, just a better way for you.
What important points should be kept in mind when increasing water intake?
– Keep a reusable water bottle with you, ALWAYS.
– Add fruit or herbs to water. Oranges, lemons, mint, and basil are great additions to water.
– Drink 8–16 ounces of water first thing when you wake up.
– Set goals. For example, "I will refill my water bottle six times today." Pick a number and then stick to it!
Final Word
Water promotes health when consumed in adequate amounts. A healthy human body is good at signaling the need for fluids and foods to maintain a hydrated state.
It is worthwhile to start your daily routine with a glass of water along with fruit and vegetables and make an effort to choose water over tempting caffeinated or alcoholic beverages.
Was this article helpful?