Arugula leaves are popular salad leaves alongside baby spinach and lettuce. They have a distinctive peppery taste that stands out.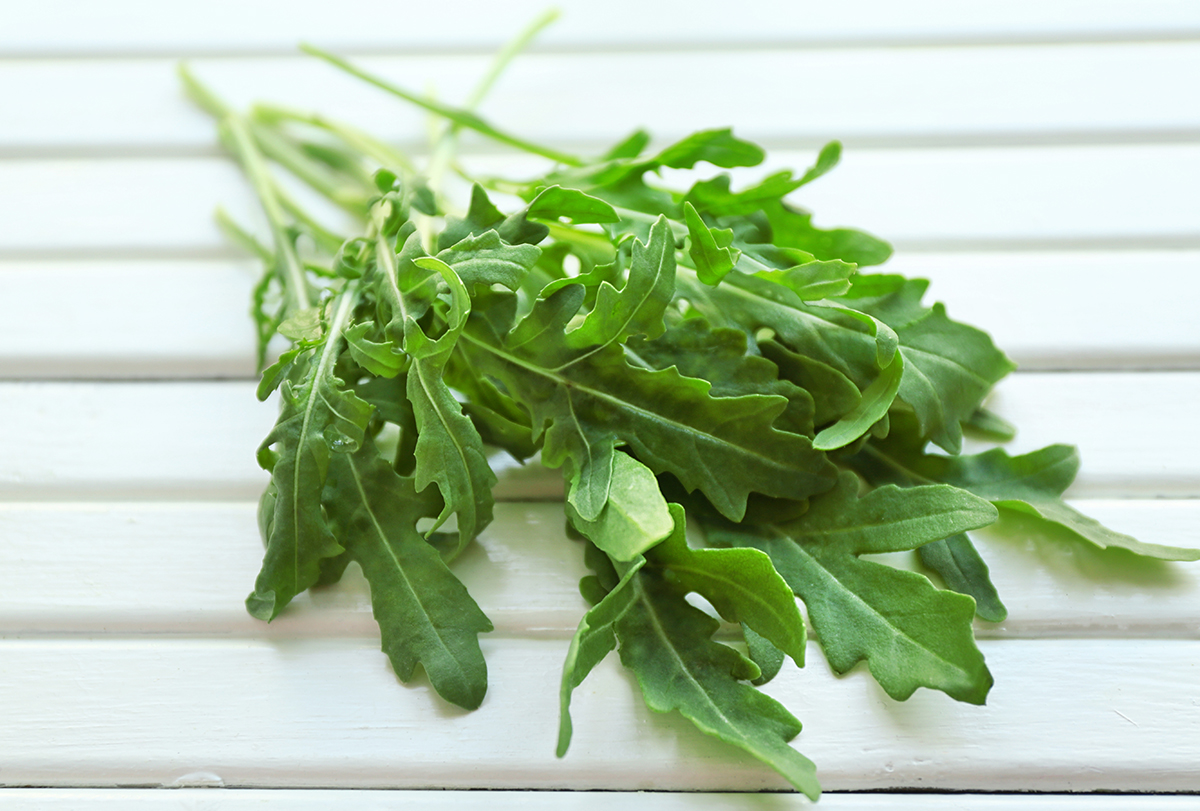 Arugula belongs to the same family of plants as broccoli, cauliflower, and cabbage. (1) It is widely grown in India, Pakistan, North Africa, Iran, and some European countries. (1)
Nutritional Profile of Arugula
About 100 g of arugula leaves contains a mere 25 calories, along with 4 g of carbohydrates, 3 g of protein, almost 0 fat, and 92 g of water. (2)
A 100 g serving of arugula provides 13% of the daily requirement of vitamin A, 25% of folate, 15% of vitamin C, and 90% of vitamin K. It also contains some amounts of other B complex vitamins. (2)
Arugula is also rich in minerals such as calcium (160 mg), magnesium (47 mg), iron (1.5mg), manganese (0.3 mg), and potassium (369 mg). (2)
Health Benefits of Arugula
Consuming arugula offers the following advantages to health.
1. Promotes heart health
Arugula leaves contain beneficial compounds such as flavanols that have a beneficial effect on the heart. In one study, arugula reduced inflammation in the body and prevented blood clot formation that could potentially clog blood vessels. (1)
The results of multiple studies have also indicated that a diet rich in flavanols such as those from arugula largely benefits heart health and reduces the risk of developing heart diseases. (3)
2. Reduces blood pressure
Arugula is one of the most abundant sources of nitrates with 2 units per 80 g, and nitrates aid in regulating blood pressure. (4) They work by relaxing the muscles of the blood vessels, reducing their thickness and easing stiffness to ease the flow of blood and reduce pressure. (4)
In addition, the potassium in arugula can help reduce blood pressure by balancing excess sodium in the body. (5)
3. Reduces diabetes complications
Extracts of arugula show antidiabetic activity by reducing blood sugar and total cholesterol levels. (6)
Lab studies have found arugula to improve insulin sensitivity in cells, which can be used to manage type 2 diabetes effectively. (6) Moreover, animal studies have found that kaempferol in arugula reduced complications of diabetes that arise in the nerves. (1)
4. May improve skin health
The vitamin C and vitamin A in arugula are important for skin health as they promote collagen production and maintain elasticity in the skin, reduce free radical damage, and protect the skin against UV damage. (7)
Though there is no direct evidence of arugula's effect on the skin, these nutrients likely provide the benefits.
5. Boosts exercise performance
Dietary nitrates improve exercise performance in athletes and boost recovery post exercise. (8) Including arugula in pre- and post-meals can be an effective and natural way to improve fitness levels.
6. Aids in detoxification
Though the liver and kidneys are the body's main detoxification sites, certain nutrients can aid the detoxification pathways.
Arugula contains a compound called erucin, which improves the activity of detoxification enzymes and is also useful in bringing about cancer cell death. (9)
7. May improve reproductive health in men
Arugula can help improve erectile dysfunction in men, though not directly.
In a study conducted on rats, arugula consumption enhanced the activity of a drug commonly prescribed for erectile dysfunction. This study suggested that arugula consumption in addition to medication may be beneficial, though it is recommended you consult a doctor first. (10)
8. May promote good sleep
A recent study has found a relationship between certain nutrients and sleep. The Mediterranean diet, which is rich in fruits and vegetables such as arugula, is believed to induce good sleep as it provides nutrients that promote good-quality sleep. (11)
9. Reduces cancer risk
Arugula contains potent compounds that have been widely studied for their role in cancer prevention. (9)
In addition, erucin (a compound found in arugula) can interfere with cancer cell growth and prevent them from multiplying and spreading. (12)
How to Consume Arugula
Arugula can be safely eaten raw. Due to its taste, it is often included in salads and not smoothies or other health drinks. A drizzle of olive oil, apple cider or balsamic vinegar, and lemon juice can help mask the strong taste if you are averse to it.
Precautions to Consider
Since arugula leaves contain a lot of vitamin K, it may interfere with blood-thinning medications such as warfarin.
It is advisable to consult a doctor before consuming such foods. In addition, consuming excessive amounts of arugula can cause flatulence, bloating, and stomach discomfort due to its high amounts of fiber.
Most-Asked Questions About Arugula
Is arugula the same as rocket leaves?
Yes, arugula leaves are also known as rocket or roquette leaves.
Can I eat arugula every day?
About 100 g or roughly 3 handfuls of arugula leaves can be eaten daily; it can protect the body from illnesses and keep it healthy.
Which is better arugula or spinach?
Both arugula and spinach have health-benefiting properties and can be included in the diet in moderate amounts for their benefits.
Does arugula make you gassy?
Arugula has high fiber content and can cause stomach discomfort if eaten raw and in high quantities. Combine it with vinegar or lemon juice to make its digestion easier and to reduce discomfort.
Final Word
Arugula leaves are another example of nature's bounty.
Loaded with beneficial vitamins, minerals, and other bioactive compounds, arugula offers various health benefits that include improving diabetes and its complications, keeping the heart healthy, lowering blood pressure, protecting the body against cancer cells, aiding detoxification, and improving skin health.
Was this article helpful?