Climbing enthusiasts know what their bodies have to go through in order to support their endeavors.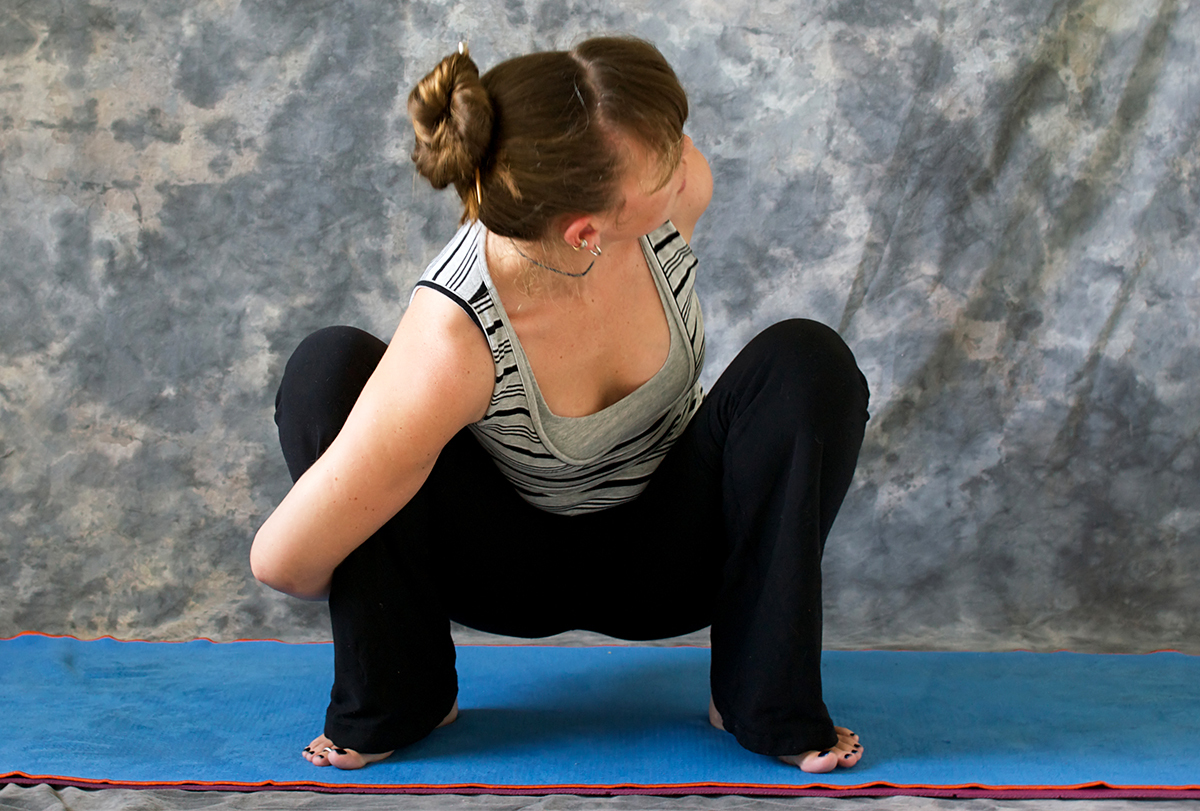 Not only does the sport require optimal endurance, strength, and balance, but it also asks for a high level of mobility and flexibility, especially when the conditions aren't ideal.
Yoga can tackle all of the above, as well as add the most important aspects: mental stillness, clarity, and breath. Including yoga in your fitness routine is one of the best things you can do for your body and mind, especially when reaching for that mountaintop.
Here are the best yoga poses for climbers.
1. The Yogi Squat (Malasana)
If you're a climber, you're well aware of how mobile and open your hips need to be in order to tackle whatever obstacle you might face on your way up (or down!).
Loosening up and opening that area of your body will increase your range of motion, improve your agility, and enhance your reactions.
One of the best yoga poses you can work on is the Malasana, also known as the yogi squat. It elongates your spine, keeps your upper body neutral, and allows your elbows to help you get deeper in the pose.
How to do this pose:
Starting in a squat, place your hands on the floor in front of you, shoulder-width apart, palms facing down.
Press down your palms firmly to the mat, and walk your feet to the outside of your hands. Lower down your hips, and immediately feel the extension in your lower back, as gravity pulls your tailbone down.
Pull your arms closer to the body, so you're able to push into your legs and use them to open your hips even further.
You can choose to stay in this position or clasp your hands in "Anjali mudra," or prayer form, and move your knees away from the body with your elbows.
Whatever version you choose to do, inhale and elongate your spine, gazing straight forward, so your upper spine isn't caving in. Exhales bring you deeper into the pose, loosening up your hips and allowing your glutes to relax.
Advance by twisting to one side and then the other, choosing to go as deep as you like. You can even bind your pose if it's accessible to you, always leaving space to maximize your breathing.
2. Warriors
Climbing requires a lot of strength in the thighs and calves, and that's why practicing warriors I and II regularly will help tone and firm your lower body. There's no better way to do it than flowing through sun salutations with longer holds of the warrior poses.
How to do this pose:
Start in a standing pose at the top of your mat, feet together and hands by your sides. On inhale, extend your arms over your head, and on exhale, bend into a standing forward fold.
If your fingers touch the floor, leave them there and inhale with your straight back into a half-way lift, just gazing forward. If your fingers can't come close and your flexibility doesn't allow it, place them above or under your knees.
Bend your legs at your knees and place your palms right next to your feet. Step your feet back, hip-width apart, into a plank pose.
Stay in your plank for a moment and feel your abs and legs engage. Look forward, move forward, and lower down to a half-way push-up (Chaturanga).
On inhale, push your hips forward and open your chest into an upward-facing dog, on exhale, push your hips back and into a downward-facing dog.
Inhale and raise your right leg up and back. Exhale and step right in between your palms, left foot firmly pressed into the floor, angled at 45°. Stay low in your base and lift up to warrior I. Just practice stillness in this position, feeling your muscles engage and do the work.
Stay for at least 3 breaths, but try to work yourself up to 5, or even longer, so you start feeling the burn in your front thigh.
On your last exhale, open up to warrior II and go low and deep. Try to aim for as parallel to the floor as possible. This is your yoga, this is where the magic happens.
Once again, try to stay for 3–5 breaths (or more), and on your last exhale, cartwheel your hands all the way down beside your front foot, stepping it back into a plank to meet your left.
Flow back through your Vinyasa and repeat it all on the other side.
Sun salutations and flows are important –they not only warm the body up and prepare it for everything there is to come, but they are also incredibly toning, stamina building, and mentally challenging.
3. Triangle Pose (Trikonasana)
A pose that really opens up and stretches out the hips and at the same time tones the legs and manages to even throw in a twist is the triangle pose, or Trikonasana.
It's also a balancing pose and activates so many different areas of the body at once, which is crucial when you find yourself grabbing for balance in a tricky situation.
How to do this pose:
Starting in a warrior II, straighten out your front leg and use your inhale to lean forward with your torso, as far as you can go without moving your feet.
Exhale and place your right hand below your front knee, grab your ankle, or even hook your big toe if your flexibility allows it.
Inhale and raise your back hand straight toward the sky, constantly feeling like you're trying to reach for the ceiling. Keep on lifting the entire time you're in the pose to avoid collapsing on your lower leg and into your hip crease.
Keep your legs strong and active, and feel the stretch in your upper hip and side body, while trying to go deeper and opening up your ribs toward the sky. Send your tailbone toward the wall behind you, and dig your back heel into the ground so that you feel your entire spine elongate.
Stay in this position for 3–5 long breath cycles.
On your last exhale, look down toward your lower hand, bend your front knee, and inhale using your core to pull yourself back up to a warrior II.
Repeat on the other side.
4. Eagle Pose
The eagle pose is a twisty balancing pose that strengthens the legs, knees, and ankles; stretches out the upper back and shoulders; activates the abs and hip flexors, and improves overall balance.
All of these are extremely important when climbing. This adventure sport requires strong joints and stable tendons, which you'll definitely challenge in the eagle pose.
How to do this pose:
Start in a standing position, feet together, and hands by your sides. Inhale and lift your arms over your head.
Exhale and swing your arms down, bending the elbows and twisting them in front of your face, right arm swooping under the other left. Clasp your palms and try to get your fingers in one line.
Inhale at this point. Then, exhale while pushing your interlaced arms away from the body. Stretch the shoulders and space between the shoulder blades as well.
Once you feel good and stable, bend your knees and lift your right leg to cross it over the left, toes pointing toward the floor.
You can stay in this position and work on leveling out your hips, or you can go a bit deeper and try to wrap the top of your right foot around the lower left calf. Breathe and sit lower, activating your core and pulling your belly button up toward your spine. Find a focus point and keep your eyes on it, feeling your body work to maintain balance.
Stay in this position for 3–5 breaths.
Slowly untangle and come back to standing.
Repeat on the other side.
Final Word
Climbing is an intense sport, and working on stabilizing the joints and strengthening the supporting muscles is not an easy task. Yoga helps in more ways than one, as it adds the element of stillness, helps you control your breath, and keeps you in the present moment. (1)
Was this article helpful?