Itchiness refers to an urge to scratch your skin. The itch may be felt in one area or even all over the body. At times, itching is accompanied by hives or a rash.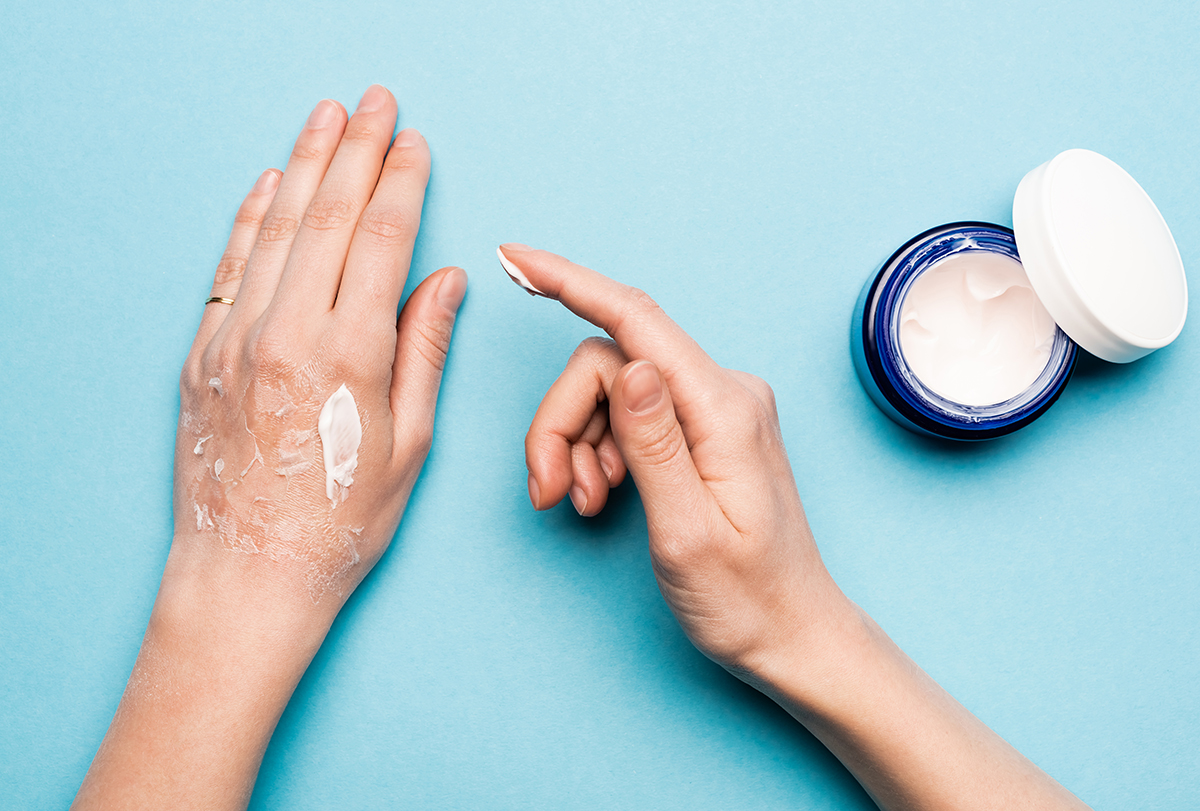 This sensation can be quite irritating and discomforting. However, various remedies can help relieve an itch quickly.
Home Remedies for Itchy Skin
The following treatments using easily available ingredients can help relieve an itch.
1. Take a warm colloidal oatmeal bath
Colloidal oatmeal is essentially oats ground into an extremely fine powder, which may help alleviate a variety of skin problems, such as erythema, burns, eczema, rashes, and dry and itchy skin.
Oatmeal in colloidal form is known to exhibit anti-irritating, anti-inflammatory, and skin-soothing properties that may provide quick relief from itching. (1)(2) Moreover, a colloidal oatmeal lotion is considerably effective as a skin moisturizer, which may help reduce skin dryness and improve its barrier function. (3)
Summary:
Colloidal oatmeal is recognized as an anti-inflammatory ingredient that may help soothe dry, itchy skin and improve its barrier function.
2. Apply coconut oil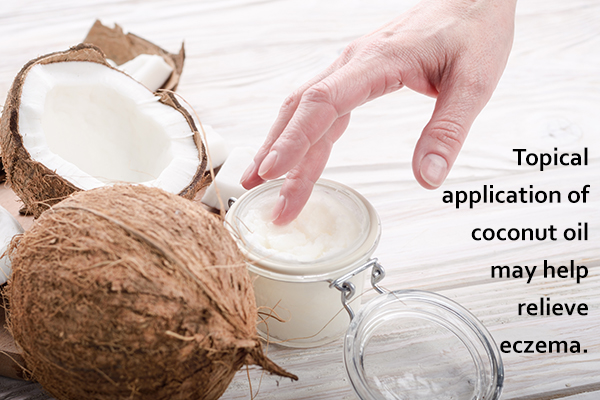 The topical application of coconut oil may help relieve eczema in both kids and adults. This natural emollient not only hydrates parched skin but also doubles up as a potent antimicrobial agent with significant antioxidant and anti-inflammatory properties. (4)(5)
Summary:
Coconut oil has long been used as a skin moisturizer and for a good reason. The antimicrobial and anti-inflammatory properties of this natural emollient have been supported by multiple researches.
3. Use gentle cold therapy
The same nerve fibers are responsible for carrying the sensations of both cold and itching. Applying cool water on the itchy skin may provide instant but temporary relief from the discomfort.
4. Moisturize with shea butter
Shea butter possesses nourishing and moisturizing properties, which may help soothe the itching.
Although the use of shea butter for itchy skin has not been studied in clinical trials, it is a popular anecdotal remedy for the same. You can try applying shea butter on your skin if you are not allergic to it.
5. Soothe skin with aloe vera extract
The viscous gel contained within aloe vera leaves is richly supplied with vitamin E. This vitamin is a potent antioxidant that can help nourish your skin and protect it from free radicals and external irritants.
Aloe vera also works as a hydrating, anti-inflammatory, antibacterial, and antifungal agent. (6)
6. Use baking soda
Baking soda can help reduce inflammation by neutralizing the acids (7) on the skin. However, the use of baking soda is merely anecdotal and its efficacy is very much subjective.
How to use: You can mix baking soda in water and apply this paste to the affected areas. Alternatively, you can rinse the skin with baking soda water (1–2 cups of baking soda mixed in a tub of lukewarm water).
7. Apply apple cider vinegar
Apple cider vinegar (ACV) possesses antimicrobial (8) and anti-inflammatory properties that can help reduce itchiness associated with a bacterial infection. However, it must be employed with caution as its use is based purely on anecdotal evidence.
How to use: Mix ACV and water in a 1:2 ratio, and apply it to your skin using a cotton ball. You can also add 1 tablespoon of ACV to your bathwater.
8. Take an Epsom salt bath
The magnesium content of Epsom salts can help improve skin barrier function (9) and reduce inflammation.
How to use: Add 2 cups of Epsom salt to your warm bathwater. Soak for 15 minutes and rinse off in the shower. Follow by applying a moisturizer.
9. Use neem leaves
Neem leaves have been used as a skin healer (10) in the form of paste and oil for long. It contains anti-inflammatory and antimicrobial compounds (11) that help relieve skin irritation.
How to use: Boil a few neem leaves in water for 15 minutes, and mix this water into your bathwater. You can also apply neem oil to your skin overnight.
10. Apply honey
The antimicrobial and anti-inflammatory properties of honey (12) make it suitable for relieving skin itching and dryness.
How to use: Warm up some oil and add honey to it. Apply this mixture to your skin for 10 minutes and wash it with water.
Lifestyle Changes to Prevent and Cope With Itchy Skin
Adhering to the following dermatologist-recommended tips can help prevent skin itchiness to a significant degree.
1. Keep your skin moisturized
One of the most basic skin care measures for alleviating itchiness is to treat your skin with a good-quality moisturizer daily. This also helps in strengthening the barrier function of the epidermis.
Moisturizers are available in different forms, but the most preferred options for pruritus treatment are ointments or oils.
Here are a few points to consider when selecting a moisturizer:
Always look for emollient creams or ointments.
Choose fragrance-free emollients, such as petroleum jelly, over aromatic lotions.
Go through the composition of the product to make sure it does not contain any potential allergen.
2. Change your bath habits
Taking long hot showers (more than 10 minutes) or baths can strip away the natural lipids and moisture from your skin, further exacerbating the problem.
So, shower with tepid water instead, and avoid using harsh soaps or shower gels. Instead of rubbing your wet skin with a towel, gently pat it dry and apply a moisturizer after.
3. Wear comfortable clothes
If your skin is extremely itchy, you are recommended to wear lightweight, loose-fitting clothes made of soft, skin-friendly fabrics such as cotton and linen.
Comfortable clothes allow your skin to breathe, whereas tight-fitting clothes made from coarse fabrics such as wool rub against your skin and cause further irritation or itching.
4. Maintain proper nail hygiene and try not to scratch
You must fight the urge to scratch as the repeated friction during scratching can rupture the skin barrier, thus inviting infections and scarring the site.
You are also advised to wear cotton gloves at night to minimize the skin damage caused by scratching in your sleep. Keep your nails clean, short, and filed smooth to minimize the damage from scratching.
5. Avoid smoking and alcohol intake
Limit your intake of alcohol, caffeine, and spicy foods as they are known to aggravate itchiness. Smoking can also lead to increased skin dryness, besides being a hazard for your overall health. Quit this habit at the earliest and avoid exposure to secondhand smoke as well.
6. Use a humidifier
Exposing your skin to drastic temperature fluctuations can lead to skin dryness and subsequent itching.
Consider using a sterilized humidifier to replenish the moisture in your home atmosphere. Also, make sure to clean the humidifier regularly to keep it free of mold and other impurities.
7. Avoid known allergens
To stave off allergic skin reactions, make it a point to carefully examine your bathing, skin care, and cosmetic products for possible allergens before buying them. Also, be cautious about certain food allergens that can trigger your itchy symptoms.
8. Manage your stress
Practicing regular yoga, listening to soothing music, doing deep-breathing exercises, and taking up hobbies that give you pleasure or fulfillment can help take your mind off the everyday struggles.
You can also seek professional psychological counseling, behavior modification therapy, or acupuncture treatment (13) for improved stress management.
Why Does It Itch More at Night
It is suspected that several key regulatory mechanisms of the skin are altered during the night in a way that increases the intensity of itching.
Sleep triggers certain variations in the thermoregulatory function of the body that can make your skin itch more.
Transepidermal water loss is significantly maximized during the night. The greater the water loss, the more impaired your skin's topmost cover.
There is a dip in the level of corticosteroids during the night, which diminishes your body's ability to curb the inflammation and, thereby, the itch. (14)
Certain psychological factors may also play a role in the intensification of nocturnal pruritus.
Final Word
Prolonged itch can be bothersome and can affect the quality of life by causing sleep disturbances, distractions, and scars due to constant scratching. To help relieve the itch, keep your skin moisturized, and try suitable home remedies. However, if these measures fail, it is vital to consult a dermatologist.

Continue ReadingWhat Causes Itchy Skin (Pruritis) and How to Treat It
Was this article helpful?